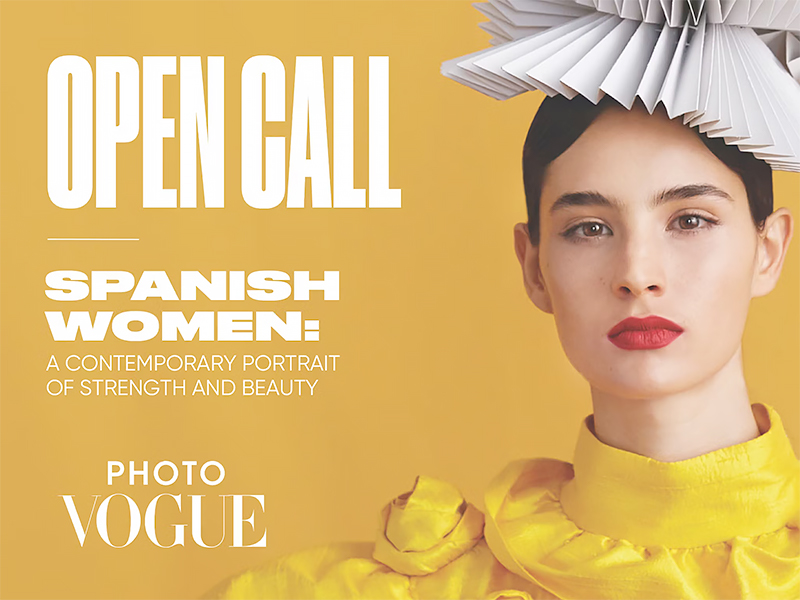 Eligibility:
Spanish Women
Today, in celebration of the 35th anniversary of Vogue España and within the framework of the most important photography festival in the region, PhotoESPAÑA, we are thrilled to launch our second Local Open Call: "Spanish Women: A Contemporary Portrait of Strength and Beauty", in search of the most talented Spanish artists.

PhotoVogue's mission is always to champion talent, reach into historically excluded communities, and improve visual literacy; it also aims to shape a more just, ethical, and inclusive visual world. To make our scouting objectives more effective, PhotoVogue promotes Open Calls by theme or within specific regions of the world.

The call we are launching today is open to all genres (from fashion to documentary, art, and reportage, etc) and artists expressing themselves in photography, video or both. Everyone who identifies as Spanish can apply, whether based in Spain or abroad; the only requirements are to be at least 18 years old. The work submitted to the Open Call should reflect the above theme.

Our goal is to find the most poetic, powerful, and representative embodiments of the theme through the lens of the most talented Spanish artists. From surreal and fantastic works to documentary and realistic ones, this call is open to every visual aesthetic. We will also accept projects created with AI, as long as its use is disclosed.

You may submit even if you have been selected from our previous Open Calls as long as you propose a new project. Both unpublished work or photos/videos taken for an already published editorial are allowed. All submissions must comply with PhotoVogue's Submission Amendment.

The submissions will be evaluated by eight esteemed jurors, all experts in their own right from the international art, fashion and photography community. Stay tuned for the announcement of the jury.

With this Open Call we want to highlight the next Spanish generation of socially conscious image makers, artists who are a driving force for change through creativity.