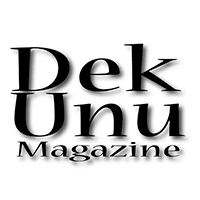 Theme:
Creative Photography
Unlike anthology or gallery-style magazines, Dek Unu publishes only one artist per issue. We are highly artist-centric; each edition is themed and curated by the artist, not the editorial staff. Along with 11 images, Dek Unu emphasizes each artist's words – each issue includes an artist's commentary for each image and an in-depth interview. Additional images from the artist are included in the interview section to add context, depth, and texture to readers' understanding of the artist and the work. Please read and follow the guidelines carefully – the details matter.

We promote each online edition via email, web, and social media three times during the publication month. After each promo, the artist gets a report on reach (the "seen-by" number) and reactions (the likes, loves, wows, comments, and shares). Paper copies of the magazine are printed on 38-40 pages of #80 acid-free paper, in full-color, perfect-bound, in heavier, light-gloss cover stock. Each looks more like a poetry chapbook than like a typical slinky paper, saddle-stitched magazine. The profit from any print sales during the publication month is split 50-50 with each artist. Please see the complete guidelines by clicking the purple button below.