There's this idea that in portraiture, it's the photographer's job to set the subject at ease. I don't believe that.
One of the more famous quotes attributed to portrait photographer Annie Leibovitz offers a clear lens through which to view her work. Known best for depicting her subjects in sometimes-uncomfortable settings and poses, she has managed to merge the unorthodox images she creates with a style that makes people want to have her take their pictures.
Heritage Auctions' April 12
Photographs Auction
will include
20 images by Leibovitz
, the largest selection of her work ever offered at auction. The trove features a range of actors, musicians and athletes that includes Sting, Ella Fitzgerald, Carl Lewis, Mick Jagger, Greg Louganis and Jack Lemmon and Tony Curtis.
Annie Leibovitz is probably the most influential portrait photographer of the last 50 years," Heritage Auctions Photographs Director Nigel Russell said. "Her photos really put Rolling Stone magazine on the map – her photo of John Lennon and Yoko Ono, just hours before Lennon was killed, is thought to be the most famous image in the history of the magazine. She also has worked for a number of other high-profile magazines, like Vanity Fair, where she took the now-infamous naked photo of Demi Moore when she was pregnant – at the time, that was a really shocking image.
Leibovitz calls the unorthodox images "Conceptual Portraits," which she has said are dictated by the subject and driven by an idea, which can be simple, as long as it creates a connection to the subject.
Among the top lots in the selection are: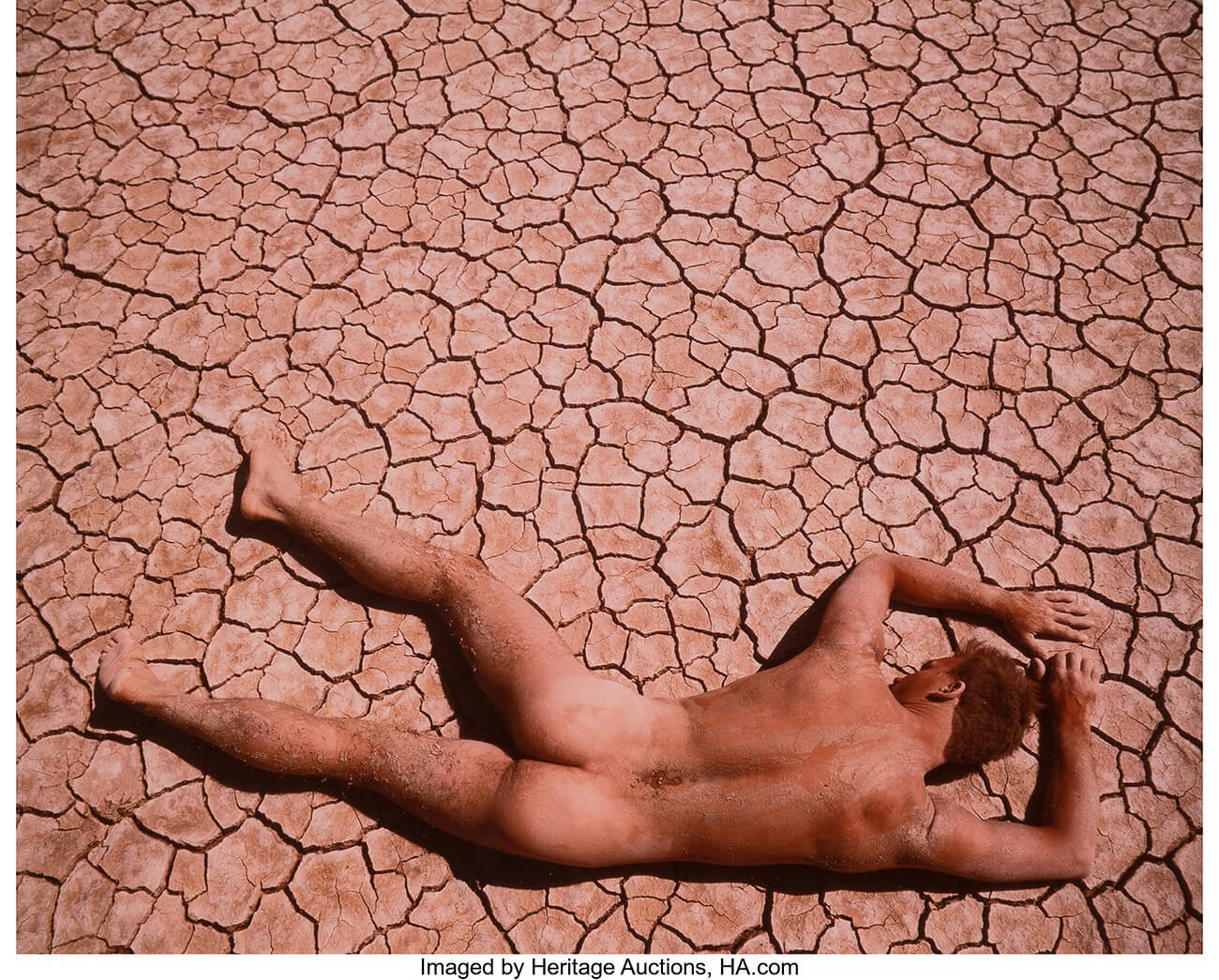 Sting, Lucerne, California, 1985 © Annie Leibovitz
Sting, Lucerne, California, 1985
(estimate: $4,000-6,000), which shows the legendary musician naked and lying face-down in the dessert. Some images from that shoot have been distributed, but the offered image has not been widely circulated or published.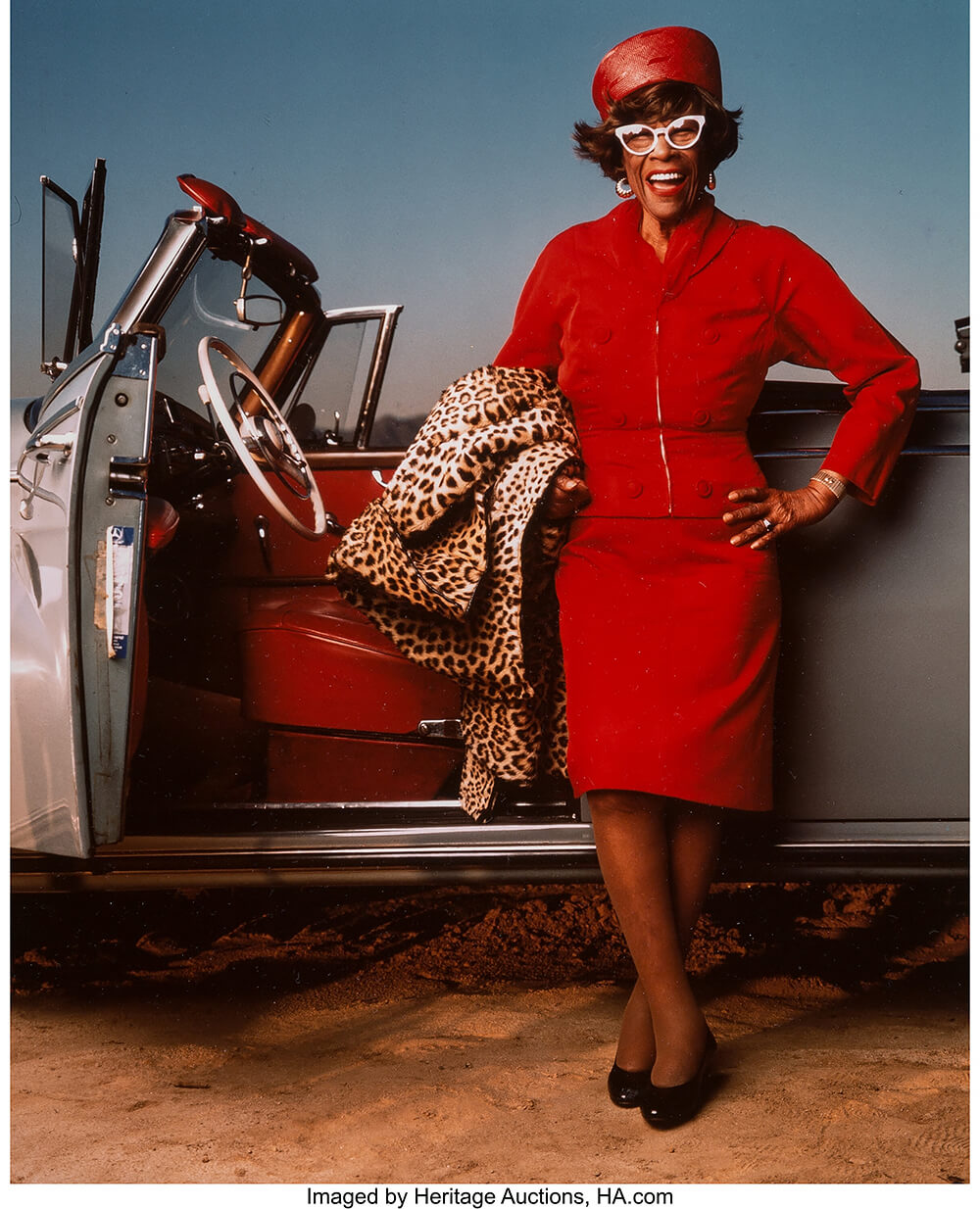 Ella Fitzgerald, Los Angeles, 1988 © Annie Leibovitz
Ella Fitzgerald, Los Angeles, 1988
(estimate: $3,000-5,000) which shows the iconic jazz singer, sometimes referred to as the First Lady of Song, Queen of Jazz or Lady Ella, laughing while decked out in red with a leopard-skin coat tucked under her arm, leaning on a convertible with its top down.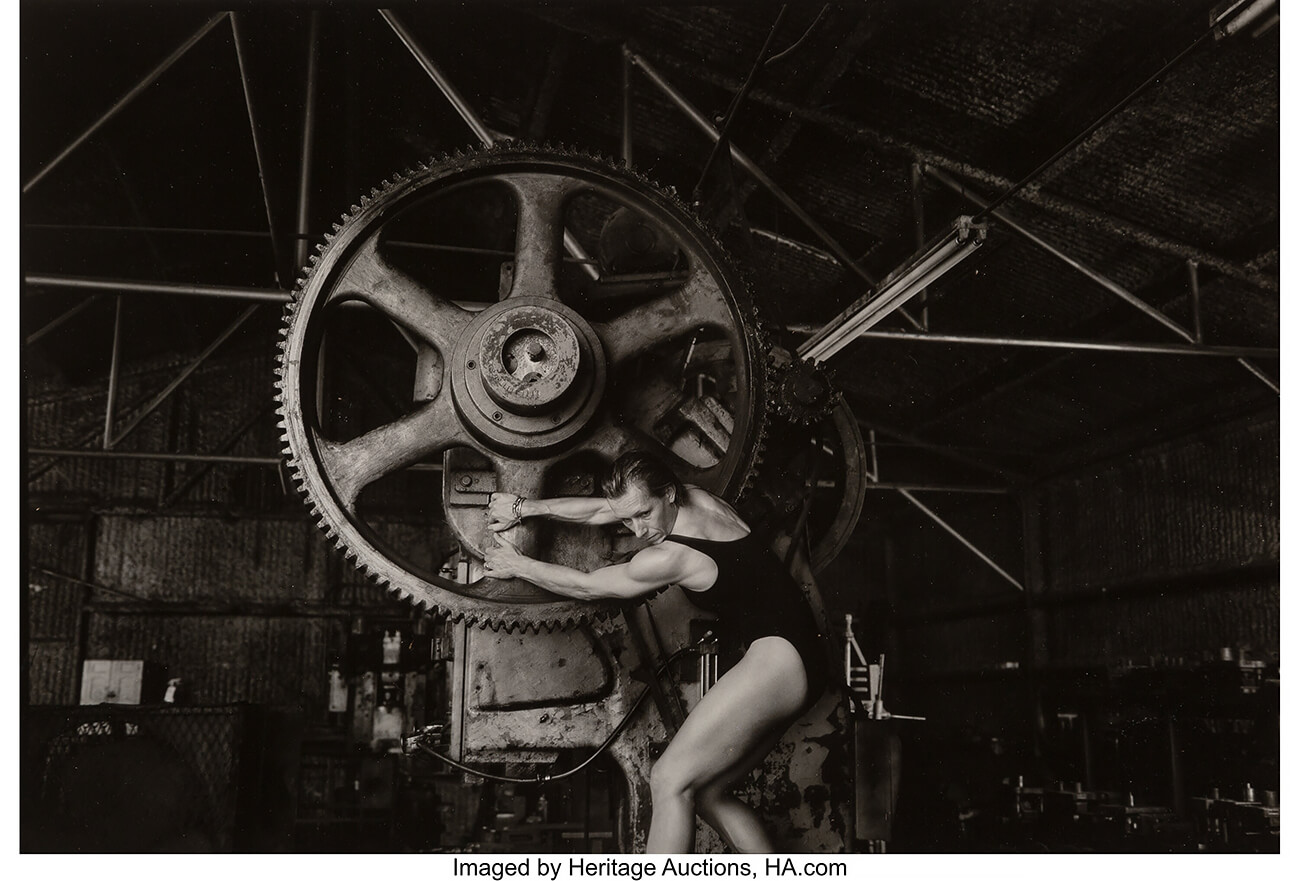 Martina Navratilova, Dallas, Texas, 1994 © Annie Leibovitz
Martina Navratilova, Dallas, Texas, 1994
(estimate: $2,500-3,500) captures the legendary tennis star in an homage to
Lewis Hine's 1920 Powerhouse Mechanic photo
. Hine's image captured a worker during the building of the Empire State Building in a pose mimicked by Navratilova, who broke barriers in terms of muscular power in female athletes.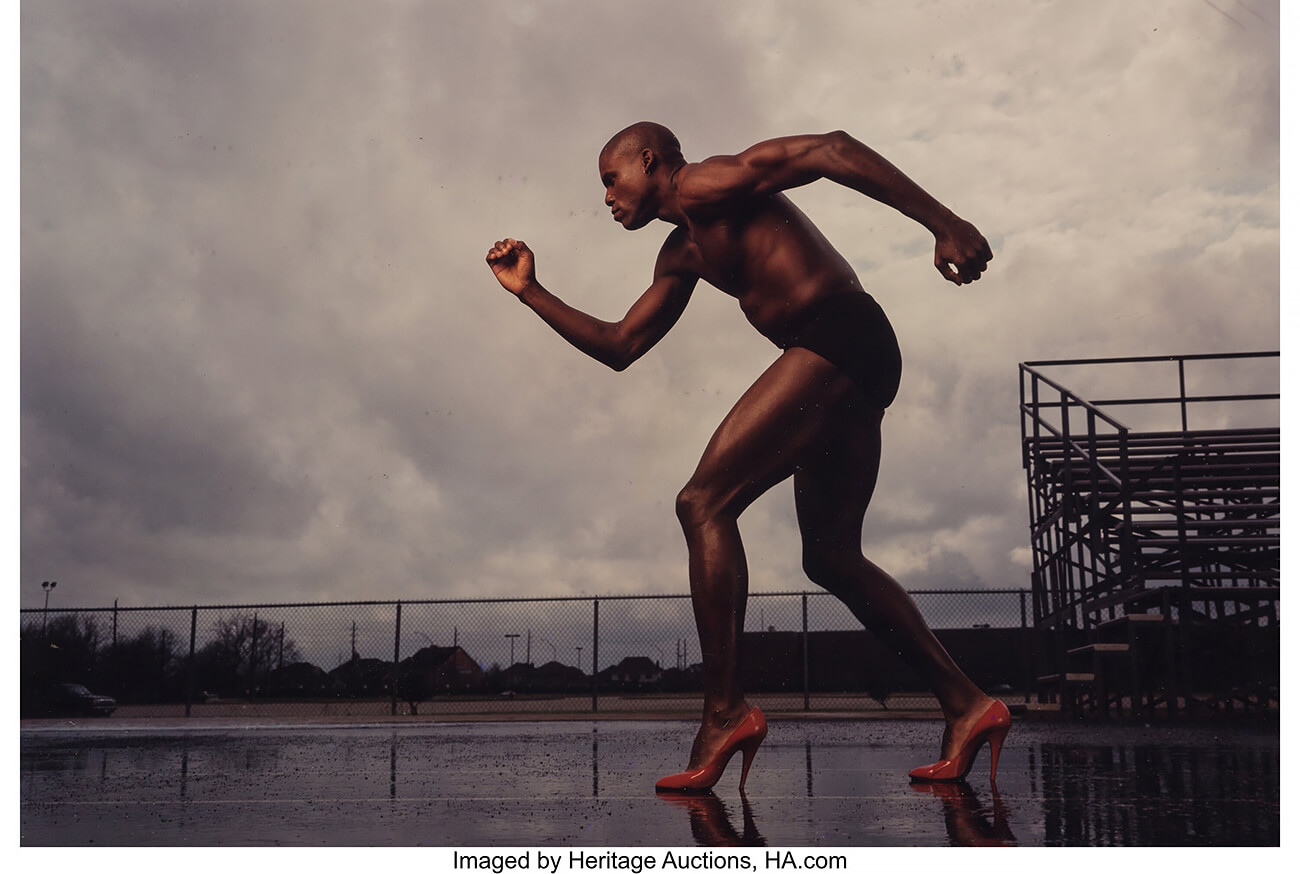 Carl Lewis, Houston, Texas, 1994 © Annie Leibovitz
Carl Lewis, Houston, Texas, 1994
(estimate: $2,500-3,500) captures the Olympic legend, considered by many to be the greatest track star of all time, doing what he does best: getting ready to run. But the man who for years represented the world standard for sprints and in the long jump is poised to take off … while wearing high-heeled women's shoes, accessories that hardly lend themselves to athletic performance.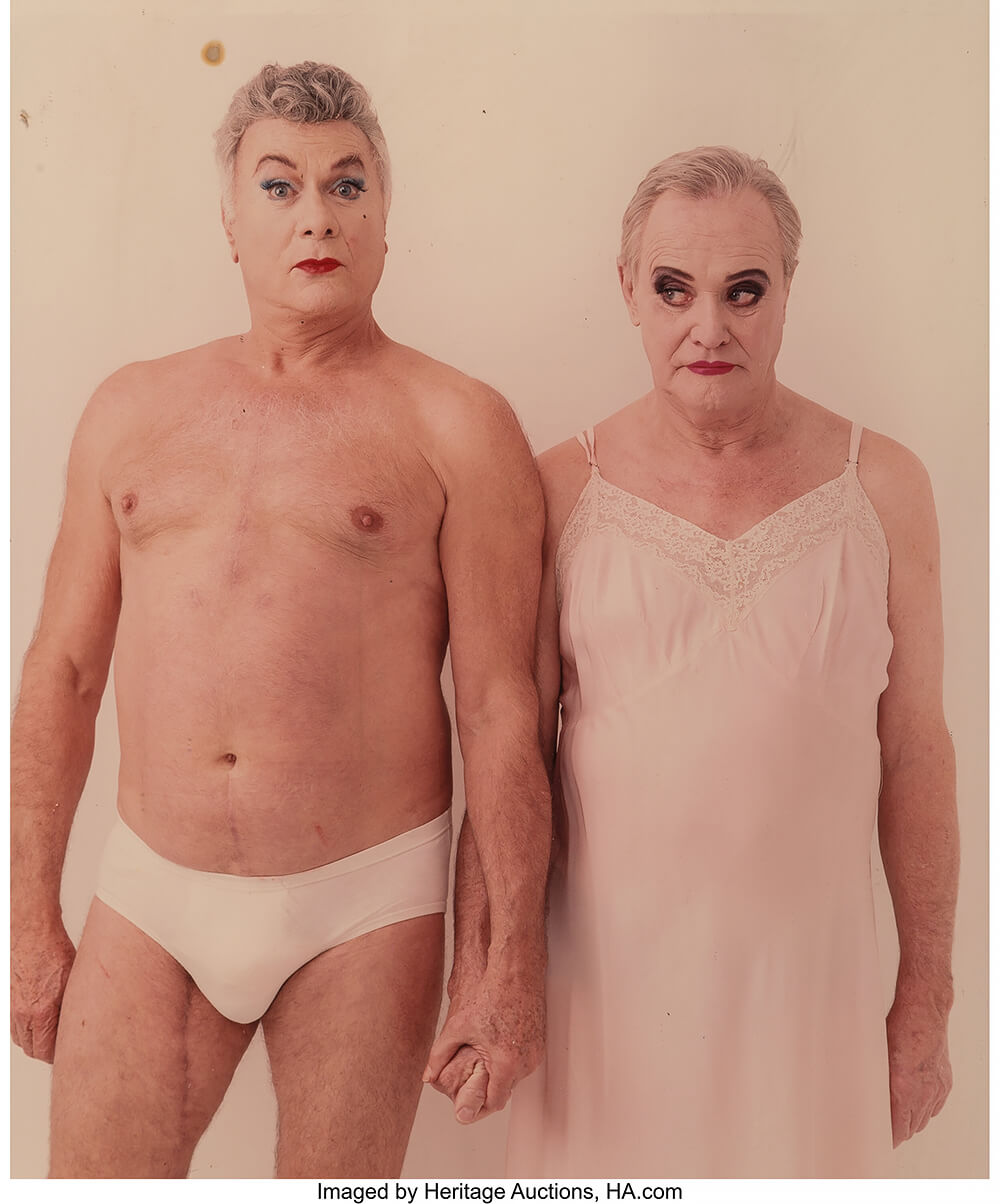 Tony Curtis and Jack Lemmon, 1995 © Annie Leibovitz
Tony Curtis and Jack Lemmon, 1995
(estimate: $1,500-2,500) is a striking image of the acting legends who teamed up in the Some Like It Hot, the classic film that also starred Marilyn Monroe. In the film, Curtis and Lemmon masquerade as women in an effort to elude Chicago mobsters, while Monroe's character, Sugar Kane. The offered image also captures the pair masquerading as women … in a style only Leibovitz could create.
All portrait photographers have slightly different ways of looking at people, which allows you to identify them, their styles,
Russell said.
Annie Leibovitz's style is a little quirky. She tries to shock you by putting people in these unusual settings, and it creates a style that is immediately recognizable as hers.
People love her work. It's like working with a famous director – even if it means being uncomfortable, Annie Leibovitz is at a point where people want to have their photos taken by her.
For images and information on all of the Leibovitz lots, or the other lots in the auction, visit
HA.com/8041
.
Heritage Auctions is the largest fine art and collectibles auction house founded in the United States, and the world's largest collectibles auctioneer. Heritage maintains offices in New York, Dallas, Beverly Hills, San Francisco, Chicago, Palm Beach, London, Paris, Geneva, Amsterdam and Hong Kong.
Heritage also enjoys the highest Online traffic and dollar volume of any auction house on earth (source: SimilarWeb and Hiscox Report). The Internet's most popular auction-house website, HA.com, has more than 1,400,000 registered bidder-members and searchable free archives of five million past auction records with prices realized, descriptions and enlargeable photos. Reproduction rights routinely granted to media for photo credit.