The gods of government help those who help themselves: Therefore, women and sisters, and one day fellow voters, let us help ourselves. Say to the rulers of this nation: You deal negligently with the interests of women at your peril. As you have sowed so shall ye reap. We, as women, refuse to uphold that party that has betrayed us. We refuse to uphold any party until all women are free.
-Inez Milholland, from the Suffragist 4, no. 42 (October 14, 1916), pp. 8-9)
In 1916, Inez Milholland Boissevain (1886-1916) embarked on a grueling campaign across the Western United States on behalf of the National Woman's Party appealing for women's suffrage ahead of the 1916 presidential election.
Standing Together
, by fine artist Jeanine Michna-Bales (born 1971), retraces Milholland's journey. The 30-year-old suffragist delivered some 50 speeches to standing-room-only crowds in eight states in 21 days: Wyoming, Idaho, Oregon, Washington, Montana, Utah, Nevada and California. She battled chronic illness and lack of sleep during her travels and died a month after her last speech in Los Angeles, where her final public words were, "Mr. President, how long must this go on, no liberty?"
Through her photographs, combining dramatic landscapes and historical reenactments of important vignettes of Milholland on her journey with archival materials, Michna-Bales captures a glimpse of a remarkable chapter in the monumental effort required to pass the 19th Amendment.
Standing Together
includes an itinerary of Inez Milholland's Western Campaign and a timeline of Suffrage in the United States spanning 1776 to 2020.
Driven by her belief that women were equal to men, Inez Milholland challenged traditional gender norms in the early 1900s by becoming a lawyer, activist, war correspondent, suffragist and orator. She wrote speeches, letters, plays, and articles arguing that women were worthy of the right to vote. When she saw an injustice, she threw herself full-force into fixing it. From labor laws and prison reform to war and women's rights, she fought tirelessly to dispel the stereotypes about women she kept butting up against, and each rejection only fueled her determination more. She was turned away by three Ivy League law schools and denied access to the front lines as a war correspondent due to her gender. Graduating with a law degree from New York University in 1912, she later practiced law despite the fact that it was a male-dominated profession.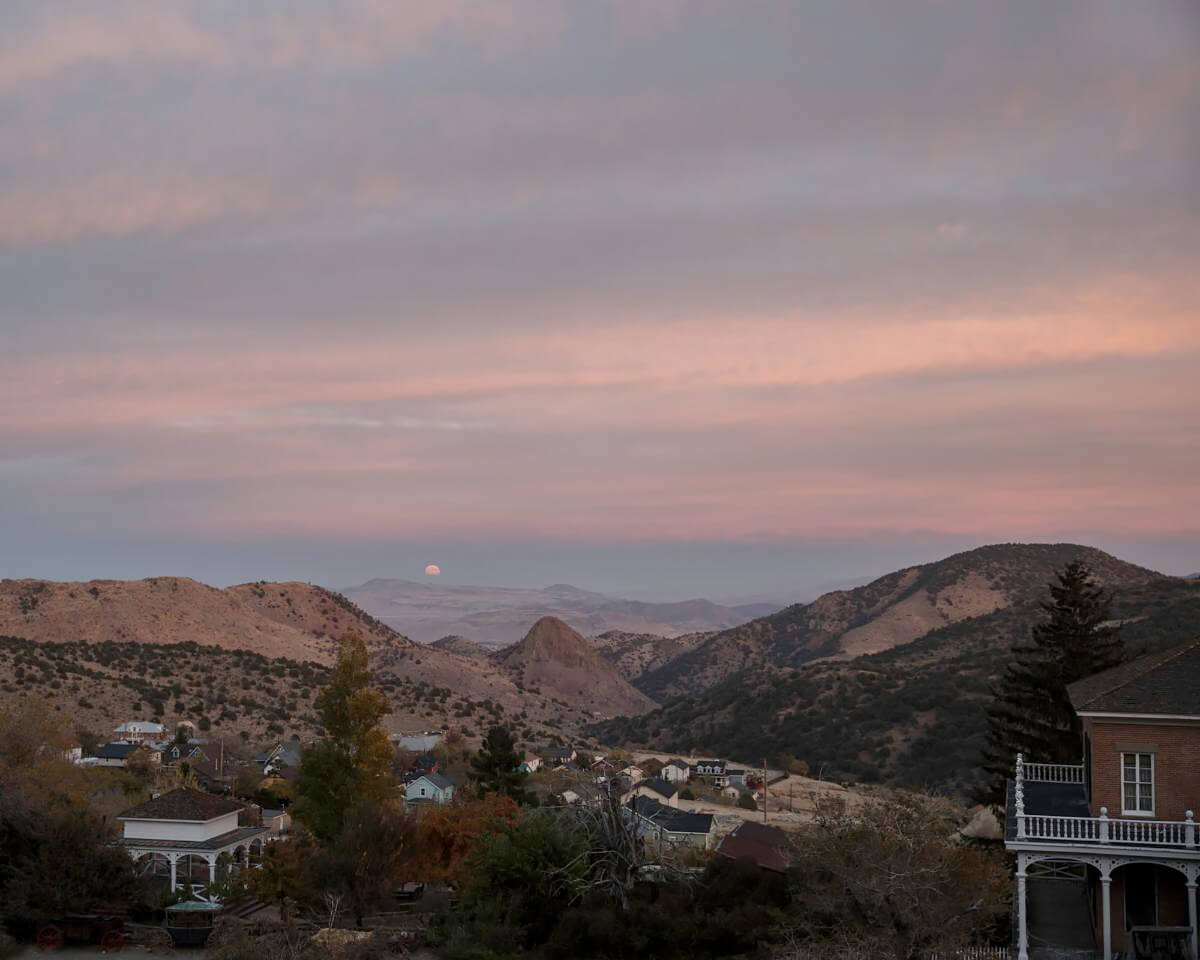 Moonrise, Virginia City, Nevada, 2019 © Jeanine Michna-Bales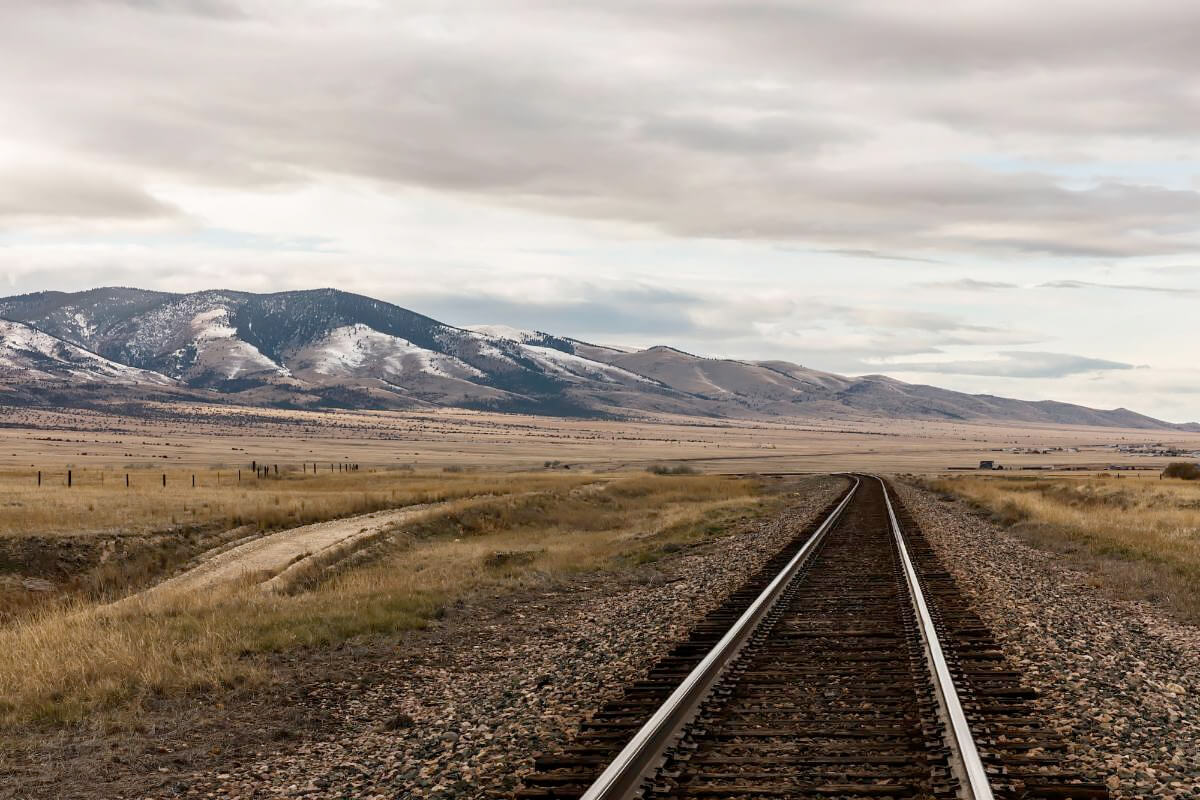 Leaving Helena, Montana, 2019 © Jeanine Michna-Bales
After a whirlwind courtship in which Inez proposed to Dutchman Eugen Jan Boissevain, the couple married and enjoyed a partnership based on equality and mutual admiration for each other. The book includes excerpts from Inez's letters to her husband while on the campaign. His support provided her with the psychological fuel she needed to keep going on her arduous journey which often involved overnight travel across the vast territory of the American West. Inez would arrive at each stop exhausted and sleep deprived, but the rapt crowds that awaited her lifted her up as she made her impassioned case for suffrage.
The incredible story behind
Standing Together
, tying the past to the present, is outlined in an essay by Michna-Bales and an introduction by Linda J. Lumsden, noted historian of women's rights and the author of
INEZ: The Life and Times of Inez Milholland
(Indiana University Press, 2004) and
Rampant Women: Suffragists and the Right of Assembly
(University of Tennessee Press, 1996) sets the foundation for the visual essay.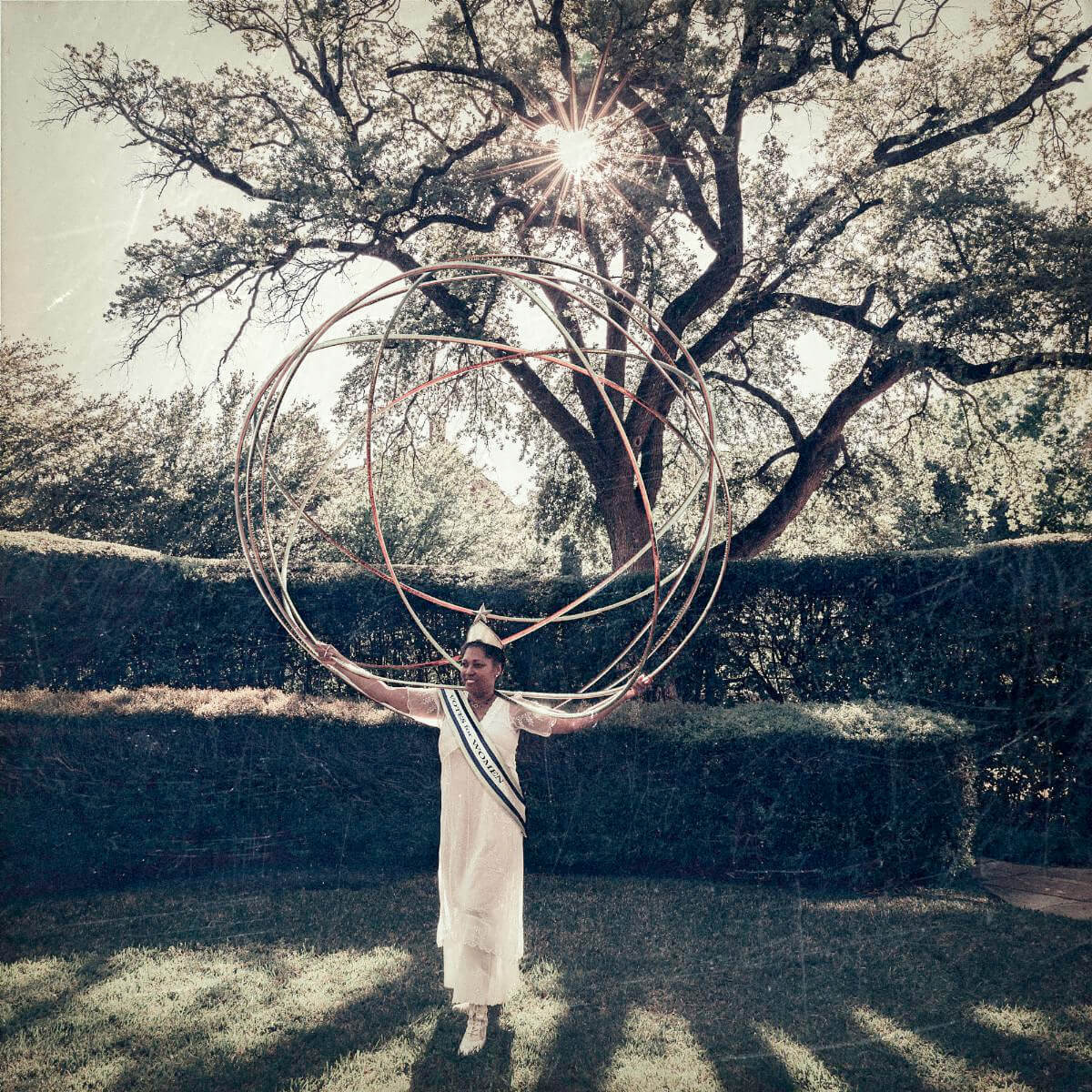 Women holding up half of the sky © Jeanine Michna-Bales
About the Artist:
Jeanine Michna-Bales
is a fine artist working in the medium of photography. Her work explores our fundamentally important relationships - to the land, to other people and to oneself - and how they impact contemporary society. Her work lives at the intersection of curiosity and knowledge, documentary and fine art, past and present, anthropology and sociology, and environmentalism and activism. Her practice is based on in-depth research - taking into account different viewpoints, causes and effects, political climates - and she often incorporates primary source material into her projects. Michna-Bales's latest photographic essay on the American Suffrage Movement, Standing Together, was featured in the July/August 2020 summer issue of Smithsonian Magazine and the Arts section of The New York Times. It will be released as a comprehensive publication from MW Editions in May 2021 and a traveling exhibition will launch in the Fall of 2021.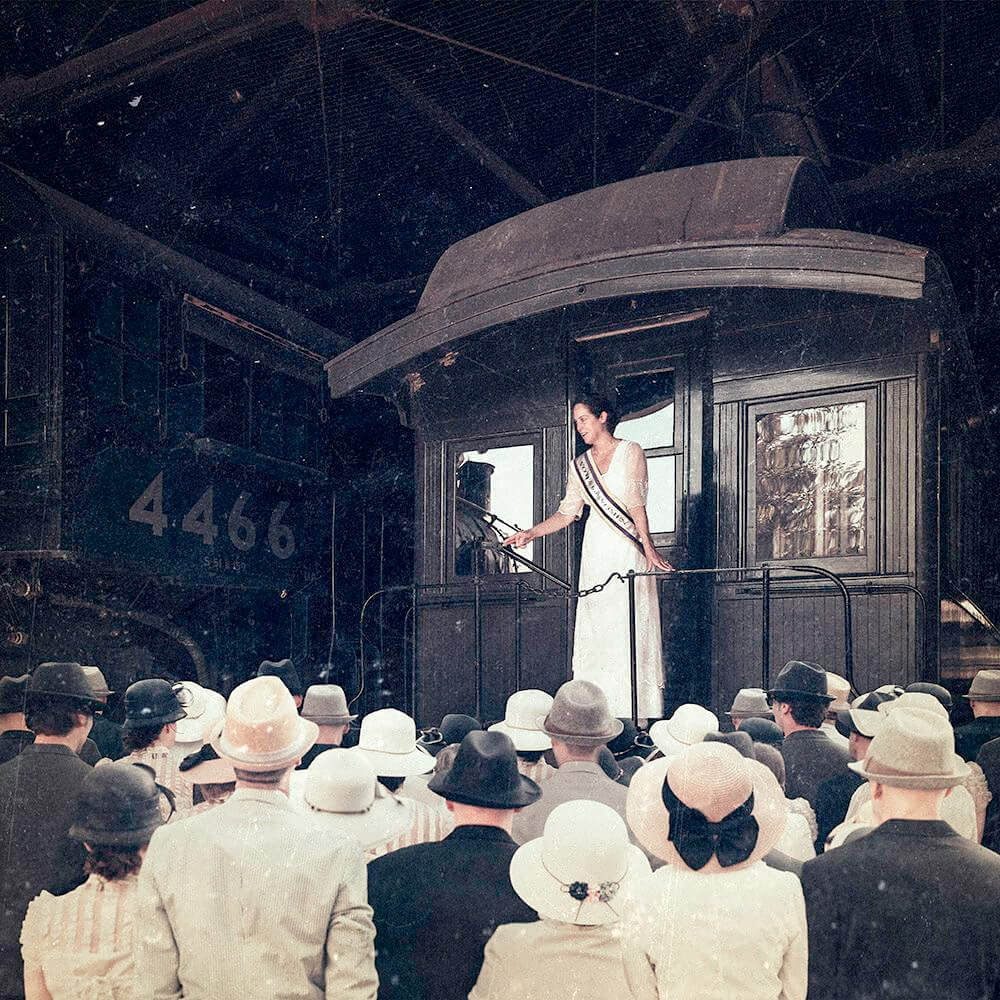 Whistlestop Speech Cut Bank, Montana, 2018 © Jeanine Michna-Bales
Exhibition Schedule:
Accompanying exhibitions are scheduled to open at the PDNB Gallery in Dallas, Texas in September 2021, and the Arnika Dawkins Photographic Fine Art Gallery in Atlanta, Georgia in October 2021.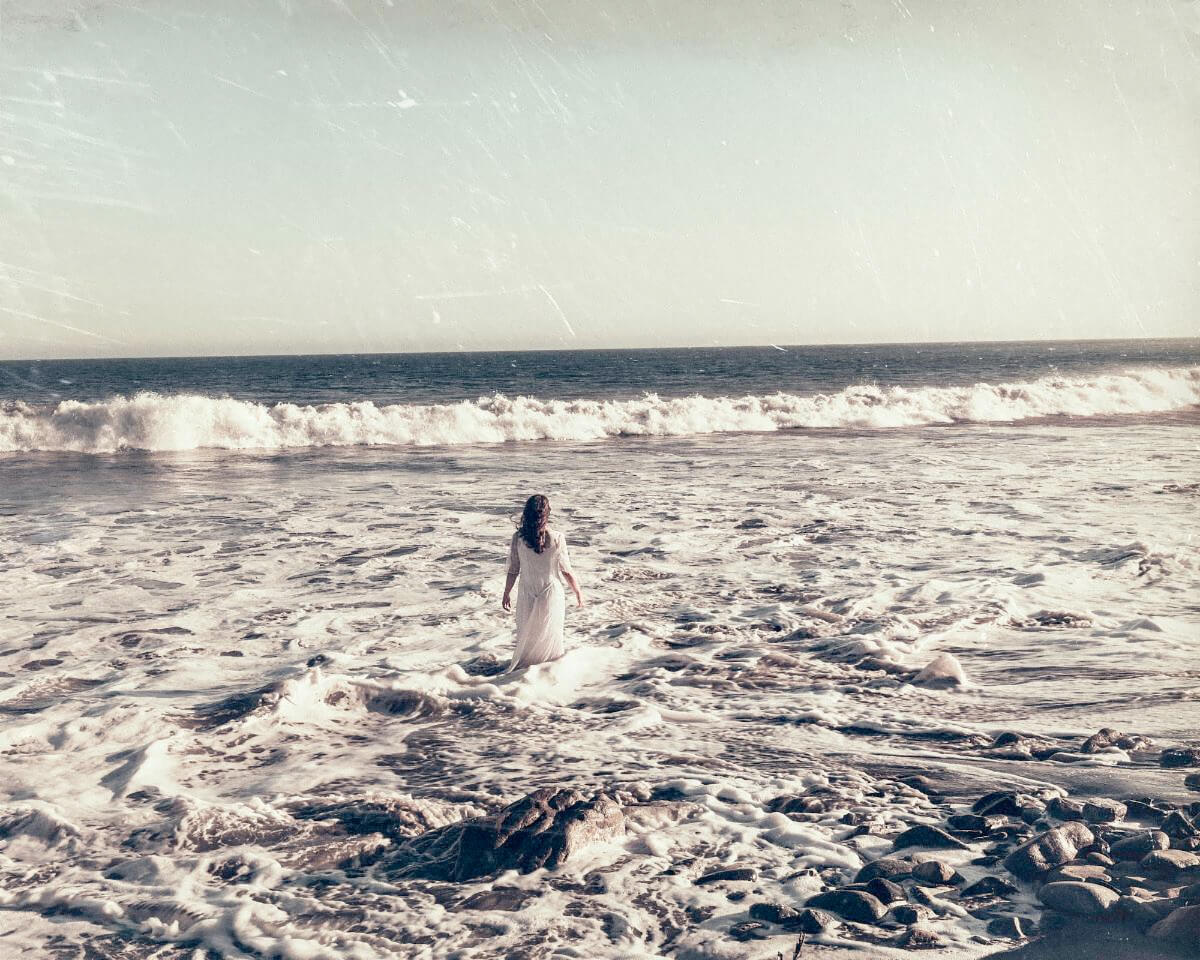 Transitioning, Los Angeles, California, 2019 © Jeanine Michna-Bales