For its first apparition on the world map of photo fairs, PhotoLondon made a strong point. Spreading in the splendid settings of Somerset House, the fair has already succeeded in attracting some of the most important international galleries, which seem eager to participate again next year, even though their sells were not all as high as they might have hoped.
Most of the galleries were given entire rooms of the historical building to present their selection of works. And having photos hanged on the walls of elegant small rooms, or on the beautiful arch vaults of the lower levels, rather than on a soulless temporary booth in a huge vessel makes a world of difference. The lay-out was so pleasant and elegant, so in tune with the place, that the only negative point may have been that visitors had first some difficulties understanding that is was indeed a fair and not a regular exhibition, and had to search for the galleries names, simply inscribed at the entrance door of the rooms.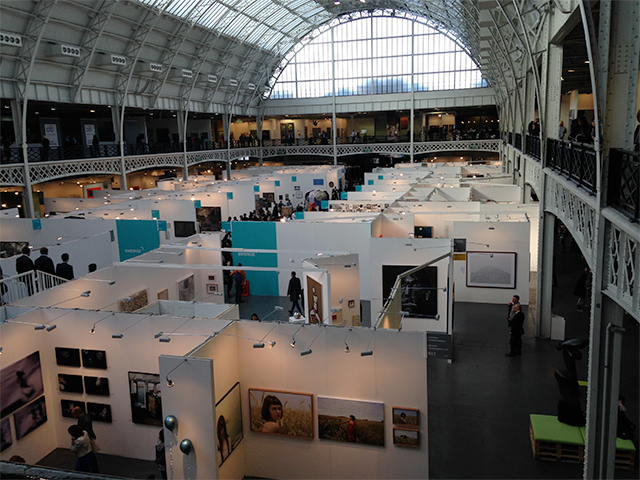 The first floor and first ground floors were dedicated to the larger galleries, who competed in a high level selection of valeurs sûres, with iconic works of great quality. But the smaller budgets and younger artists and venues were not forgotten, and the lower grounds also revealed, in a rather tighter, almost over-crowded lay-out, a nice selection of new names to follow and emergent artists.Three non-commercial exhibitions were also offered to the visitors, presented by Luma, the now inevitable patron of most European photo events, in collaboration for one with the V&A. Salgado's Genesis suffered from a presentation in horizontal glass cases, but the other two exhibitions were more interesting, revealing rarely seen pieces of the V&A's collections. An interesting and (almost too?) extensive program of talks, screenings and book signings, spread in several venues, completed the fair.
At the same time as PhotoLondon another venue was dedicated to photo in London, Photo Vintage, while OffPrint, in the Turbine Hall of the Tate Modern put the light on the art publishing scene. Unfortunately, we didn't have time enough to visit these two other events. Next year hopefully!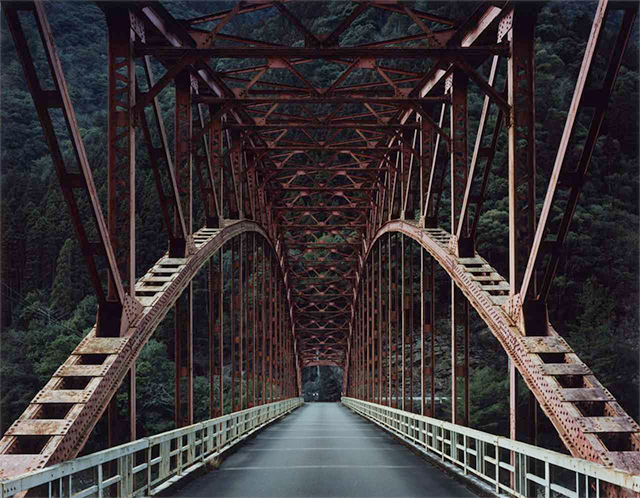 Photo Toshio Shibata at Inoue Gallery
London in fact was bustling with art and book fairs during this week-end, and we also attended the opening of Art15 in Olympia the day before PhotoLondon. On a rather similar ground than Art Paris, the rather huge fair presented a mixed selection of emerging and well settled galleries, mostly from Europe but also from other parts of the world, as well as institutions and non-profit organizations. Rather commercial, the selection nevertheless offered good surprises, such as Maria Lund's booth, or the very good selection presented by the Inoue Gallery from Osaka, in Kansai, with impressive ceramics by Hiroto Kitagawa, beautiful photographs from Japanese master Toshio Shibata or works by painter Hisaya Taira. Gutai, the post-war avant-garde group of the same area of Japan, has proved once again to be the name to invest in these days, with a huge presence of its former members on several booths, and with prices that are constantly on the rise. The Tezukayama gallery, also from Japan, largely attracted visitors with its all-metallic tearoom by Tomohiro Kato, where tea ceremonies were operated. Another interactive, and quite interesting, piece was Homing by Jenna Burchell. Presented by the Sulger-Buel-Lovell from Cape Town, this evolutive memory harp plays sounds taken from our everyday environments, allowing the visitors to create their own tune. And, as the artist regularly adds new strings and sounds from the cities where the piece is shown, Homing also appears as a living organism, a universal creature, building delicates links between people and cultures from various countries.
Nevertheless, even if Art15 was a pleasant visit, PhotoLondon indeed remained the spotlight event of the week, and, with its high-level selection, beautiful settings and all-English speaking environment, it will probably become a serious competitor for other European fairs, particularly for Paris Photo. One can only be very much looking forward to the second edition!