Lucie Foundation and the Lucie Board of Advisors announce that photographers
Fabio Bucciarelli
(professional) and
Malike Sidibe
(emerging) will each receive the 2020 Lucie Impact Award, given to photographers whose work has made a substantial impact during a given year. Previous winners include Pulitzer Prize- winning New York Times staff photographer Tyler Hicks (2019) and Getty Images award-winning photographer John Moore (2018).
On January 28th, 2021 at 5 PM EST, there was a live Zoom Presentation featuring the 2020 Lucie Impact Award Honorees Fabio Bucciarelli and Malike Sidibe in conversation.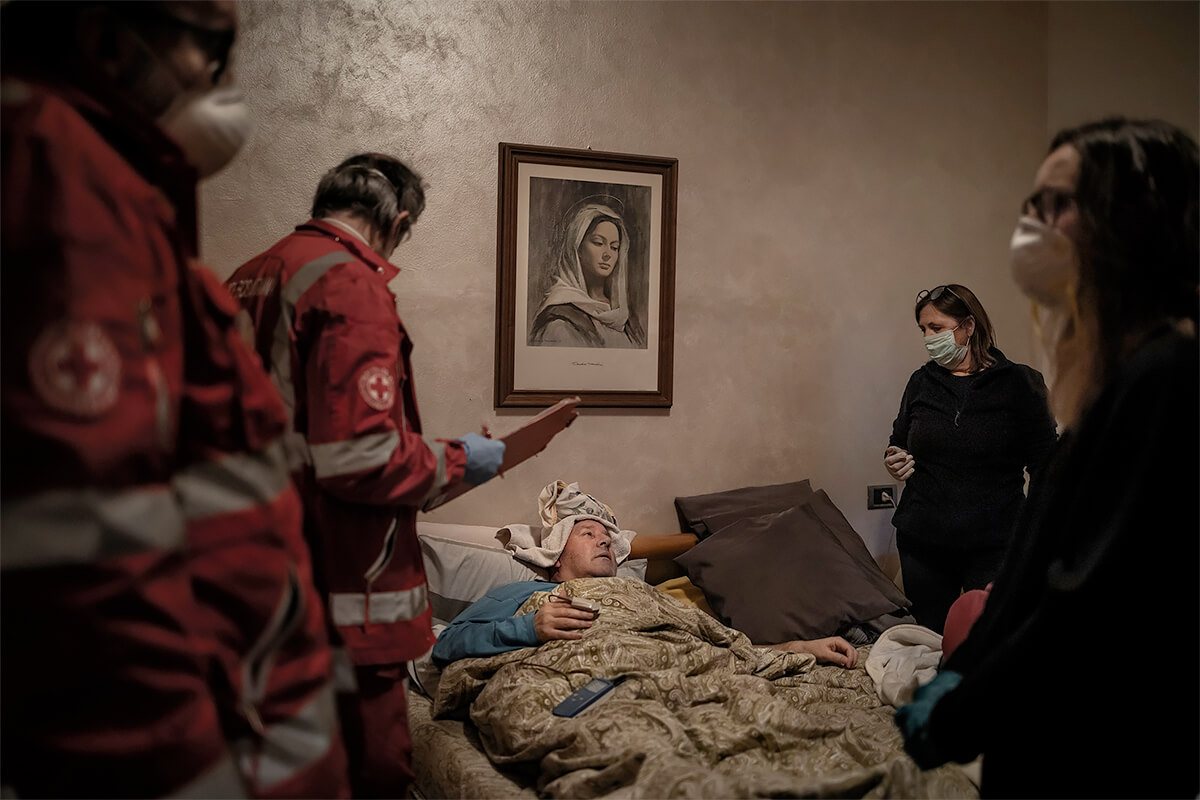 Claudio Travelli (60) was examined by red Cross volunteers. He chose to remain at home, but the next day his condition worsened and the red Cross team returned to take him to hospital. Cenate Sotto, Italy, March 15, 2020. © Fabio Bucciarelli for the New York Times
Fabio Bucciarelli
Fabio Bucciarelli (Italy, 1980) is a photographer, journalist, and author known for his documentation of conflicts and humanitarian consequences of war. He has spent the last decade covering the world's major events and creating images that reflect his commitment and empathy with the story, providing information focused on human rights.
In 2006 Bucciarelli received his MS in Telecommunication Engineering from Politecnico of Turin and then worked in Barcelona as an engineer. In 2009, he began to devote himself to photography full-time.
Along with his ongoing personal projects, Bucciarelli is a frequent contributor to The New York Times. During his career, he has worked for many leading publications including Time Magazine, BBC, L'Espresso, CNN, Al Jazeera, Foreign Policy, Paris Match, M Le Monde, El Pais, Internazionale, La Stampa, Il Fatto Quotidiano, La Repubblica, and others.
He is the recipient of some of the most prestigious awards in the profession including The Robert Capa Gold Medal, Perpignan's Visa D'Or News, POYi Photographer of the Year, Bayeux-Calvados for War Correspondence as well as awards from World Press Photo, POYi, BOP, Days Japan International, Sony International Photography Award and now The Lucie Impact Award 2020.
Bucciarelli's work appears in several collections and his photographs have been exhibited in museums and galleries worldwide and are frequently shown in International Art Fairs including Photo London, AIPAD New York, MIA Milano, Photo Basel, and Zona Maco Mexico.
Alongside Bucciarelli's projects as a photographer, he has been writing dispatches for national and international newspapers and magazines and a book on the Libyan conflict titled, "The Dream. In recent years he has worked as a curator and artistic director for Italian Museums and institutions.
Fabio Bucciarelli's Website
Fabio Bucciarelli' on Instagram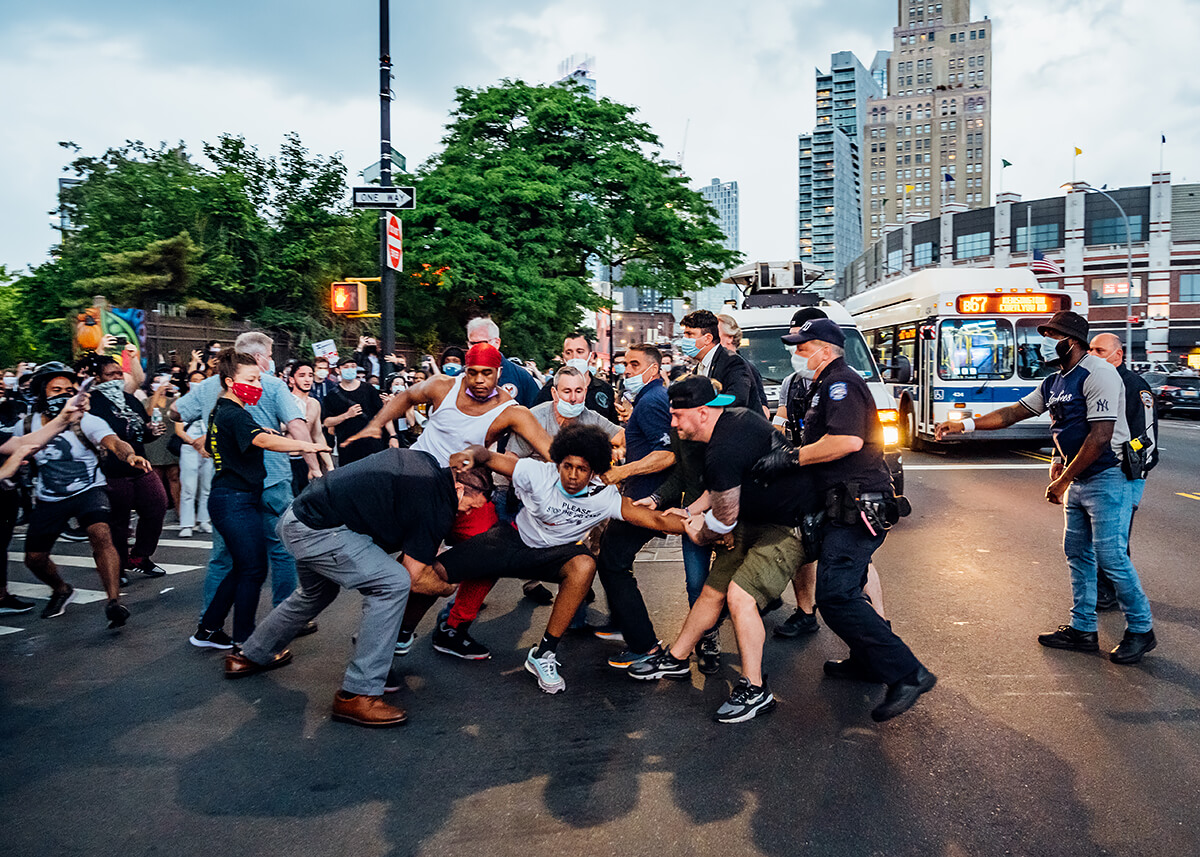 Malike Sidibe
Photographer Malike Sidibe was born in Man, Cote d'Ivoire, and moved to Guinea when he was 3 years old. He fell in love with photography at the age of 12, when his father gave him his first camera. In the summer of 2010, at the age of 13, he moved to New York City from Guinea.
Starting out as a menswear design major, Malike attended fashion classes at The Fashion Institute of Technology, where he discovered that he enjoyed taking photographs of the clothing more than actually designing the clothes. In 2013, Malike joined a nonprofit after-school program called NYC SALT, where he subsequently discovered photography as his true passion and path forward.
Malike's work is a reflection of his creative nature. His inspiration is drawn from the people he meets and the places he has lived. He is a high-energy creative photographer producing innovative portraits and images full of spirit and color. Malike is dedicated to creating timeless images. His clients include The Met Museum, TIME, The New York Times Mag, Elle Decor, The Wall Street Journal, The Atlantic, The New Yorker, New York Magazine, Instagram, Business Week, Nike, Nikon, Footlocker.
Malike Sidibe's Website
Malike Sidibe on Instagram
Lauren Wendle, President, Lucie Foundation, was quoted as saying, Images today matter. Photography, with its power to inform and to bring intellectual and emotional understanding to complex issues, plays a pivotal role as a contemporary social witness. These awards reflect just that.
The Lucie Awards celebrate photography's greatest achievements the world over. Each year, Lucie Foundation and the global photography community recognize that year's extraordinary honorees and the talented winners from the International Photography Awards (IPA) juried competition - the Foundation's sister-effort.
The 2021 honorees, who will join the distinguished group of 150+ previously recognized photographers, are Peter Magubane for Lifetime Achievement, Paul Caponigro for Achievement in Fine Art, David Hurn for Achievement in Documentary,
Jean-Pierre Laffont
for Achievement in Photojournalism, Lynn Goldsmith for Achievement in Portraiture, Pamela Hanson for Achievement in Fashion, Bob Martin for Achievement in Sports, Joel Sartore for The Humanitarian Award, Stephen Sasson for the Spotlight/Visionary Award. The 2021 Lucie Impact Award recipients will be announced at a later date.
About Lucie Foundation
Lucie Foundation's mission is to honor master photographers, discover and cultivate emerging talent and promote photography appreciation worldwide. The Lucie Awards ceremony is held annually to celebrate the outstanding achievements of the international photography community, recognizing those whose life's work deserves the highest acclaim. This is also where the Foundation's sister enterprise, the International Photography Awards (IPA) competition, announces the winners of the Photographer of the Year, and the Discovery of the Year. Cash prizes and statues are awarded. The Foundation presents year-round programming. The Foundation also offers financial funding through the Lucie Scholarship Programs in support of both emerging and professional photographers. Lucie Foundation is a 501(c)3 non-profit charitable foundation.