For six years (2014-2020) Tel Aviv-based photographer and artist Iris Hassid followed the day to day life of four young Palestinian women, citizens of Israel, who are part of a recent surge of the young generation of Arab female students attending Tel Aviv University.
There is a growing group of young adults of Arabic descent demanding their rightful place in Israel's society. Coming to Tel Aviv mostly from conservative families and patriarchal communities, they are forced to deal with the issues of identity and nationality definitions. They are faithful to their Palestinian heritage, but struggling to be true to themselves when merely speaking Arabic in public, rather than Hebrew, brings stares.
I couldn't rent an apartment in Ramat Aviv for a long time. When I sent a copy of my ID card, the landlords would suddenly find a reason not to rent me the apartment.
- Samar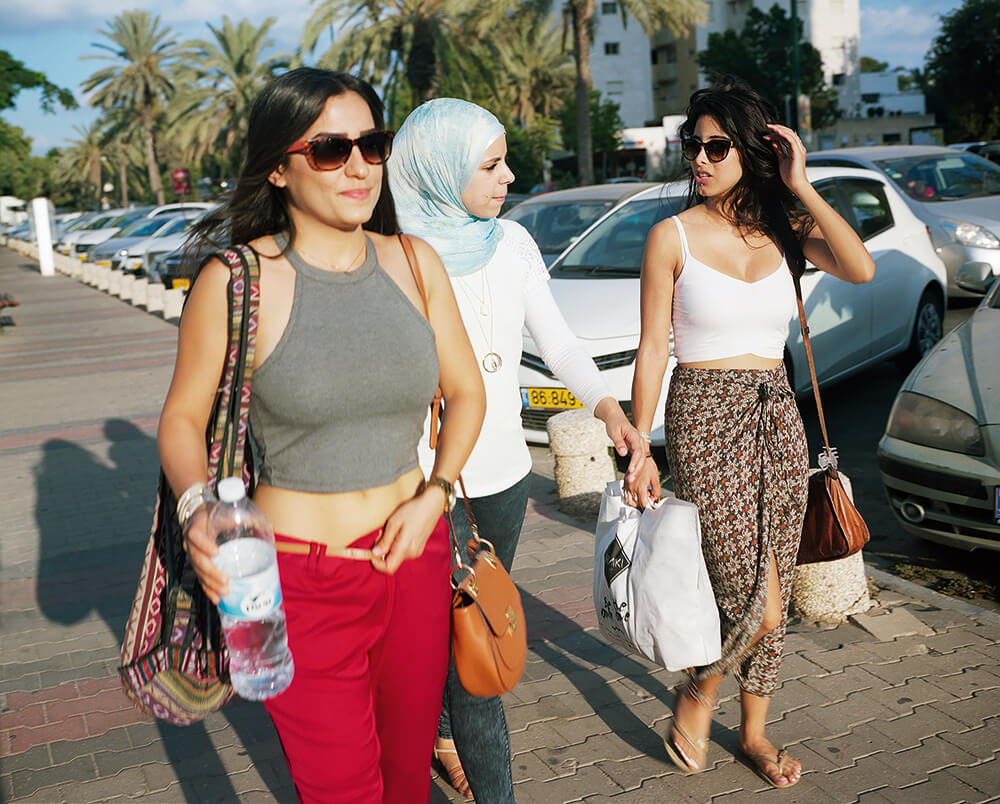 Samar, Aya, and friend, Abba AhimeirStreet, Ramat Aviv © Iris Hassid
Engaging in spontaneous, pleasurable, and often thought-provoking conversations, Iris Hassid photographed Samar (a fresh graduate from film school) from Nazareth, her cousin Saja (studying psychology) also from Nazareth, Majdoleen (studying architecture) from Kafr Kanna, and Aya (studying social work and gender studies), from Kafr Qara. One can see bits of these conversations in the book.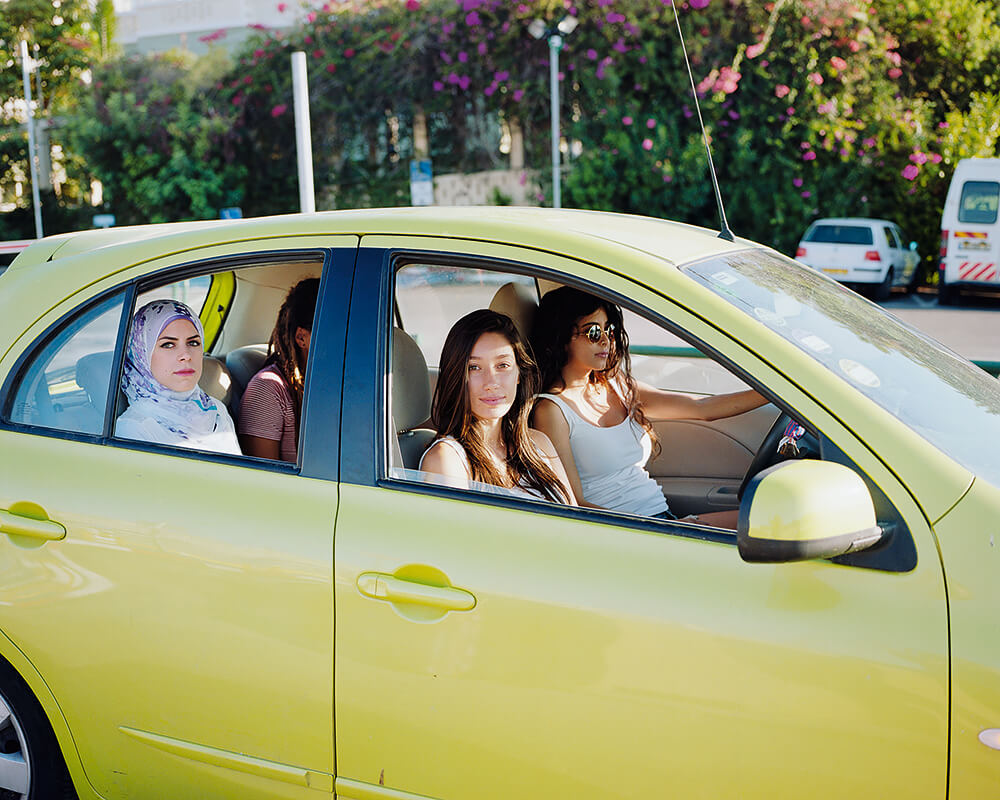 Samar, Aya, Saja, and Manar, green car, Ramat Aviv © Iris Hassid
It was refreshing to hear Arabic being spoken in my neighborhood by a new generation of young and self-confident women, so different from how they are portrayed in the media. Why do we label people by their languages, names, accents, looks, and nationalities? The presence of these young women in Ramat Aviv fascinated Iris Hassid, who lives right around the corner from Tel Aviv University, so it made sense to engage. This project does not claim to faithfully document the lives of these women, nor does it pretend to show 'true' moments. It should be seen as a collaboration between them and me.
It's different to walk here in the center of Tel Aviv with a hijab... I get a lot of attention. … I don't get why it's so strange for them to see Arab women in the city. Nobody tries to understand and know us.
- Aya
Samar, Kaffieh, HaNevi'iim Street, Tel Aviv © Iris Hassid
The six year project not only shows Samar, Aya, Majdoleen and Saja grow as they became young adults dealing with issues of career, family, boyfriends, clothes, music, and hanging around, but also how the reality and complexity of the country (the 2014 Israel-Gaza conflict, the 2015 elections, and the 2018 'Jewish Nation State' law) intrude in their lives continuously at the same time bonding them even more closely.
The outcome of the project is as refreshing, remarkable, and hopeful as it is unclear. I gained their trust as we learned more about each other. Bit by bit I witnessed more intimate parts of their lives and I also met their families back home. This long and intimate collaboration made me question the place I live in, the historical narrative, the identity and symbols we inherited on both sides. It has revealed a complex and new reality. I often think about their futures and about the future of this country.
I can't stand the definition of Arab Woman – I just want to be a person with no labels. I have an Israeli passport and a mug from Lebanon, that's me. Take a picture of that.
- Majdoleen
Samar and Louis, outside Dizengoff Center, Tel Aviv. © Iris Hassid
Iris Hassid is an Israeli photographer and artist who lives and works in Tel Aviv. She is co-founder and co-manager of the collective contemporary art gallery Binyamin. Her long-term projects predominantly focus on the identity and culture of young women and adolescents from different backgrounds. Relationships and collaborations with the subjects of her photographs form the basis of her way of working.
Essays by activist, and feminist researcher, founder and general director of Adar Foundation, Manal Shalabi, and art and literature critic senior lecturer in the Midrasha Faculty of Arts, Gilad Melzer.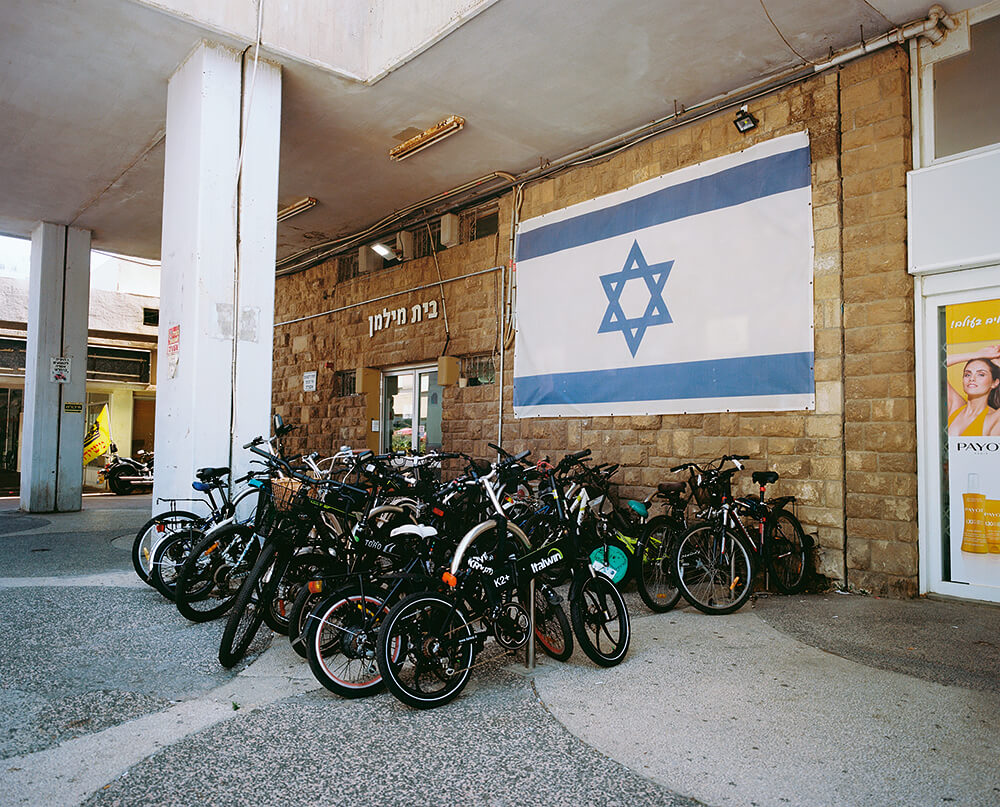 Flag, Beit Milman Student Dormitories, Ramat Aviv. © Iris Hassid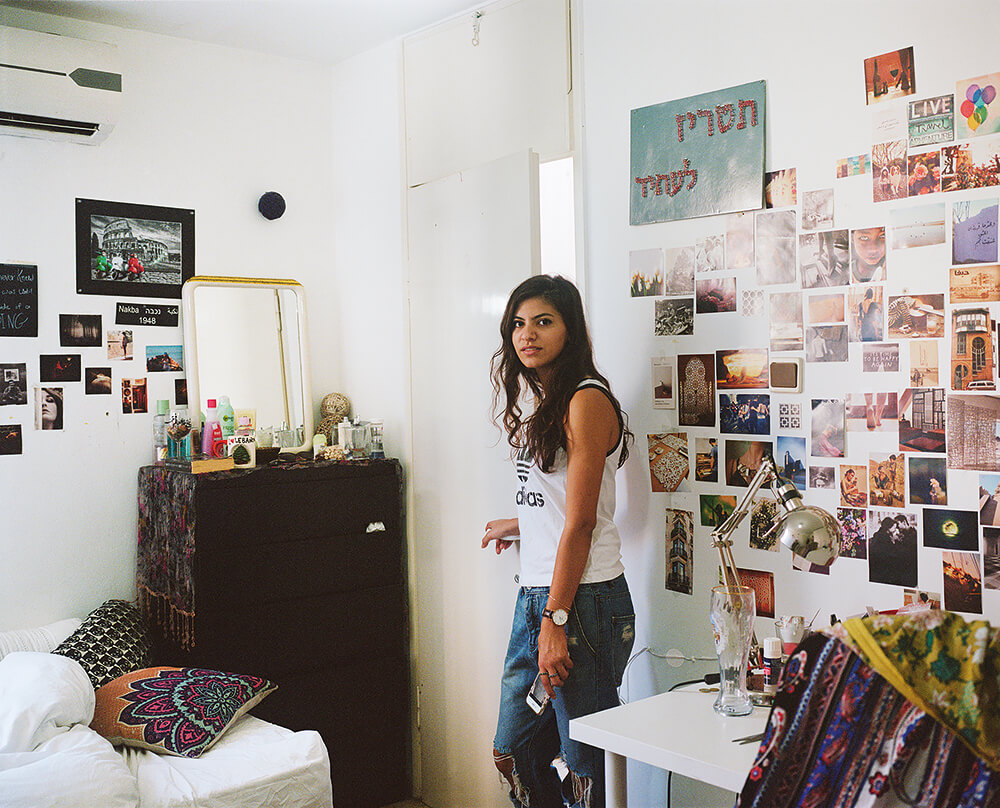 Majdoleen, room, on the circular tapestry, the word 'Freedom' is embroidered in Arabic, Ramat Aviv © Iris Hassid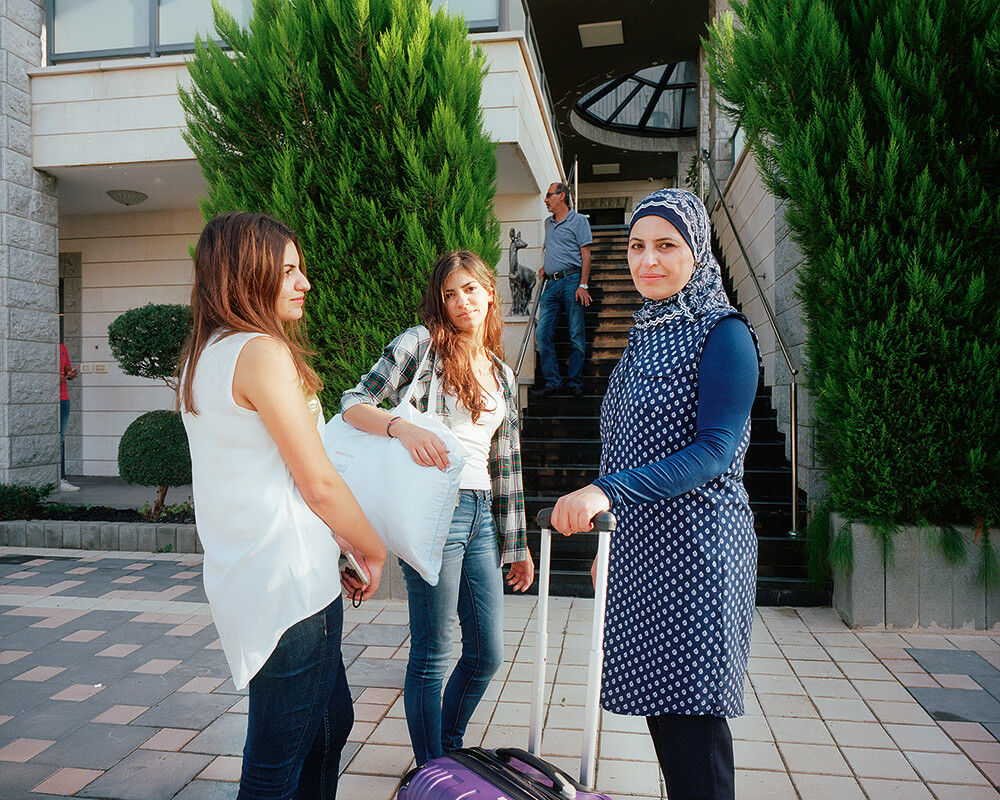 Majdoleen, mother, sister (Bihan) and dad, house entrance, Kafr Kanna © Iris Hassid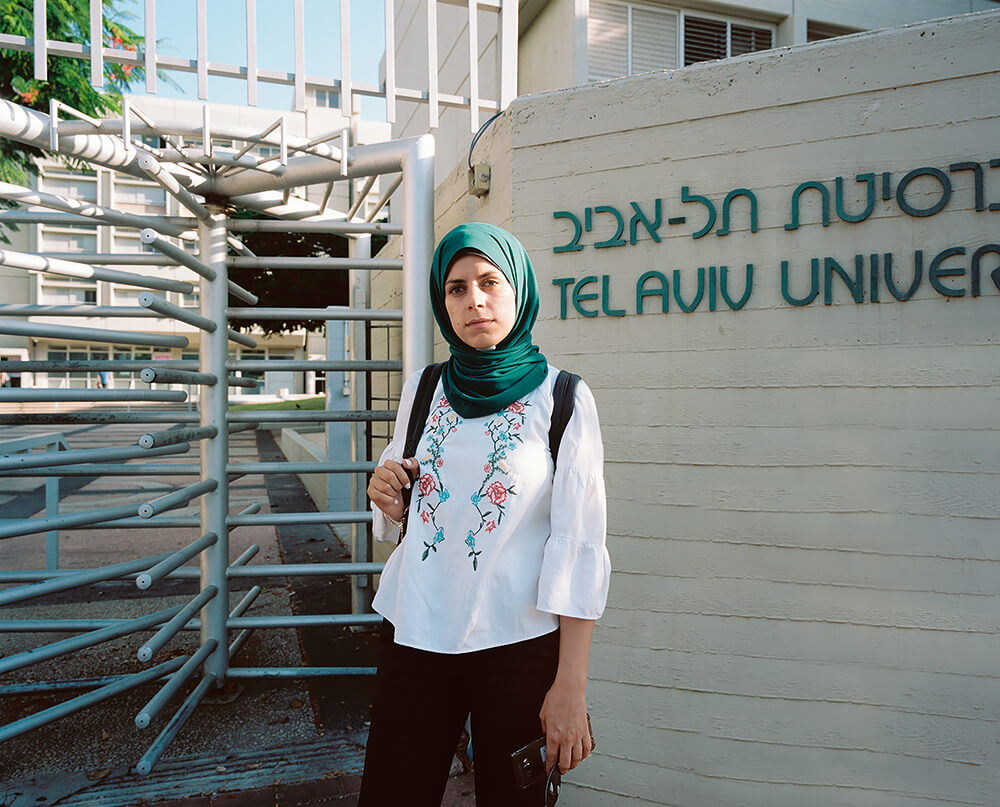 Aya, exit of student dormitories, Einstein Street, Ramat Aviv © Iris Hassid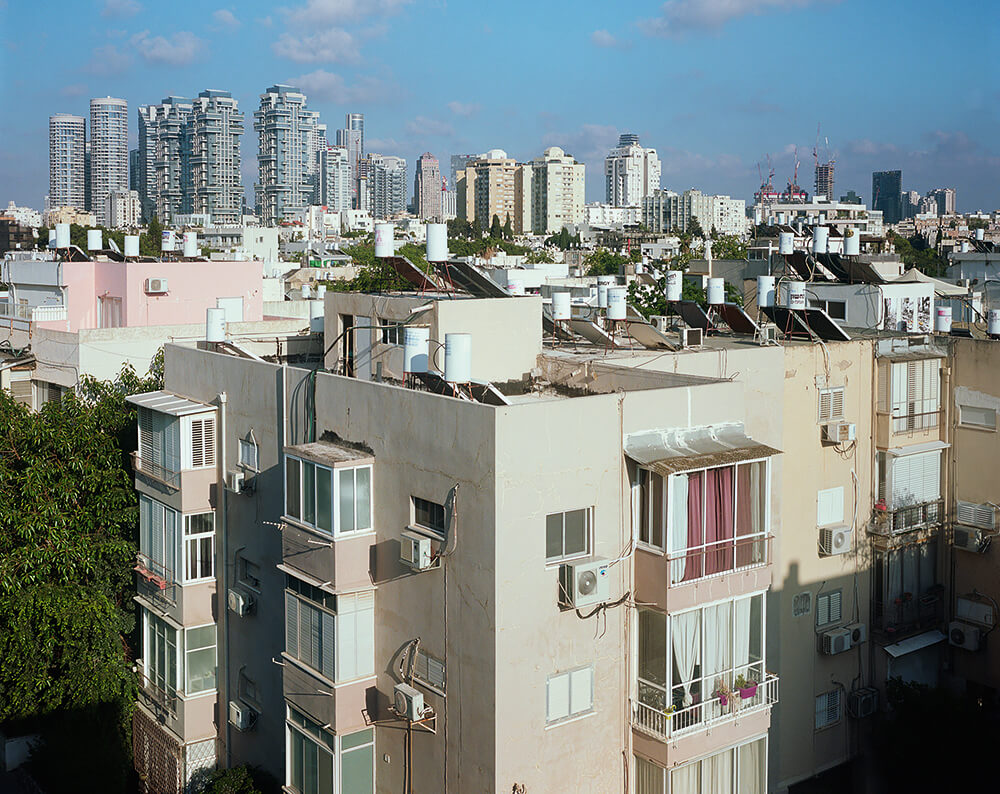 View of Tel-Aviv's rooftops from the roof of Samar's apartment building, Tel Aviv © Iris Hassid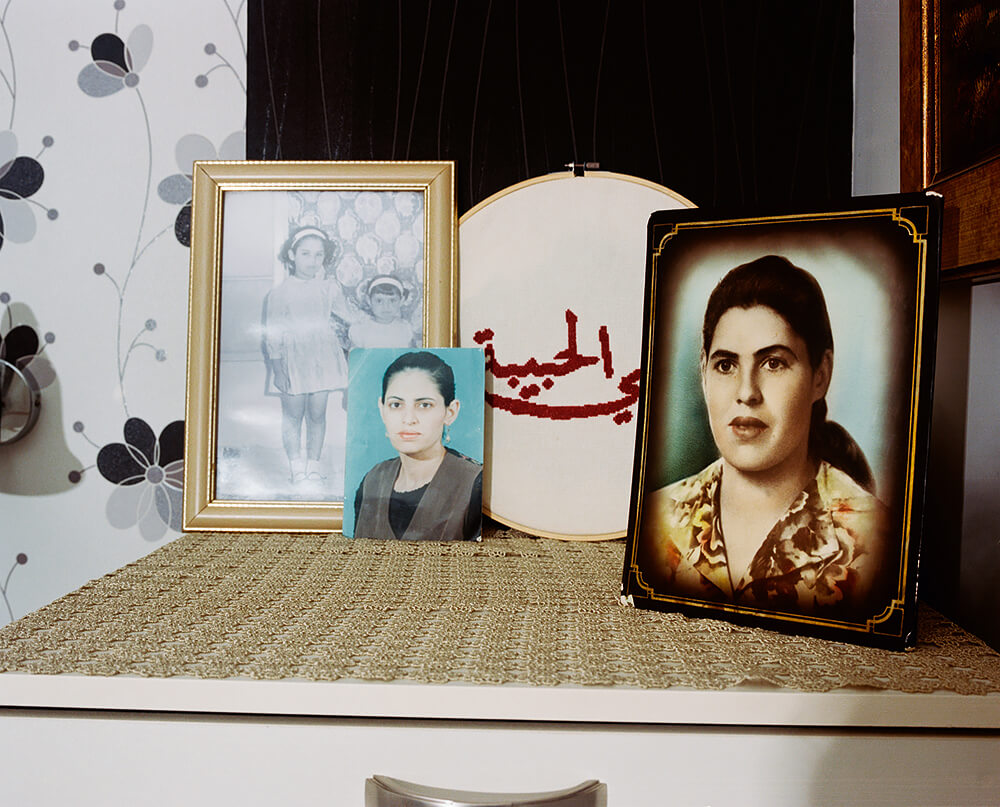 Dresser, picture of Grandma, the words 'Dear mother' embroidered in Arabic on circular tapestry, Majdoleen's parents' bedroom, Kafr Kanna. © Iris Hassid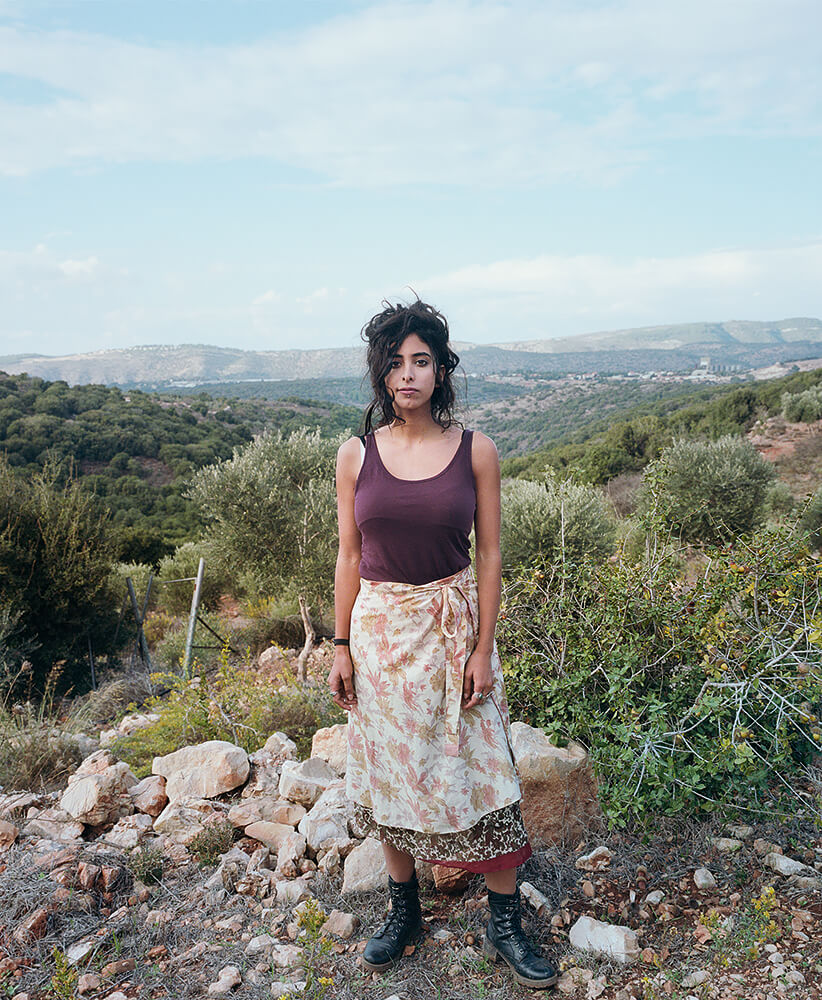 Samar, family plot, Makhoul Village, West Galielee © Iris Hassid