With entries received across Africa, the Africa Photo Awards 2020 awards ceremony recently took place at the Keyes Art Mile in Johannesburg, South Africa. Local photographer and graphic designer, Hanli Smit walked away with the award for Photographer of the Year for her image Homage-to-Tretchikoff. Smit's images won two main categories: Fashion for Avant-Garde-Fashion-The-New-Normal, and Portraiture for Homage-to-Tretchikoff, with this image securing her the main prize.
The Africa Photo Awards is a non-profit competition which showcases the best photography from the continent, sponsored by Fujifilm South Africa and QPhoto ProLAB. The intention of this prestigious event is to create a competition that challenges individuals as photographers, and is inclusive of all styles, levels and approaches to photography.
Category Winners
This year there were nine categories for which photographers could enter, with the category winners as follow:
Abstract: Dieter Rowe Setz, Three times the sin
Conceptual: Margherita Introna, The game of Solitaire
Editorial: Frank Trimbos, Metalheads of Botswana
Fashion: Hanli Smit, Avant-Garde-Fashion-The-New-Normal
Fine Art: Charlaine Gerber, Such a long fall, washed out to sea
Landscape: Leon Pelser, Shembe-on-farm
Portraiture: Hanli Smit, Homage-to-Tretchikoff
Wedding: JCclick Photography, Dreams have no boundaries
Wildlife: Hein Waschefort, Green Fly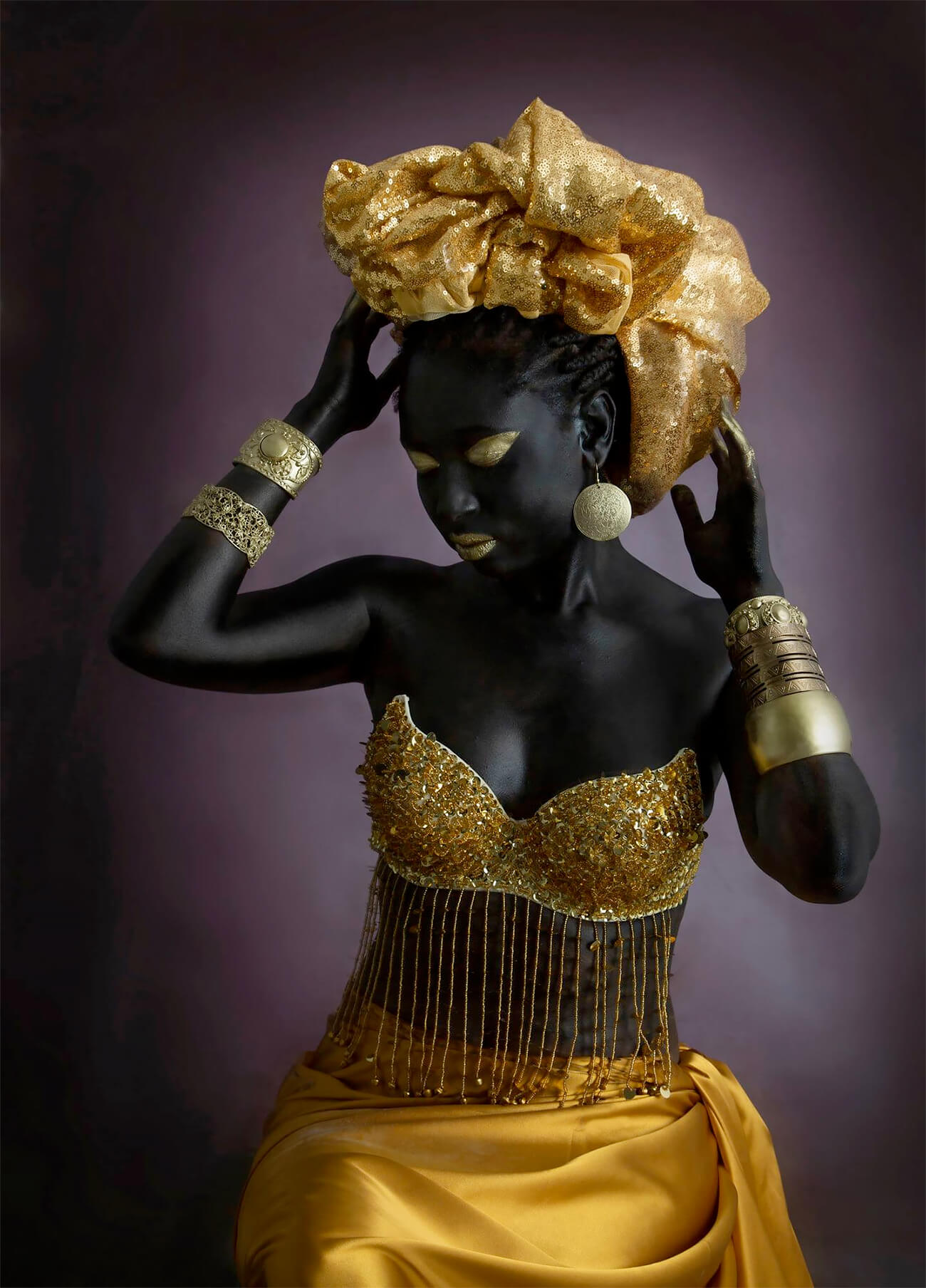 Homage-to-Tretchikoff ©Hanli Smit
The wonderful glittery gold fabric was asking to be used, we created the turban and then I realised the opposite colour to Gold on the colour wheel is Purple and I had the hand painted backdrop gifted by an Artist friend as the perfect match. It always presents a striking result when you use two opposite colours in the studio. I immediately felt it reminded me of the famous purple lady painted by the King of Kitch and was in all the middle class homes during the 60's and 70's. Tretchikoff!
Smit believes it was a last-minute decision to change the backdrop during the shoot that made the difference to her winning image. "I plan my shoots well in advance but often it's the unplanned that creates something special. An artist friend of mine gifted me the purple background, which I swopped around when I wasn't satisfied with the previous black one. I took the photo and it worked perfectly," Smit notes.
Apart from a Fujifilm X-H1 mirrorless camera, battery grip and Fujinon XF 16-55mm F2.8 lens, Smit also secured a trip at next year's Paris Photo expo in France. This includes flights and accommodation to the value of R30 000. Her prizes further comprised of a R5 000 printing voucher from QPhoto ProLAB and a Fujifilm Instax Square SQ20 camera and film to the value of R5 000. Each of the category winners received a R2 000 printing voucher from QPhoto ProLAB, and a Fujifilm Instax Mini 11 camera and film worth R1 400.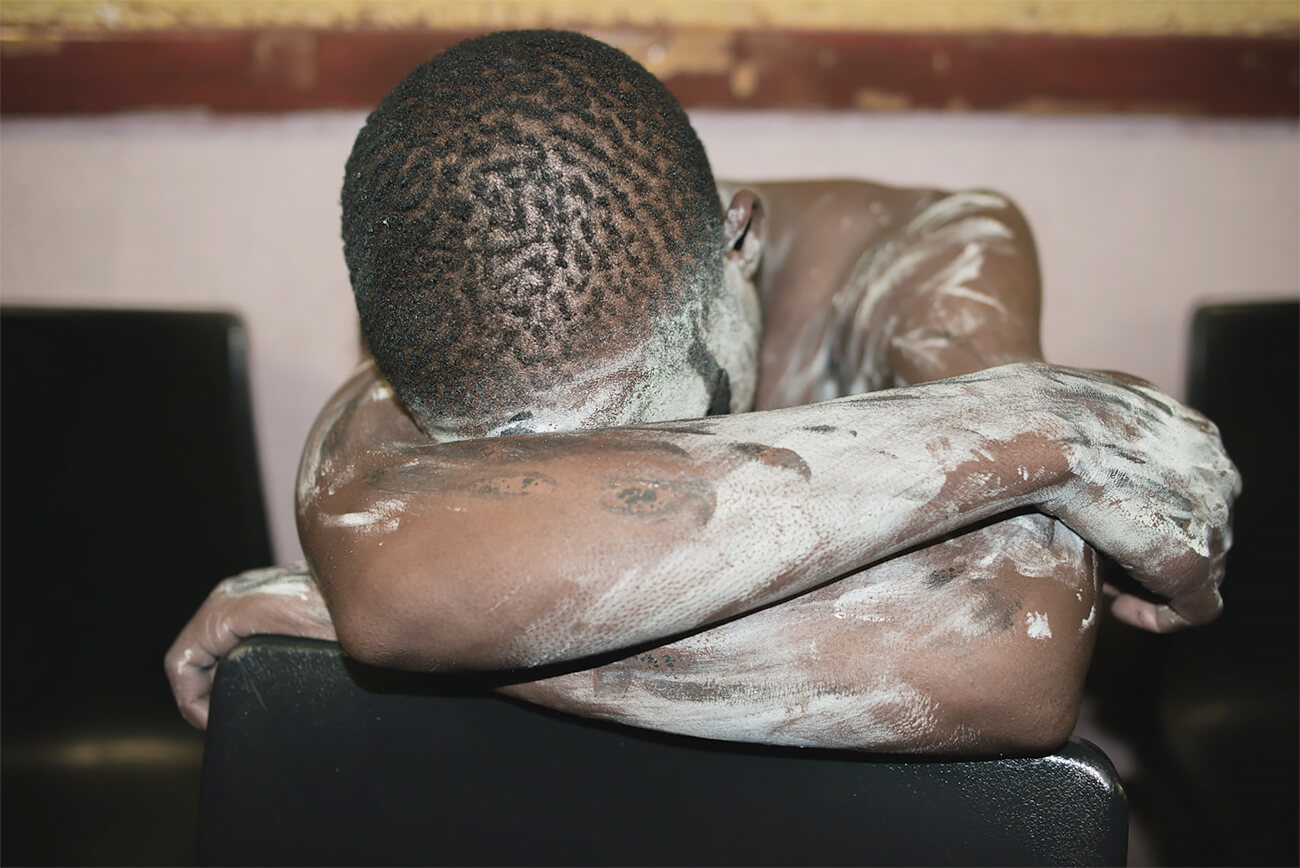 Metalheads of Botswana © Frank Trimbos
Metalheads of Botswana -Botswana enjoys a growing number of heavy metal aficionados. Albeit small, the enthusiasm is no less. Actually, probably because the heavy metal community is so small across Africa, the dedication seems all the time more intense. They use heavy metal and their alter egos to remove themselves briefly from their everyday lives; forget about their problems for a while and simply start headbanging. This escapism holds an outlet for them, without any inequality or division, but that instead unites through a shared fondness for the heavy metal music, the performances and the lifestyle It is two o'clock at night on the last day of the Metal festival in Palapye, Botswana, and visitors are sleeping quietly in the corner; too drunk and exhausted to continue.
Judging Panel
The panel of judges for the Africa Photo Awards consisted of ten of the top photographers on the continent, including photographic greats such as Dennis da Silva (South Africa), Gurcharan Roopra (Kenya), Héla Ammar (Tunisia), Mauro Pinto (Mozambique), Abdo Shanan (Algeria) and Raphael Chikukwa (Zimbabwe).
Entries to the competition were received from across Africa, including Madagascar, Ethiopia, South Africa, Mozambique, Botswana, Angola, Sierra Leone and Guinea, amongst others.
Competition adjudicator, Dennis da Silva believes the quality of certain categories increased due to photographers being able to work on images longer due the lockdown periods. "It has been a tough year for everyone, but to see the Africa Photo Awards presented as an exhibition like this is very satisfying. Africa needs it, South Africa needs it, and there are great photographers out there which this competition will expose," da Silva says.
Deon Brits, General Manager of the Photo Imaging Division at Fujifilm South Africa, believes the Africa Photo Awards is a strong suitcase for photography in general. "Africa has a wealth of photographic talent, and I hope competitions like this will bring them to international attention and provide them with the recognition they deserve," Brits notes.
There is still one award left - the People's Choice Fujifilm Award. Here viewers can pick their favourite photograph from those on display at www.africaphotoawards.co.za, and stand a chance to win a Fujifilm X-T100 mirrorless camera and lens. The 2020 winning photographs can also be viewed online at www.africaphotoawards.co.za/2020-winners/.
Shembe-on-farm © Leon Pelser
This was taken on a farm outside KRIEL in Mpumalanga, in the winter, with my drone to capture an aerial view on the SHEMBE meeting between 14h00 and 16h00 on a Saturday afternoon. It is a religious meeting and they use a part of the farm for that...