More than thirty war correspondents have gathered in Bayeux on October 9th and 10th to debate and award trophies in the following categories: photo, print, radio, television, grand format television, young reporter (photo) and video image. Three honorary awards have been attributed: the Regional prize for students and trainees of Normandy (television), the Public's Choice award (photo) and the Ouest-France - Jean Marin prize (print). Presided by Ed Vulliamy, the international jury of the 27th edition of the Bayeux Calvados-Normandy Award for war correspondents has reached its verdict...
I am absolutely exhausted, not for lack of sleep but for the intensity of what we've been doing. It is the honor of a lifetime to chair the jury. The Prix Bayeux is the epicentre, the centre of gravity of our profession. What is wonderful about the deliberations of the jury is that there is nor right or wrong : we have to make a judgement but it is impossible by definition. We are choosing between best and better.
-
Ed Vulliamy
PHOTO TROPHY - INTERNATIONAL JURY AWARDED BY NIKON
1st Prize
Lorenzo TUGNOLI
CONTRASTO for The Washington Post
La guerre plus longue
AFGHANISTAN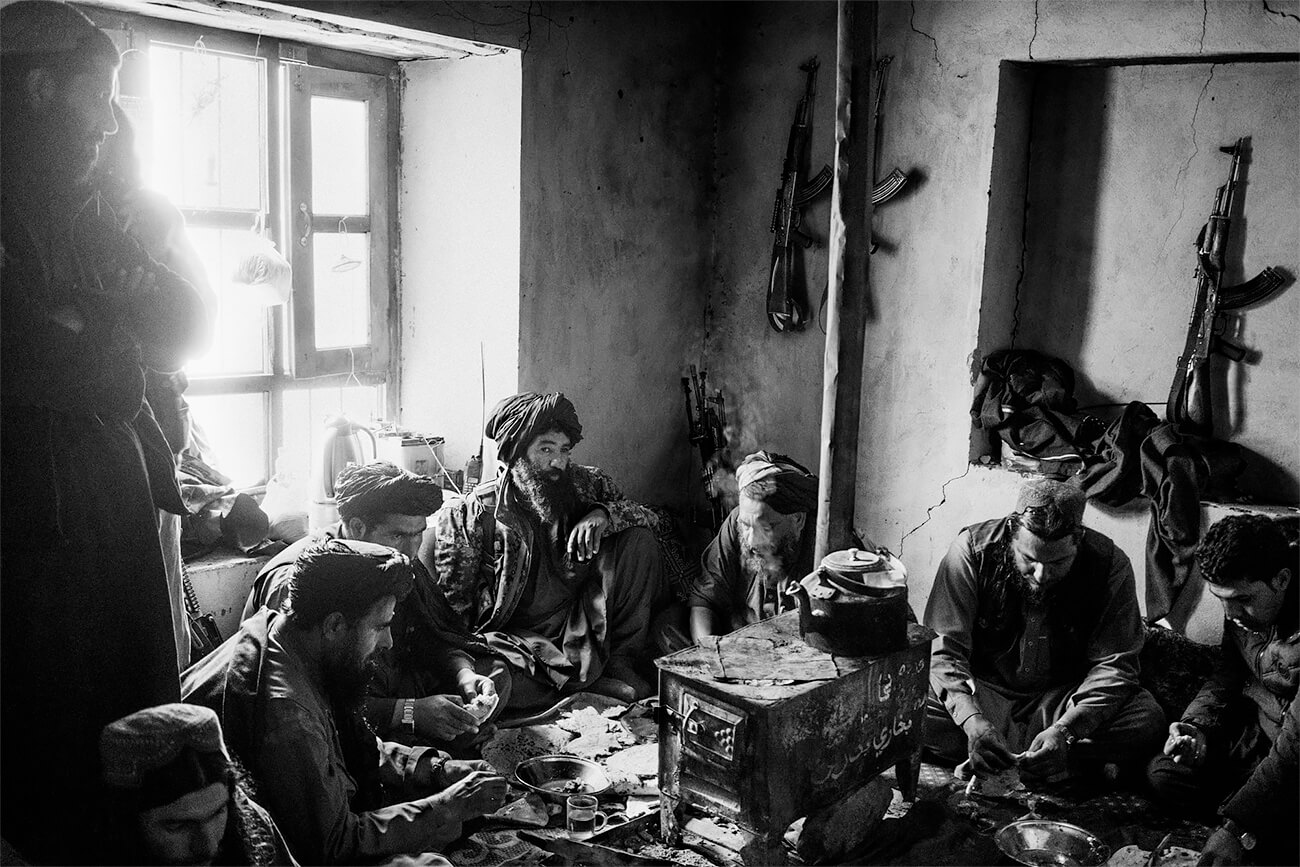 © Lorenzo TUGNOLI/Contrasto
NANGARHAR PROVINCE, AFGHANISTAN - 2019, DECEMBER 11: A group of Taliban fighters have lunch in a hide out in a remote part of Khogiani district. (Photo by Lorenzo Tugnoli/The Washington Post/Contrasto)
2nd Prize
Anthony WALLACE
AFP
Hong Kong, une révolte populaire
HONG KONG
3rd Prize
Laurent VAN DER STOCKT
Le Monde
Contestation irakienne : les jeunes exigent le changement
IRAQ
PRINT TROPHY - INTERNATIONAL JURY AWARDED BY THE DEPARTMENT OF CALVADOS
1st Prize
Allan KAVAL
Le Monde
Dans le nord-est de la Syrie, la mort lente des prisonniers djihadistes
SYRIA
2nd Prize
Fritz SCHAAP
Der Spiegel
Rain wars
CHAD
3rd Prize
Jack LOSH
Foreign Policy
Les gardes forestiers d'Afrique centrale sont aussi menacés que les animaux qu'ils protègent
CENTRAL AFRICAN REPUBLIC
YOUNG REPORTER TROPHY (PHOTO) - INTERNATIONAL JURY AWARDED BY CA NORMANDIE
1st Prize
Anas ALKHARBOUTLI
DPA
La guerre en Syrie
SYRIA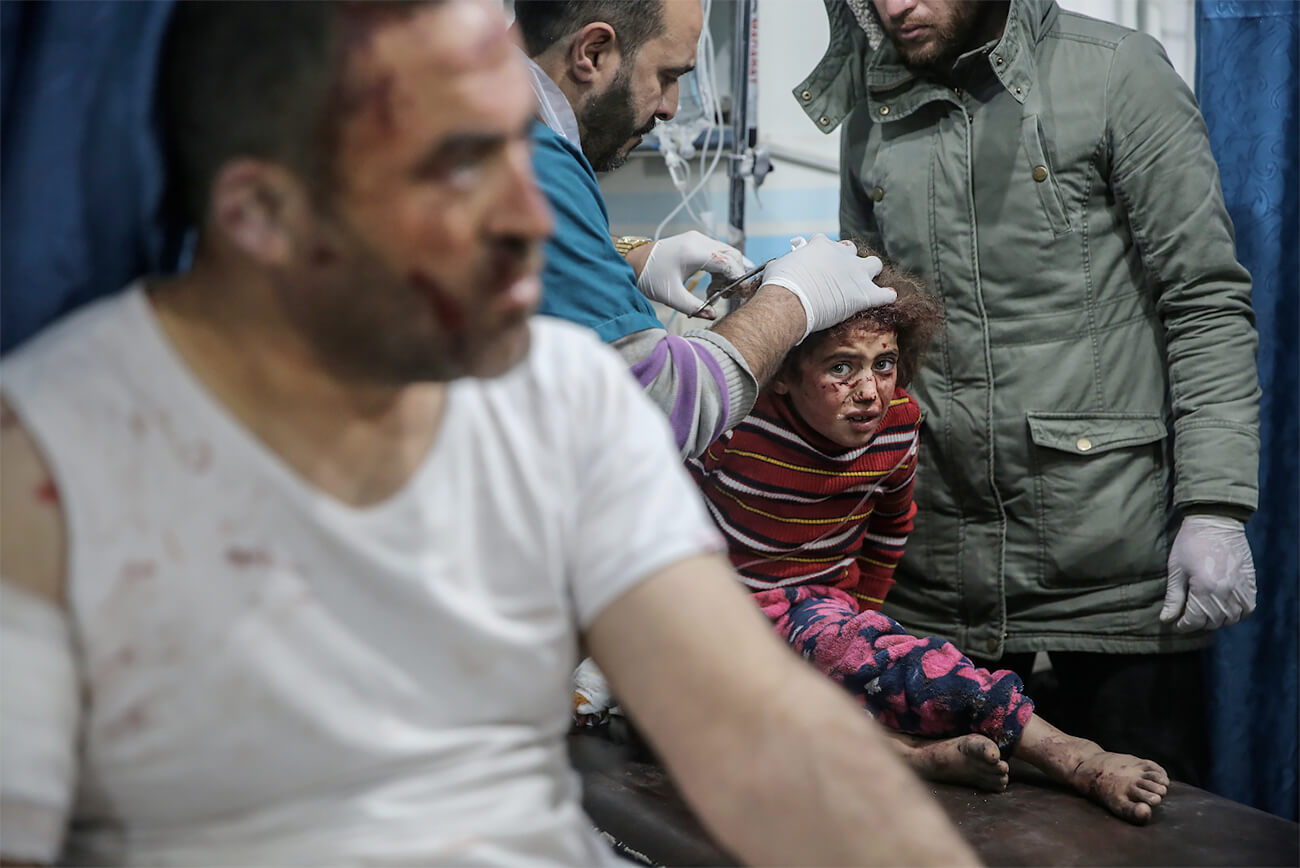 2020, January 11, Idlib: six-year-old Kenana Yassin, receives treatment after being injured along with three members of her family, in an airstrike by the Syrian government on the rebel-held Idlib province.
PHOTO TROPHY - PUBLIC'S CHOICE AWARD SPONSORED BY THE FRENCH DEVELOPMENT AGENCY (AFD)
1st Prize
Anthony WALLACE
AFP
Hong Kong, une révolte populaire
HONG KONG
AFP PICTURES OF THE YEAR 2019 - Pro-democracy activists hold up LED lit letters which read Free HK as others shine torch lights, lights from their phones and lasers while forming a human chain on Lion Rock in Hong Kong on September 13, 2019. - Thousands of Hong Kong pro-democracy activists used torches, lanterns and laser pens to light up two of the city's best-known hillsides on September 13 night in an eye-catching protest alongside an annual festival. The evening of September 13 marks the start of the mid-autumn festival, one of the most important dates in the Chinese calendar, and is traditionally a time for thanksgiving, spending time with family and praying for good fortune.