Dotan Saguy's heartfelt photo essay on the Reis Family is both an honest reflection on the other side of the American Dream and a testament to the power of family and love. Not since Sally Mann's Immediate Family has there been anything as powerful or -- dare I say it -- so beautiful on this subject matter.
- Peter Fetterman, Peter Fetterman Gallery.
I took a magical photographic journey with the five of them, hoping to learn about their world, hoping I could show the beauty of their life and help lessen the stigma suffered by vehicle dwellers. In the process, I made wise, fascinating friends who taught me a lot about myself.
-- Dotan Saguy
Award-winning photographer
Dotan Saguy
first met the Reis family, Mormons from Brazil, the day they arrived in Los Angeles in a converted yellow school bus they call home with their three children ages 10, 5 and 2. They had come to the United States two years prior to chase the American Dream. While they quickly found financial footing in the US and acquired all the material things they wanted, they were still not happy. Inspired by a YouTube video by a Brazilian artist who quit everything to travel and sell his art, they decided to explore an alternative lifestyle that would allow them to spend more time as a family and discover the world together through travel.
In Nowhere to go but Everywhere (Kehrer Verlag, September 2020), Saguy documents artfully and with compassion the Reis family's trials and tribulations during their ten-month stop in the City of Angels as they struggle to make it as vehicle dwellers, improvised mechanics, unconventional parents, Mormonism doubters, and experimental breadwinners, while seeking happiness as a family.
This heartening book transports the viewer into the Reis family's bustling, cramped living quarters where parents and children live on top of one another but don't seem to mind. We feel their warmth, and we witness joy, love, laughter and tenderness. Saguy captures the daily activities -- preparing meals, eating together, doing chores, having home school lessons, doing homework, playing with toys, and enjoying alone time. The exuberant 10-year-old transforms the bus into a gym swinging across the room like Tarzan. Living in a small space with two adults and three boisterous children can sometimes be precarious.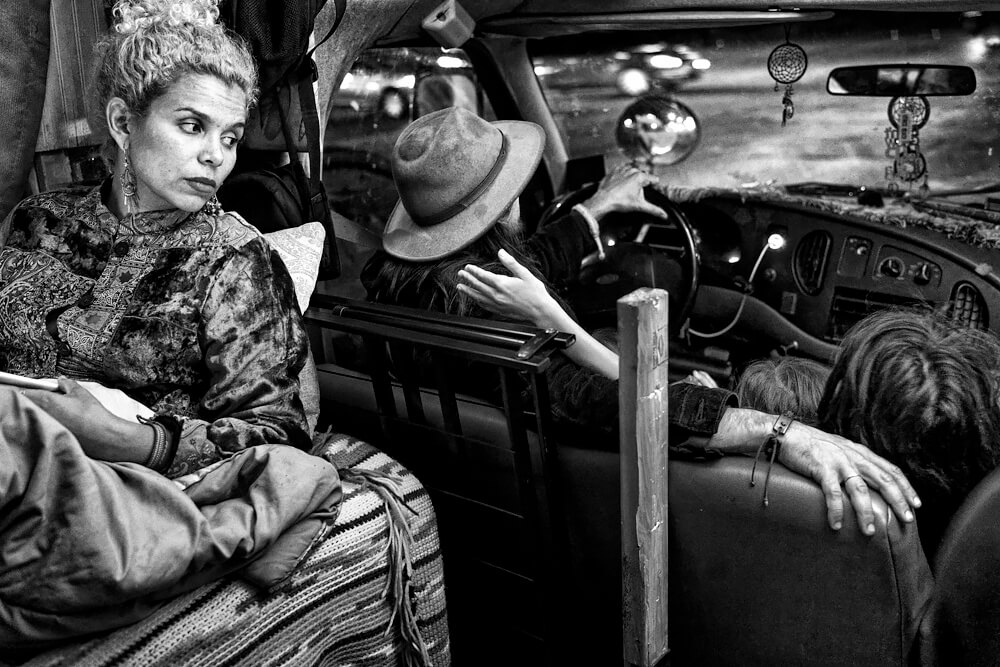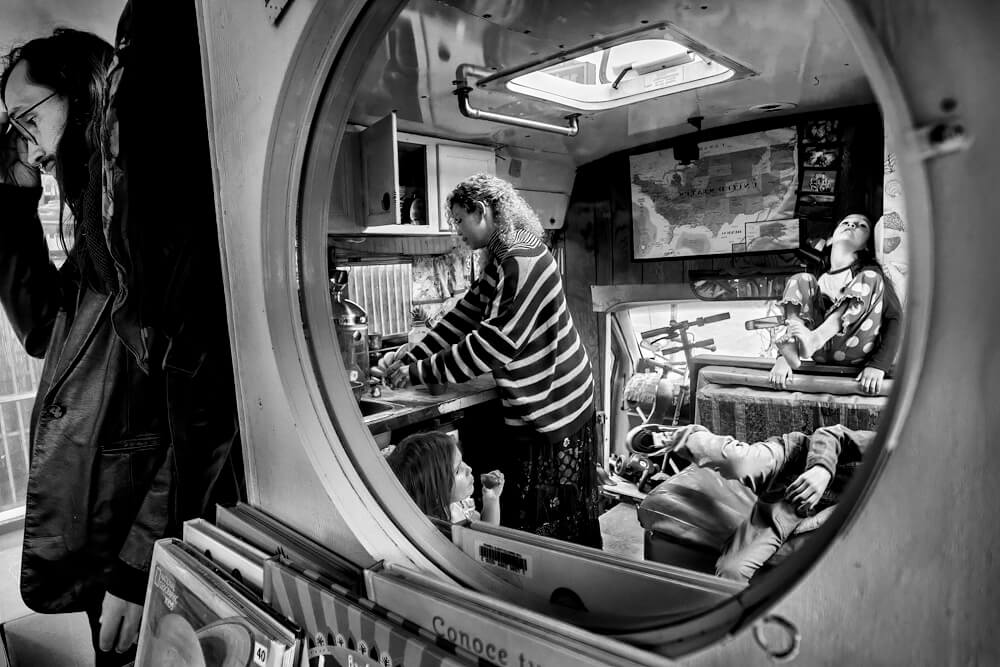 The Reis family experienced happy times and also tough times. During one such hard time that Ismael describes as three hellish days, the bus broke down, they got kicked out of the parking lot that served as their refuge, their baby girl hit her head and had to be rushed to the emergency room, the parents' faith in the Mormon religion collapsed and Greice, the mom, had to get an abortion they were very conflicted about. All this came after a tumultuous cross-country journey during which they ran out of money for food and gas and Ismael was forced to beg on the street.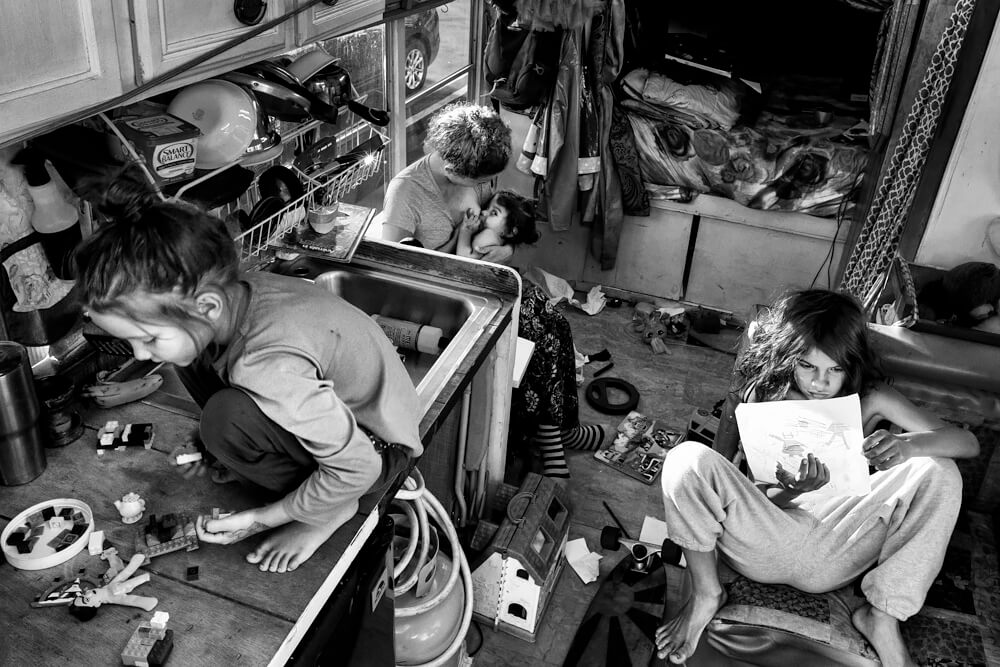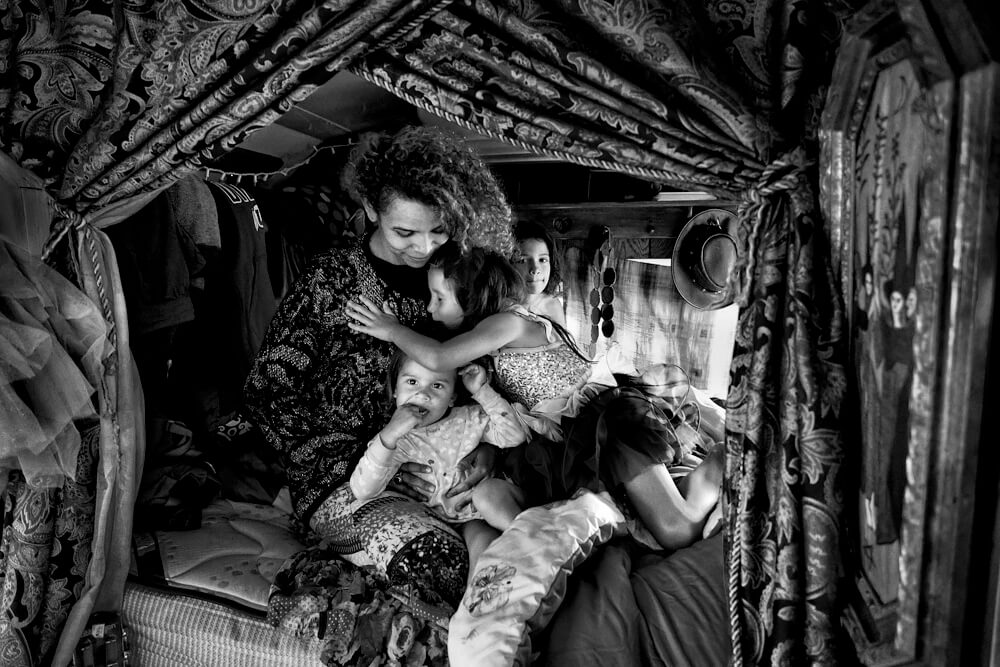 Social Backdrop for Everywhere to go but Nowhere
Today, over 16,000 people in Los Angeles County live in a vehicle. While vehicle dwelling is not a new phenomenon, the numbers are sharply on the rise. Just like for the rest of the homeless population, individual circumstances are diverse. Vehicle dwellers range from couch-surfing students occasionally using their car as a fallback accommodation to financially down-and-out individuals who have lost everything but their car and its contents. Regardless of what brings people to live this way, a common denominator seems to be low wages and the lack of affordable housing. The Reis family decided to live in a bus in order to spend more time together as a family. For them, it was a rational decision that cut their living expenses by ninety percent, while allowing Ismael Reis to stay home with his family instead of having to work long hours seven days a week to make rent.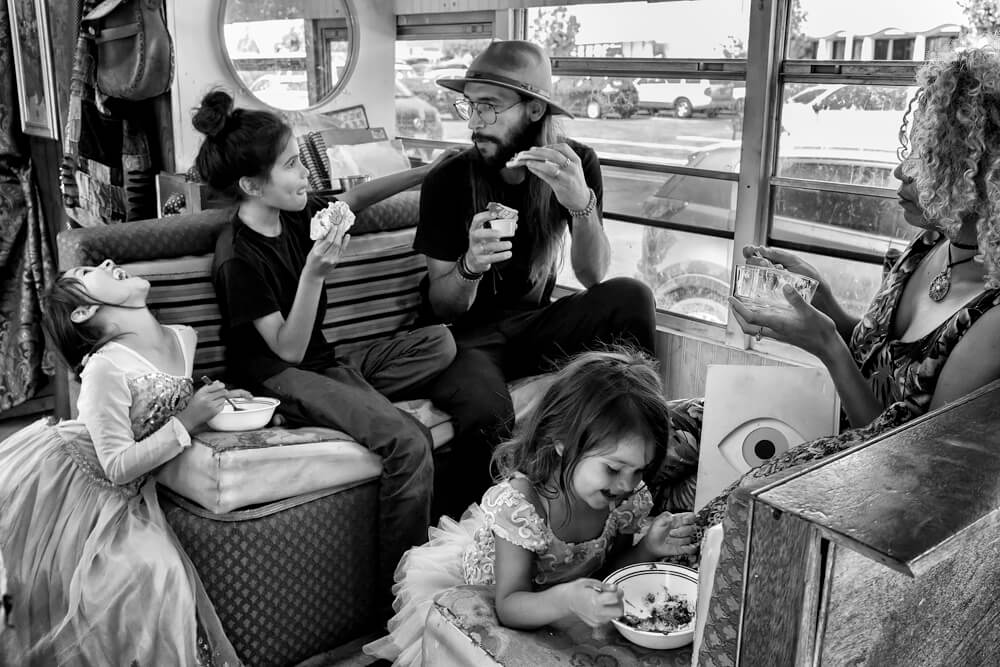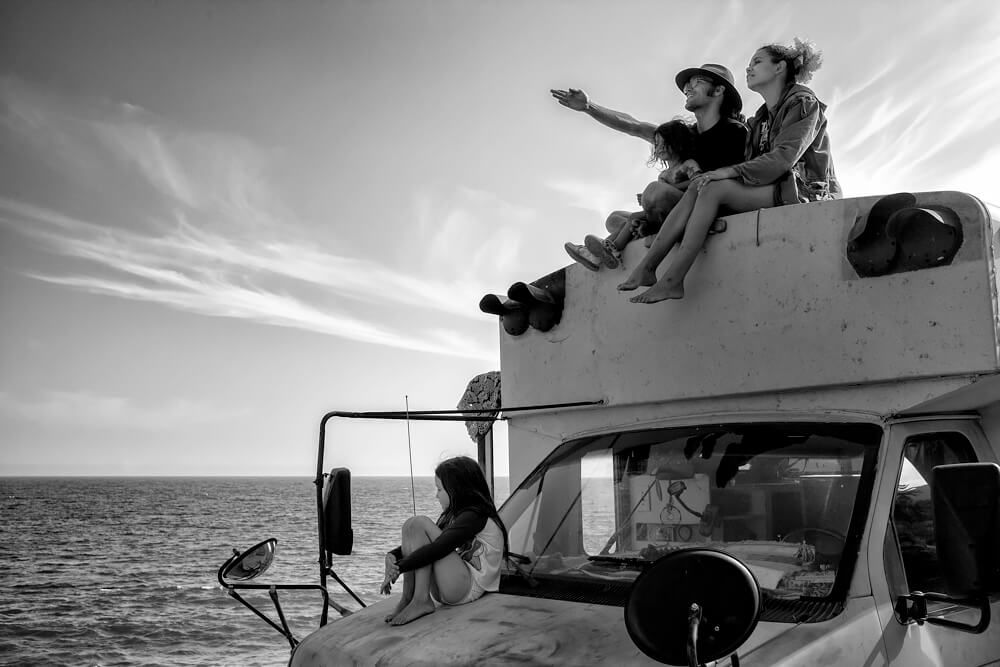 In his interview in the book conducted by Dotan Saguy, Ismael explains: A big benefit of this lifestyle in my opinion is family relationships: We relate to each other very differently than when we had a house. I believe that living together in such tight quarters helps [Greice and me] as individuals and as a couple to get to know each other better and get to know ourselves better. To find ourselves. I don't think my dad knew half of what I know about my kids when I was their age, because he was always at work. We never had any time to spend together. He didn't have time to get to know me. That's why I used to fight a lot with my parents. I didn't feel like they knew me.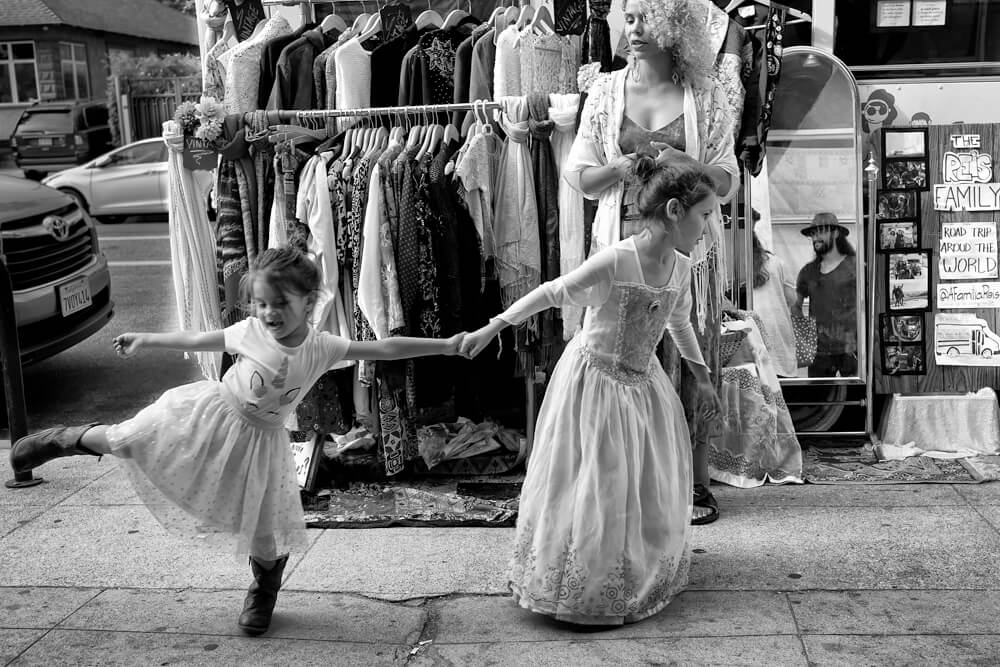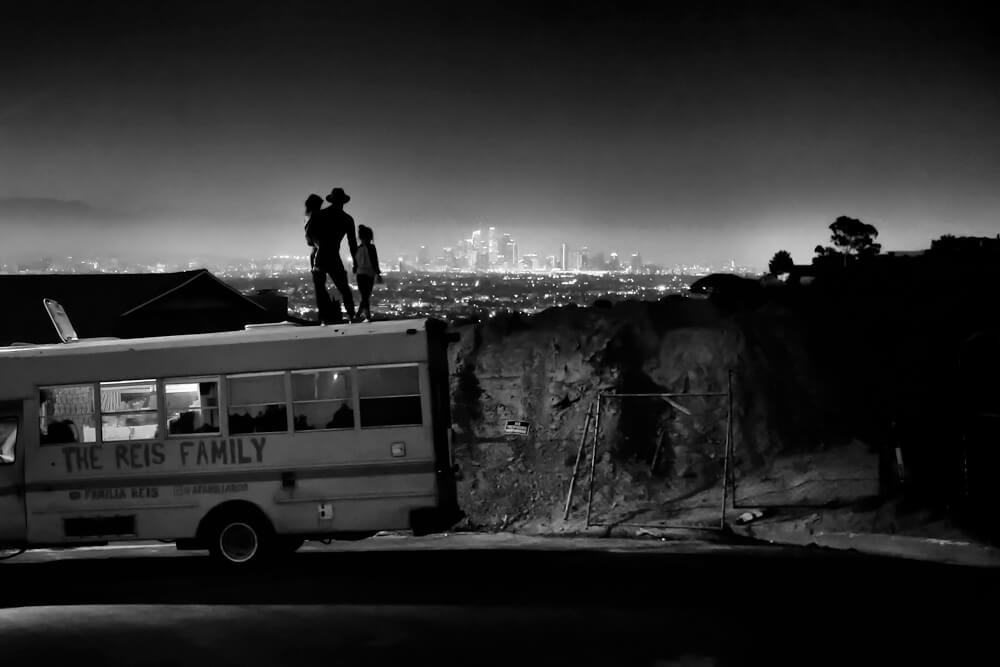 About the Photographer:
Dotan Saguy was born in a small kibbutz five miles south of Israel's Lebanese border. He grew up in a diverse working-class Parisian suburb, lived in Lower Manhattan during 9/11, and moved to Los Angeles in 2003. In 2015, Saguy decided to focus on his lifelong passion for photography after a successful career as a high-tech entrepreneur. Since then Saguy attended the prestigious Eddie Adams Workshop, Missouri Photo Workshop and studied photojournalism at Santa Monica College. Saguy's award-winning photographs have been published by National Geographic, The Guardian, The Los Angeles Times, among many other publications. Saguy teaches street photography and documentary workshops for Leica Akademie and Momenta Workshops. In 2018 Saguy's first monograph about the endangered culture of Venice Beach, CA was published by Kehrer Verlag and received a Bronze award by the prestigious Deutscher Fotobuchpreis 2018-19. Saguy lives in Los Angeles with his wife and two children.
Dotan Saguy's Website
Dotan Saguy is one of the winners of All About Photo 2020