Ilford, traditional brand in the market of photography, proudly presents five new fine art papers for museums and galleries where matte papers are highly demanded. The new ILFORD Galerie Prestige contains: Gold Fibre Gloss, Cotton Artist Textured, Fine Art Smooth, Textured Cotton Rag und Smooth Cotton Rag. According to Arnoud Mekenkamp, Joint Managing Director at Ilford Imaging Europe, the company's goal is to provide the market with premium papers - as they are used to from ILFORD.
ILFORD'S NEW FINE ART PAPERS IN DETAIL
Galerie Prestige Gold Fiber Gloss
the glossy complement to the popular ILFORD Fiber Silk, has a baryt-like surface, a traditional photo fibre base and the look and feel of a traditional baryt photo paper. Ideal for high quality black and white and color images it offers a wide color gamut for vivid images and excellent sharpness Ð making it perfect for digital toning.
Due to their different surface structures Ilford's three new matte fine art cotton papers address several applications and target groups:
Galerie Prestige Smooth Cotton Rag
has a very smooth surface for motives with very fine structures making it ideal for photo-realistic prints showing every detail of the photo.
For those who prefer structured media Ilford offers two papers which differ in the strength of their structure:
Galerie Prestige Cotton Artist Textured - has a watercolor textured surface and Galerie Prestige Textured Cotton Rag has a smoother one.
All cotton papers have a weight of 310gsm, a high color consistency and color gamut. They are water-resistant and contain no optical brighteners. They meet criteria for durability according to ISO 9706 and are base manufactured in a traditional paper mill.
Galerie Prestige Fine Art Smooth
is a warm-tone paper with excellent image sharpness and large color gamut. It is made from alpha cellulose and has a durable light resistance with pigmented inks making it excellent for fine art printing, photography and portrait. It has a weight of 200 gsm.
All new papers are available in page formats A4, A3+ and A2 and on roll in 17, 24, 44 and 50 inch.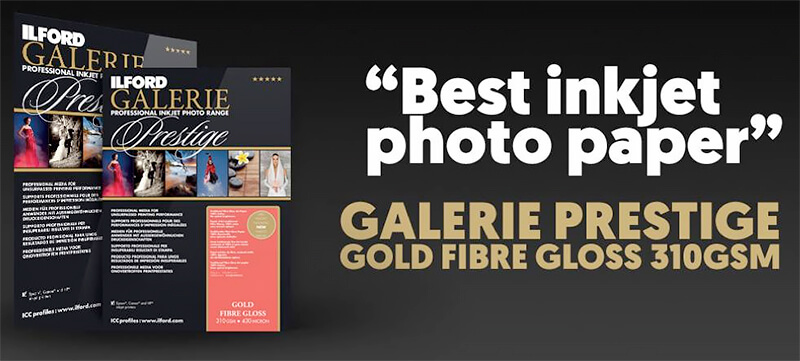 Museum Certificate for long durability:
All ILFORD Galerie Prestige cotton papers are in agreement with DIN 6738, ISO 9706, ANSI Z 39.48-1992. The ISO certification is of very high importance and often strictly demanded by museums and galleries. It guarantees a very long durability, complying to the highest durability class with a life expectation of more than 100 years. They all are 100% acid-free and have a neutral PH-value.