Posting on Instagram isn't the only thing you can do with your photos. You can use them to decorate your home, make photo gifts to delight your friends, or turn them into something special. If you've just finished sorting your photo collection and are looking for ideas on how to make the most of them - we've got you covered. Scroll down to find ideas for digital and printed photos, as well as bonus suggestions for old pictures.
What to do with digital photos
Thanks to advances in technology, our phones, tablets, and computers can accumulate gigabytes of data. It's no surprise, then, that more and more people prefer to store their images digitally. If you're one of them, here's a list of cool things to make with them:
1. Videos
A themed clip is one of the best ways to share a holiday trip, a family wedding, or a child's birthday. Create videos from photos, add video segments, overlay music, insert captions, and you're good to go. Videos like this are great on YouTube and also make unique gifts for your friends and family. But keep them short - no longer than a song. Three minutes is plenty of time to tell a video story without boring your audience.
2. Slideshows
If your phone has enough storage space for all your photos, you can create a slideshow with a mobile application. Apps like
Animoto
,
Magisto
, and others have all the tools you need to create fun and dynamic slideshows. Stickers, captions, and background music - that's all you need to make your video even more engaging. If you want to upload your slideshow to your Instagram profile, make it no longer than a minute and a half. The attention span of Instagram users is pretty low, so short videos are the best way to keep viewers interested.
3. Postcards
Get creative and turn your pictures into digital postcards. You can do this on your computer or phone with the help of
Photoscape
,
Pixlr
,
Fotor
, or other photo editing software. Apply filters, add text, frames, and other decorations. Postcards are a fun way to show you care, plus you can print and send them the old-fashioned way if you want. Here are some ideas:
-send family photos to your relatives via mail at Christmas
-create a comic collage for your best friend's birthday and post it on Facebook
-surprise a friend in another country with a postcard update of your life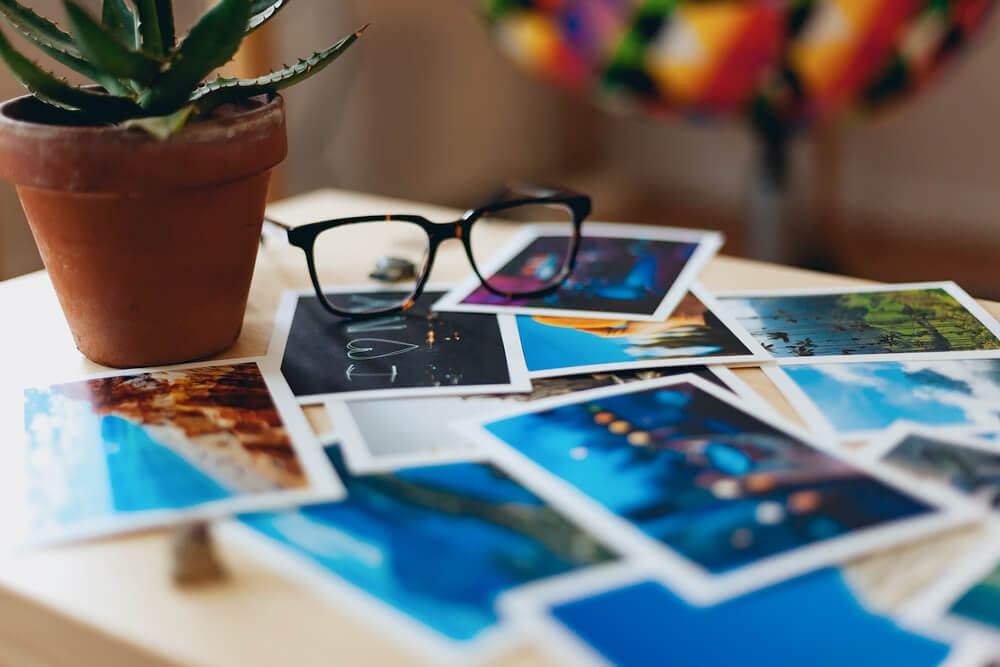 What to do with printed photos
If you're a fan of old-school techniques, here are a few tips. First, you will need a
photo printer
that will be a bridge between two worlds of photography. You could also take pictures with an
instant camera
like Fujifilm or Polaroid. Whichever you choose, there are multiple options to practice photographic crafts.
4. Photo albums & scrapbooks
Take your boxes of photos and place them in ready-made albums. There are standard albums for 10x15 pictures and specially designed albums for Instax or Polaroid images. Alternatively, you could create a scrapbook and decorate it with stickers, dried flowers, colorful tape, handwritten captions, or drawings.
5. Wall art
Your photo collection should be something you're proud of, so why not let everyone see it? Hang a corkboard or memo board on your wall and pin your best photos up. Use pins or small magnets and change the images around as often as you want. If you don't have enough space on your walls, the fridge door is also a great place for a collage. Here's another idea: put some nails in the walls and hang a string between them. Use little clothespins to hang your pictures, then add a string of Christmas lights to to spotlight the photos without the need for overhead lights.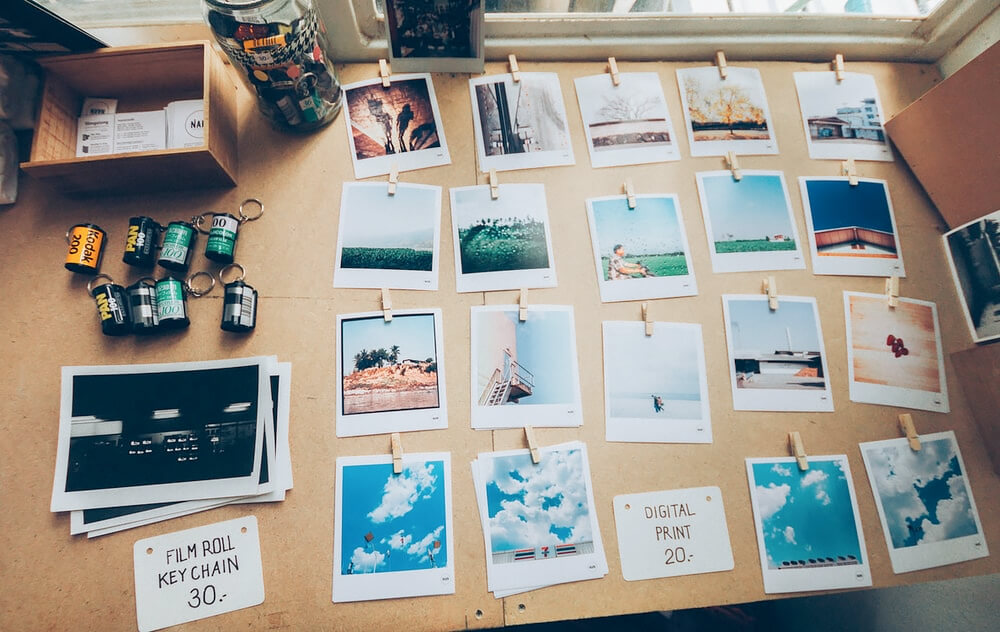 6. DIY photography gifts
Personalized gifts are a great way to give someone a surprise gift.
Professional printing companies
can create practically anything for you: photo magnets, mugs, pillowcases, phone cases, calendars, coasters, pins, T-shirts, puzzles, and other small items. This kind of memorabilia doesn't take up much space but is a great reminder of good times and people who were part of it. Make sure you choose an appropriate picture for each item.
What to do with old photos
7. Restoration
If your photo archive includes pictures of your grandparents' grandparents, it's high time you preserved them from the ravages of time. Carefully scan your photo collection and
restore the digitized copies
with the help of a desktop photo editor; mobile apps are really not up to the task. Get rid of creases and spots, revive colors, then use them any way you want: make a video or a slideshow, or print them again and put them into albums.
8. Recreation
Look at your childhood photos. What happened to the places where they were taken? How have the people in them changed? Go to the same places wearing similar clothes, copy your look and pose to recreate the scene. Take your friends and family with you and make a day of it! Then add the "before" and "after" pictures to a collage and upload it to Instagram - those kinds of photos tend to get a lot of attention.