As a physician for almost forty years, Norm Diamond was accustomed to facing death and loss, themes that followed him into his second career as a fine art photographer. In his first book
What Is Left Behind
(Daylight, 2017), Diamond photographed poignant objects he found at estate sales in Dallas, Texas. In
Doug's Gym
(Kehrer Verlag, February 2020), Diamond trained his camera on a legendary no frills gym that was one of the landmarks of downtown Dallas for 55 years. Owned and operated by the grizzled, cigar smoking Doug Eidd, the gym evoked a bygone era that captivated Diamond.
In his artist statement, Diamond writes:
On my first trip to Doug's Gym in downtown Dallas, I climbed a sagging wooden staircase to find a rundown old gym with peeling paint, sagging tin ceiling, and ancient equipment. It was dilapidated to the point of beauty. I had avoided gyms for most of my life, but I joined this one for its themes of memory, loss, and mortality, which have preoccupied me in my photography.
Diamond's stark images of Doug's Gym, including portraits of 87-year-old Doug, look like they emerged from a time capsule. No modern gym looks like this. The members did not care that the gym was run down or that Doug's cigar smoke hung in the air most of the day. They respected his expertise and loved the casual atmosphere he created. Although Doug was still fit, he did not resemble the muscle-bound figure of his youth. He knew that time would one day engulf him and the gym. This came to pass in the spring of 2018 when he was forced to close the gym on short notice. Diamond stayed to photograph the removal of the equipment as Doug's Gym drifted into memory.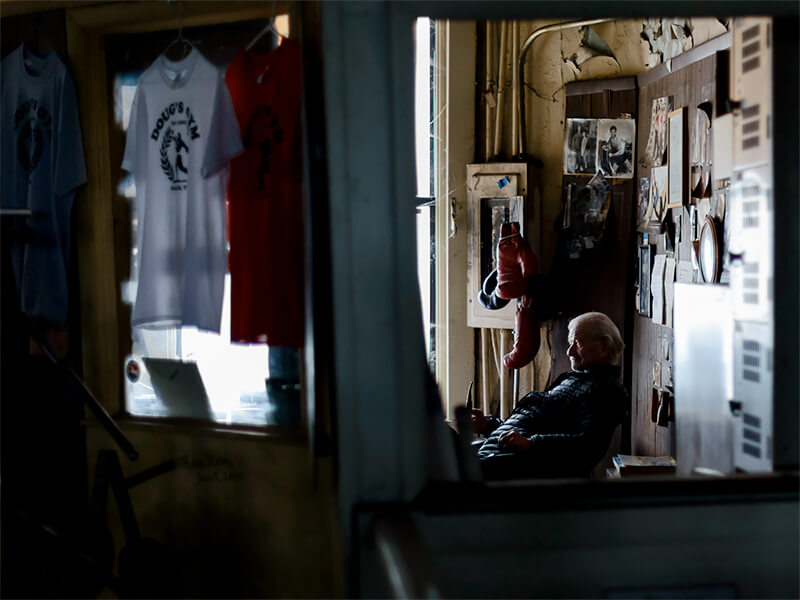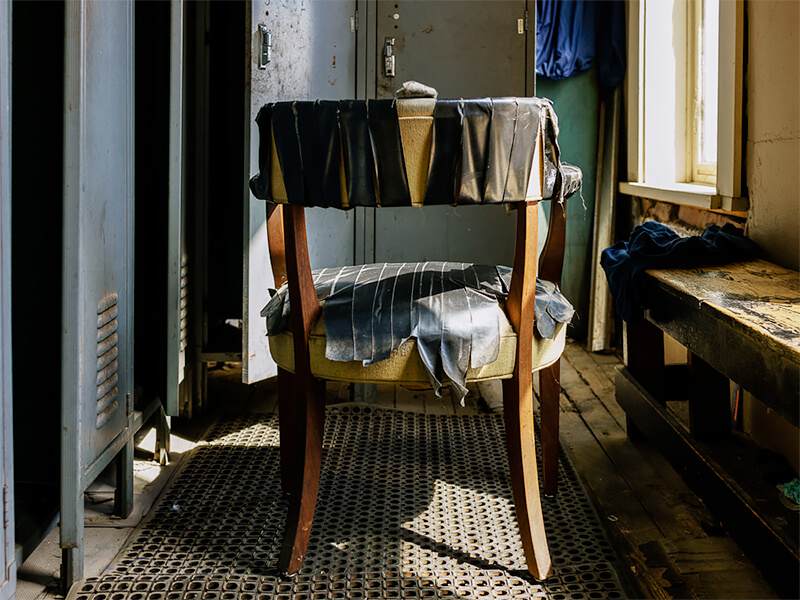 The price of Diamond's pass to photograph Doug's Gym was joining the gym, then spending the first month training three times a week with the master himself. These sessions established a strong bond between the two men rooted in respect and mutual trust. In viewing the book, we get the sense that Doug's Gym was a safe haven for people of varied body shapes and different walks of life. Male, female, young, and old came to Doug's Gym with one goal in mind: to change their lives by getting fit and healthy. Physical training may begin with exercise, but it also demands commitment and inspiration --qualities that are embodied in the soul of Doug Eidd and that he passed on for five and a half decades to the people who were lucky enough to find him.
In the concluding paragraph of his eloquent essay in the book, curator Roy Flukinger writes:
Maybe Doug's Gym has never really closed up shop. Perhaps it remains a place celebrated by Norm and sustaining a permanence that -- through its challenge and its inspiration -- continues to exist in the soul of every human being. Summoning us ever, testing us, and daring us to do better. With Doug himself standing steadfastly in place, counting out the reps, giving us encouragement, and inviting us, through all the sweat and the effort, to listen for and perhaps to hear the whisper of eternity.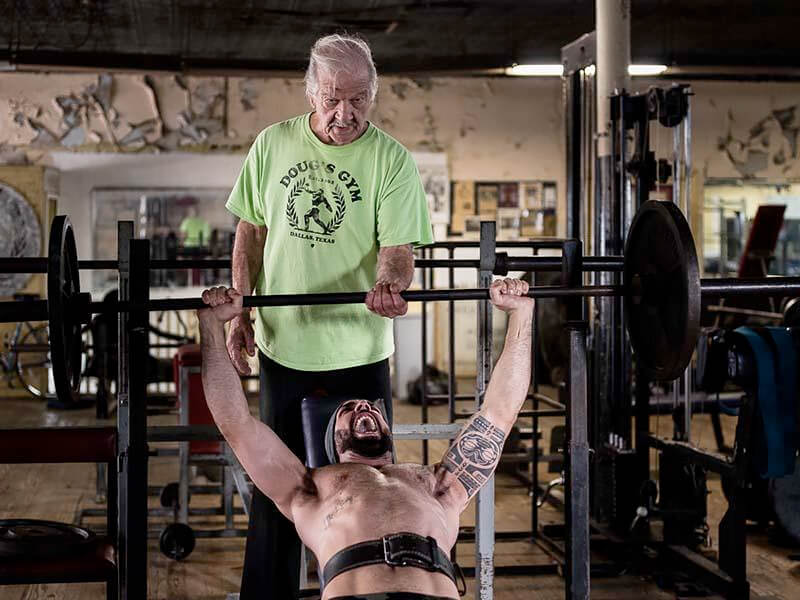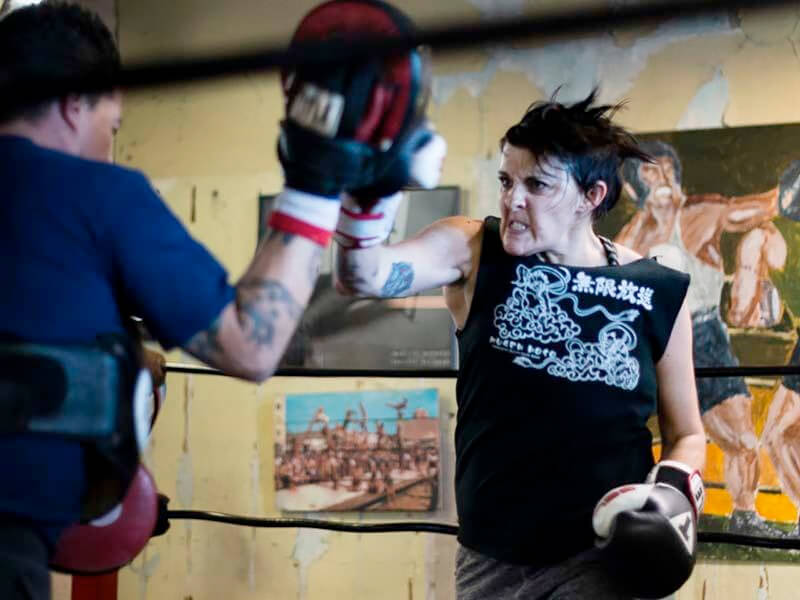 About the Photographer:
After a long career as an interventional radiologist, Norm Diamond is now a fine art photographer based in Dallas, Texas. He has studied with Jay Maisel, Debbie Fleming Caffery, Keith Carter, Arno Minkkinen, Aline Smithson, Sean Kernan, Susan Burnstine, and, from 2013 to the present, Cig Harvey has mentored him. He was a finalist in the Photolucida Critical Mass competitions of 2015, 2016, 2018, and 2019. In 2017, Daylight Books published his monograph What Is Left Behind - Stories from Estate Sales. Prints from this series have been shown in multiple museums and galleries, including the Ogden Museum of Southern Art, the Griffin Museum of Photography, and the Houston Center for Photography. The Afterimage Gallery in Dallas, TX, and the Cumberland Gallery in Nashville, TN, have hosted solo exhibitions of his work.
About the Contributor:
Roy Flukinger is an Independent Curator Emeritus and the former Senior Curator of the Harry Ransom Center at The University of Texas (UT). In addition to his past administrative leadership and management at the Center, he has written and edited over a dozen publications and has taught and lectured at UT and many other institutions of higher learning. He retired in 2017 but continues to participate, lecture, and teach actively in the field. He consults with a wide variety of individuals and institutions on the administration, funding, and operation of photographic organizations; serves as juror, reviewer, and evaluator for contemporary photographic groups, events, and support organizations; and conducts peer reviews and evaluations for a number of professional and developmental organizations. He is currently at work on other books, articles, and essays for photographic and art publications.