Kingdom of Sand and Cement by
Peter Bogaczewicz
, explores the challenges Saudi Arabia faces today as it rapidly transforms from a tribal desert culture to an influential world power. In less than a century, following the discovery of oil in 1938 and the founding of Saudi Aramco, the Saudis have transitioned from living in traditional mud houses to commencing work on the world's tallest skyscraper. The demographic has shifted dramatically and today, only 17 percent of Saudis live in rural areas compared with nearly 70 percent half a century ago. Through his large-format color photographs, Bogaczewicz documents a country of sharp contrasts where visual traces of a disappearing ancient culture can be seen in the midst of a burgeoning modern society reflecting the ambitious agenda of the Al Saud ruling family.
In his foreword, internationally renowned photographer
Edward Burtkynsky
writes:
Bogaczewicz has pried open a crack, allowing us to peer into this ultra-wealthy hermit kingdom, and through bearing witness with his camera we are offered a glimpse into what this previously nomadic culture is up to. With his background as an architect he finds a path that leads him through the fragile, historic abandoned sites that are yielding to time and the elements. We find ourselves looking at the hyper-speed modernization of an ancient culture-massive infrastructure projects, glimmering glass and steel towers on the horizon, luxury shopping centers, and brand-new suburbs provided to a growing middle class.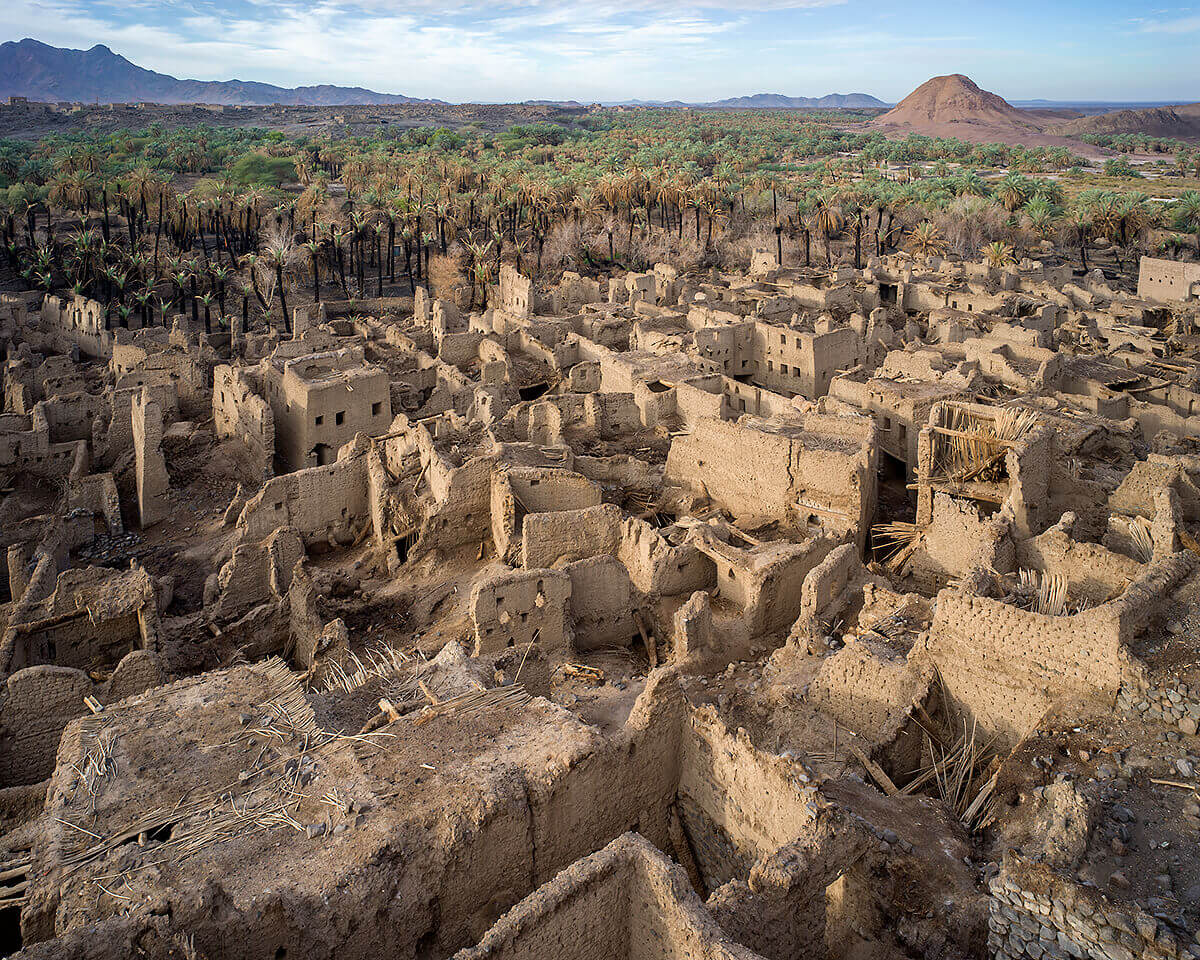 Abandoned settlement. Khaybar © Peter Bogaczewicz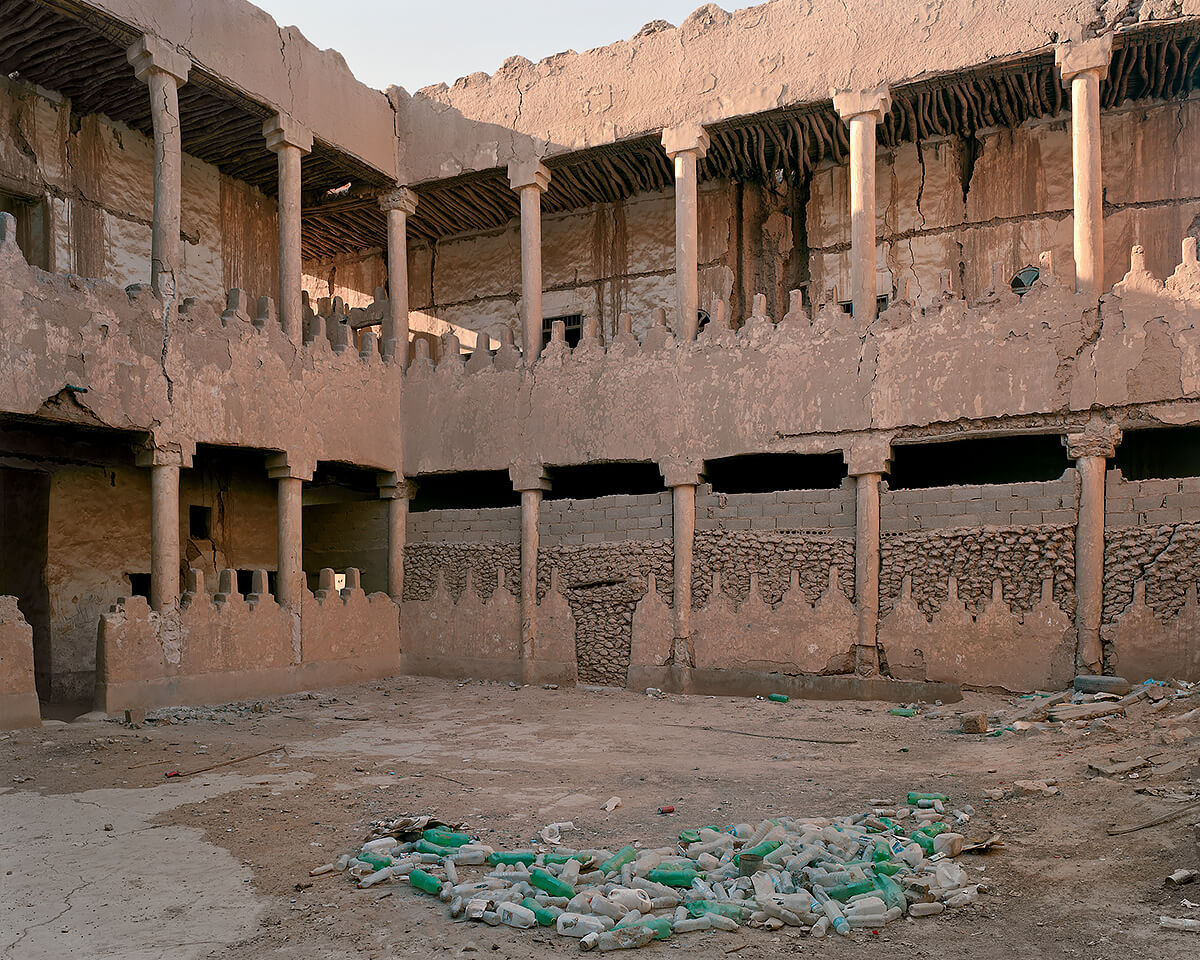 Abandoned mud building. Dirah © Peter Bogaczewicz
In his essay, art historian Rodrigo Orrantia writes:
There are several ways of approaching the photographs in this book. They can be read as historical documents, as social observation, or more subtly they can be seen as a stage, a space of memory and imagination. There is an essential tension between them: memory represented by the timeless landscape of the desert and the ruins of the history of its settlement that seem to have risen and now dissolve back into it, and imagination, represented by the new infrastructure and high-rise development that seem to have landed abruptly on it.
The ruins of a traditional settlement and a historic traditional courtyard building depict an abruptly abandoned past. Although rudimentary, these buildings offered an innovative response to living comfortably and sustainably in the harsh desert climate. However, this sensitive past speaks with an ever-diminishing voice; since the courtyard photograph was taken in 2014, half the building collapsed due to neglect.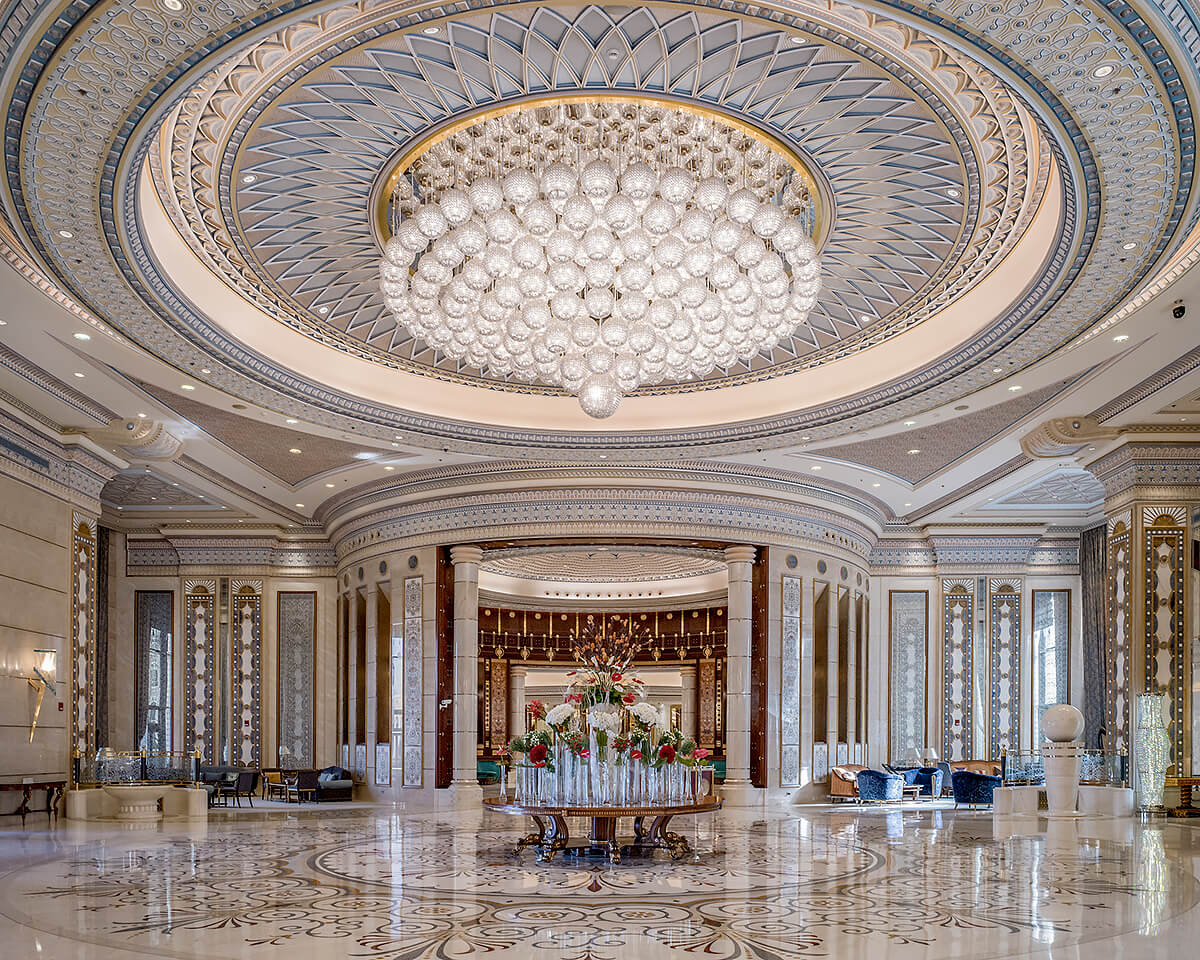 The Ritz-Carlton Hotel. Riyadh © Peter Bogaczewicz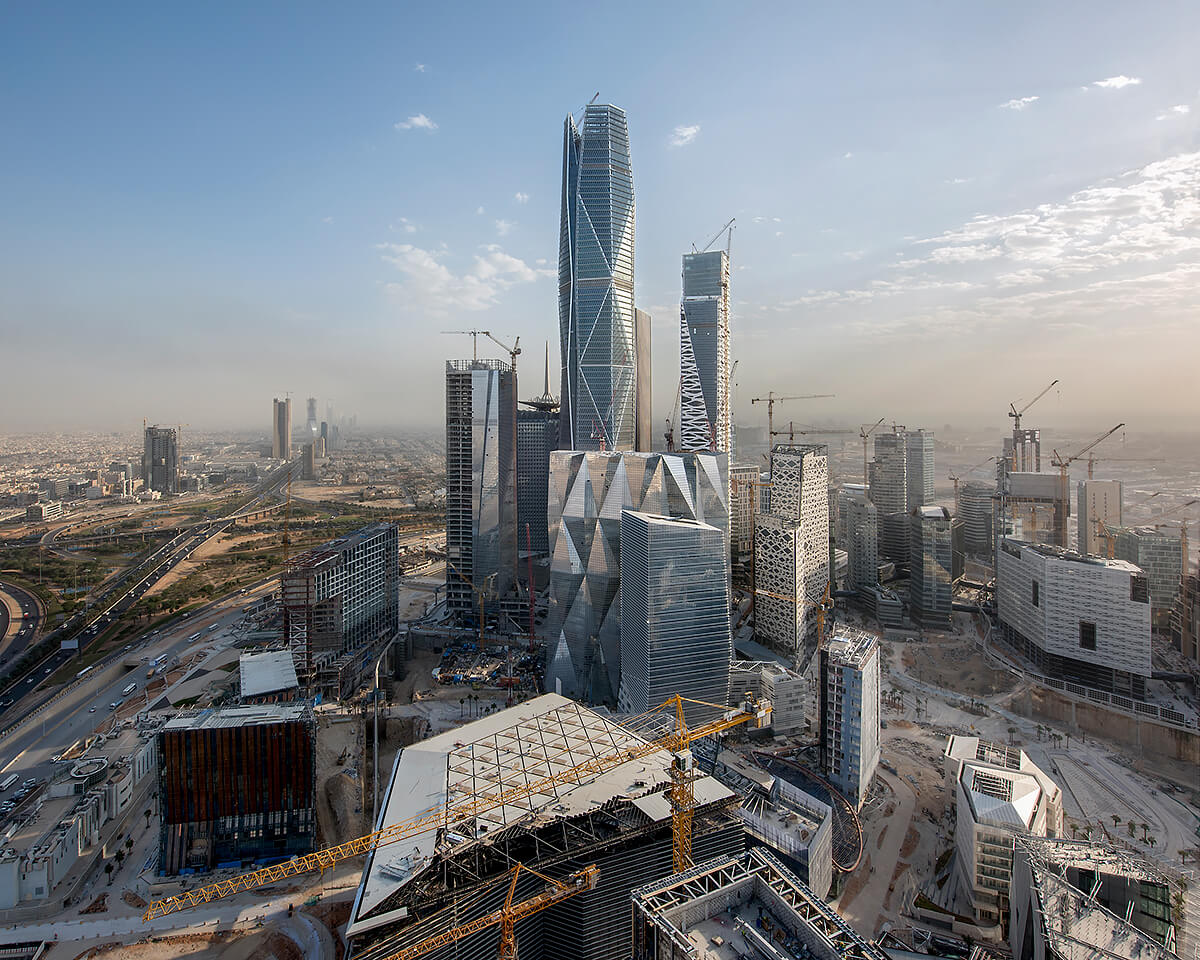 King Abdullah Financial District. Riyadh © Peter Bogaczewicz
In contrast to the past, we are shown the excessive splendour of places such as The Ritz-Carlton Hotel. Otherwise known as the King's Royal Guesthouse, it is the luxury hotel made infamous by serving as a jail for royal family members and business leaders suspected of corruption in a 2017 nationwide purge. Its display of luxury is typical of the grandiose aspirations of the Kingdom, and ironically, its choice as jail in some way symbolic of the temptations of corruption.
Karen Elliott House
, a Pulitzer Prize winning journalist and author of On Saudi Arabia, contributes an essay in which she addresses the Kingdom's complex past and the present-day plans of the Crown Prince Mohammed bin Salman to catapult Saudi Arabia into the future. She writes:
Saudi Vision 2030 is a futuristic script produced by the young prince with the help of $1.3 billion spent on international consultants. It calls for nothing short of a societal revolution to modernize not just the skyline but also the Saudi people.
House concludes:
Peter Bogaczewicz's artful and striking photographs of Saudi people and places capture the Kingdom's past and present even as the Crown Prince seeks to dramatically change its future. If he succeeds at preserving the Kingdom's stability, he could rule a half century or more. That far into the future it's impossible to predict what a modern Saudi Arabia will look like.
In between the extreme contrasts evidenced in the built environment presented in this book, Bogaczewicz also brings us a rare glimpse into the everyday lives of the Saudi people, such as women enjoying a picnic at Masmak Fort and Saudi's relaxing at Lake Kharrarah . In Bogaczewicz's own words, ultimately presenting an image of a place vastly different from our own, yet a place that is not so dissimilar to others in its ambition to progress.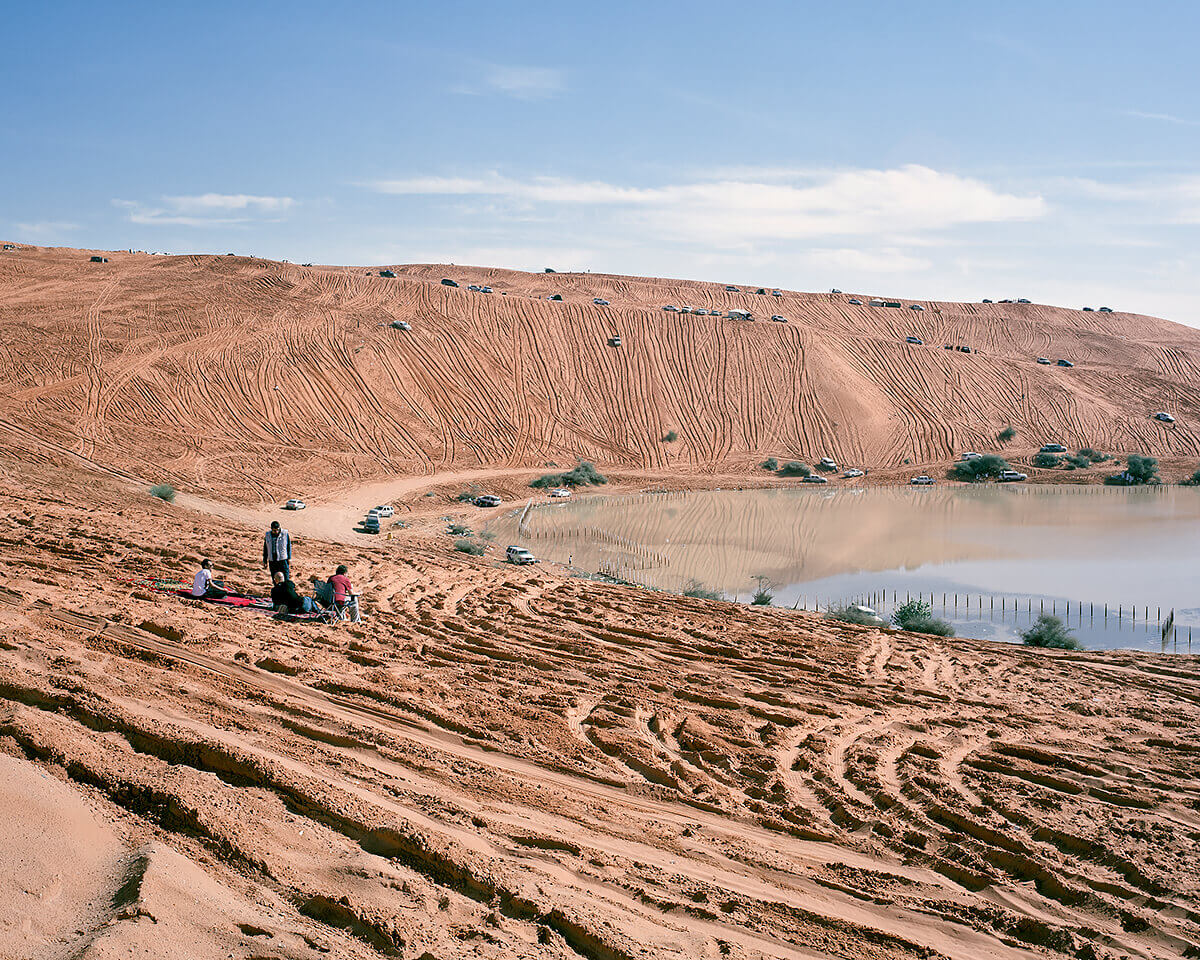 Spectators at Lake Kharrarah. Riyadh region © Peter Bogaczewicz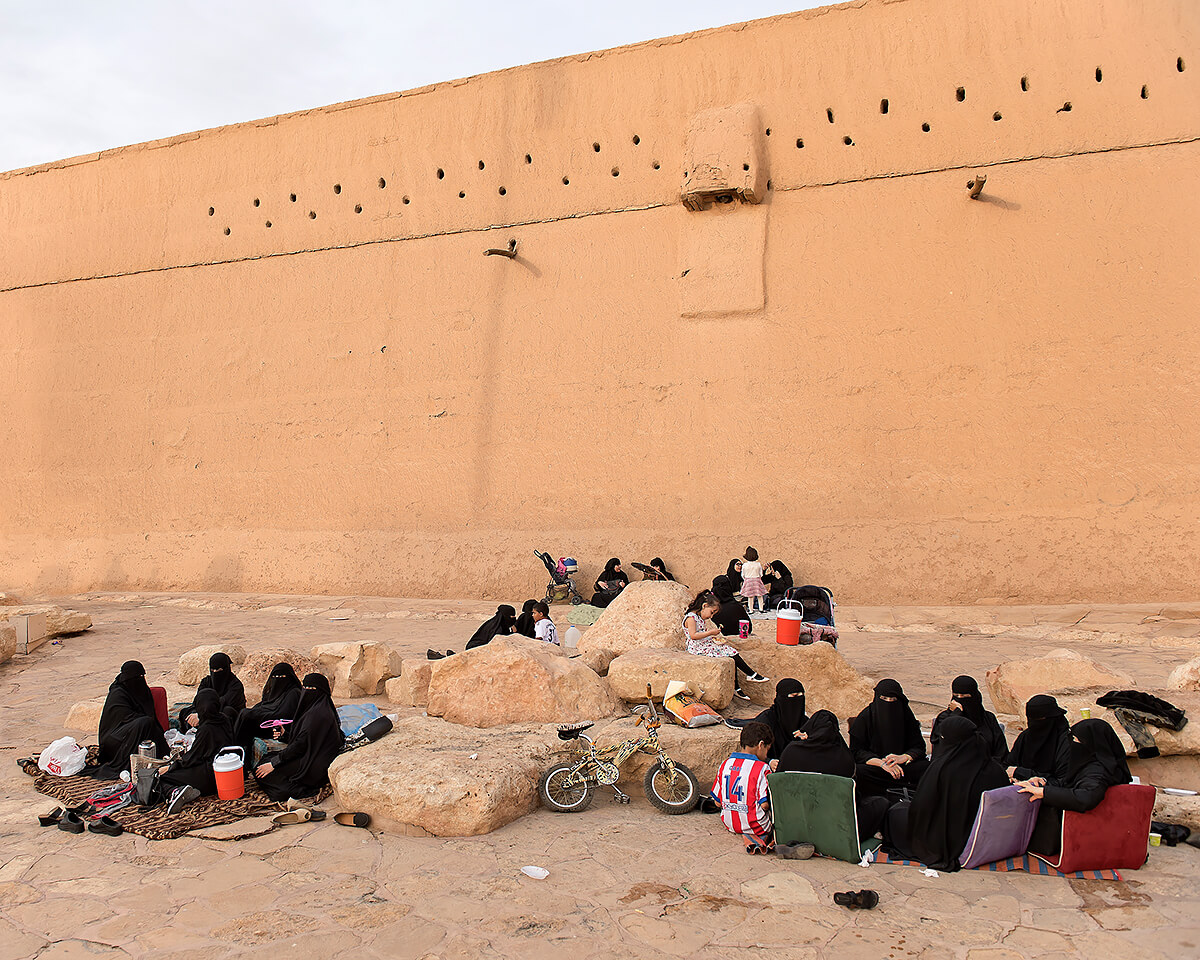 Womens' picnic at Masmak Fort. Riyadh © Peter Bogaczewicz
About the Photographer:
Peter Bogaczewicz
is a photographer and an architect based in Toronto, Canada, and currently working in the Middle East. He divides his time between the two disciplines, often blurring the line between them, and uses his photography as a commentary on the built environment and the human community, and how both are changing at a time of rapid progress and increasing global interconnectedness. It is within the relationship of the constructed world to the natural world, that a crucial and revealing conversation takes place. Examining this dialogue through photography captures Peter's imagination and appears as a common thread throughout his work.
About the Publisher:
Daylight is a non-profit organization dedicated to publishing art and photography books. By exploring the documentary mode along with the more conceptual concerns of fine art, Daylight's uniquely collectible publications work to revitalize the relationship between art, photography, and the world-at-large. For more information, visit
www.daylightbooks.org
.