Mark Parascandola, a documentary fine-art photographer based in Washington, D.C., is interested in how photography and the movies shape our perceptions of history and truth, reality and make-believe. In his critically acclaimed photo book, Once Upon a Time in Almería: The Legacy of Hollywood in Spain (Daylight, 2017), Parascandola documented a bygone era of Hollywood glamour amid the geopolitics of the Cold War. Once Upon a Time in Shanghai in contrast, looks towards the future. Here, Parascandola turns his lens on the film industry in present day mainland China which already produces more films than Hollywood and is poised to take over as the world's largest movie viewing market.
This beautifully designed volume presents seventy color photographs taken by Parascandola over a five-year period at over a dozen film production sites across China. Together they reveal an expansive state-supported movie and television industry on an unparalleled scale. The movie sets, rivaling real world cities and monuments in their scale, have themselves become destinations for domestic and international tourists.
Among the sites featured in the book is China's Hengdian World Studios, reportedly the largest film base in the world made up of several distinct film villages, including a full-size replica of the Forbidden City. Other locales include the 1930s-era streetscape of the Shanghai Film Park, the rustic Western Film City on the edge of the desert in Ningxia Province, and the bizarre theme parks of Changchun Movie Wonderland and Huayi Brothers Movie World.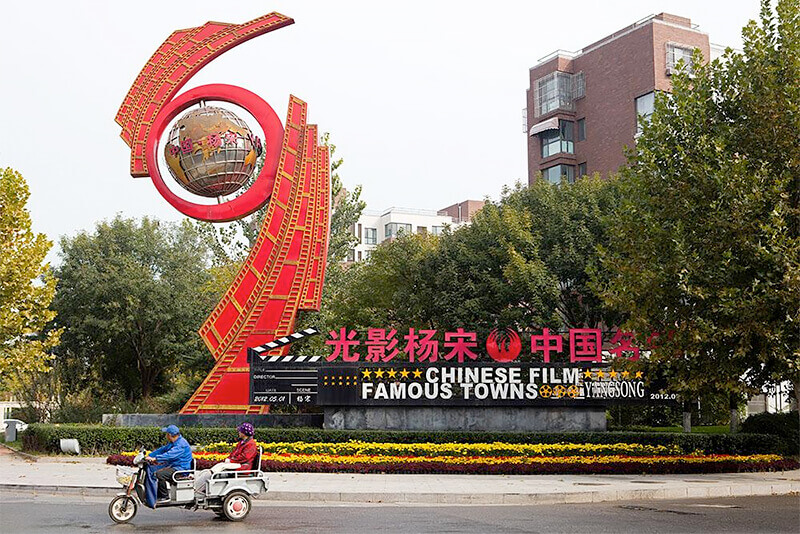 Shanghai circa 1937 Film Set, Huayi Brothers Movie World, Suzhou © Mark Parascandola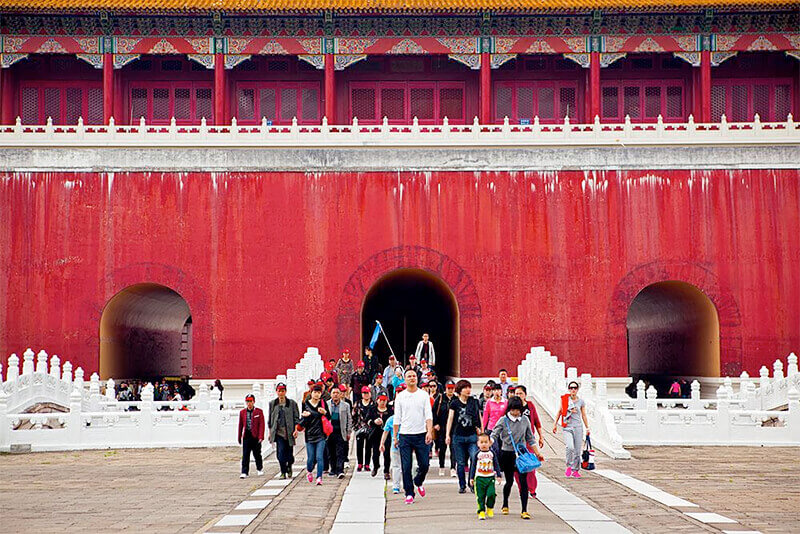 Tour Group, Palace of Ming and Qing Dynasties, Hengdian World Studios. © Mark Parascandola
Given film censorship codes in China, historical period films provide a safe and familiar format to tell stories based around official narratives. In the introduction Parascandola writes: There is a formula at work here. The large-scale outdoor sets reflect specific episodes in China's history-ancient battles of the Warring States Period, costume dramas of the Qing dynasty, conflicts of the nineteenth century Opium Wars, gangsters in 1930s Shanghai, or resistance under the Japanese occupation. Because so many movies and TV dramas share the same backdrops, filmmakers are able to reuse these locations, instantly recognizable to Chinese audiences, over and over.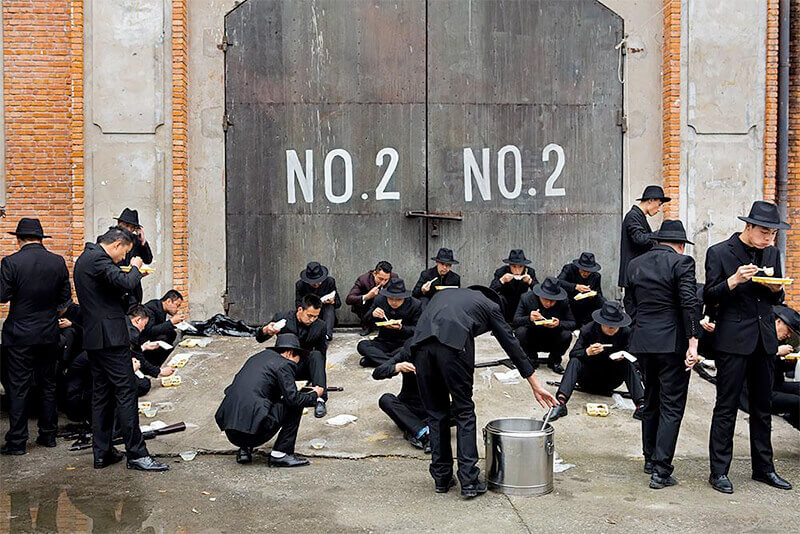 Lunch Break, Shanghai Film Park © Mark Parascandola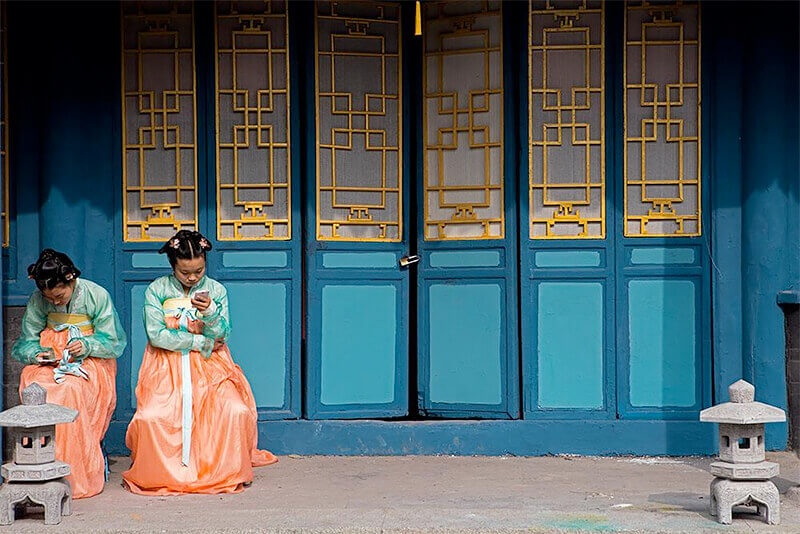 Between Takes, China Film Group State Productions Base, Beijing © Mark Parascandola
In his essay in the book, Michael Berry, Director of the UCLA Center for Chinese Studies, describes the evolution of the Chinese film industry into the global force that it is today. He writes: Through his images, Mark Parascandola captures these sites and people that inhabit them, offering us fleeting images of classical Chinese costume dramas, modern war films, Republican Shanghai, and the socialist past. It is through these images that contradictions lurking beneath the surface emerge as we witness a side of China that is both classical and modern, genuine and staged, glamorous and mundane, new and old, deeply tied to history yet continually being remolded.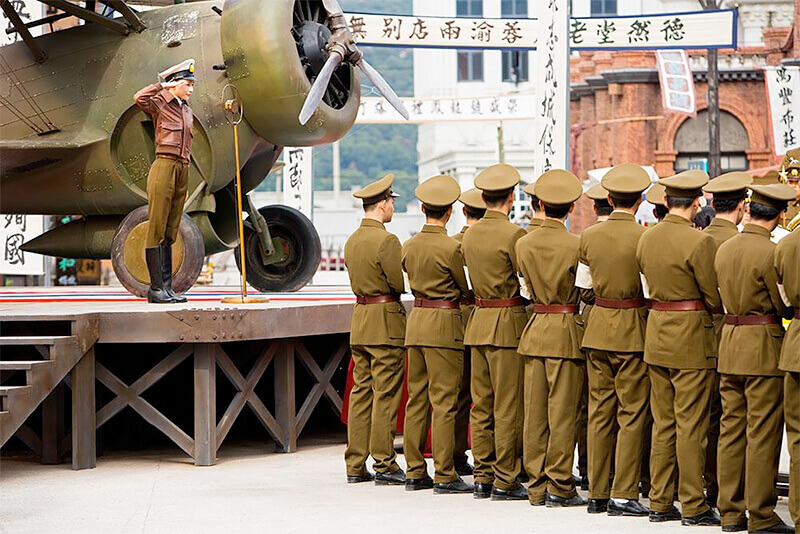 Shanghai Circa 1937 Film Set, Huayi Brothers Movie World, Suzhou © Mark Parascandola
Mark Parascandola
is a documentary fine-art photographer based in Washington DC. A PhD epidemiologist by training, he draws on methods of historical and public health research in investigating subjects and locations. His work has been exhibited widely in the US, Spain and China. Parascandola was awarded Individual Artist Fellowships from the DC Commission on the Arts and Humanities in 2014 and 2018 and was a Finalist for the Sondheim Prize in 2011 and for Critical Mass in 2012, 2016, and 2019. His photobook Once Upon a Time in Almería: The Legacy of Hollywood in Spain was published by Daylight Books in 2017. The work from that project was the subject of a solo exhibition at the Embassy of Spain in Washington DC and has since traveled to numerous locations. His latest photobook Once Upon a Time in Shanghai (Daylight, 2019) documents the rapidly-expanding movie industry in China. The book was awarded First Place in the Documentary Book Project category in the 2019 International Photography Awards and related work was selected for the Best of Show exhibition at the Lucie Awards in New York City in October 2019.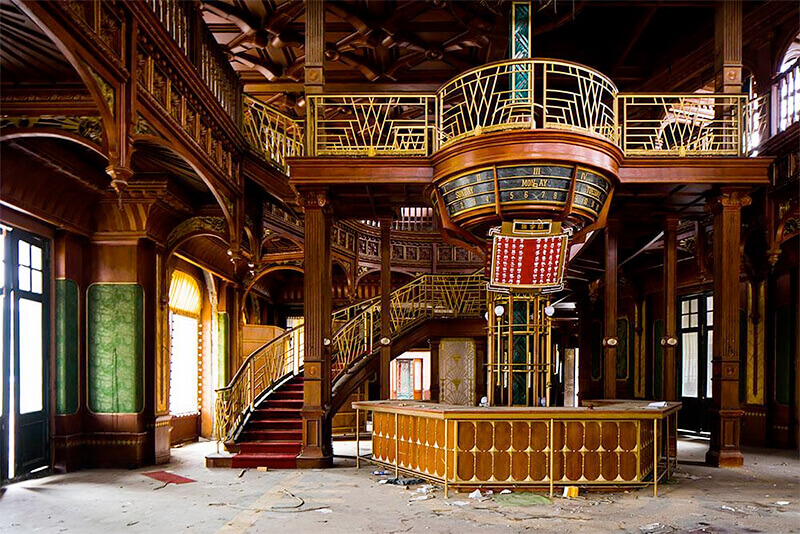 Military Rally Scene, Xiangshan Film and TV City, Ningbo © Mark Parascandola
Michael Berry
is Professor of Contemporary Chinese Cultural Studies and Director of the Center for Chinese Studies at UCLA. He is the author of four books on Chinese cinema, including Speaking in Images: Interviews with Contemporary Chinese Filmmakers (2006) and A History of Pain: Trauma in Modern Chinese Literature and Film (2008). He has served as a film consultant and a juror for numerous film festivals, including the Golden Horse (Taiwan) and the Fresh Wave (Hong Kong).
About the Publisher:
Daylight is a non-profit organization dedicated to publishing art and photography books. By exploring the documentary mode along with the more conceptual concerns of fine art, Daylight's uniquely collectible publications work to revitalize the relationship between art, photography, and the world-at-large. For more information, visit
www.daylightbooks.org
.