Joe Vitone
: Family Records is an ongoing series of portraits of photographer Joe Vitone's relatives living in and around Akron, Ohio. Begun in 1998, this body of work documents evolving interpersonal connections between parents and children, siblings, spouses, cousins and other relations within working class communities of the Rust Belt region. Shot each summer when the artist-now based in Austin, Texas-travels back to Ohio, this series features scenes from festivities such as birthday parties and weddings as well as intimate portraits set outside homes and workplaces. Touched by celebrations and struggles including marriage, divorce, addiction, new homes, unemployment, new jobs and babies, the lives of Vitone's relatives reflect experiences common to families across the United States.
Vitone prints his images, which he captures using 8 x 10-inch and 4 x 5-inch view cameras, in both black and white and color. Featuring 55 works photographed in Akron proper, as well as in surrounding communities including Barberton, Stow and Marshallville, Family Records marks the first time a selection from this series has been exhibited in Northeast Ohio.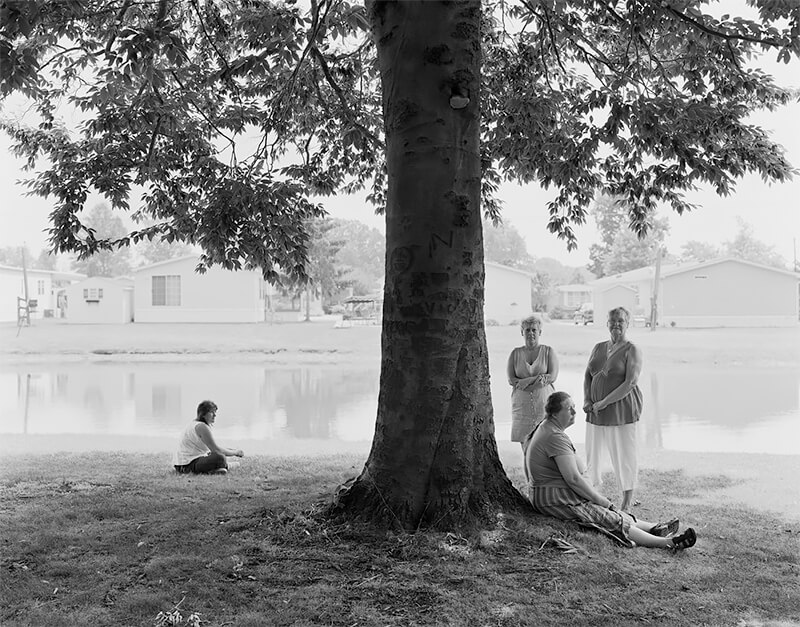 Beneath base of a beech tree, Karla Hummel (standing) with sister, Sandra Vitone, and mother, Beverly Lemmon and half-sister, Toni Wright (far left), Westview Mobile Home Park, Doylestown, Ohio, 2007
Karla is in town from Colorado Springs and Sandra from Austin. Today is Tuesday. On Monday the family and friends gathered near the Cuyahoga River at The Gorge Park for a memorial service for brother Michael Hummel, who died in February at the age of 52. He was found dead of no obvious cause on the floor of his bathroom in Denver. From his father, Rusty Hummel, Michael had inherited the house and land on Houston Road where Beverly and husband Jack lived for years rent-free but finally moved from due to tensions with Beverly's kids and grandkids. Beverly purchased the mobile home in which she and Jack now reside with money she inherited from Michael at his passing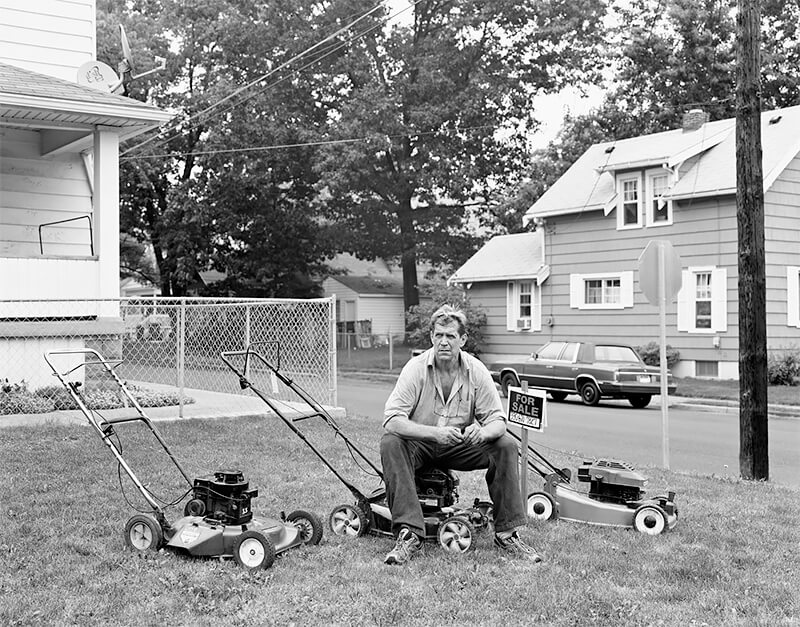 Dave Vitone sitting on mowers he has repaired for sale, corner of 3rd and Bailey Road, Cuyahoga Falls OH, 2007
Dave seems always to struggle to find employment. Though he is a laborer and union member, work is forever off and on. He has had ongoing substance abuse problems and continues to wrestle with these. Currently he is working with someone who repairs lawn mowers. The acquaintance does more complicated repairs, and Dave performs simpler tasks in bringing back the mowers such as sharpening the blades. The same guy has a foreclosed house on which he has ceased to pay mortgage though Dave pays rent to live there. Dave's membership in an Akron Baptist church aids him greatly in dealing with a life that is sometimes hard. He became acquainted with the congregation when a church elder, as part of his ministry, visited Dave when he was serving a stint at the workhouse for some minor crime.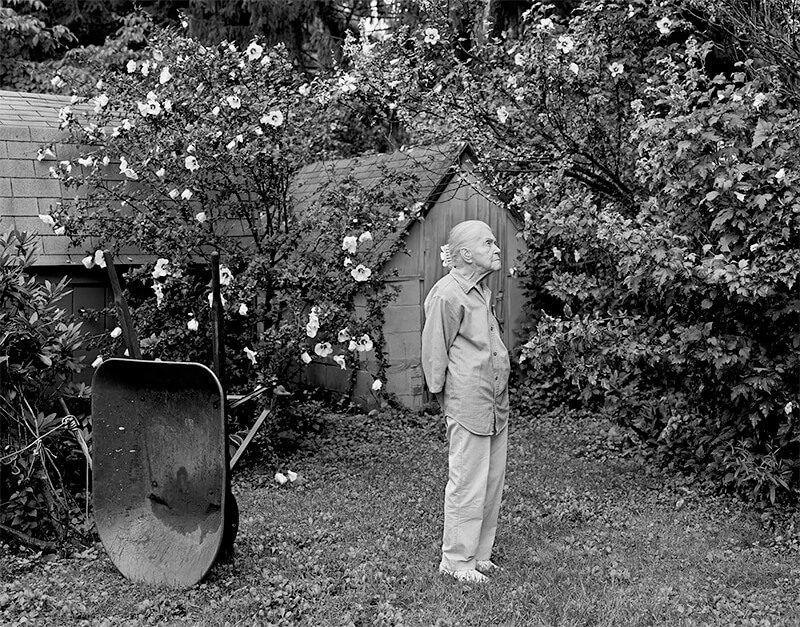 Grace Falitico in her back yard with wheelbarrow and Rose o' Sharon, Englewood Drive, Stow OH, 2007
Born in 1918 Grace is nearly 90 years old. She lives alone in the house that she and her husband, Carl, built together and in which she raised her two children, Carmine and Christopher. Carl passed away over twenty years ago, about seven years following retirement from decades of labor at Plant 1 of Goodyear Tire and Rubber. With a little outside help she still tends to much of the yard and house work. Born to Italian immigrants she is a lifelong Catholic as much as a function of ethnic background as of religion. She typically attends mass at two parishes each week -- 5:00 PM Saturday afternoon at Holy Family, half a mile from her house and 11:00 AM Sunday at St. Eugene's in Munroe Falls. She is often called on to sing at church funerals and has in the past been involved in community theater musical productions.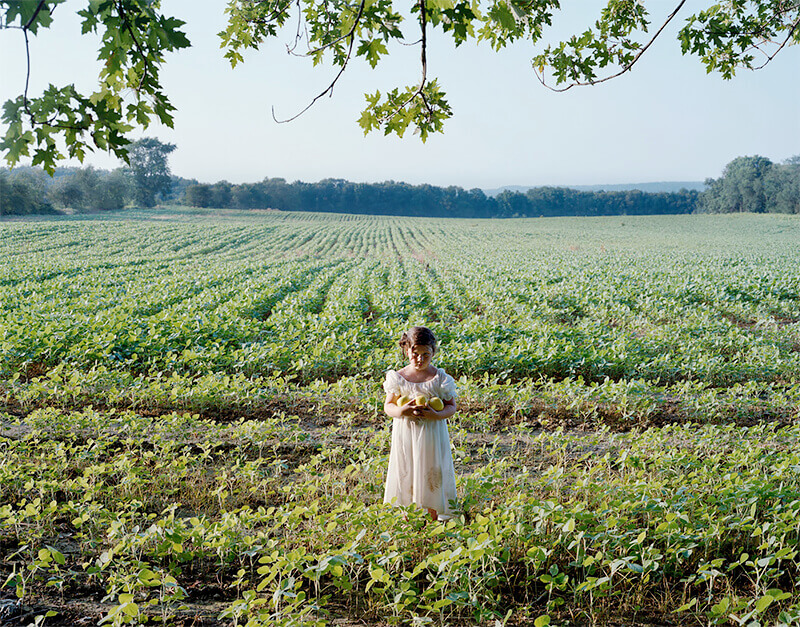 Brooke Lower standing at edge of soybean field after bobbing for apples, Fulton Road, Marshallville OH, 2008
At a party organized by her great aunt, Sandra Vitone, Brooke in long gown stands wet in a soybean field that touches the yard where Arathea Booth and her two children Gabriel Booth and Elizabeth Dunn reside. Most years Arathea's mom, Sandra, a former hippy and Woodstock Music and Art Fair attendee, puts together some themed party such as Hawaiian Luau, Krishna Consciousness, and this year, a Medieval Renaissance Fair party. With a love for ornamentation and tendencies toward hoarding, Sandra being an avid patron of Goodwill and other thrift stores is able to appoint these get-togethers with plenty of props providing fun visual texture.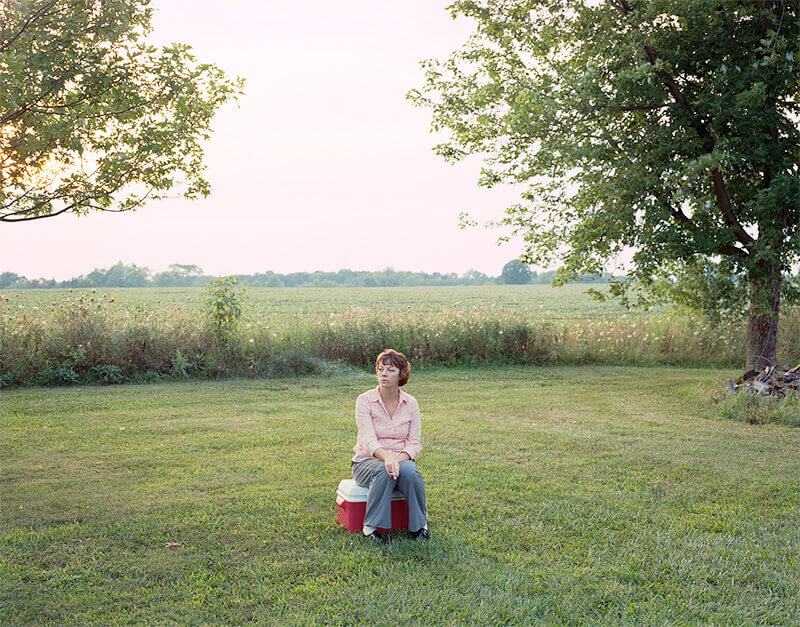 Arathea Booth seated on a cooler in yard smoking a cigarette, Marshallville, Ohio, 2008
After completing training at a community college in Wayne County, Arathea found employment last year doing initial insurance billing at Wooster Hospital. She enjoys the work and is good at it. Feeling more confident of her income, she moved from government subsidized housing in Orrville to this house on Fulton Road in Marshallville. The place had been rented previously by her niece, Ashley Hummel with boyfriend Joe Wright. Arathea's teenage son, Gabe, misses Orrville, a small town but a town with numerous businesses, such as Smucker's Jams, a car dealership, and a downtown. The Fulton Road place sits on a rural and fast-traveled two lane road about twenty minutes walk from tiny and very rural Marshallville.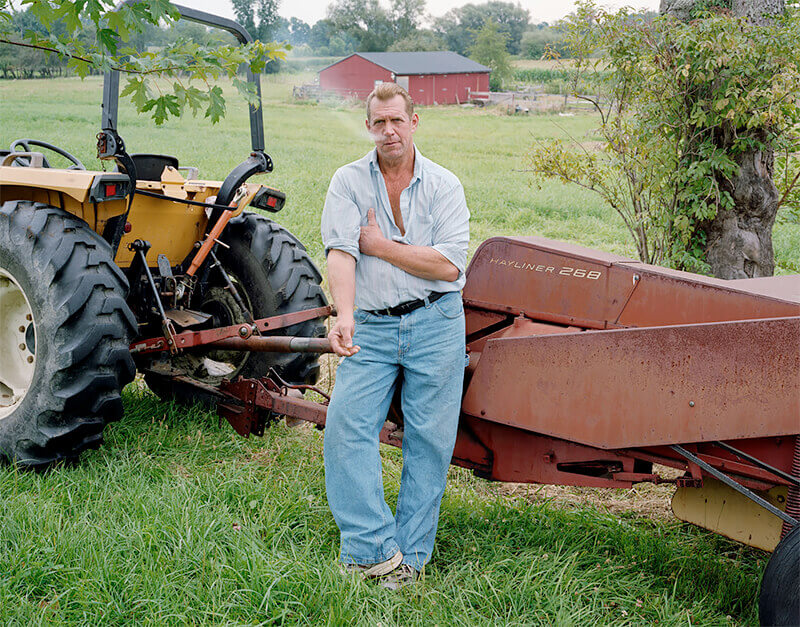 Dave Vitone with tractor on land owned by parents of his wife, Lisa Bishop, Laubert Road, Atwater OH, 2009
Lisa's parents had a dog grooming business on rural property about 45 minutes drive from Akron. The bank will foreclose on the place but Lisa and new husband, David, will continue to live at and care for the spread. The parents have moved to a small town in north Texas and Lisa wants to follow. Dave finds that area of Texas hot, barren, and isolated. He doesn't want to move from Ohio. This is causing some tension between the recently wed couple.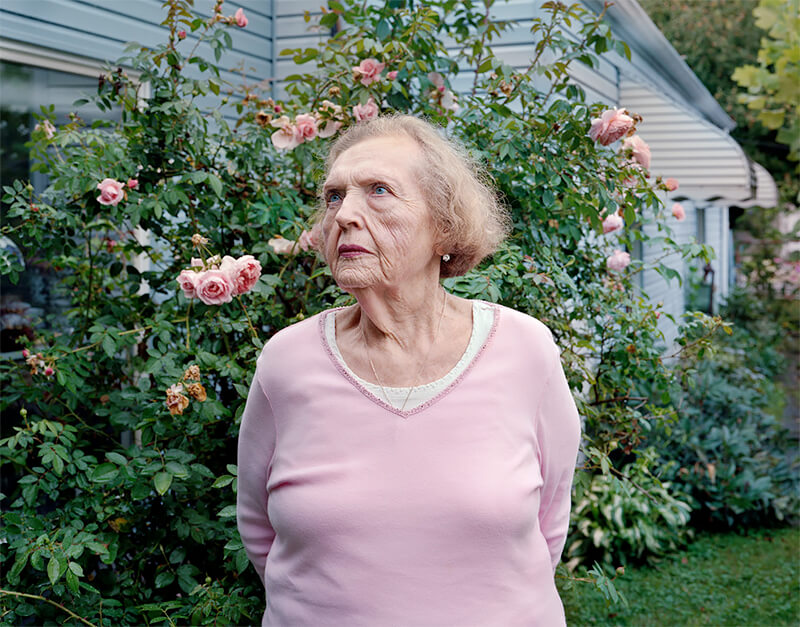 Marjorie Angel in pink sweater with pink rose bush, Akron OH, 2009
Marjorie loves flowers and tending to her yard. The rose growing in her back yard for years has been manically productive, putting out canes that climb as high as the house. The plant blooms early and multiple times from spring through summer and into the autumn. With both desire and ability to bend her reality just a bit, she likes to say the bush was given to her by her son, because she bought it when at the nursery with him and his wife, also an avid gardener. Marjorie notes that she "dead heads" the blooms shortly after they dry up. Then more blooms come. Typically the rose has two major blooms per year. In addition to pink, there are here and there red blossoms on some of the canes.
All about Joe Vitone