I go as a wanderer, photographing in a country often strange to me ... I walk down small, unfamiliar cobblestone streets. I react and photograph intuitively. When in Mexico, I am dizzy with new experiences and free to go anywhere and to do anything. The feeling is of endless possibilities. My limitations are my only restraint.
Harvey Stein
Harvey Stein's fascination with Mexico began when he was a teenager. Compared to the ordinary surroundings of his youth in Pittsburgh, Mexico seemed a mysterious, extraordinary place that was nearby, yet so far away. When he became a professional photographer, Stein knew his photography was the perfect way to immerse himself in Mexico -- to partake in ceremonies, meet the people, and express his interest and love of the country. During fourteen trips between 1993 and 2010, he photographed in Mexico, primarily in small towns and villages and mostly during festivals (Day of the Dead, Easter, Independence Day) that highlight the country's unique relationship with death, myth, ritual and religion. Mexico Between Life and Death (Kehrer Verlag) is the definitive expression of the photographer's intimate relationship with the people and culture of Mexico.
In celebration of the critically acclaimed book's recent release, The Mexican Cultural Institute and Art Exchange in Washington, D.C. are hosting an event with Harvey Stein on Wednesday, May 8 starting at 6:45pm who will show and discuss his images from the book.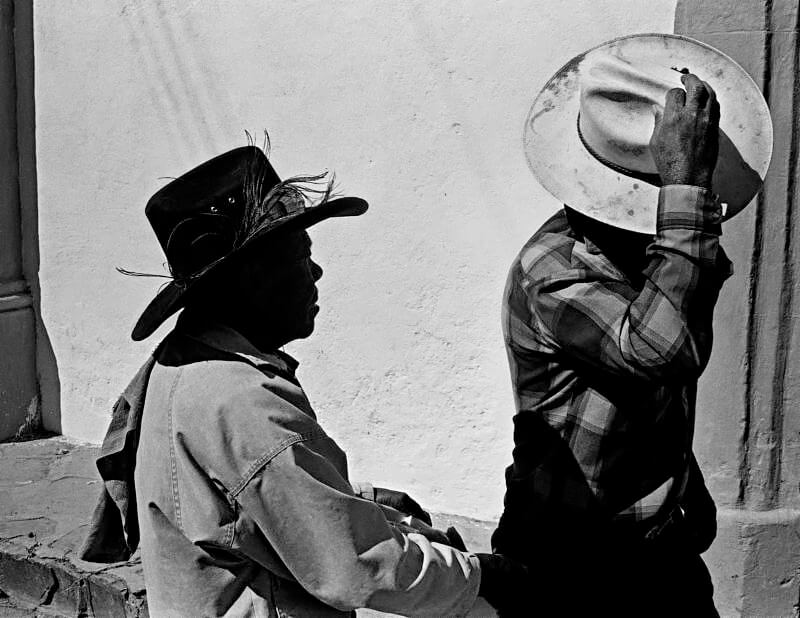 Two Men Wearing Sombreros, Atotonilco, 1997 © Harvey Stein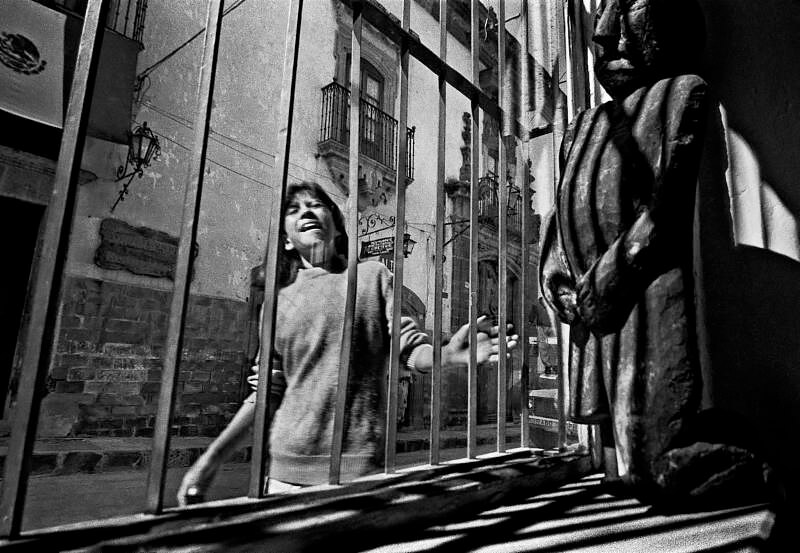 Women Outside Window, San Miguel Allende, 1995 © Harvey Stein
Stein's black and white photographs, with rich blacks and strong contrasts, are moody, gritty, and evocative in the quest to capture life lived raw, open and on the edge. Throughout the series, he shows symbols of death -- skeletons, skulls, guns, crosses, and cemeteries -- that heighten the urgency of existence. Stein purposely seeks out traditional rather than modern environments in which to photograph.
The powerful images in Mexico Between Life and Death reveal a country of incredible contrasts and contradictions -- piercing light and deep shadow, stillness and quick explosiveness, massive tradition and creeping progress, and great religious belief but with corruption as a way of life. It is a land of ritual and legend, of vibrant life and dancing skeletons, and where old age is revered despite the fact half of the population is under 20 years old.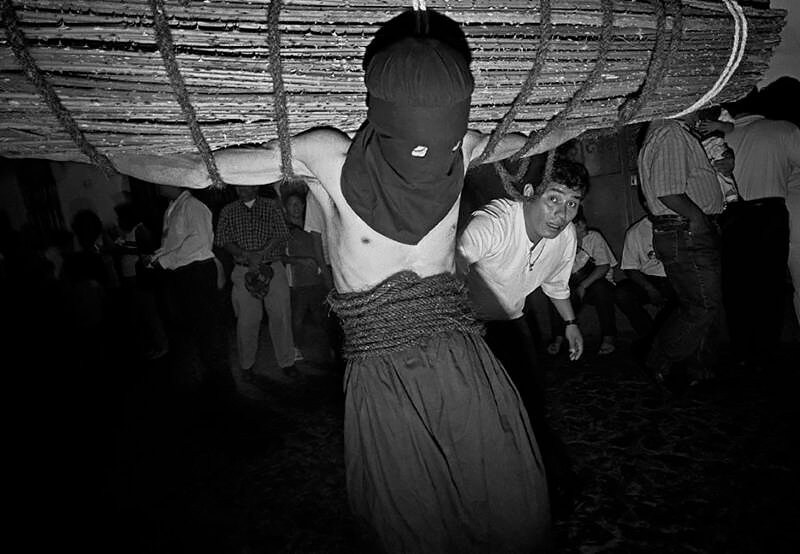 Hooded Man with Bundle of Thorns on Shoulders, Taxco, 2003 © Harvey Stein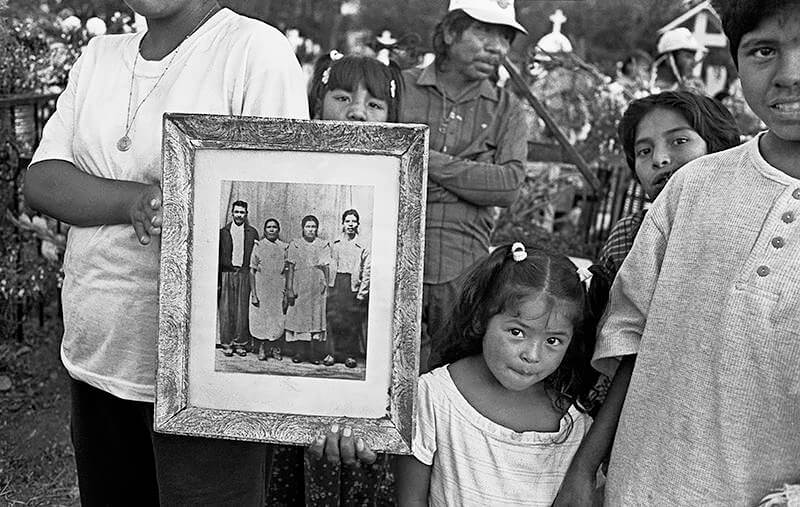 Child and Photo of Ancestors in Cemetery, San Miguel de Allende, 1997 © Harvey Stein
Harvey Stein is a professional photographer, teacher, author and curator based in New York City. He currently teaches at the International Center of Photography, and is the Director of Photography at Umbrella Arts Gallery in the East Village in Manhattan. He has been a member of the faculty of the School of Visual Arts, New School University, and Rochester Institute of Technology, among other institutions. A recipient of a Creative Arts Public Service (CAPS) fellowship and numerous artist in residency grants, Mexico Between Life and Death (Kehrer) is his eighth photo book. Others include: Parallels: A Look at Twins, E.P. Dutton (1978); Coney Island, W.W. Norton, Inc. (1998); Coney Island 40 Years, Schiffer (2011), Harlem Street Portraits, Schiffer (2013), and Briefly Seen New York Street Life, Schiffer (2015). Stein's photographs have been published in major periodicals worldwide, including The New Yorker, Time, Esquire, Smithsonian, The New York Times, Harper's Magazine, Art News, New York Magazine, Der Spiegel, to name a few, and in the major photo magazines, including Black & White Magazine (cover), Shutterbug, Popular Photography, American Photo, PDN, Rangefinder, Photo Metro and fotoMAGAZIN (Germany).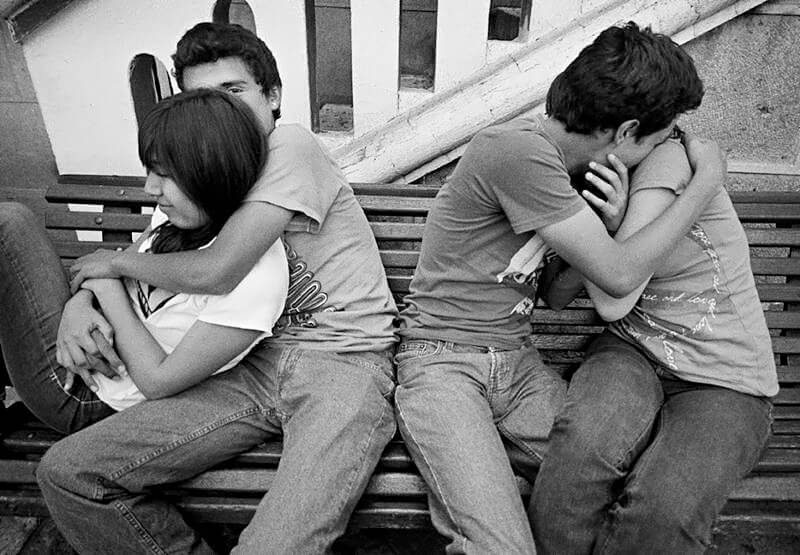 Two young couples hugging, Puebla, 2010 © Harvey Stein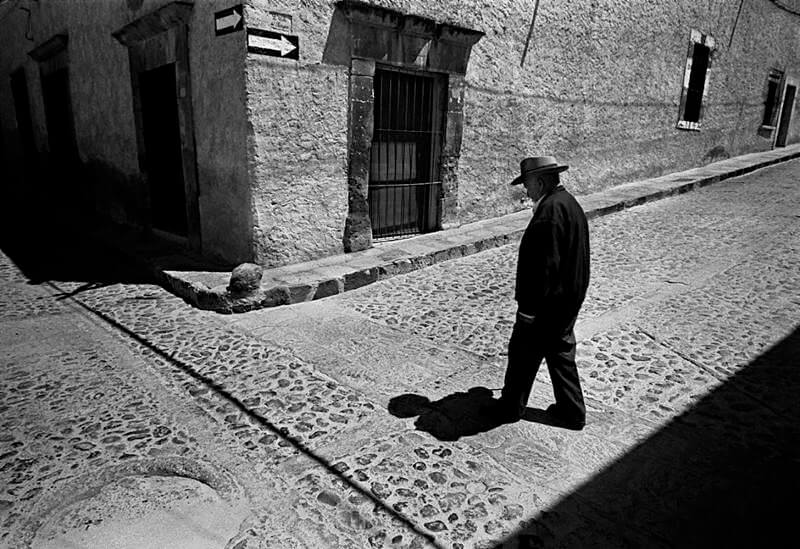 Man Walking on Cobble Stone Street, San Miguel de Allende, 1995 © Harvey Stein
Stein's photographs have been widely exhibited in the US and Europe-85 one-person and over 165 group shows to date. His photographs are in more than 57 permanent collections, including the George Eastman House, Bibliothèque Nationale de France, the Art Institute of Chicago, the Museum of Fine Arts, Houston, the Brooklyn Museum of Art, the New Orleans Museum of Art, the International Center of Photography, the Carnegie Museum of Art (Pittsburgh), the Portland (Oregon) Museum of Art, The Denver Museum of Art, the Museum of the City of New York, Musee De La Photographie (Charleroi, Belgium), the Corcoran Gallery of Art, the American Museum of Natural History, the Santa Barbara Museum of Art, The New York Historical Society and Museum, among others. His work is in many corporate collections, including Johnson & Johnson, Hewlett Packard, Barclay Bank and Credit Suisse. He is represented by Sous Les Etoiles Gallery, New York City.
Stein's work can be seen at
www.harveysteinphoto.com
and on
INSTAGRAM