Westerners have become familiar with many Japanese aesthetic concepts such as wabi, sabi, and kawaii, but the concept of kehai as a driving force in art is relatively unknown. Master photographer Yukihito Masuura, whose photographs are in the private collection of the Emperor and Empress of Japan and the National Library of France, is coming to New York in April for an exhibition of his work and an artist talk that will reveal how kehai - the idea of the existence of truth and beauty in the natural world which may not be visible - has influenced his life's work documenting the masterpieces of both Western sculpture and sacred Shinto architecture.
We asked him a few questions about his life and work.
All About Photo: Tell us about your first introduction to photography?
Yukihito Masuura:
When I was in elementary school, I discovered the work of Ken Domon and was shocked. I wanted to be a photographer like him. I decided to jump into the professional world at the age of 16. So, I entered a photo studio in Japan and found terrific photos of Guy Bourdin. I simply decided to go to Paris and asked him to be his assistant.
AAP: Why did you start to photograph sculptures in France?
Yukihito Masuura:
First, I was impressed to see the sculpture of Rodin. I felt the sculpture was the complete three-dimensional art. I thought photography must create new art of the 2 dimensions by rebuilding into a completely new world of art. The challenge was fun.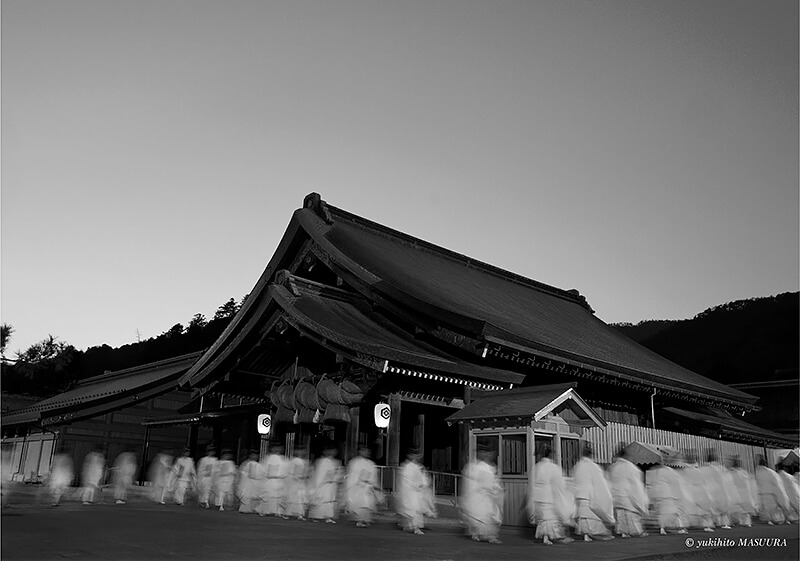 © Yukihito Masuura, Sacred Line of shinto priest, Sanshin
AAP: Why did you start documenting the traditional culture of Japan?
Yukihito Masuura:
Sengu
sparked.
Sengu
is to Japanese the divine body when the shrine is renovated and newly constructed. It has been done repeatedly for more than 1300 years. I know that the
Sengu
of Ise Jingu and Izumo Oyashiro overlap in the same year, and in these1300 years, the overlapped
Sengu
is only the third time in the history. I wanted to take a picture by all means. What I thought sengu is a culture that would be a hint of a sustainable world. Also, I experienced special indications to feel natural truth with beauty for three times while I worked in Michelangelo's shooting. Then, I felt the existence of the indication of truth and beauty of natural world which may not be visible to eyes. In Japan, God (Divine) is invisible to the eye because it is intended for nature and phenomena. Divine body is not Divine, it is enshrined as a dwelling. I wanted to photograph the sign of the truth and beauty sustained in human life.
AAP: What do you keep in mind when shooting?
Yukihito Masuura:
To erase myself. The subject of shooting objects is not for me.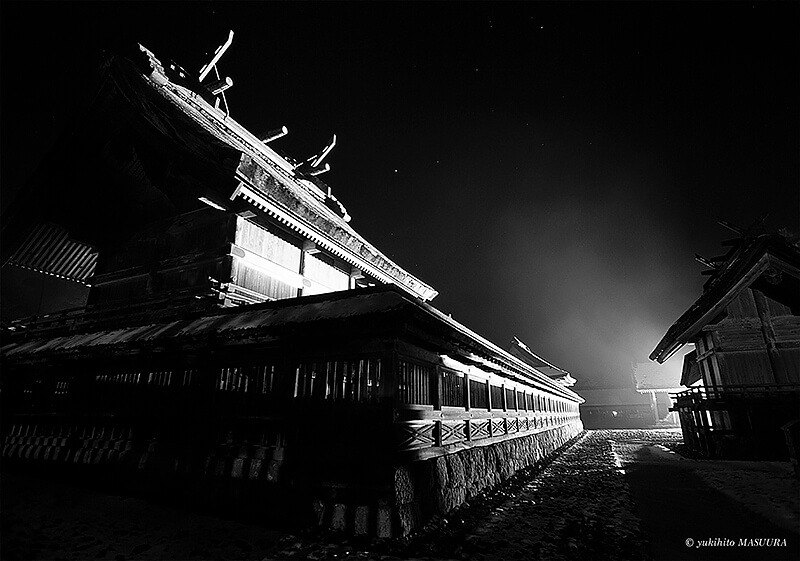 © Yukihito Masuura, Gohonnde on sacred night
AAP: This exhibition uses Washi paper as a print sheet. Why did you use it?
Yukihito Masuura:
First because it is Japan's ancient traditional craft. Then because it is the best media for posterity. Washi is proved to keep quality for 1000 years.
AAP: What equipment do you use
Yukihito Masuura:
The camera I use is a Leica. Because I can do a primitive photography without using artificial light and a tripod. In addition, because the shutter sound is quiet, it is the best camera for shooting in silence. It was a camera of longing since childhood. I was collecting the empty box of Leica at that time because it was expensive. Thankfully now, I am sponsored by Leica in Japan.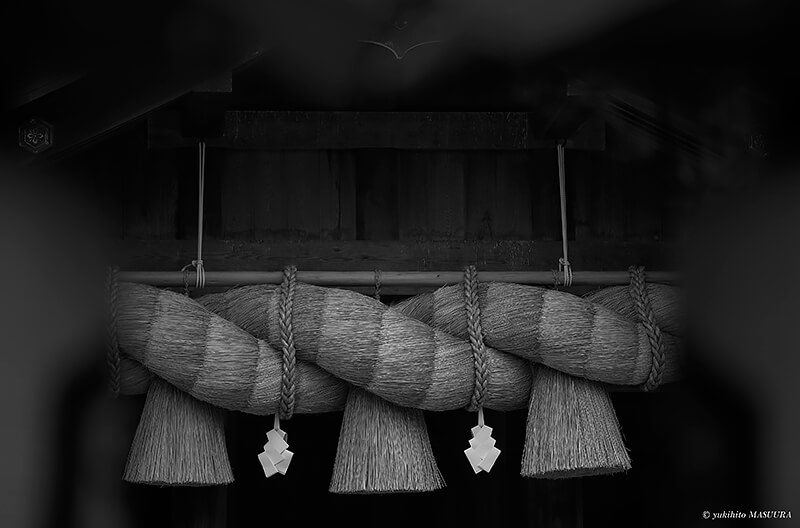 © Yukihito Masuura, Sacred rope 
AAP: What are your upcoming projects?
Yukihito Masuura:
What I love to capture is a creature what I feel truth and beauty which been succeeded by human sprits from ancient age. It is rich results of life in domestic nature. Architecture, parts, decoration, cloths, manner of life and so on. I photograph these textures. But I want to capture spirits to materialize these creatures.
AAP: In this exhibition, how do you want visitors to react to your work?
Yukihito Masuura:
I want visitors to feel the sign of something more than the subject itself. Japanese popular elements in the world, such as food, animation movie is compound Japanese spirits which respect to the natural way of traditional Japanese life.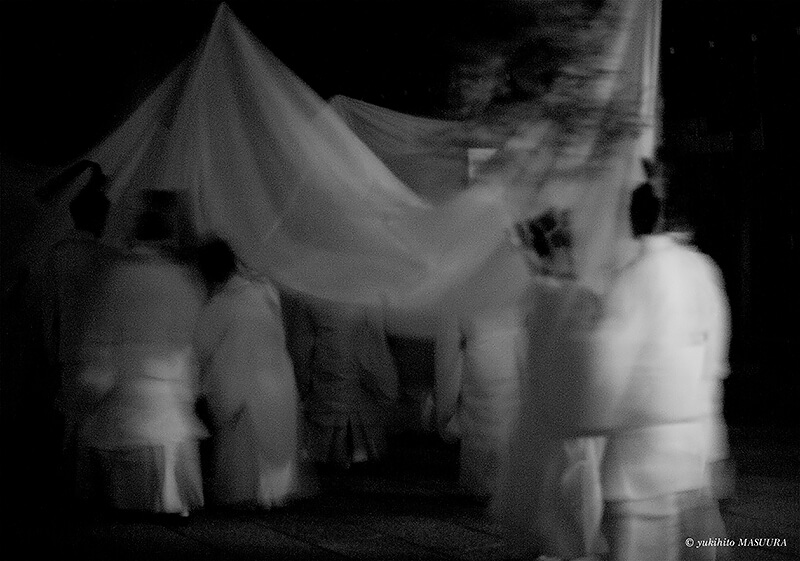 All about Yukihito Masuura
Born in Tokyo in 1963, Masuura moved to Paris at age 18 to pursue his dream of a career in photography, by seeking employment as the assistant to Guy Bourdin, the renowned photographer of Vogue Paris. He then focused his attention to the works of such Western artists as Aristide Maillot, Antoine Bourdelle and Auguste Rodin, developing a unique personal aesthetic to transform three dimensional artifacts into two-dimensional art, via the application of natural light and refined camera movements.
Subsequently commissioned to photograph the collections of such major art museums as the Louvre, the Musée d'Art Moderne de la Ville de Paris, and the Musée Rodin, Masuura was requested in 1988 to add more than thirty of his works to the permanent collection of the Bibliothèque national de France (National Library of France). A seven year project to photograph all of Michelangelo's sculptures followed (1994-2001), resulting in his stunning GENESIS solo exhibitions held in Florence's Casa Buonarotti and the Tokyo Metropolitan Museum of Photography, which dramatically illustrate the importance of natural light and shadows to the photographic interpretation of solid objects, corroborating Michelangelo's belief in light as The Hand of God. It was during this period that Masuura came to realize the importance of kehai - The Invisible Indication - as a guiding principle in his use of light.
In 2006, Masuura commenced his next major project, documenting the cyclical reconstruction and reconsecration of Japan's most sacred Shinto shrines, Izumi Oyashiro (about every 60 years) and Ise Jingu (every 20 years). This religious tradition, Sengu, dates back more than 1300 years, and not only preserves the artisanal skills required for continuity in Japan's architectural aesthetics, but also highlights the Japanese aesthetics of wood, paper, textiles and natural light as an artistic symbiosis with nature. Masuura uses custom-made traditional Japanese paper Washi for his exhibition prints.
I would like to show the world the evidence that it is possible to continue beauty and maintain a sustainable society for more than 1,000 years.
stated Masuura for this event.
Masuura's works are included in museums and private collections world-wide, including the private library of Their Majesties the Emperor and Empress of Japan. He was awarded the prestigious Salon d'Automne in 1987.