Fifty war correspondents have gathered in Bayeux on October 12th and 13th to debate and award trophies in the following categories: photo, print, radio, television, grand format television, young reporter (photo) and video image. Three honorary awards have been attributed: the Regional prize for students and trainees of Normandy (television), the Public's Choice award (photo) and the Ouest-France - Jean Marin prize (print). Presided by Christiane Amanpour, the international jury of the 25th edition of the Bayeux Calvados-Normandy Award for war correspondents has reached its verdict...
I am proud to be in Bayeux and to chair the international jury of the 25th Bayeux Calvados-Normandy Award for war correspondents. The entries are extremely powerful and of a very high quality. It was a pleasure to watch them with my colleagues, discuss them, debate and vote.
--Christiane Amanpour
PHOTO TROPHY - INTERNATIONAL JURY AWARDED BY NIKON
1st Prize: Mahmud HAMS/AFP
Clashes on Gaza's border PALESTINE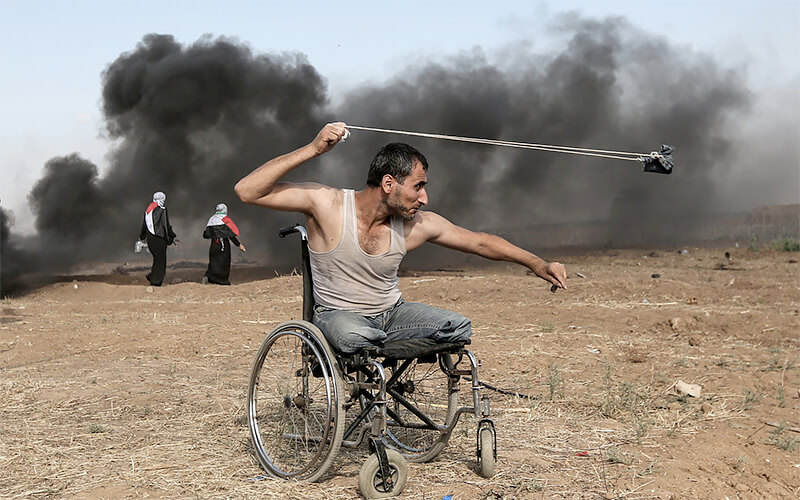 © AFP Photo / Mahmud Hams
Palestinian Saber al-Ashkar, 29, hurls rocks during clashes with Israeli forces along the border with the Gaza strip, east of Gaza City, on May 11, 2018, as Palestinians demonstrate for the right to return to their historic homeland in what is now Israel.
2nd Prize: Laurent VAN DER STOCKT/LE MONDE
La vieille ville de Mossoul : la bataille contre le dernier bastion de Daesh IRAQ
3rd Prize: Juan BARRETO/AFP
Venezuela: anti-government protests VENEZUELA
PHOTO TROPHY - PUBLIC'S CHOICE AWARD SPONSORED BY THE FRENCH DEVELOPMENT AGENCY (AFD)
1st Prize: Paula BRONSTEIN/GETTY IMAGES REPORTAGE
The Rohingya crisis: a harrowing journey BANGLADESH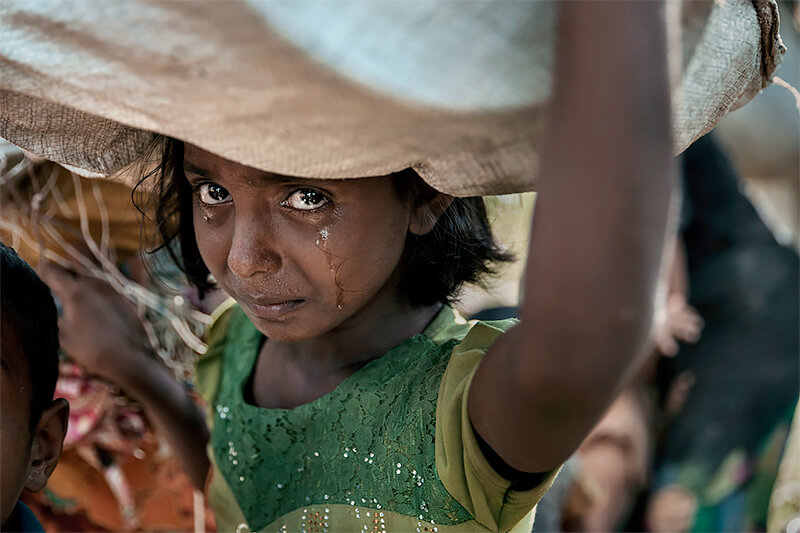 A Rohingya girl cries, traumatized after days of walking, with little sleep, as thousands of people fleeing from Myanmar are stranded in the scorching hot sun on a muddy rice field waiting to be allowed into the camps by Bangladeshi Border guards in Anjuman Para, Cox's Bazar, Bangladesh on October 16, 2017.
YOUNG REPORTER TROPHY (PHOTO) - INTERNATIONAL JURY SPONSORED BY CAPA PRESSE TV
1st Prize: Mushfiqul ALAM/FREELANCE
The Great Exodus BANGLADESH