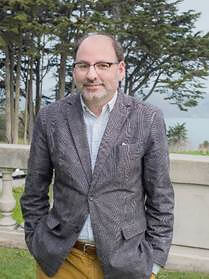 Ganz will oversee one of the most significant collections of photographs in the United States
The Getty Museum announced today the appointment of James A. Ganz to Senior Curator of Photographs. Ganz will oversee the museum's renowned collection of nearly 150,000 photographs, which represent the history of the medium from its inception to the present day. He joins the Getty after ten years at the Fine Arts Museums of San Francisco, where he served as Curator of the Achenbach Foundation for Graphic Arts.

Mr. Ganz's experience is a perfect fit with the mission and scholarly focus of the Getty's Department of Photographs. His many years of curating exhibitions and acquiring significant works will greatly enrich our collection and the work of our curatorial staff, says Timothy Potts, director of the J. Paul Getty Museum. He brings an energy, enthusiasm, and leadership that will help the department engage with an even broader audience and tell new and thoughtful stories about the history of photography up to the present day.

I have long admired the Getty's commitment to photography, from the depth and breadth of its collections to its spacious galleries and ambitious exhibition and publication programs, says Ganz. I look forward to working with my new colleagues on developing and interpreting the museum's photographic holdings for its diverse audiences, and exploring innovative ways to embrace the public's special fascination with this dynamic art form.

The Getty Museum's collection of photographs includes strong holdings of early European and American photography, as well as becoming increasingly international in scope, with significant holdings of work from Asia, Africa, and South America, and 20th and 21st-century photographs. In addition to overseeing this growing collection, Ganz will also help direct the 7,000 square foot Center for Photographs at the Getty Center, and spearhead a dynamic program of acquisitions, exhibitions, and research projects in partnership with a dedicated team of curatorial professionals.

Ganz received his Ph.D. in art history from Yale University, his M.A. from Williams College, and his B.A. from Trinity College. His specializations include 19th-century European and American photography, as well as California-based photographers, including Carleton Watkins, Eadweard Muybridge, Willard Worden, Peter Stackpole, and Arnold Genthe. Prior to his time at the Fine Arts Museum of San Francisco, Ganz was a curator for over ten years at the Sterling & Francine Clark Art Institute in Massachusetts, where he established the collection of photographs. While at the Clark, he taught the history of photography and of prints in the Williams College Graduate Program in the History of Art. Throughout his career, Ganz has organized dozens of exhibitions, including Jewel City: Art from San Francisco's Panama-Pacific International Exposition (2015), Portals of the Past: The Photographs of Willard Worden (2015), Arthur Tress: San Francisco 1964 (2012), Édouard Baldus: Landscape and Leisure in Early French Photography (2003), and Arctic Diary: Paintings and Photographs by William Bradford (2002), among others. Ganz has contributed to and authored numerous articles and exhibition catalogues, lectured widely, and held leadership positions at the Print Council of America.

Ganz will join the Getty in July 2018.