Skateboarding culture is exceptionally well-documented, and yet, the catalog of images is almost completely without portraiture... until now. In ghostly tones and stark, haunting relief, Sampson has pulled off the trick of tricks: She has persuaded random skaters to sit still while she photographs them with a staggeringly slow camera, and in doing so, she has captured, against all odds and with chilling nuance, the restless soul of skateboarding .
-- Bret Anthony Johnston, author and skateboarder
Maybe it was 10 years ago that I saw
Jenny Sampson
come into RayKo Photo Center to take a
tintype
class with
Michael Shindler
, along with a small band of antiquarian obsessed photographers. Or maybe I should call them historical process seekers. At the time, she was making exquisite silver gelatin prints and I thought why mess with a good thing for something so unpredictable that if your subject moves, that's that. If you're silver nitrate is bad, that's that. If your pour is imperfect, that's that. If you let the wet collodion dry, that's that. If the barometer is too high, that's that. Oh, wait, that's
platinum printing
, another beautiful, though masochistic historical process. But my point is, there are a lot of things that can go wrong. A tintype is a fickle process in the field. It's one thing to be in a controlled studio with your darkroom behind you and your lights all set up and balanced (and one heck of a high-powered lighting system too to properly expose that really slow emulsion). It's another thing to be outside with the changing light and the blowing wind and a portable darkroom and, oh, some young restless kids with their skateboards and energy and the madness of youth. Ask them to hold still without one of those neck braces of old.
Alas, Jenny Sampson threw caution to the wind and broke the rules and made these portraits work and work well. I had the pleasure of seeing the culmination of 7 years of her project at 2 recent portfolio reviews:
PhotoLucida
in Portland, Oregon, and
PhotoAlliance
in San Francisco, California. Her presentation is perfect. A small box, 4x5 inches and maybe another 4 inches deep. Inside, plate after plate of skaters. Portraits of skateboarders, some slightly blurred, some looking holy with the light pouring onto their profiles, some holding their skateboards like sacred objects, some with blue eyes so piercing that I have to look away, some serious, some playful, some sexy, some child-like, some hardened…with all these tintypes together, they are a portrait of a people, of a subculture that I honestly never looked at that closely, until now. Until I could hold them in my hands, a tangible metal object, a one-of-a-kind image, that told me something about their culture, their personalities, their dreams, their desires. The collection is so good that Daylight Books decided to publish all of this skate board nation in a book that is coming out this fall. Your first chance to see a copy is coming up quickly at the
Penumbra Foundation
in New York City where the publishers are having their fall book release party. There will be a pop-up exhibition of Jenny Sampson's original tintypes along with the book signings on Thursday, September 7 from 6 PM - 9 PM.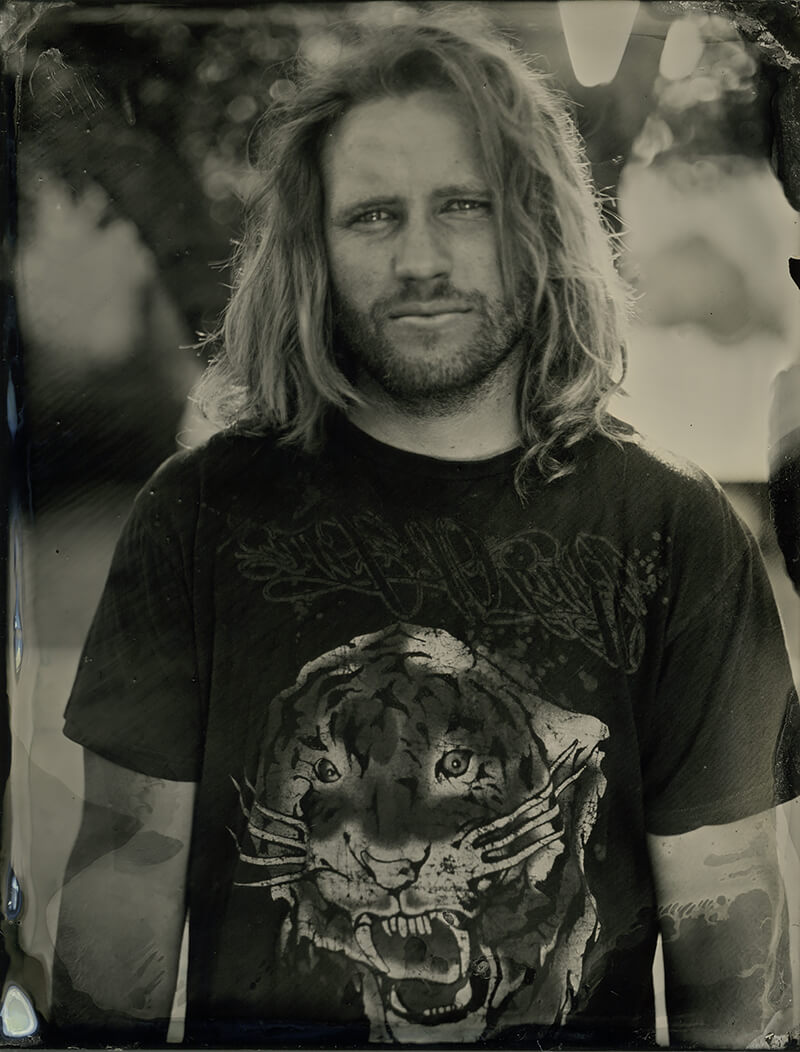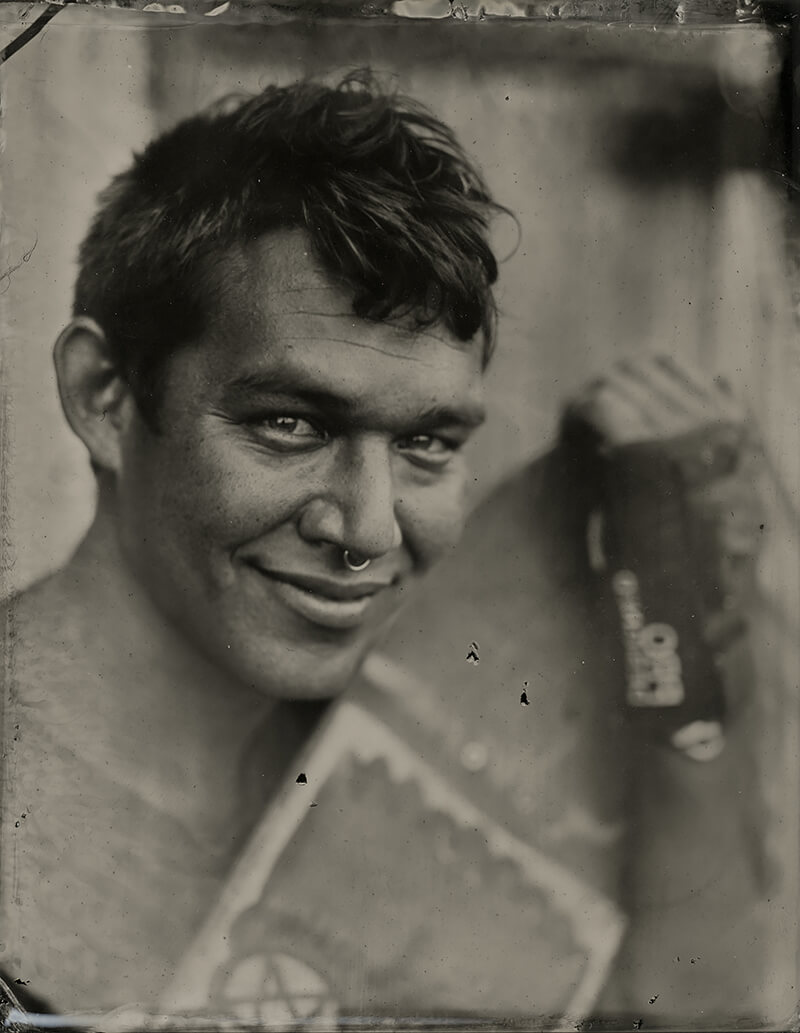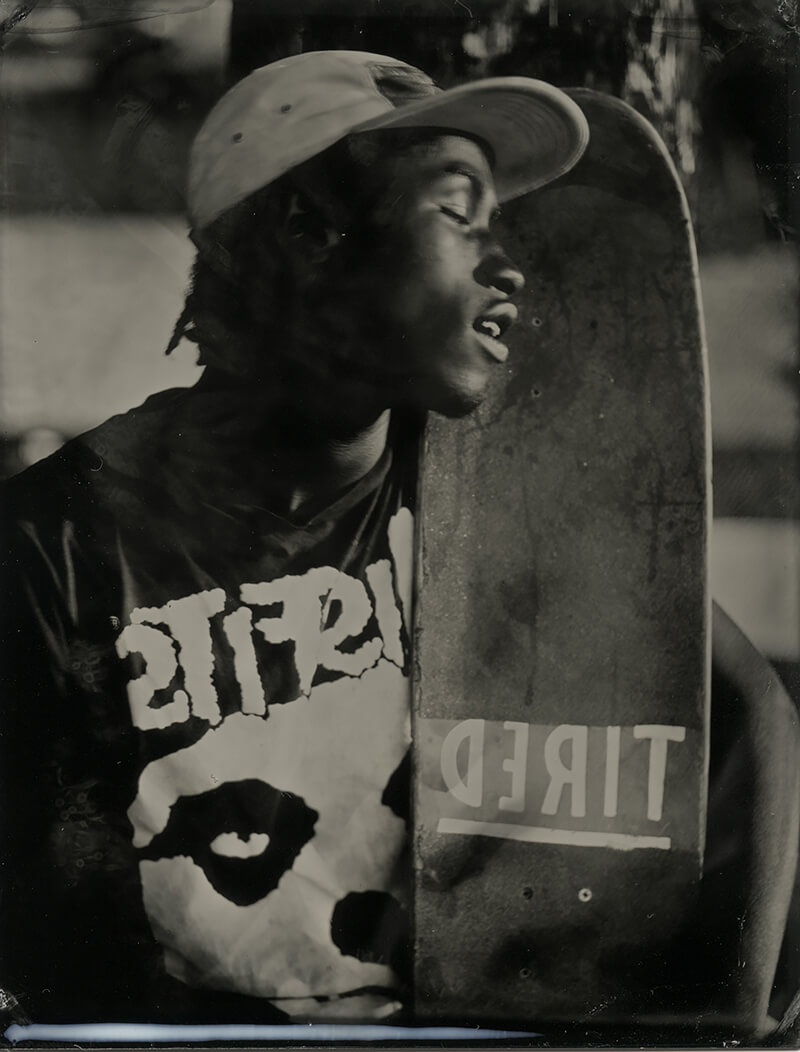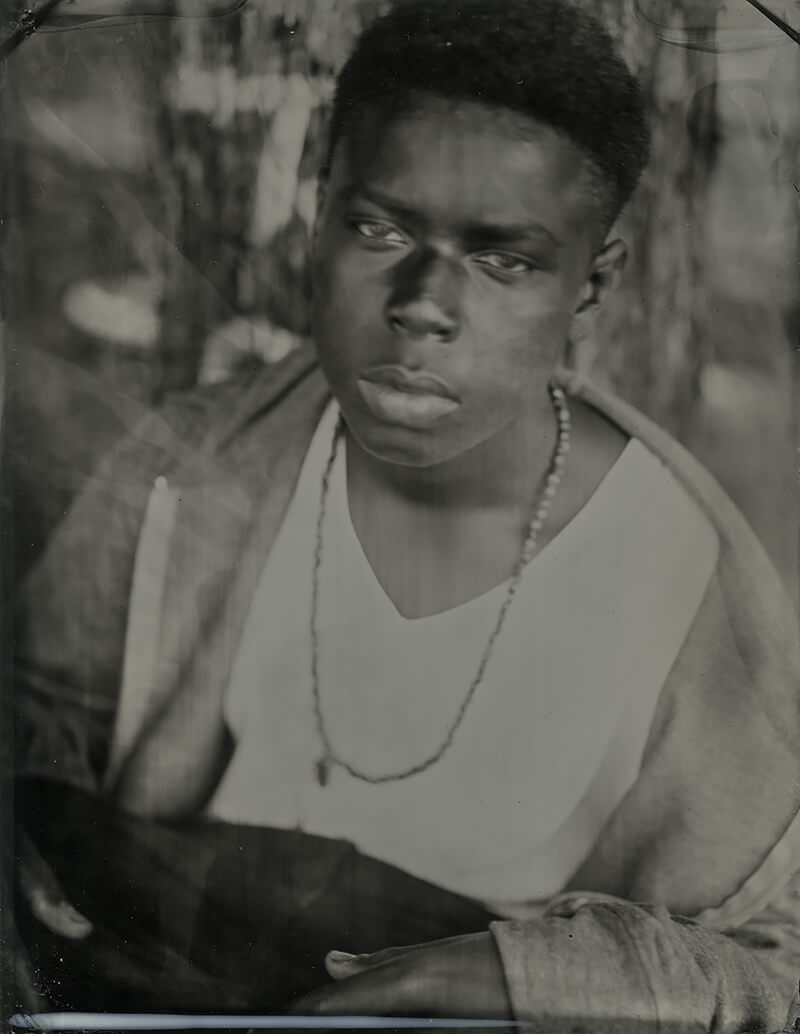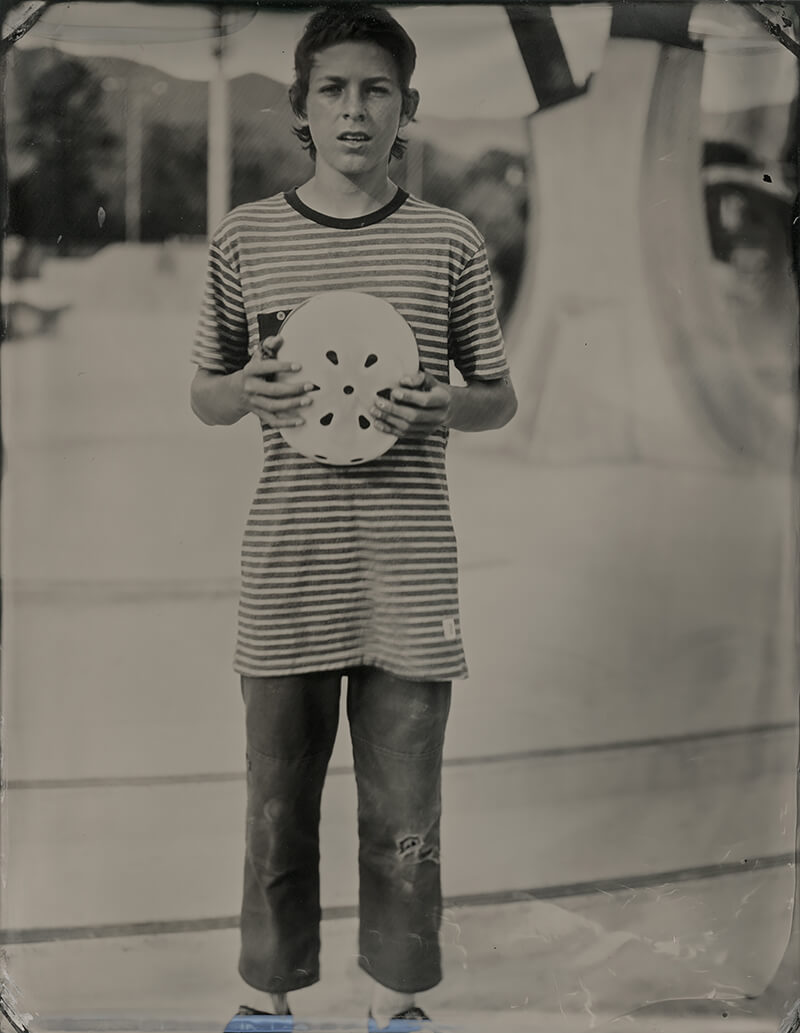 If you can't be on the east coast in September, there's another chance to see Sampson's collodion pieces and her monograph in Chicago a few weeks later at the
Filter Photo Festival
and then again at the
Art Book Fair
in Atlanta in October. If you can't be at any of these book release parties, perhaps you could just put on some elbow pads and make your way to your local skate park, because that's really where it all began.
Read this great statement by Sampson about the origins of her project:
I used to ride my bike past a skatepark on my way to work. I wanted to photograph the skaters who hung out there –they looked so connected and like they were having so much fun. I thought of skateboarders as a rebellious crowd and I wanted to be a part of that, but I didn't know how to enter their world. Years later, I learned the wet plate collodion process to make tintypes and eventually built a portable darkroom. For the obligatory testing of my new darkroom, I subconsciously headed to the Berkeley skatepark. The wet plate collodion process consequently became my reason and excuse to finally go to the skate park and photograph.

When I made my first skater tintype in 2010, I was immediately struck by the beauty and bond of merging a contemporary culture with a 160 year-old photographic process. As I observed and interacted with skaters from varying communities, I quickly identified a depth to this culture that had been lurking just under the surface, which inspired me to keep making these photographs.

Going to skateparks, meeting skaters and making tintypes is intimidating and exhilarating. Approaching a group of strangers who are intent on doing their thing, skeptical at times of onlookers, puts me outside of my comfort zone. There are easier days and harder days. People notice me, but they don't necessarily approach me, nor I them. I don't want to break their momentum or interrupt their focus; I must overcome my inhibition. I have to get their permission as well as give myself permission to interact. When this boundary is broken, the reciprocal interest is clear and I often learn they have been as curious about me as I them.

Many of the skaters I've met have never seen anything but a digital camera. When I make their portraits, they watch as their ghostly faces magically appear on the metal plate, the blue cast of silver cyanide dissipating in the fixer. They call my equipment old school; the plates I make, sick.

Employing a large format camera in combination with the wet plate collodion photographic process demands a subject to be stationary for a prolonged time. The sitter must remain motionless for over 30 seconds --easier said than done and harder still without smiling. Most peoples' learned reflex when sitting in front of a camera is to smile, portraying some sort of artificial moment of photographic happiness. When I ask my subjects not to smile, there is often a sense of surprise and relief --even the from the most subversive skater. Beyond this request, the choice of pose is theirs. The resulting tintype portraits radiate a unique honesty not often found in modern, faster processes, offering a glimpse beyond their image and possibly into character: pensive, tough, innocent, anxious, distracted, playful.

Over the decades, skaters have been viewed as a rebellious group by many. Their dress; the noise they make rolling down the streets; their use of buildings, benches, walls and rails as their playfield. All of this has somehow been exemplary of non-conformist behavior. However, as I have progressed through this body of work, I have been moved and inspired by these skaters' unflinching determination. They fall, they get up, they fall again, and again and again. There is a lot of pain. Skate or die. And there is endless camaraderie, openness, creativity and support. Is this rebellion?

This behavior --this rebelliousness is what I craved when I was young. What I have come to realize as I watch skaters now, is that I still crave this. But what this is, is an obsession, a determination. I admire this quality. Perhaps I have it, too, rebelling against the status quo of digital photography. Instead of moving to binary code from a fast, hand-held film camera, I made a U-turn to the past, to a photographic process that requires a tripod, a lengthy set up and a car full of equipment; mixing raw ingredients to create chemistry that can change its mood depending on the direction of the wind. Perhaps wet plate collodion is my rebellious, non-conformist sport, my skateboarding.

I'd like to thank every skater I have encountered on this journey for welcoming me into their community and trusting me to look and listen, allowing me to share the ride. Their obsession --my obsession.

I will be at the launch party in New York on September 7 at the Penumbra Foundation, Filter Photo in Chicago, September 23-25 and at the Atlanta Photo Book Fair, October 13-15.
Definitely find this artist, hold Jenny Sampson's pieces in your hands, look into the eyes of her subjects, step back one step, and then step forward and embrace them. And buy her book. And maybe put on the elbow pads, though no one wears them, and really, I'm approaching an age that when I look at a skateboard, I think immediately about a shattered hip and how it will be the end of my life. But then I pause, think about how Jenny is actually my age and while she may not be on a skateboard, she has lugged her large format camera and her portable darkroom to the skate park and made more than a statement or a document. She has made history.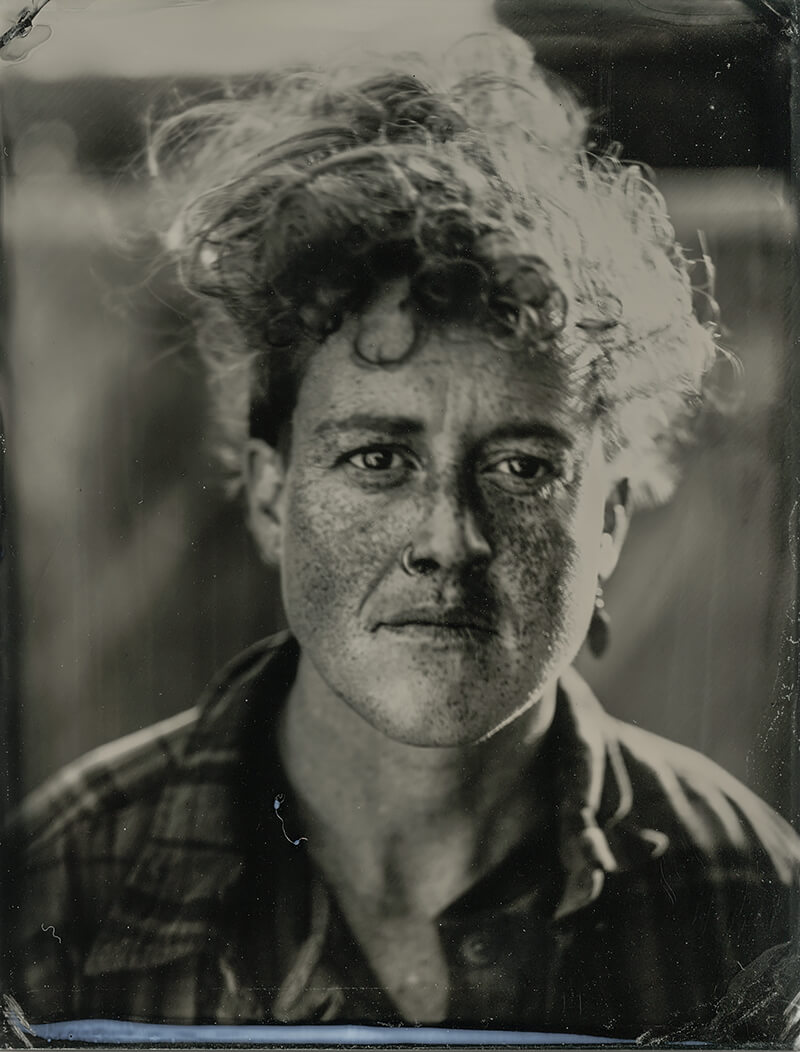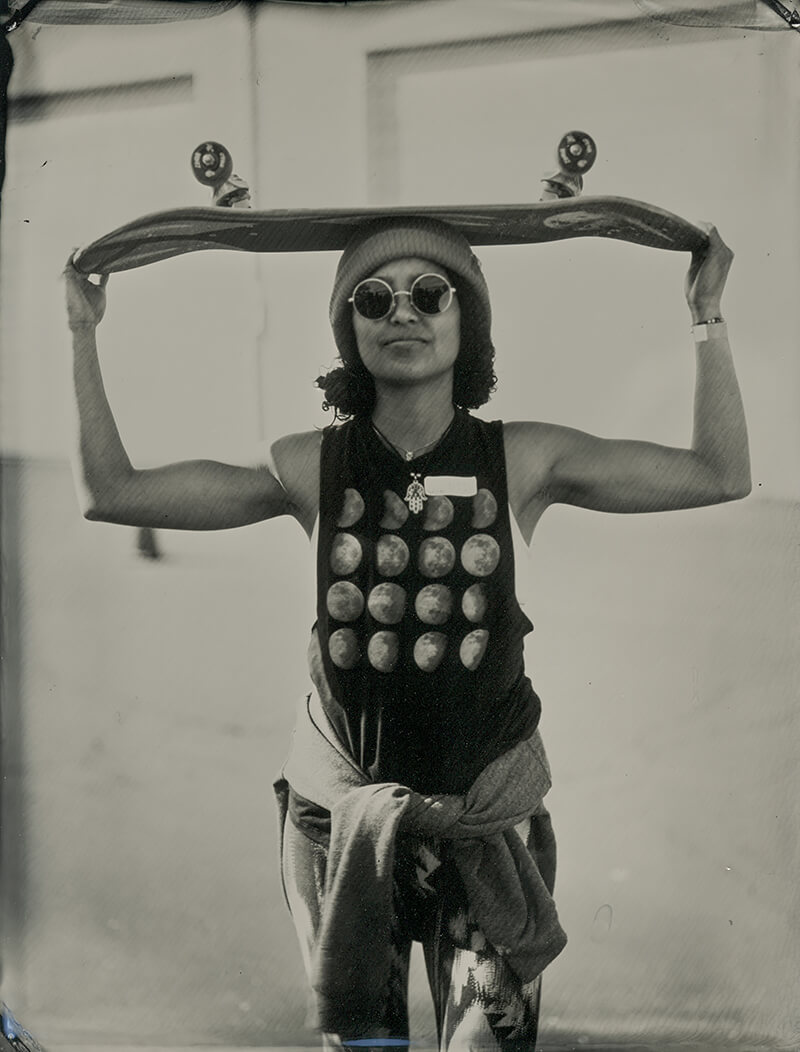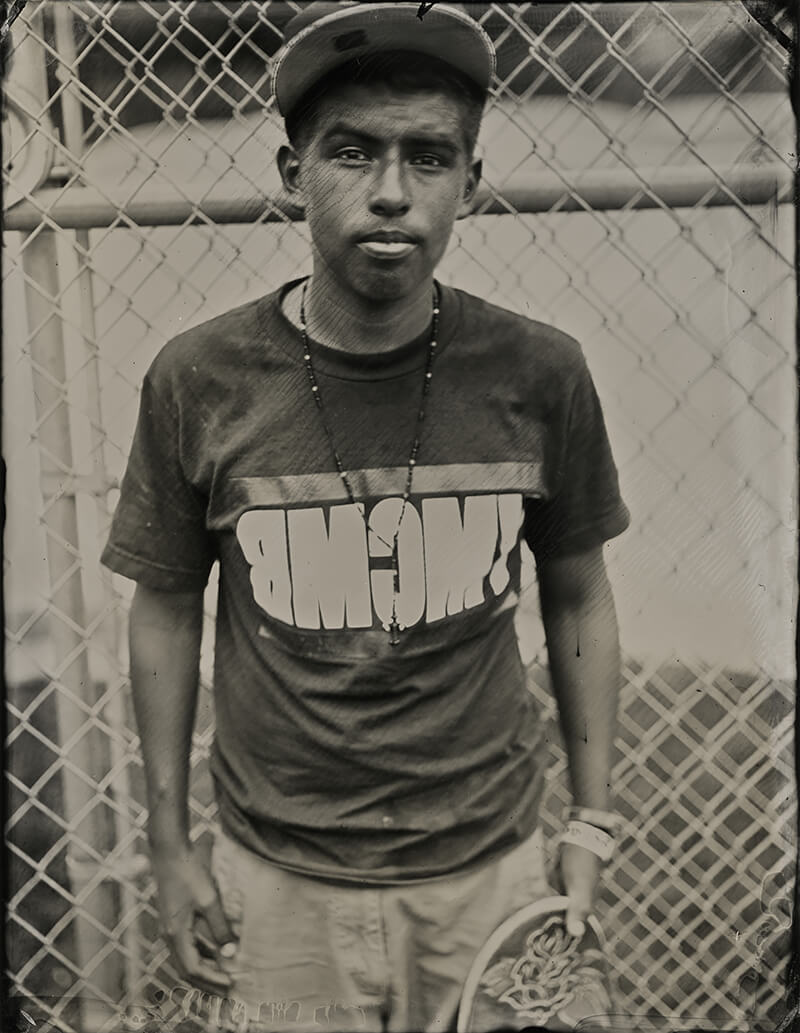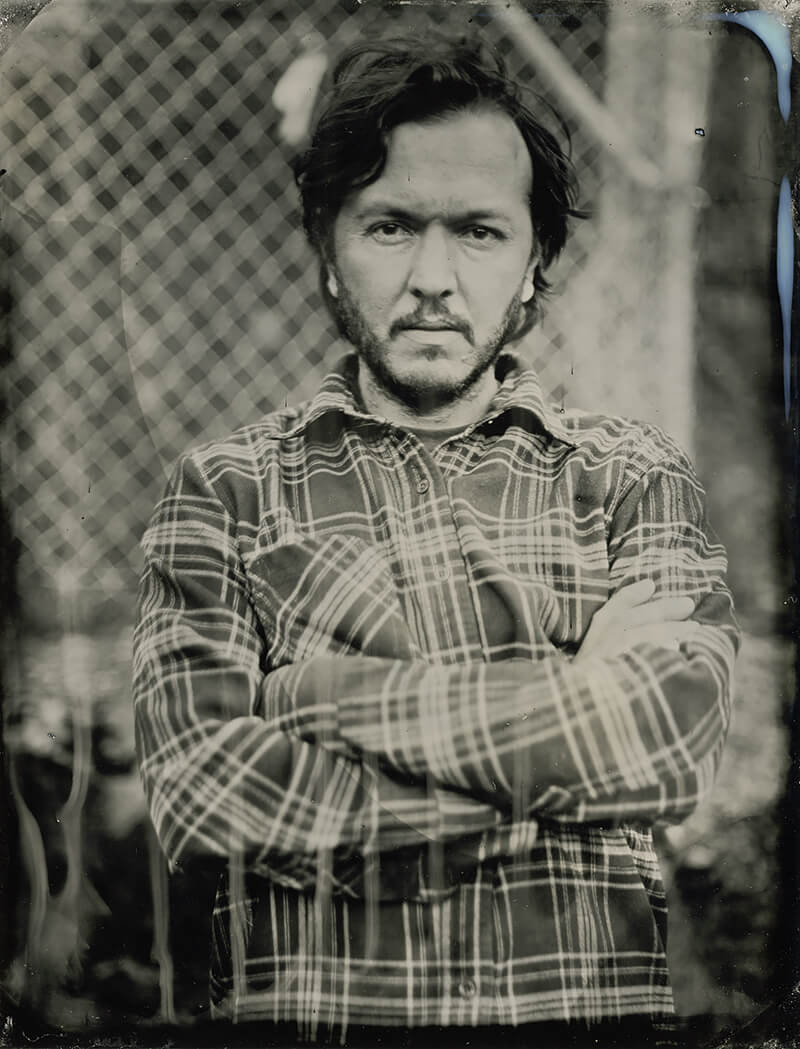 Biography
Jenny Sampson lives in Berkeley, California and received a B.A. in Psychobiology in 1991 at Pitzer College. She dedicates her time to her photographic endeavors: wet plate collodion and traditional black and white photography. As a related chemically creative pursuit, she cooks professionally, maintaining an honest, nuanced style and free-spiritedness throughout it all. Jenny has exhibited her work in the United States, United Kingdom and has been published in SHOTS Magazine, Visual Communications Quarterly, Blues Review and the Seattle Post-Intelligencer. Her work is included in the Candela Collection and other private collections. A monograph of her Skater tintype portraits is being published in the Fall 2017 by Daylight Books.