I first met Charles Chuck Mintz at the portfolio review at
PhotoNola
. (Registration for the 2016 reviews opens on September 8th. If you're interested in going, have your finger on the button because the year I reviewed (2014), it sold out in less than five minutes. I think this explains why the work I viewed in New Orleans was so fantastic. All on the artists that participated were not just ready, but they were organized and had complete and potent bodies of work to share.
One of these artists was Charles Mintz. No, not the film producer, but
Chuck Mintz
, the engineer turned photographer. He had numerous projects to show me at PhotoNola, but the one that stood out the most was his series about
Lustron Homes
and their owners. Now, living in California and growing up in New York, I had no idea what these homes were. From Chuck I learned that the Lustron Corporation manufactured porcelain baked enamel coated, all steel houses between 1948 and 1950 in Columbus, Ohio. Virtually everything, exterior, roof, interior walls, cabinets and ceilings were made out of the material.
When I looked at Chuck's pictures, I noted that since the interiors were also made out of these enamel-coated steel panels, decorations had to be hung from magnets or Velcro tape, that drilling a screw into the wall or hanging a picture hook was all but impossible. I noted where the attempts had failed too. That is one of the compelling features of Chuck's images: the details. There is a photograph of a man standing on his porch and everything looks perfect... and then the viewer notes the weeds growing up between the bricks of the patio and some sort of wire netting detaching itself from the roof. It is also fascinating to note that though the Lustron houses are identical, the owners have attempted to make them unique with their furnishings and collections and displays. Chuck's project is a gorgeous portrait of a group of people with this common dwelling uniting them.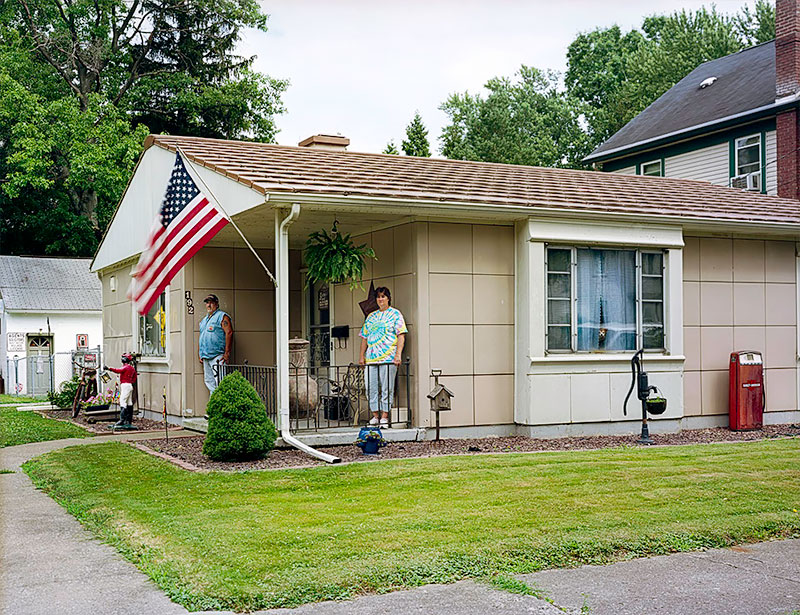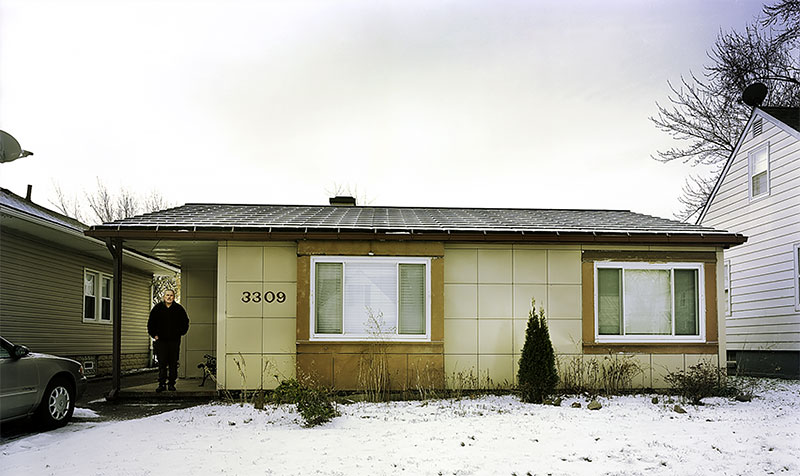 Lustron homes are among the most successful examples of the Modernist ideal of using industrial techniques to create affordable housing. When I was recently in Detroit, I went to the
Henry Ford Museum
and was delighted to see Buckminster Fuller's
Dymaxion House
in the flesh. Or I should say, in the metal. It's shining beauty of aluminum... it was like a circular Airstream trailer, but better. I was saddened to learn that this was it. The only one. Unlike the Lustron houses that spread to 36 of these United States.
Lustron is long gone, but about 1500 of the 2500 houses are still in use. Chuck's project titled,
Lustron Stories,
sets out to discover who lives in these homes 65 years later? It is a journey through the Great American Dream after the Second World War.
Here is how Mintz started this journey:
In 2011, I was meeting with The Ohio History Connection (then called the Ohio Historical Society) to discuss and exhibit one of my projects, "Every Place I Have Ever Lived - the foreclosure crisis in twelve neighborhoods." They were planning a five year program starting the fall of 2013 which would feature one of these homes (that had been displayed at the Museum of Modern Art in New York) as an exhibit. The story of these homes immediately grabbed me. The Great American Dream had emerged as a subject in my earlier work and the times paralleling my own (I was born in 1948 and grew up in a home very similar in size to these) was impossible to resist. The project started slowly but as the stories of the folks in these places emerged, they became richer, more universal and more personal. A remarkable cross section of people lives in these modest (~1100 sq ft) homes. While certainly diverse in age and place in life, the ownership remains firmly working class and, in many cases, shows the economic strains that come with that today.

Everyone who lives in these has something to say about them.

I have spent the last two years photographing the current owners and/or residents in these homes and getting a bit of their stories. This is about them. In the end, great architecture is about the people in the structures. I use my large format wooden field camera to soften the power imbalance between the subjects and me. The cool (and awkward) equipment goes a long way toward making these strangers comfortable in front of the camera. Over 100 have been done in fifteen states.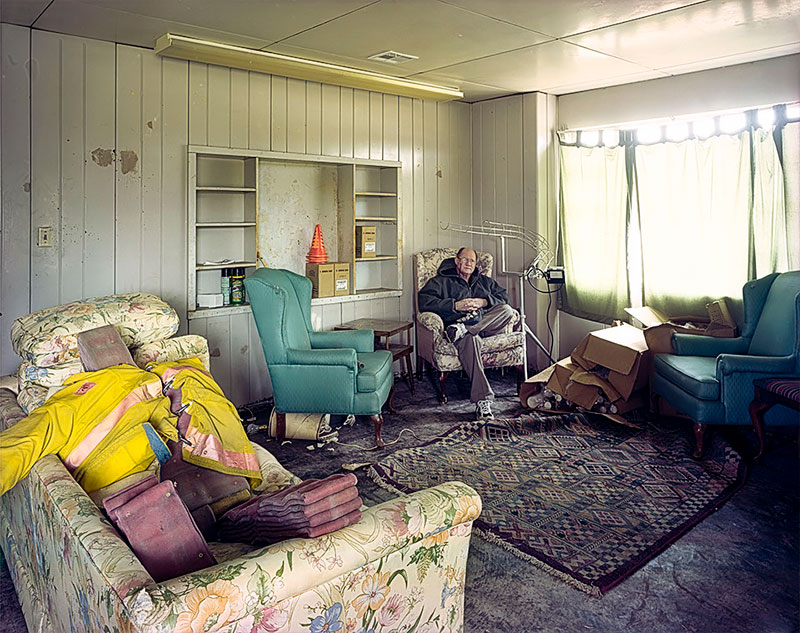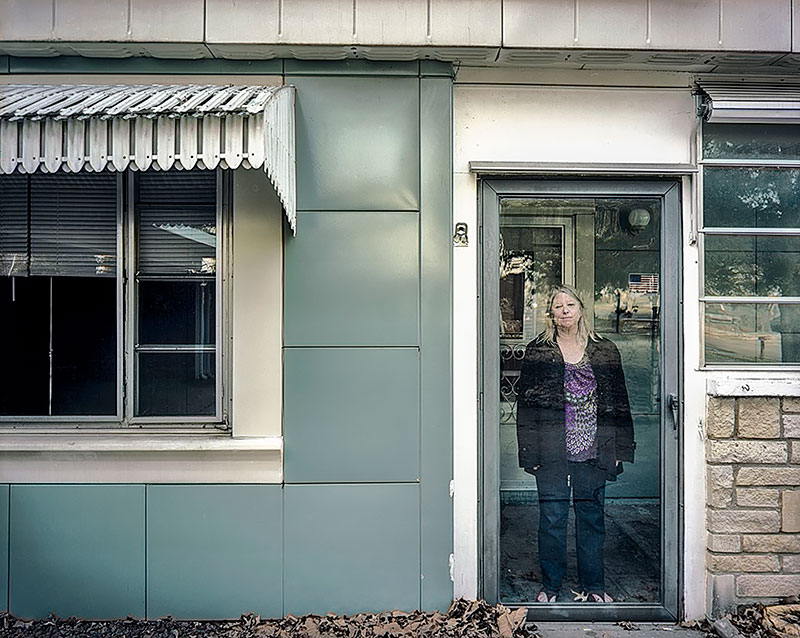 This particular series arrested my attention at PhotoNola; this idea of the American Dream and how it can be envisioned. These people living their lives in metal homes, each with their own story, their own dream.If you want to see all of these individuals' stories together, Trillium Books, an imprint of The Ohio State University Press, will be publishing Lustron Stories in September
Now that Chuck has left his previous engineering life behind, he has thrown himself head first into the deep end of photography. He has so many projects going on that I had to focus on just this one. Though I'd also like to mention quickly that he just completed a residency at the
Kala Art Institute
, in Berkeley California where he was set free to pursue one of these other interests: his obsession with traditional hardware stores. I saw him lugging his 8x10 view camera around during the only rainy month this part of California has seen in years. I sent him a list of San Francisco Bay Area hardware stores, including
Cliff's Variety
in the Castro neighborhood... where you could get tools for home improvement... and also a tiara or a feather boa or that special pink wig. Chuck is still looking for more hardware stores, so if you have a hometown favorite, send him a message! I'm excited to see what Chuck's next story will be.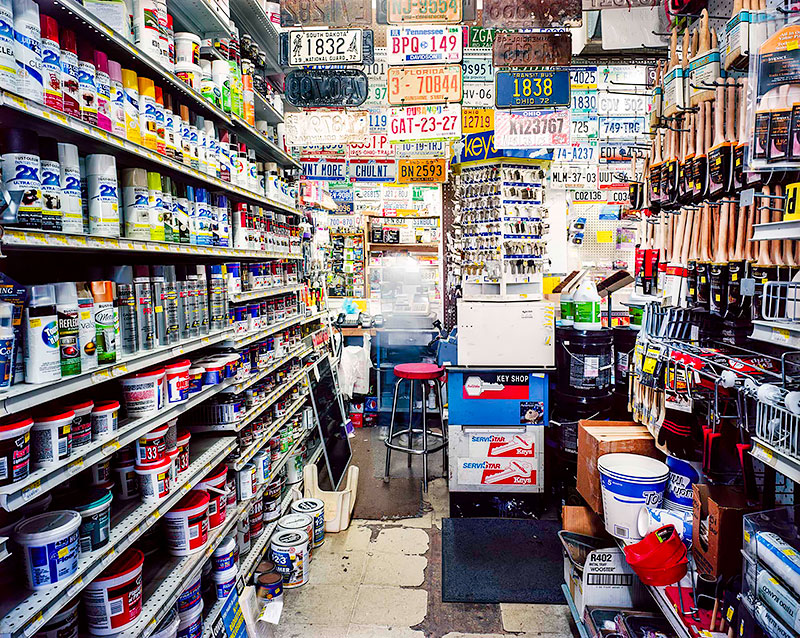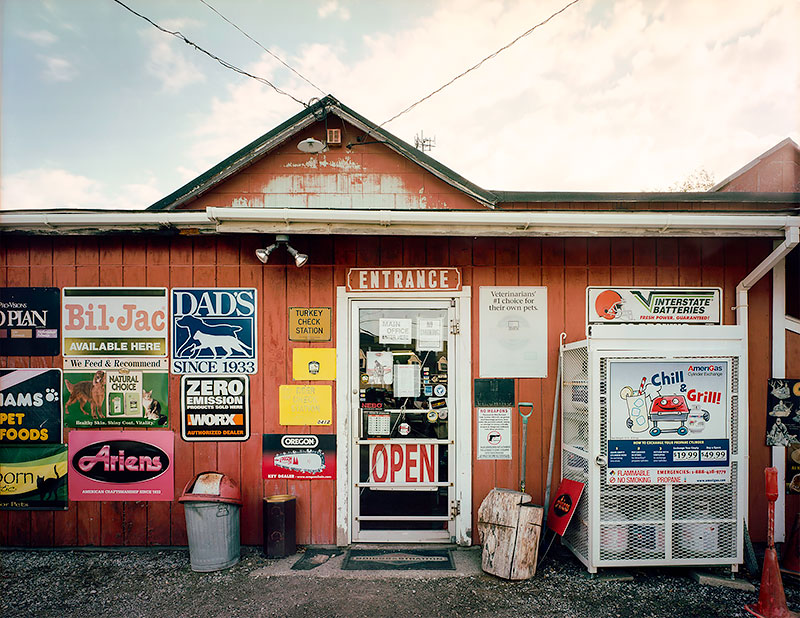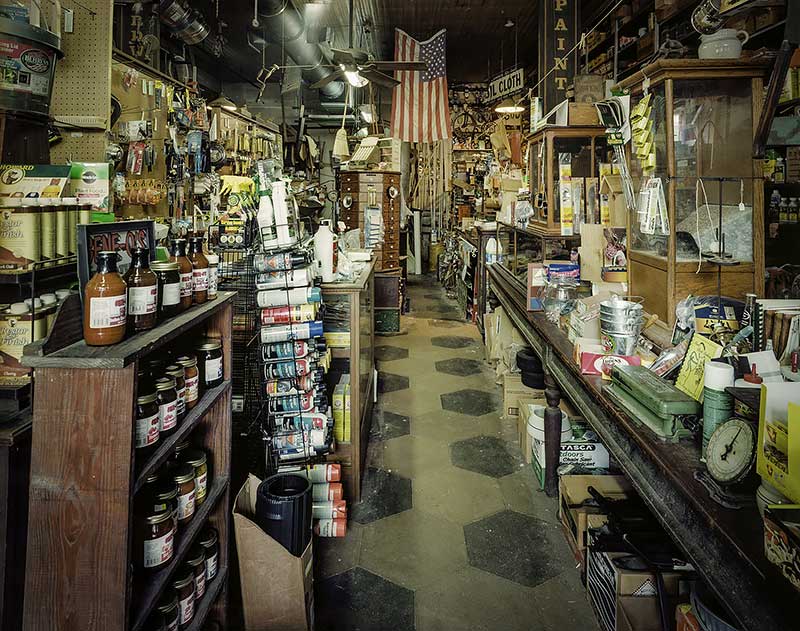 Biography:
Photography is Chuck's third career, the result of a passion acquired in Maine many years ago. Most of his work is done on film. The monochrome is printed in the traditional darkroom, the color scanned and printed on inkjet printers.
Becoming a full time photographer in 2008 changed the work in profound ways. Previously, the work showed people anonymously and was more about the public space. In this new period, the work has become intensely personal - often involving portraiture. This can be seen in The Album Project, Precious Objects and, still in progress, Costumes. Even Every Place – I Have Ever Lived (where people in the images are largely unrecognizable), is uniquely personal: beginning with his childhood home that was in foreclosure and continuing to all the neighborhoods Chuck has lived in during his lifetime.
Chuck studied photography at the Maine Photographic Workshops, Parsons School of Design, the International Center for Photography, Lakeland Community College and Cuyahoga Community College. He has a BSEE from Purdue University and an MSEE from Cleveland State University.
He is the former board chair of ICA–Art Conservation in Cleveland, OH and board member of the Cleveland Museum of Art – Friends of Photography. His interest in preservation and conservation is reflected in his service to the ICA and in careful attention to producing work that lasts. He also serves on advisory boards at the Cleveland Print Room and the Artists Archive of the Western Reserve.
His work can be found in museums, including the Smithsonian Museum of American History, private and corporate collections in North America, Europe and Asia. As well as at the gallery that represents him: 1point618 Gallery in Cleveland.
Chuck Mintz was awarded an Ohio Arts Council Individual Excellence Award for 2015.