As big fans of this year's theme of stepping up global commitment to achieving gender parity, we would like to share with you some of our most recent work advancing this important cause.
In late January, Too Young To Wed (TYTW) held our first-ever Adolescent Girls' Photography Workshop in collaboration with the Samburu Girls Foundation in Maralal, Kenya. The workshop, with support from Fuji Film, combined photography and storytelling training to help traditionally marginalized girls better realize their self-worth and find their voice. The results were astounding. Not only were the photographs more impressive than we could have imagined, the girls also seized the opportunity to let the world know just how hungry they are for equality, justice, and the chance to simply be children instead of a commodity. For a great rundown on the workshop, check out National Geographic's article:
These Girls Escaped Child Marriage. Now They're Raising Their Voices - and Cameras.
After Kenya, the TYTW team headed to the Kagati Village in Nepal, where last year's massive earthquake devastated the local infrastructure, jeopardizing recent gains in the fight against harmful child marriage traditions. Using proceeds from our Fall 2015 print sale, we engaged with the local community to assess immediate and ongoing needs and organized our implementing partners to follow up on our projects. We're especially excited to report that we disbursed the first 20 Too Young To Wed scholarships, which cover a year's worth of school admission, supplies, and uniforms for rural girls and boys at risk of child marriage.
A few days after leaving Nepal, TYTW Founder Stephanie Sinclair traveled to Sun Valley, Idaho, for
The Family of Women Film Festival
. There, Stephanie discussed the global child marriage issue alongside an exhibition at the
Friesen Gallery
of the beautiful photographs made by the girls who participated in our Kenya workshop.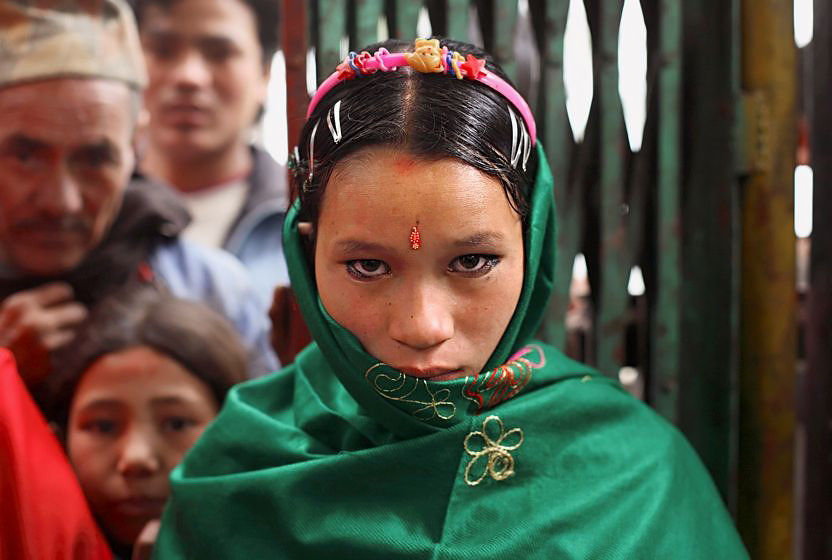 As you can see, Too Young To Wed has hit the ground running in 2016, but there's so much left to accomplish. We came this far because people like you cared enough to help us succeed - but, if we're going to build on these successes, we need your continued support. Here are a couple simple ways you can help us in our fight to end child marriage and support girls' rights: Spread the word: engage with us on social media and help us get the world on board - share our stories with your friends and family, or even a stranger (hey, the founder of Instagram even brought one of our child marriage photos to the Pope on a recent visit - so you never know!).
Help us stay funded: as a fully credentialed 501(c)(3) organization, we rely on, and deeply appreciate, your thoughtful donations to keep our programming, including the photo camps, up and running.
In closing, from the bottom of our hearts, thank you for all you've done to support Too Young To Wed. We, and girls all over the globe, are lucky to have you in our corner. We look forward to staying in touch and sharing with you the amazing things we have lined up for Too Young To Wed during the rest of 2016 and beyond.
Stephanie and the Too Young To Wed team