Street photography at its best depends on chance but the merely quirky or comic won't cut it. Nor will just being on a street suffice: a selfie might be taken there but -- unlike a photograph of someone taking a selfie -- its posed nature, however spontaneous and fleeting, is not what gives street photography its kudos.
There must be something else in the appeal of a moment, a perspective or a framing that allows the photographer to seize the unpredictable opportunity being presented. It is not a matter to be dogmatic about but what often emerges from street photography is the felt sense of a particular place and time, an instant of history. Friedrich Seidenstücker's images in the 1920s and '30s express something about Berlin life during the Weimer Republic; Helen Levitt achieved something similar for working-class neighbourhoods in New York; Gilles Caron in Paris in 1968 and Gilles Perez in Northern Ireland in the 1970s are other supreme examples.
Street photography has a wide range of modes -- from the documentary to the poetical and the political -- and somewhere at the observational and humanist end of its spectrum lies the work of the Lithuanian photographer, Antanas Sutkus (born 1939). His camera adopts an unassuming role which is reflected in compositions of everyday life which, like Levitt in this respect, endow the utterly ordinary with gentleness and respect. Configurations of people in their built environment are noted with no semblance of theatricality: a man in a phone booth; pedestrians crossing under tram lines; a couple on a bench, women reading newspapers.
The photos in
Street Life
are almost all taken in Lithuania, during the years 1959-1977, at a time when the country was part of the Soviet Union. Soviet troops first took over in 1940, retreating after the Nazi invasion and leaving over 200,000 Jews – over 90% of whom would be murdered -- at the mercy of detachments of German
Einsatzgruppen
and anti-Semitic Lithuanian auxiliaries. Soviet control was reasserted in 1944 and Lithuania largely vanished behind the 'iron curtain' until Gorbachev's reforms in the mid-1980s. This historical background is not the concern of Suktus's work, his affinities remain with people not politics, but his photographs are far removed from scenes of cosmopolitan life in Western Europe. The material presence of a particular time and place comes across strongly in structures and relations of street life -- park benches, crossroads, couples meeting, street workers, a flower market, the effect of weather – and a keen perception of the secularized existence of people going about their lives. The cumulative effect is a materiality of aesthetic pleasure that comes from looking closely at people, their temporality and the durability of a certain integration of body and culture that helps shape moments in their urban, non-consumerist existences.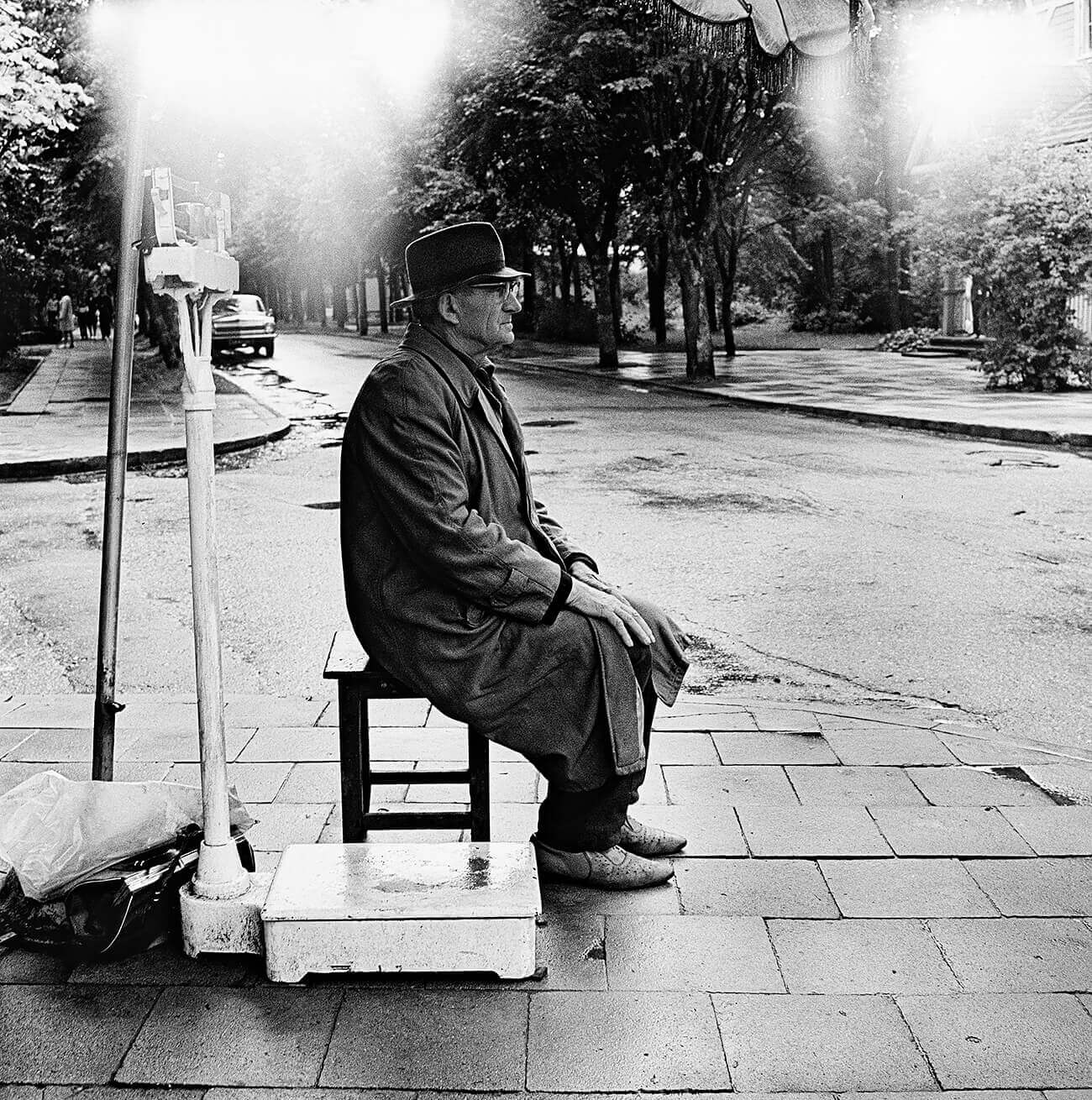 One of the photographs, showing a young woman walking towards a group of men, makes for comparison with
Ruth Orkin's Ruth Orkin's 'American Girl in Italy 1951'
. Suktus took his shot in Vilnius in 1960 and the female is a student, holding a book in her hand, about to join others in setting off for summer work in a collective farm. The kneeling man in the foreground is presumably photographing the event, capturing the sense of a camaraderie that the woman is, perhaps a little diffidently, about to join. In Orkin's shot, a solitary woman is also in the company of men but there is a pronounced sense of patriarchy that hovers on the border with harassment. This may not be entirely missing from the scene in Vilnius but the male gaze seems less insistent; in place of the rudeness of staring, there is companionship.
The vintage quality in a picture like this one is not a Lithuanian version of
ostalgie
but it does convey a keen impression of lives quietly being lived out in the 1960s and '70s in a country that most of the rest of the world paid little or no attention to. Street Life's photographs are not invasive, no one is acting and self-consciousness is rarely on display. Sutkus walks, waits and watches attentively for unscripted moments to be encountered and recorded by his photographic eye that is unjudgemental and full of kindness.
Antanas Suktus Street Life is published by
Steidl
.