I first saw Justyna Badach's bachelor portraits in the
Critical Mass
competition a few years ago. For those of you that don't know about this competition, Critical Mass is a chance to submit your photographic project to a large jury of photography professionals. The aim of Critical Mass, which is hosted by the non-profit organization
PhotoLucida
, is to provide participants with career-building opportunities and to promote the best emerging and mid-career artists working today. Critical Mass is a program about exposure and community. The idea is simple: photographers (from anywhere) submit a 10-image portfolio. This work is then pre-screened by a committee of approximately 20 jurors. From those votes, 200 finalists are determined. The 200 finalists then pay an additional submission fee and their work goes on to a jury of over 200 of the world's best photography professionals (curators, gallery directors, magazine publishers, photo editors, book publishers, etc) who have agreed to view and vote on the finalists' work. I am honored to be one of the jurors and also excited for each year's opportunity to see new projects.
Justyna Badach's work was not just memorable amongst the hundreds of portfolios, but it was riveting. Since 2003, Badach has been working on a series of portrait and text pieces entitled Bachelor Portraits. Envisioned as a book, this series is comprised of portraits from all regions of the United States. Using ads in supermarkets and on-line, she seeks out men who tend to exist on the margins and are often considered invisible by society.
The images that she and her subjects construct together focus on their home life, the safe places where they withdraw from the world to think, meditate and act out their fantasies. This results in images that are extremely personal, emotionally intense, and sometimes unsettling. There are no pre-screenings or auditions. Each man's inclusion in this project is based solely on their desire to participate and his willingness to spend several hours collaborating with Badach on their portrait.
Each of the resulting portraits is accompanied by a short text that is written in the photographer's voice. The texts expand the meaning contained within the photographic frame and create a direct point of contact between her humanity and that of the man. They reveal what the camera cannot, what the men said, and what Badach felt.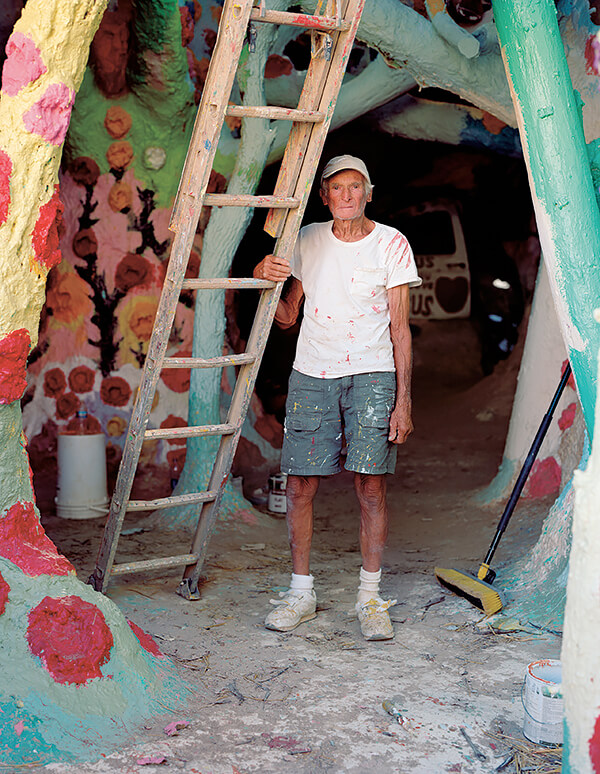 Leonard 2011
I walked slowly from my car to his place. The intense desert light and heat made me dizzy. He put a giant block of ice into a plastic water dispenser and poured me a cup. He said, Life out in the desert is hard. People think it's easy. It's not. But it is free and that is important.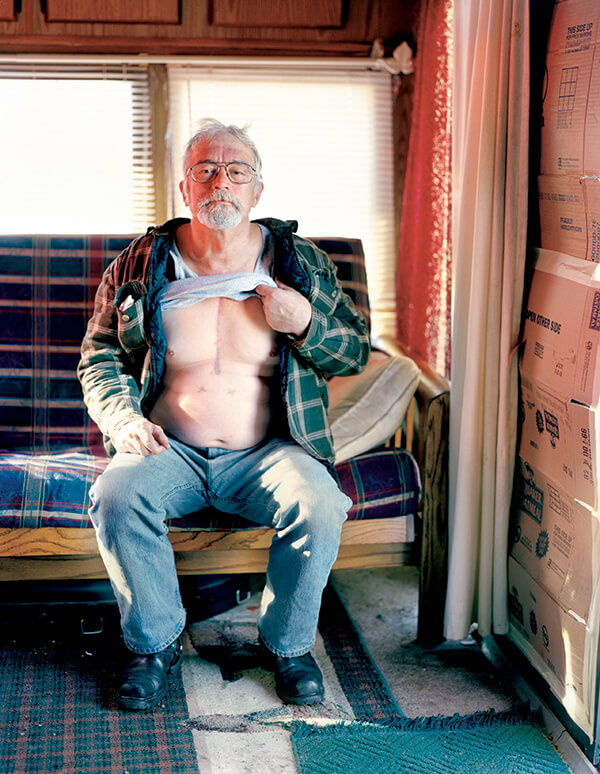 Boyd 2010
I met him at his tiny, unheated camper. In the last year he had a heart attack, his trailer burned down and he lost his job. He is the youngest of eleven, but only keeps in touch with one sister. He said, My father was a real sadist and I was his favorite target. As a small boy he was burned with hot coals and forced to drink alcohol. His mother knew but didn't do anything. People didn't like to air their dirty laundry back then.
This body of work distinguishes itself in the way in which it reverses the stereotypical gender construct of the artist-model relationship by working the standard power relations of artists and model to a different end. Taken as a whole, these highly individual narratives form a larger chronicle about contemporary American life, isolation, marginalization, and the desire for connection to others.
In celebration of
The Print Center's
100th Anniversary, Justyna Badach will be having a book signing of her Bachelor Portraits published by Blue Sky Books. If you are anywhere near Philadelphia on December 3rd, stop by
Moon+Arrow
between 5:30 and 7:30 to get your copy of Badach's book as well as see the limited collection of 14 unique artist edition books (pictured here) that are nearly sold out. Copies have been acquired by the collections at Rice University, Haverford College and Temple University. One copy will be available for sale at the book signing! And if you can't be in Philadelphia on December 3rd, then visit the
Blue Sky Gallery
website to order your copy of Bachelor Portraits. It is a revelation, to say the least.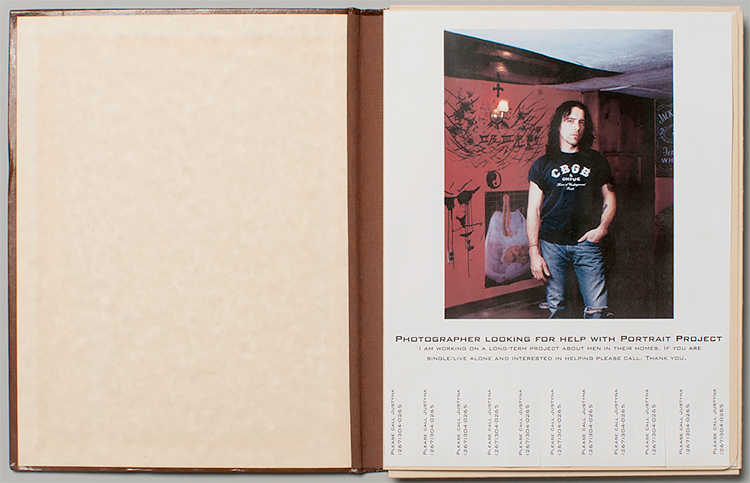 Justyna Badach was born in Leningrad and lived in Warsaw before immigrating to the United States. She holds an MFA from Cranbrook Academy of Art. Her work has been exhibited nationally and internationally including, AIPAD New York, The Griffin Museum in Winchester, Emory University in Atlanta, Catherine Edelman Gallery in Chicago, Blue Sky Gallery in Portland, Photo Center North West in Seattle, Gallery 339 in Philadelphia, The Australian Center for Photography in Sydney and Art Wonderland Space in Copenhagen, among others. Her work has been featured in Contact Sheet, F-Stop Magazine, Dummy Magazine (Germany) and several exhibition catalogs including Fotografia Festival di Roma (2006) Different Realities, Germany (2005) and a Photography: Contemporary Prospects (1995). Her work is in the permanent collections of Portland Museum of Art, Museet for Fotokunst Brandts, Odense, Denmark, and The Center for Photography at Woodstock, Cranbrook Museum of Art, MI., and US Embassy Ghana. She has been awarded an artist residency from Light Work, and grants from the Pennsylvania Council on the Arts, Leeway Foundation, Griffin Museum, and The Independence Foundation. A monograph of Bachelor Portraits, was published by Blue Sky Books/Blue Sky Gallery in 2014.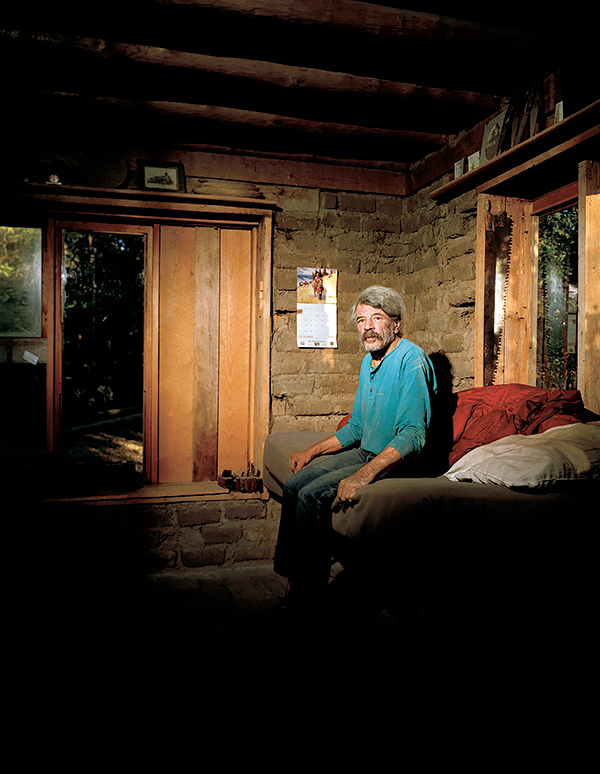 Robert 2010
This is his family's ancestral land. He moved back here after he began having seizures. He built this cabin all by himself. There is no electricity or running water, just a wood stove for heat. He was tired of the doctors treating him like a science experiment. They could not help him.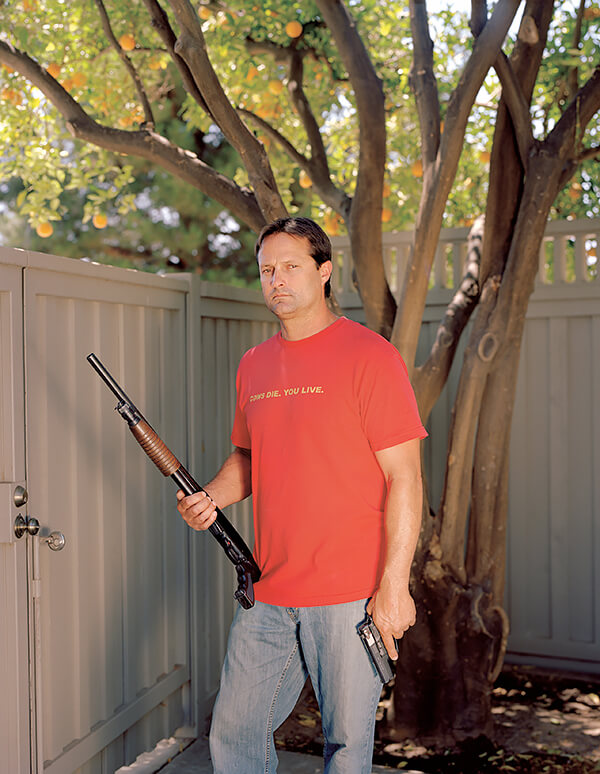 Jeff 2010
He told me he had the whole house under video surveillance. He was worried someone would steal his guns. He locked the gate, just in case one of the neighbors decided to drop in.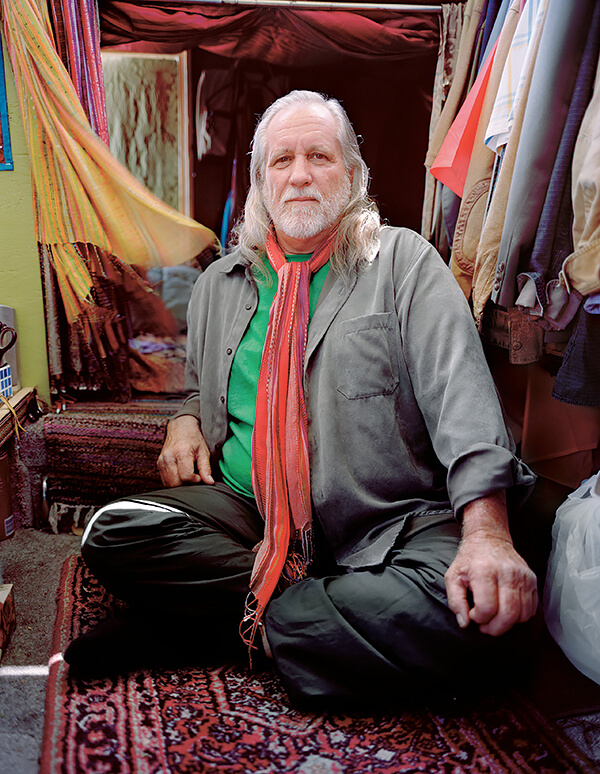 Guru fatha 2010
We met in a seedy beach parking lot where he had parked for the day. He lived in this little room he had constructed in the bed of his pickup truck. He told me that he was a shaman on a drive about, trying to save the planet. He asked me to send all my love and prayers for our earth. Two hours later he was gone.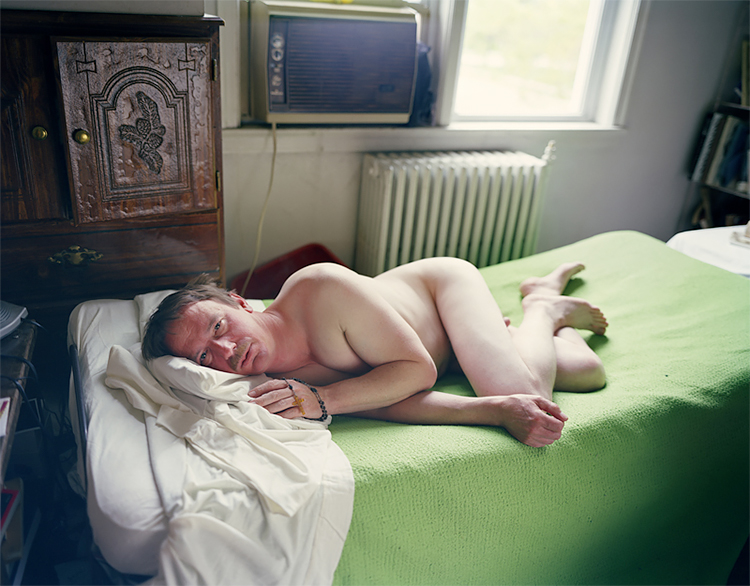 Robert 2010
When he first saw my ad he was suspicious. He thought my name was code, just in A. He was relieved to find out that I was a woman and had no ulterior motives. Then he asked if it would be all right to be photographed naked.