For three years in a row, unyielding floods have swept away whole villages, destroyed crops and drowned livestock, forcing farmers to flee their homes and leaving families hungry and unable to support themselves.
Without finding ways to adapt to the changing climate, farmers and fisherfolk face a difficult choice: migrate to crowded cities or neighbouring countries in search of work or stay put and face hunger.
In a series of captivating photos from the communities of Old Fangak and Paguir,
Peter Caton
and
Action Against Hunger
illustrate how communities are adapting to the changing climate, demonstrating resilience and hope in the face of destruction and despair.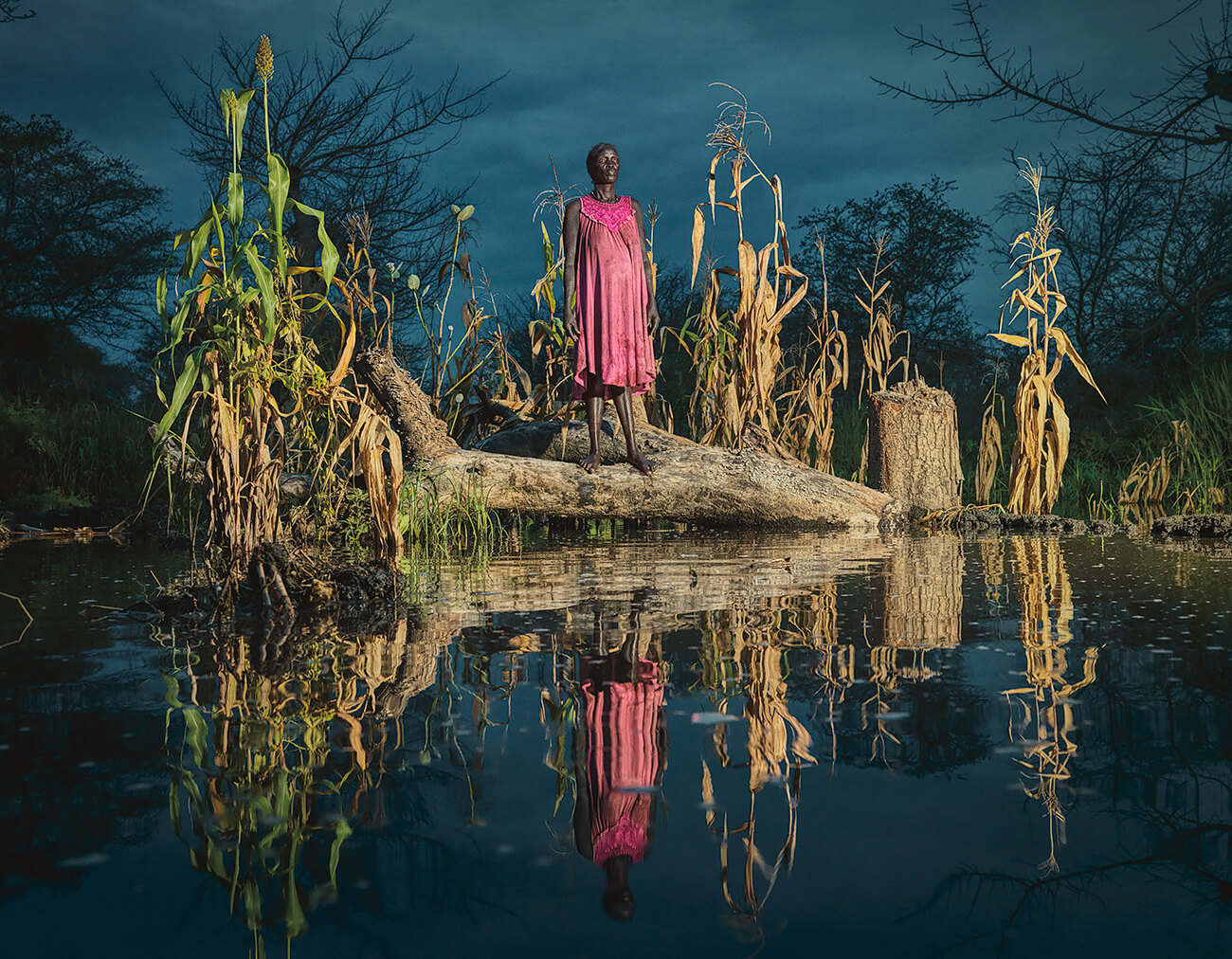 Unyielding Floods by Peter Caton
Sixty three percent of the population of South Sudan are living in an emergency level of food insecurity driven to a large extent by the unprecedented three years of unrelenting floods. This means that 7.74 million people are not able to get enough food to fend off hunger and at least 87.000 are experiencing severe hunger in the most flood-ravaged states of the country. Against this backdrop, not just households but entire villages are suffering from hunger. Children will face the consequences of poor nutrition as they grow up given that 1.34 million children under five years old are already expected to suffer from severe acute malnutrition in 2022. The consequences of three years of floods in South Sudan are deepening as economic shocks, covid-19, and intercommunal conflict further affect the hunger crisis affecting the young nation.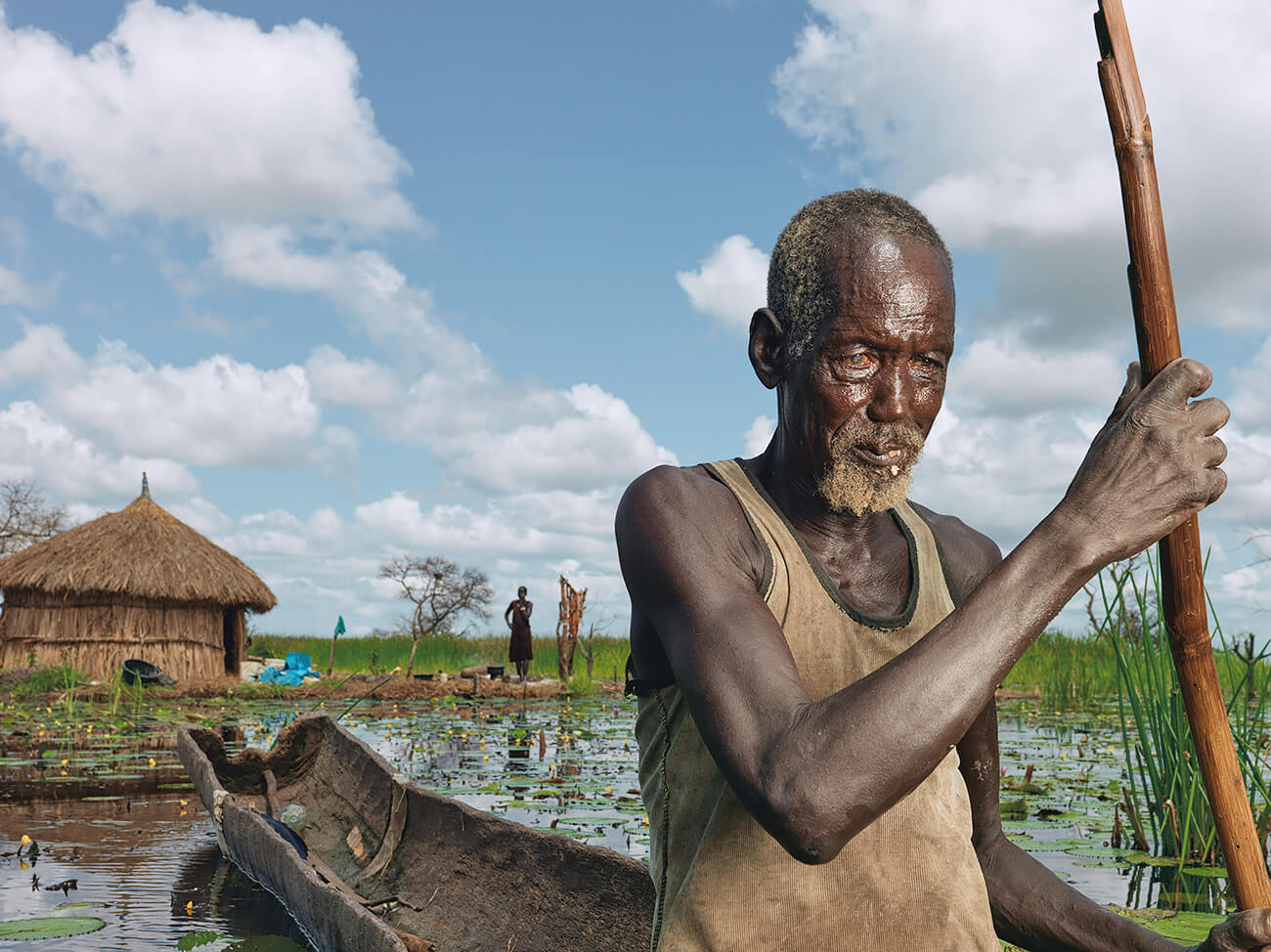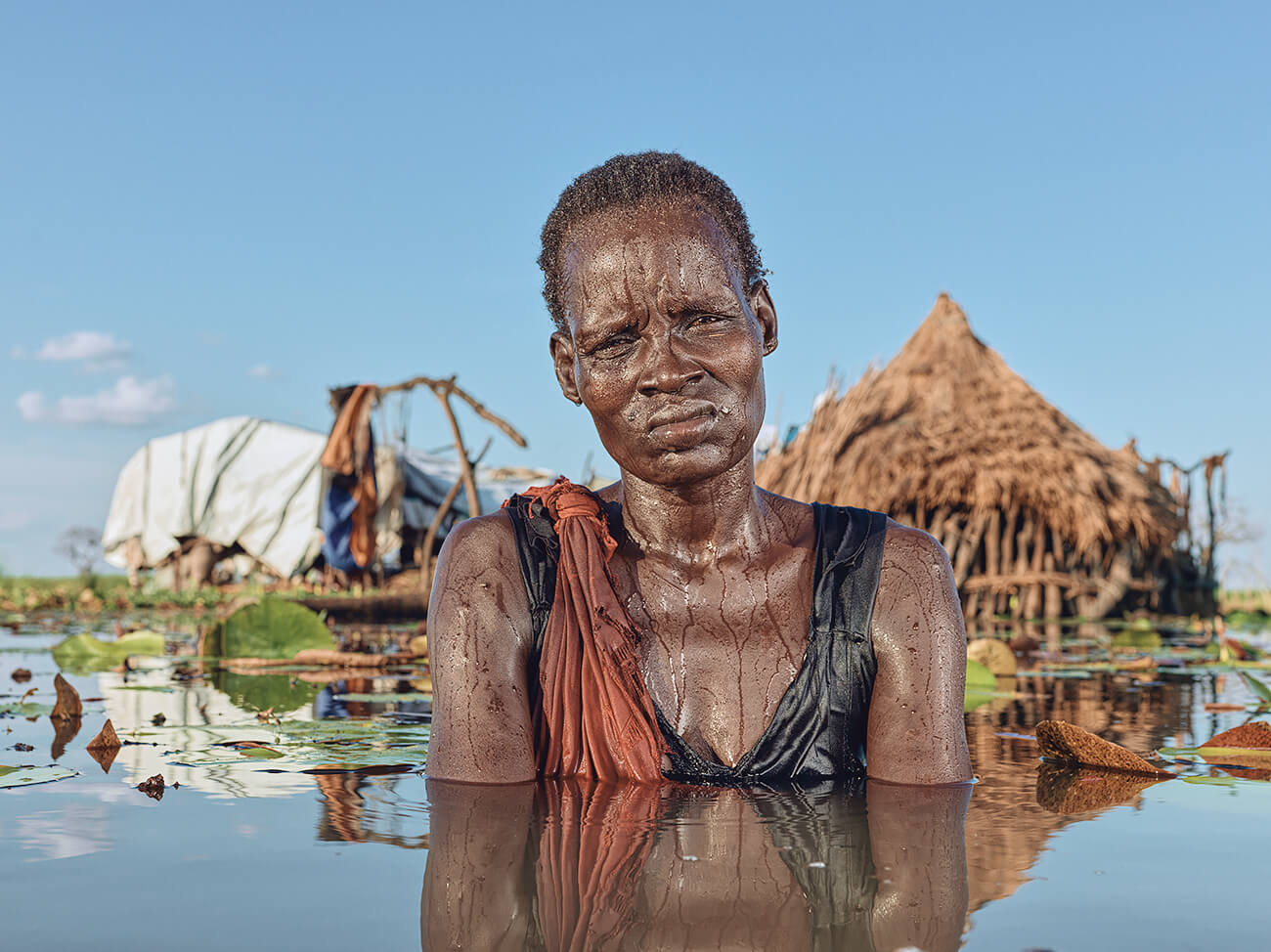 3-year reportage on the floods of South Sudan By Susan Martinez
Millions of people live among natural disasters, conflict, and political instability in South Sudan. Life in the youngest country in the world can change in an instant, yet for three years in a row the one constant is the extreme flood.
Almost one million people have been affected by the floods in 2022, according to the United Nations. In tangible terms, the extent of the damage includes the disappearance of entire villages taken by the water such as the case of Puor in Fangak county, the large-scale destruction of crops and farmlands across Jonglei state, the mass displacement of people to camps in large towns like Bentiu, the splitting of families, and the unprecedented death of hundreds of thousands of cattle which people use as currency and which they depend on for food.
Floods in the Sudd wetlands are natural and seasonal. Due to the topology of the country, which lies within the Nile Basin, water is funnelled from Uganda's Lake Victoria, Central African Republic, Congo, and the Ethiopian highlands. In 2019, an increase in the Indian Ocean's surface temperature, which hadn't been seen in sixty years, caused heavy rainfalls that funnelled water from Lake Victoria to South Sudan. The extreme scale of these floods left a semi permanent change in the landscape where each new flood season saturates the already submerged land.
South Sudanese elderly who survived the independence and civil wars haven't seen anything like these floods as 83-year-old Mary Nyamat explained in 2020. ''The climate has changed from the years when I was young because we have never experienced floods like this before. What we are experiencing now is horrible. We are suffering from hunger and we didn't before. For old people it's horrible. It's hard moving in this water, we don't know where to sleep or what to eat. We are in God's hands.''
By 2021, hundreds of thousands of people had gone without cultivating for two years as the farmlands lay submerged in stagnant flood water. Using the last of their savings or by selling their last goat, many families invested in seeds to grow vegetables and staple grains such as sorghum and maize only to have the floods destroy them that year. ''Now it is time to harvest sorghum but we couldn't even plant it ... I planted maize next to my home but when the second flood came it destroyed it and I didn't even get to harvest it ... Now we are hungry,'' said Nyadiang Gak, a mother who was twice displaced with her children from now submerged villages.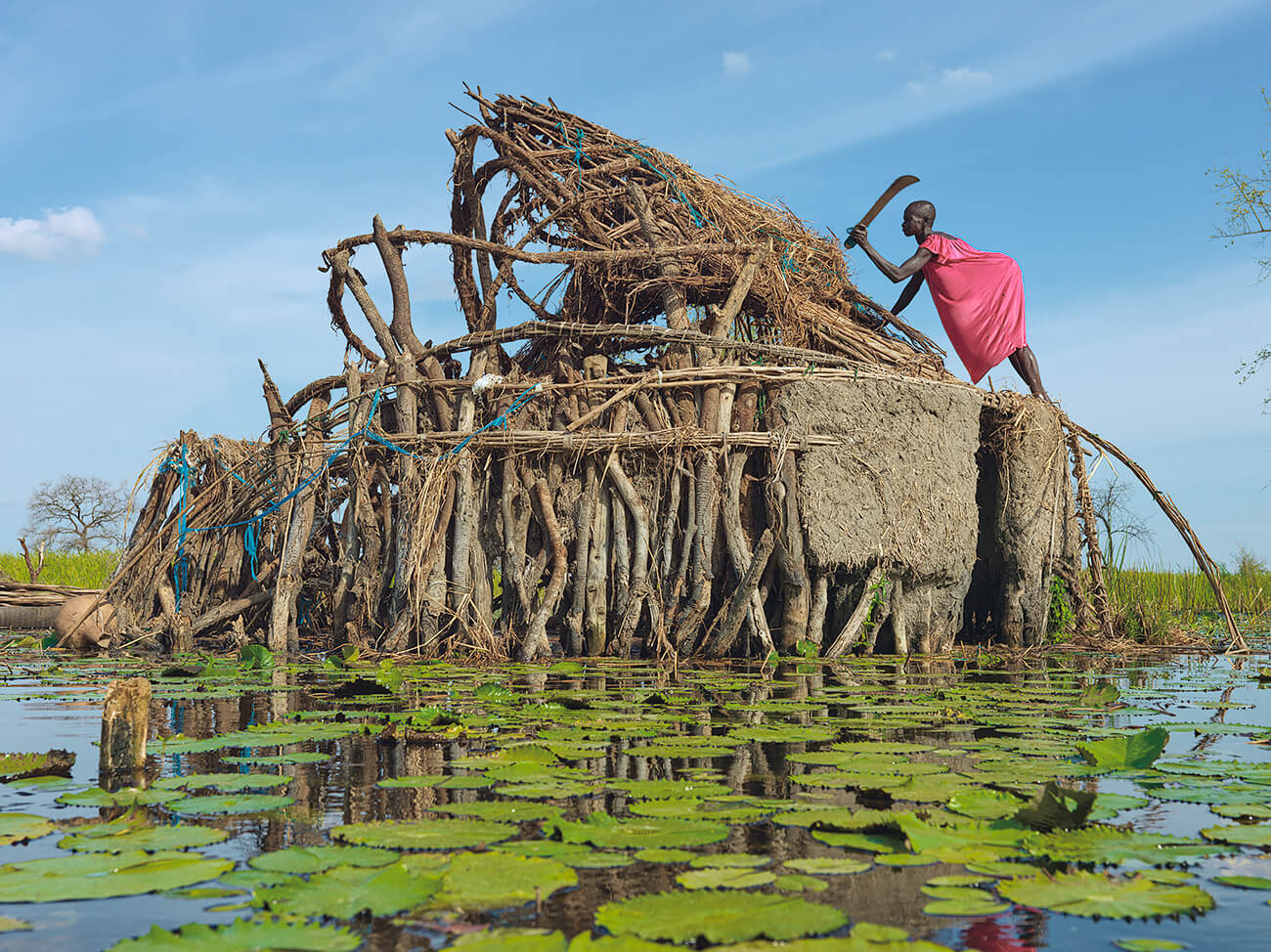 Widespread hunger haunted hundreds of households that couldn't cultivate or fish due there not being enough fishing nets and canoes. Yet, in a matter of months, Old Fangak and Paguir transformed from riverside villages to canoe-commuting neighbours. Dozens of canoes started making daily four-hour-long trips to deliver goods between the villages and many more were scattered around the area with fishermen trying to make a catch to sell in the fish-dominant market of Old Fangak
Only surpassing in number the canoes were the women walking in the water. Mothers and grandmothers spent close to five hours in the cold floods scavenging for water lily bulbs to feed families that had nothing left to eat.
We survive by collecting water lilies, explains Nyawech Giel, a grandmother collecting the bulbs far away from her home. We don't have food, and these water lilies that we are eating don't have nutrients...We eat them because we need to fill our stomach, but soon enough you will start feeling hungry again.'' Bol Kek, another woman picking lilies in the water, adds, my children depend on what I get. I cook for them, and they wait for me while I'm away collecting water lilies...Life is so hard for us, but we keep strong. We are not happy living in the water for so long, collecting these water lilies.
With the landscape remaining unchanged for three years some people adapted to living on islands. Heaps of grass layered one on top of another make for floating islands where large families including children and newborn babies live. These grass-island-people lost their homes during the first year of floods and depend on fishing both to survive and as a small source of income. ''We stay here because fish is everything we have. We can eat, even if it's a little, and we can sell them at the market. Although many people also sell them, so if we manage to sell then that day we can buy a little sorghum flour to eat something other than fish,'' explained XXX who only fourteen days ago had given birth to her baby on her grass island.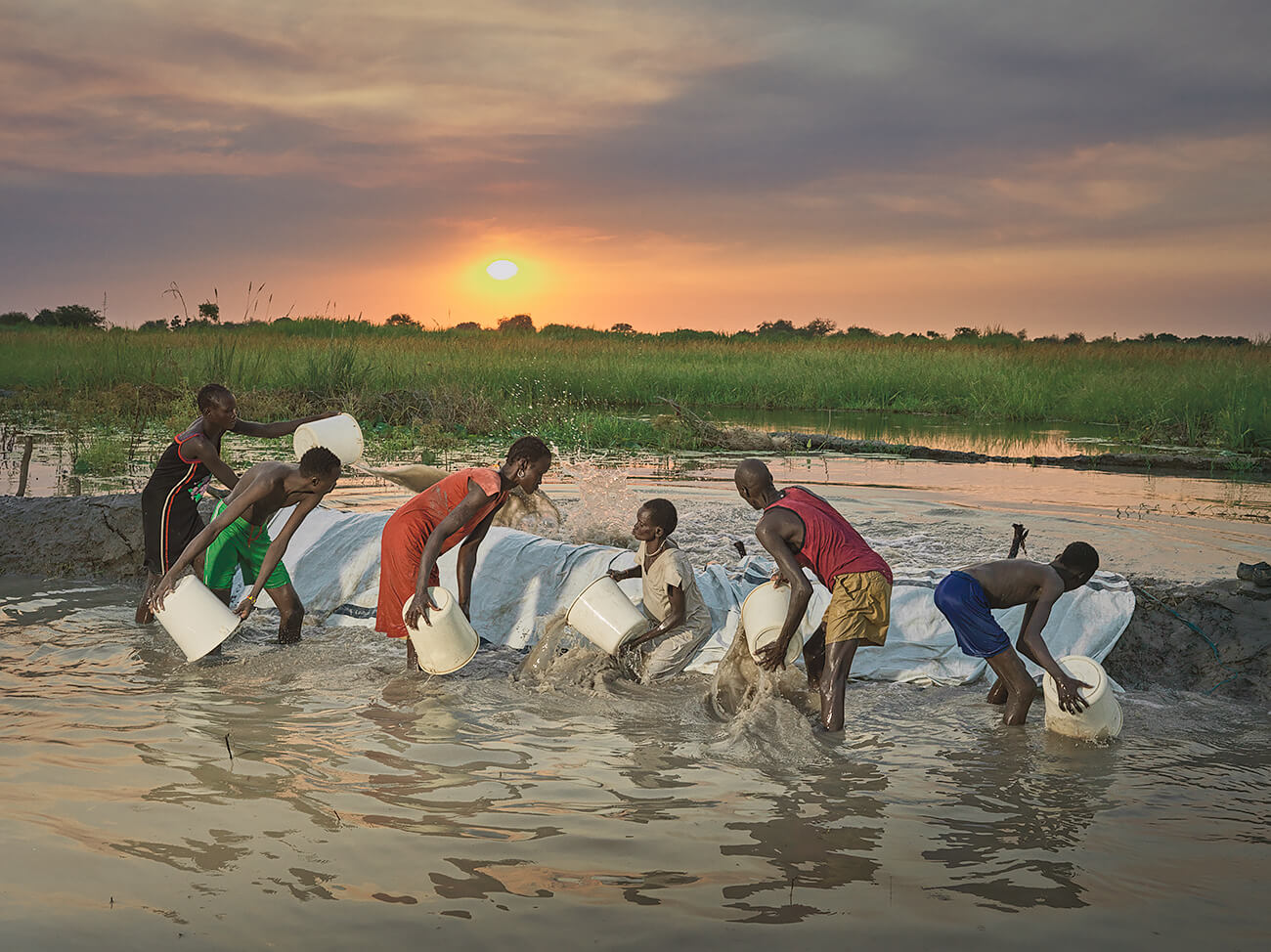 If global temperatures continue to rise, floods may get worse in South Sudan and the wider region, a recent report by the Intergovernmental Panel on Climate Change (IPCC) predicted. For now, people are still scrambling to get enough food to survive as the beginning of the fourth year of floods looms. South Sudan is facing a severe hunger crisis with flood-affected regions in the country nearing famine. A report, produced by the World Food Programme (WFP) and the Food and Agriculture Organisation of the United Nations (FAO), includes South Sudan in the list of six countries facing severe famine in what is described as the worst global hunger crisis this century.
Under these circumstances people in flooded-encroached villages like Paguir are adapting to the new landscape. People who have traditionally planted maize and sorghum are for the first time in their lives growing rice and taking advantage of the swampy ground. The project, developed by the organisation Action Against Hunger, is the first of its kind to train people who have never seen rice except in a sac in the market. At first, the women being trained thought it was nothing but grass, but now they are teaching many more women how to grow rice. This unique project is strengthening the resilience of hundreds of people in Paguir who continue to defend their land from the water as the village has the only usable airstrip through which urgent aid and medication can be delivered to this remote area of South Sudan.
''People in Paguir are very happy,'' explains Nyadim Mawich, a woman learning to cultivate rice. ''Before, no one knew about rice. They had heard about it but they had never seen it with their own eyes and they had never grown it...If the flood goes on for years we will grow our own rice in our own farms.''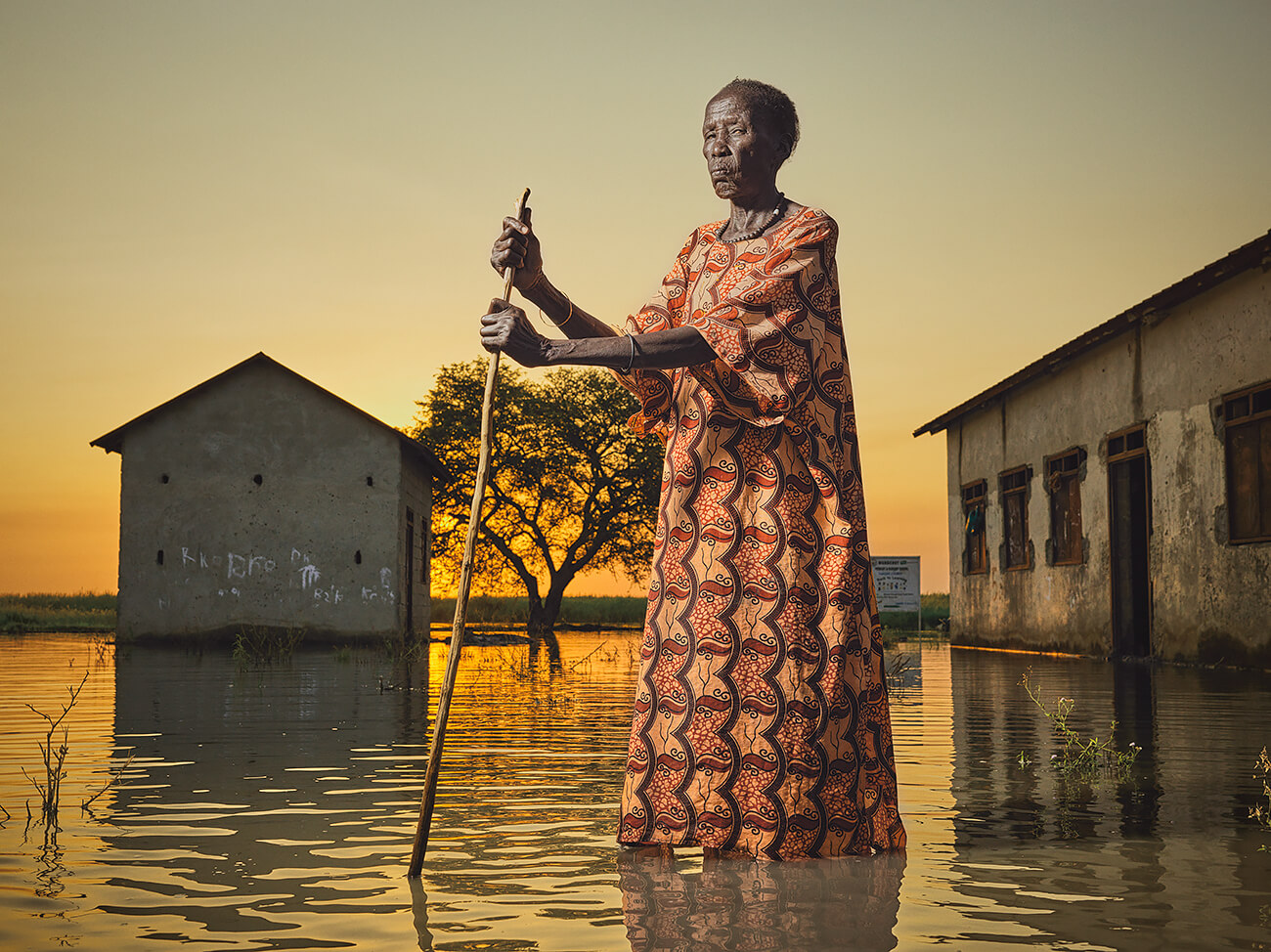 Peter Caton
After several trips to Asia in early 2006, Peter committed himself to living out of two rucksacks and working globally as a freelance professional. Much of his subsequent work was commissioned by leading non-governmental organisations, photographing campaigns for clients such as The World Food Program, UNICEF, Save the Children, CARE International, Greenpeace, WWF, UNAIDSs and The Red Cross. These assignments have permitted him to pursue long-term projects that are close to his heart, such as measures to combat HIV and AIDS, family planning and climate change.
Photographic exhibitions are an important vehicle for communicating Peter's stories to the public. In 2010, he opened the Sinking Sundarbans exhibition in partnership with Greenpeace at the Oxo Gallery in London. The project has since traveled internationally and was seen in cities across the world, from Asia to South America and the United States.
The focus of Peter's environmental work shifted in 2011 to the Brazilian 'cerrado', the most bio-diverse savannah on the planet, a unique habitat in danger from agribusiness and monoculture. The first part in a planned series of cerrado work was well-received in two solo shows in Brazil in 2012. Another highlight of a very successful year saw Caton's images projected onto the exterior walls of the famous Museum of Modern Art in São Paulo.
Since then Peter's photography has taken him to 36 countries where he mainly documents the affects of climate change.
His photography has appeared in many publications worldwide, including The Sunday Times Magazine, The Guardian, Marie Claire, Esquire, the Washington Post and Le Figaro. His monochrome portraits of leprosy victims were exhibited in the National Portrait Gallery in London in 2001. Currently, Peter is working with a digital H5D 50c Hasselblad to capture studio-quality images in the most remote areas of the field.
www.petercaton.co.u
@petercatonpix