Niko J. Kallianiotis
'
Athênai in Search of Home
(published by
Damiani
) presents photos taken in and around Athens, the city in which he grew up. The images reflect the artist's eagerness to assimilate back into a home that feels at once foreign and familiar. Throughout the years the city and the surrounding territories have experienced their share of socio-economic struggles and topographic transformations that have altered its identity. The city of Athens in Kallianiotis' photographs is elliptically delineated as a vibrant environment that binds together luxury and social inequality. The photographer depicts a city in which the temporal and the spatial elements often clash with each other while conducting his research for a home that has changed over the years as much as he did.
All About Photo: Your new book titled Athênai in Search of Home, illustrates a ''love letter'' to Athens' when your return found a very different city from the one you were born in. Can you tell us a bit about this story of leaving and now returning to Greece?
Niko J Kallianiotis:
Everything started about twenty-plus years ago when I left Athens. Moving to the United States was a decision based not on the usual immigrant stories pertaining to hardships and hopes for a better future; my situation involved family matters. My father had moved to New York many years prior for post-graduate studies and then work in Pennsylvania. Long story short, I did not want to move to the United States; the idea of living in New York and generally away from Athens didn't really mean much to me. Many of my friends back then thought I was crazy not wanting to live there, but I was adamant about it. But sometimes you must give in and put stubbornness to the side and the truth is I grew to love the place and especially Pennsylvania where I created my first monograph America in a Trance. Having lived in two countries created a complexity that sometimes is difficult to explain and understand. You are stuck between two countries, two different worlds and two different social conditions. You strive to belong in both places simultaneously. You are Greek in America and American in Greece, both mentally and culturally.
If America in a Trance was about my departure from Athens and the exploration of a new personal and social condition, Athênai, In Search of Home is about coming back to my roots, eager to assimilate within a place that over the years grew to be foreign but at the same time maintained its layers of familiarity. The work follows a perspective that is inspired and motivated by the experiences of an expatriate eager to associate, to learn, and rediscover, but also to evaluate both land and self. Everything has changed but concurrently, everything has stayed the same. Throughout the years the city and the surrounding territories have experienced their share of socio-economic struggles and topographic transformations that have altered its identity. Despite these facts, the city still stands, at times proudly and at others solemn, but always fervent to maintain its uniqueness and its yearning for a new identity, in search of a new home, within one that already exists, both for the city and also for me. I find it all to be a learning process that alters you daily and photography is really an excuse to explore all the above parameters.
Athens is a city diverse like no other…ambiguous, raw, anarchic, but also seductive. A city that tries to transform itself while simultaneously striving to maintain its unique character…a city that requires your attention in order to understand the land in all its manifestations. As a youngster, I used to walk these streets extensively, but I got to know them a little better with one eye closed.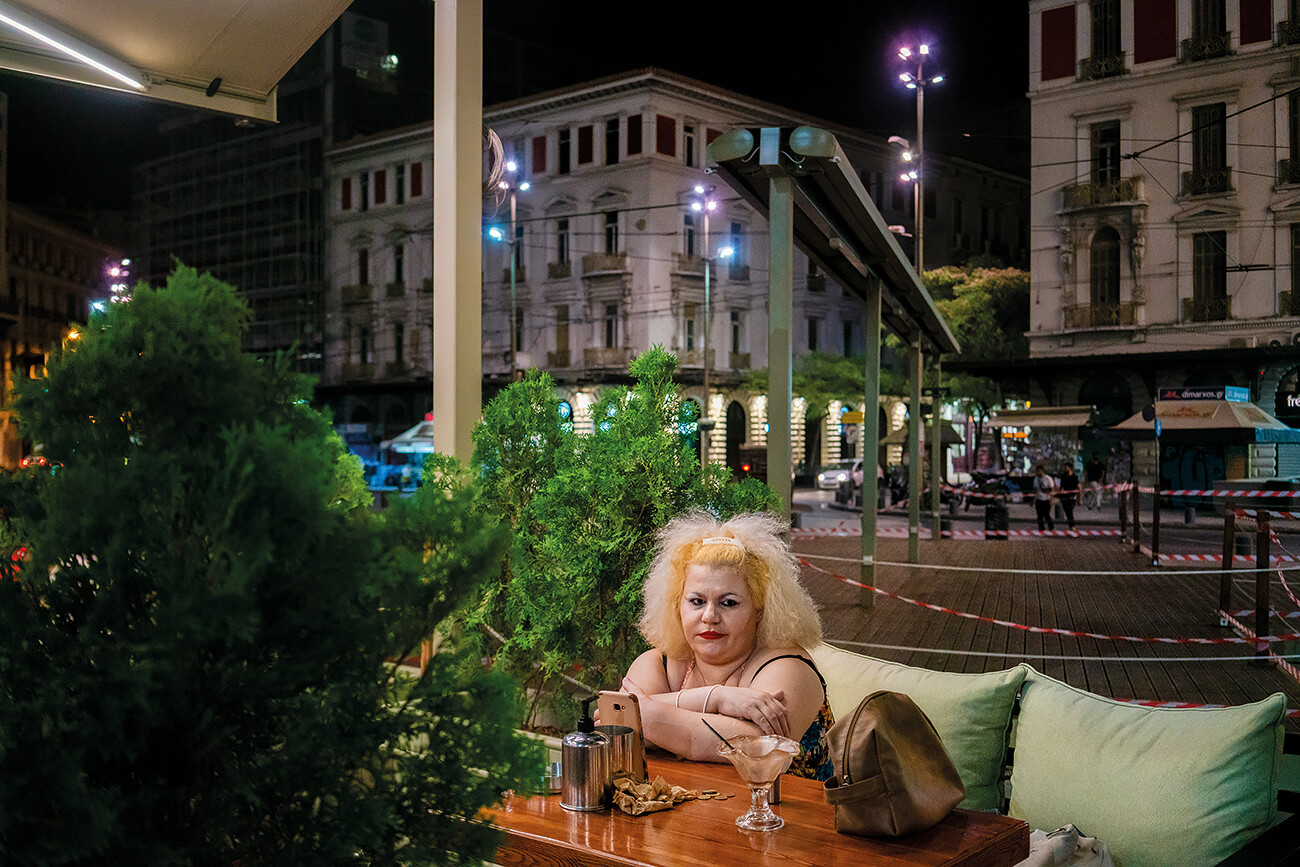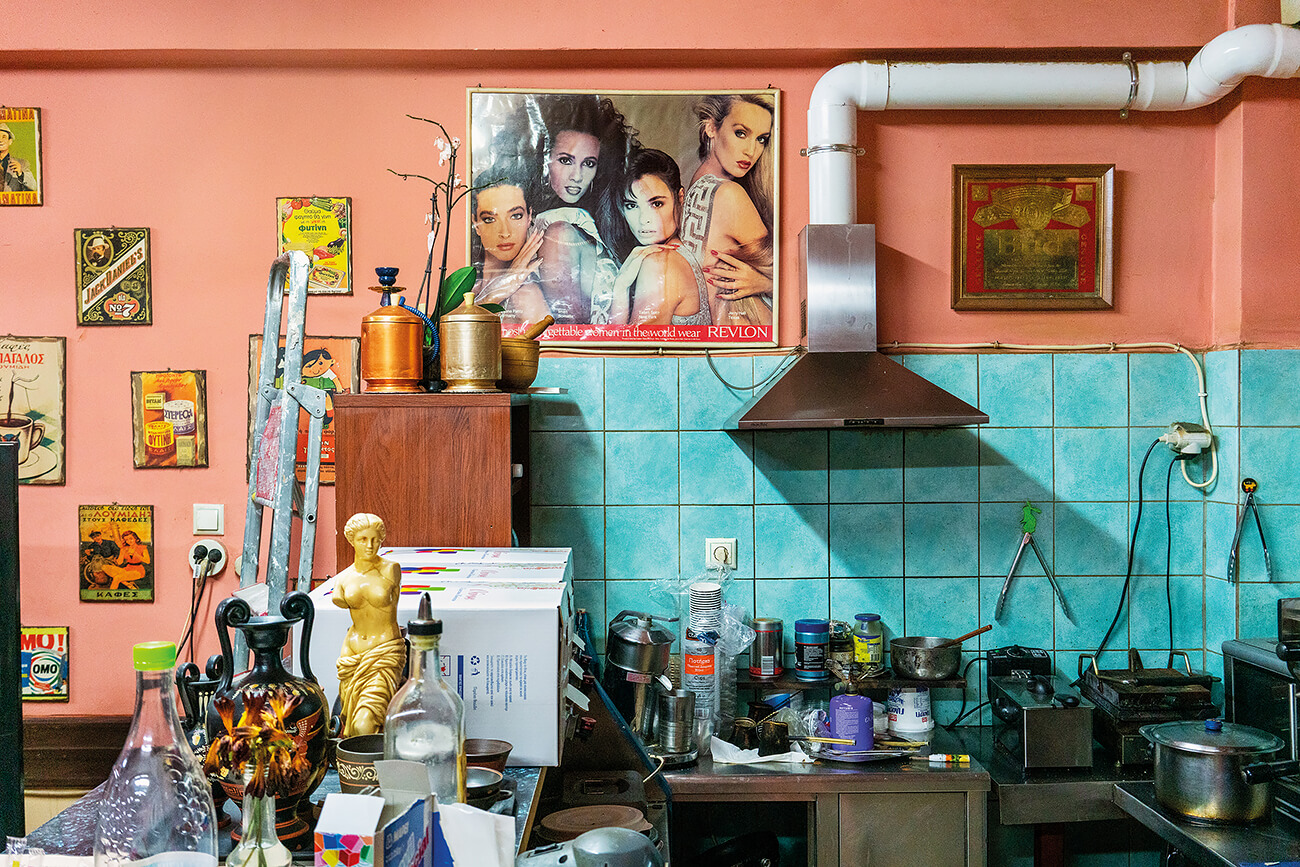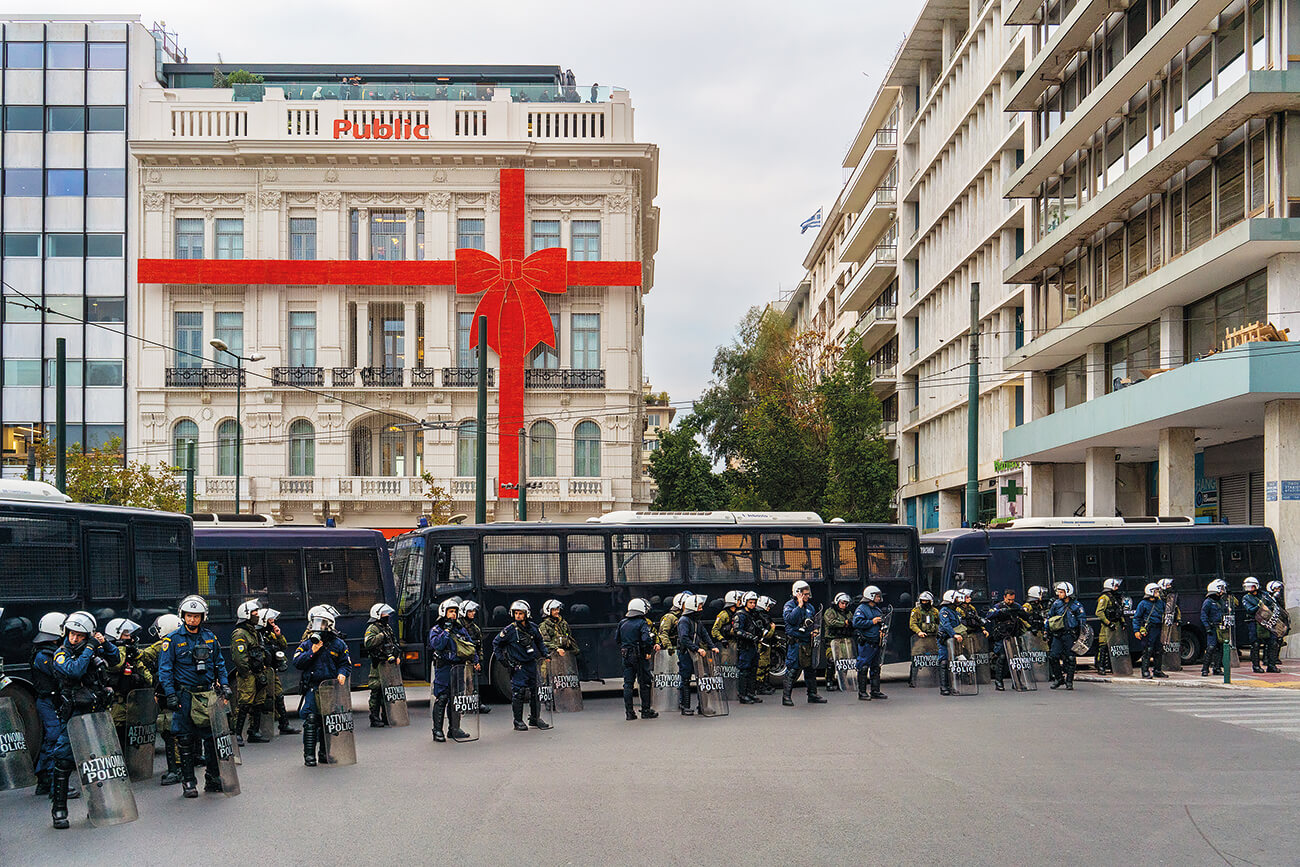 What are your images aiming to portray to your viewers?
Regardless of subject matter, process, and the like when I study photographs, I want to feel the photographer's presence in the frame through various ways…the chemical connection with what they photograph. Without dismissing them, I am not merely interested in depictions and facts, but more so in the narratives, complexities, and psychological layers that exist but are also revealed. For me, It's all about potential, interconnection, and interpretation. To fuse interspersed formal and blending social elements, creating an interplay that develops a conversation that moves beyond photography, using the photographs both as a window and a mirror. I would like the viewer to deconstruct the images as they wish and establish a new relationship with them and the city, while putting all preconceived ideas about land and self on the shelve.
Are there any images in the book that have resonated with you, or stayed with you that you can recall?
There are 119 images in the book that all stay with me for their uniqueness during the photographic process. Many times, I say to myself that these moments found me, not the other way around. If I was to choose one photograph, it would be the portrait of Ahmet, in Aspropyrgos, an industrial area with a strong immigrant presence about 22km from downtown Athens. I was walking during the summer heat along some railroad tracks and literally next to it I noticed a very old structure house that looked abandoned. As I was slowly making my way toward the house, I started to notice slices of life in the colorful towel that hung on a wire. The door was open and welcoming and while I was walking closer, I noticed someone cooking a meal in a room covered in shadows. A man came out and I introduced myself and expressed my interest in making a portrait of him Ahmet replied, ''would you like something to eat or some coffee?''. Ahmet didn't' speak Greek but we communicated in our own way. I politely asked him to simply stand there and look directly into the lens, and while he did, the summer breeze lifted the towel like a magic carpet; and everything became a metaphor. For me, it is always about the stories behind the photograph regardless if everyone cares about the result, and if Ahmet refused to be photographed nothing would have changed; the story and experience would remain. One of my favorite books is
Photographs Not Taken
by Will Steacy; often times the experience is much better than the image.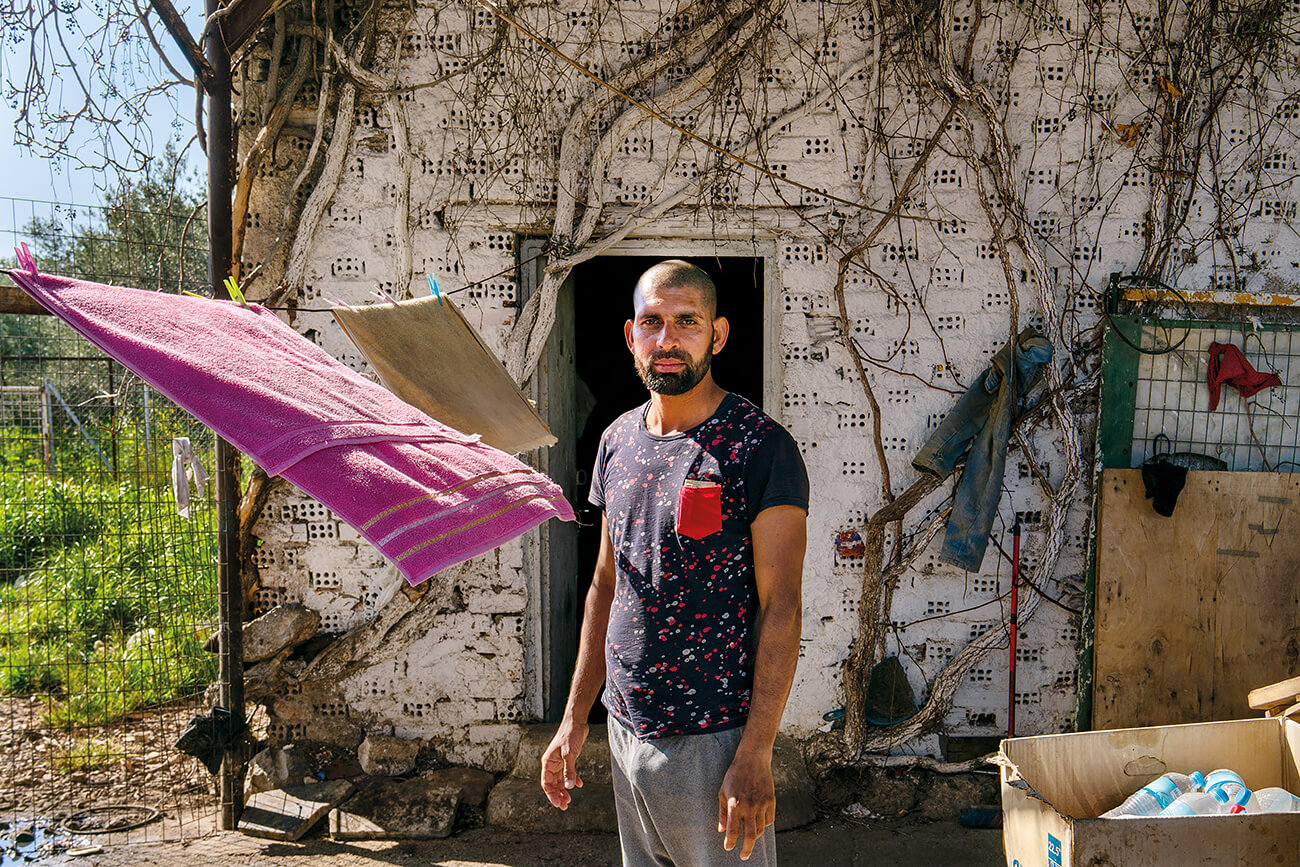 You worked as a photographer for news outlets, did this work inspire your style?
Working for news outlets was an invaluable experience. I learned to be more attentive in anticipating things and blending in various situations. At the same time, I developed my communication skills and discovered how to gain people's trust. Think about it; you enter the home of a person you never met before, and you're required to make a compelling portrait for a story within a very short time. You must establish a temporal relationship with the person and the photographer's personality becomes imperative to the photographic process. While working on Athênai, all the experiences from the editorial years, (as well as personal) helped me gain the access I needed to make specific photographs. In terms of style, I would say that working for news outlets developed the process of working on personal projects, although personal work is more liberating and experimental. Placing a strong emphasis on engaging compositions is something I carry from the editorial years. The composition and aesthetic sensibility are always the first points of departure, it lures the viewer into the frame and grabs their attention; that alone of course means nothing because you need context. When working on an assignment the context is basically there but when you are working on personal projects you need to discover it, not only in the entirety of the body of work but within each image. It's something I always think about and in my own way, it haunts me. I remember eleven years ago when I started to work on personal projects how frustrating this was. Up until that day, an editor could send me to cover a story and I would come back with images...it was almost organic. When I ventured out to create personal work, I found myself stuck against a wall. It was funny and sad at the same time because I was photographing in one way or another in a similar way. For six months I was photographically frozen, but I said to myself, enough, you are overthinking this. It was a liberating experience as was the frustration of making the transition from assigned to personal work…both were invaluable lessons.
When did you first pick up a camera, and how did you decide on the medium?
I don't really have an interesting story of how I started my career. Although I have three uncles in Greece that have photo studios I was never exposed to photography or art, which I kind of like because I did not fall under a particular way of seeing and feeling things. What I always had though was an interest in my surroundings, the aromas of a city or village, and the characters on the street. When I was very young, people would ask me what do you want to be when you grow up. Their eyes would become wide open when they heard my answer…I wanted to be a taxi driver. My grandfather was an idol for me, and I vividly still remember him taking me on rides… sitting on his lap holding the steering wheel; a photograph not taken, but always there in my imaginary personal archive. The first time I picked up a camera was in 1998 when I went to college. No plan as to what I wanted to photograph, and how I wanted to make a living doing photography; it was more about I can use this machine to photograph things that I am interested in. In fact, during my first year in college, I changed my major to electrical engineering but it lasted three hours. I had no idea what this guy was talking about, and I run back to administration and changed my major back to photography; so, because of that we are here having this conversation.
What will you work on next? Will you continue to focus on Athens?
Athens is an immense treasure of material and one can work in the city for decades. I am working on a couple of other projects in and around the city, but my next body of work will cover Greece in its entirety. I have been photographing the country for the last eight years while I was still living in the United States and at this moment, I am editing old material while creating new work. You can say that this project will complete a trilogy, it will be some sort of a final chapter that succeeds the first two projects.