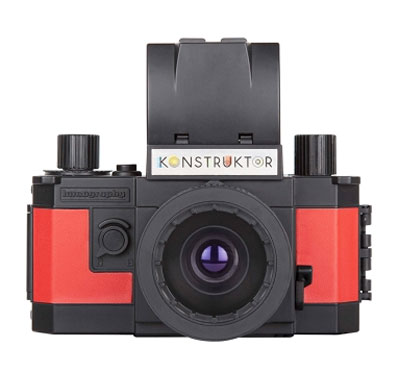 Build Your Very Own Compact 35mm SLR Camera
Be a true Lomographer and analog enthusiast by not only shooting with film, but by building your own SLR! Get your hands on the Konstruktor and after some clicks and screws, you'll have your own fully-working 35mm camera ready to capture knock-out analog photos! The Konstruktor has a top-down viewfinder to see what you shoot and to focus as well as a multiple exposure function, bulb setting for long exposures and a detachable 50mm f/10 Lens for even more experimenting.

Konstrukt Your Creativity
The Konstruktor is the perfect gift for DIY lovers-fun to build, easy to use and fully customizable. Each kit includes a set of colorful covers and stickers to give an even more personal touch to your analog construction!

Explore the Mechanics of Analog Photography
The Konstruktor gives you the chance to learn more about the inner workings of an analog camera as you put your own together piece by piece. You'll be equally rewarded with impressively sharp shots on regular 35mm film. Stay tuned for more options to further customize the Konstruktor as we have more interchangeable Lomography lenses and accessories planned!

More Details
• DIY 35mm SLR camera with interchangeable lens system
• Includes 50mm f/10 lens
• Shutter speed: 1/80s
• Multiple exposure capability
• Tripod thread for long exposures
• Suitable for ages 12 and above
• Takes about 1-2 hours to build
• Price: $35.00
• Purchase at Lomography.com and Lomography Gallery Stores worldwide
• Download high resolution product photos and sample photos here

Tips and Tricks
Visit the Konstruktor microsite or check out our specially made instruction videos:
Full In-depth tutorial
Step-by-step videos:
1. Building The Lens
2. Building The Hood Viewfinder
3. Building The Camera Body
4. Assembling Other Parts
5. Putting Together The Pieces
6. Finishing Assembling
7. Final Touches

What the Hell is Lomography?
The Lomographic Society International is a globally-active organization dedicated to experimental and creative snapshot photography. Boasting over one million members across the world, the concept of Lomography encompasses an interactive, vivid, blurred and crazy way of life. Through our constantly expanding selection of innovative cameras, film, lab services & photographic accessories, we promote analogue photography as a creative approach to communicate, absorb, and capture the world. Our online community and Lomography Gallery Stores all over the world provide our products and a space for exchanging knowledge and ideas, workshops, meetups and all lomographic needs. Through the efforts and skills of our Lomographic Society members, we seek to document the incredible planet around us in a never-ending stream of snapshots - literally a global Lomographic portrait as seen through the eyes of countless individuals and cultures. THE FUTURE IS ANALOG!