Eruptions
marks Indian transmedia artist and activist
Poulomi Basu
's (b.1983, Calcutta) first major international solo exhibition, and will be presented at
Side Gallery
, Newcastle, UK. Shown together for the first time through an immersive installation of VR, film and photography, the gallery and cinema spaces will showcase Basu's acclaimed projects spanning between 2009 and 2021 -
To Conquer Her Land
(2009-12);
Blood Speaks: A Ritual Of Exile
(2013-18) and
Centralia
(2010-21). The works engage with issues of gender, caste, power, and class to expose both the marginalisation of and the strength of women and indigenous communities in South Asia. Expanding the possibilities of traditional documentary photography through multi-layered narratives, Basu illuminates contentious complex realities, challenges injustices, and advocates for urgent political, social and environmental change.
Centralia
is a dazzling and multifaceted body of work that penetrates the largely unreported, violent conflict between a marginalised community of indigenous people fighting under the People's Liberation Guerrilla Army (PLGA) and the Indian state. This ten year investigative project is primarily photographed in central India. Basu weaves a hallucinatory tale, which exposes the brutal realities and fictions of contemporary conflicts as well as the intimate connection of indigenous communities with this fragile landscape. In an immersive installation a spectrum of image types; from cinematic double exposures of dark landscapes, staged portraits and sourced image material are combined with brutal photographs of crime scenes, testimonies and mugshots of fallen, mainly female, revolutionary fighters, alongside vibrant images showing the traditional festivities of the rural communities.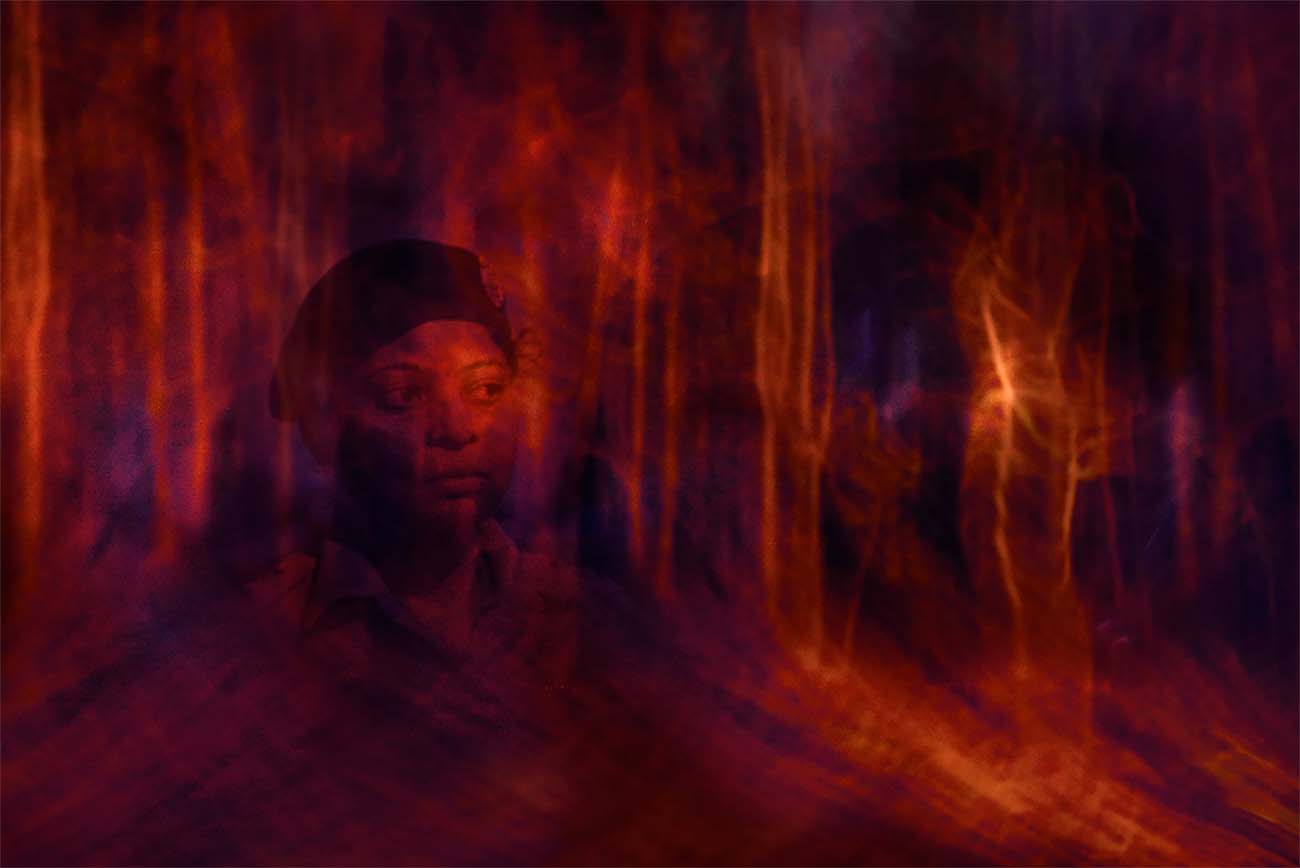 Untitled from the series Centralia, 2010-2020 © Poulomi Basu
The accompanying short film
Ghost dance
will be screened at Side cinema in the second half of the four month exhibition, following its recent premier at the Deutsche Börse Photography Foundation Prize 2021 at The Photographers' Gallery London, for which Basu was shortlisted. Emerging from the monograph Centralia, Ghost dance is a work of science fiction that uses the very real global ecocide to speculate on the end of the world, the continued dispossession of indigenous groups and the further erosion of women's rights. A feminist narrative that imagines that the only survivors of this ecological holocaust are a group of women sent out into the cosmos, a final act of survival. At its heart, the film asks a very simple, urgent question:
How did humanity get here?
Blood Speaks: A Ritual of Exile
is a transmedia project that investigates the causes and the consequences of routine violence against women in Nepal that originates from the belief that a woman's menstrual blood is impure. It focuses on the Nepalese ritual of Chaupadi, where girls and women are forced to endure an exile in rudimentary shelters, many barely sufficient for animals, while they are menstruating. Perpetrated under the guise of Hindu tradition and so mostly hidden and unresolved, these women are untouchable, which keeps menstruation shrouded in mystery and taboo, a weapon to shame women into subservience. Chaupadi sits within an intricate web of abuse and patriarchy, interrelated with issues of child marriage and child widows.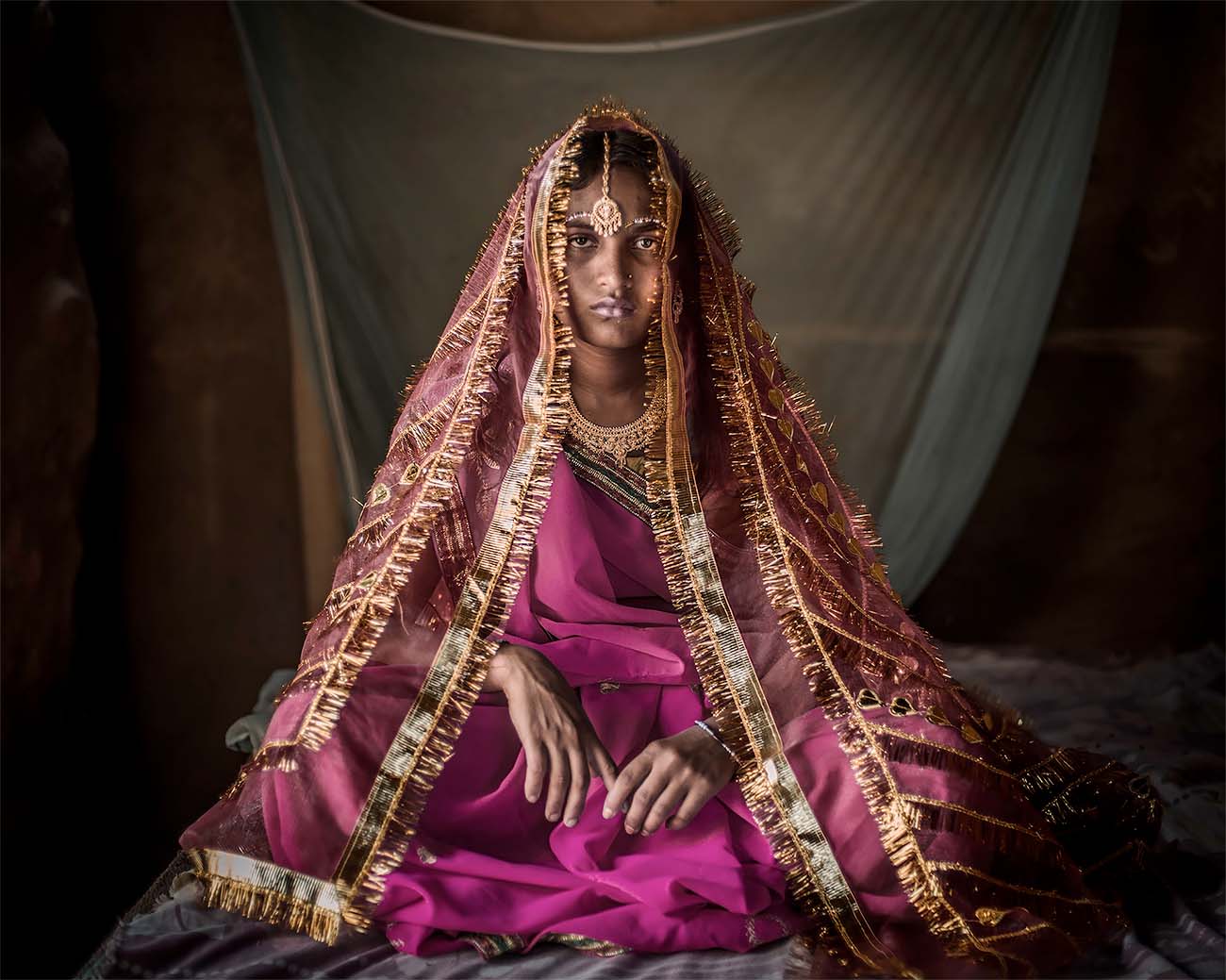 Untitled from the series, Blood Speaks, 2013-18 © Poulomi Basu
Agency is core to Basu's practice as she creates space for people to shape their own narratives.
Blood Speaks
is a meditation on exile, isolation, and courage in the face of extreme adversity. These women have come forward to share their experiences and break with cultural traditions. Their participation in the project is a subtle form of dissent and protest. The resulting work, which comprises three VR films, photographs, and soundscapes, is a testament to their resilience, linking menstrual exile to wider conversations concerning normalized gender-based violence. The work placed menstrual health and blood politics on the international agenda and resulted in major policy change in 2018 when the Nepalese government criminalised the practice of menstrual exile and arrests are now being made. Previously shortlisted for the Sheffield Doc Fest Alternate Realities Commission Award, International Documentary Festival Amsterdam (IDFA) and the Tim Hetherington Visionary Award, Blood Speaks does not seek to just inform, it immerses audiences in a concealed world, making them bear witness to the injustice of this practice. It was presented at SXSW 2019, Kathmandu International Film Festival 2018 in Kathmandu, Nepal and distributed and collected by TriBeCa Film Institute. It won the RPS Hood Medal 2020.
To Conquer Her Land
documents the border areas between India and Pakistan, a world unto itself. Since partition in 1947, this border has seen war, smuggling - people, arms, drugs - firing, jingoistic parades, killing, suicide bombing, fireworks, lonely tears, and moments of glory. Here Basu followed India's first ever group of women soldiers of The Border Security Armed Force, who were deployed in the India- Pakistan border areas of Punjab and near the first line of control in Jammu & Kashmir. Spending time with these young women, both Hindus and Muslims (aged 17-25), she documented their experiences at their boot camp homes and eventually their transformation from women to soldiers at the zero line, experiencing the astute realities of this role alongside them. Stationed on a critical border, the women patrol the barren lands and try to come to terms with their new responsibilities and the impossibility to recreate or restore what they've left behind. The project is divided into three parts and mixes black and white with colour photography to illustrate life at the barracks, last days at home, and life at the zero line. Essentially this is a story about the mobility of women from different castes and backgrounds, about leaving their homes and doing something extraordinary. For Basu this was an intensely personal project;
As a woman, coming from a patriarchal background, I connected with the women; we were able to bond over our different but similar struggles of leaving our parental homes in order to fulfil our dreams and ambitions.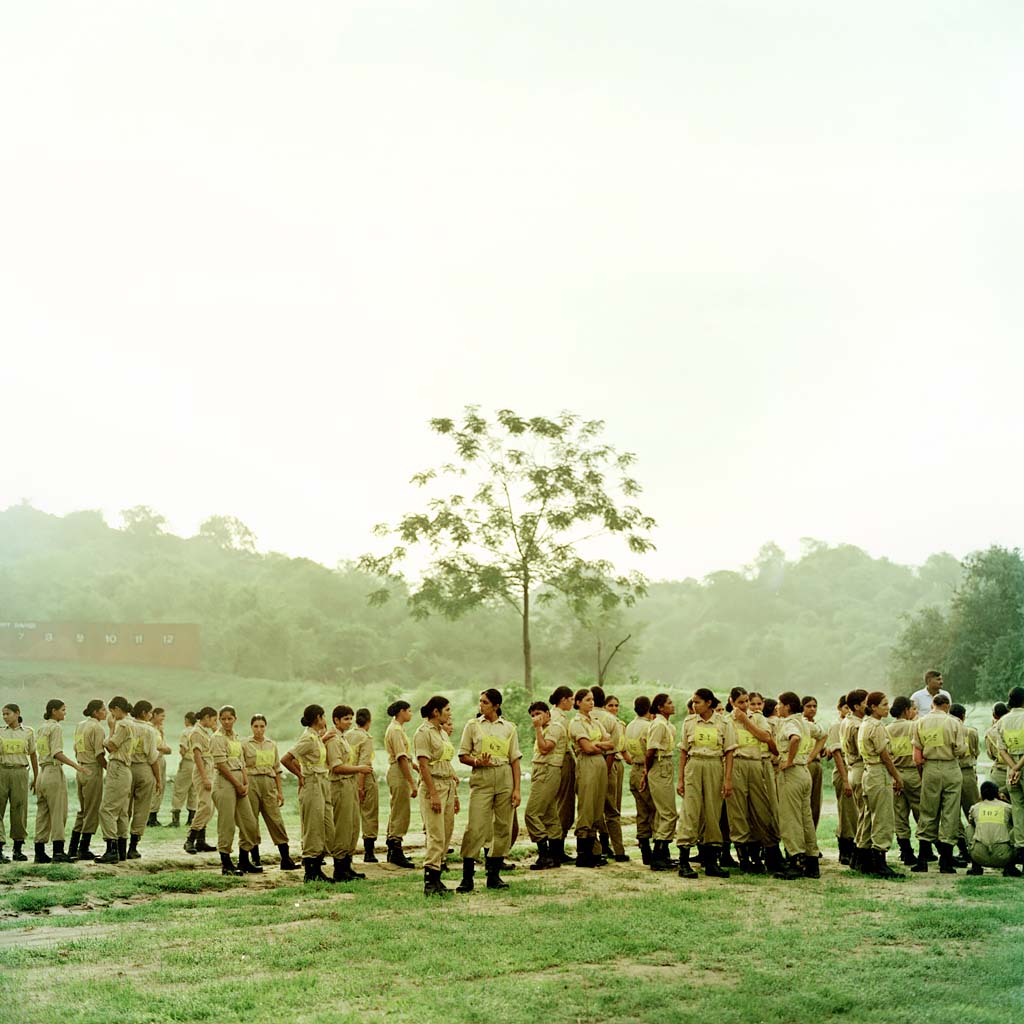 Untitled from the series To Conquer Her Land, 2009-2012 © Poulomi Basu
Throughout the progression of Basu's practice she matches style with substance, urgency with aesthetic, art with activism and fake news with revealing realities. By carefully orchestrating the juxtapositions of different visual material, honouring a collaborative approach and employing old and new technologies throughout her works, Basu reveals the normalization of violence and the mechanisms of conflict from many different perspectives. Her practice attends to the nexus of ecofeminism, environmental and climate justice, and the representation of these conflicts in Western societies.
It's been a long road to get this far. This show illuminates the struggles, triumphs and resilience of the women that I have met along the way and who continue to inspire me. I hope it acts as a celebration and recollection of their existence in a world that often erases them.
Poulomi Basu
, 2021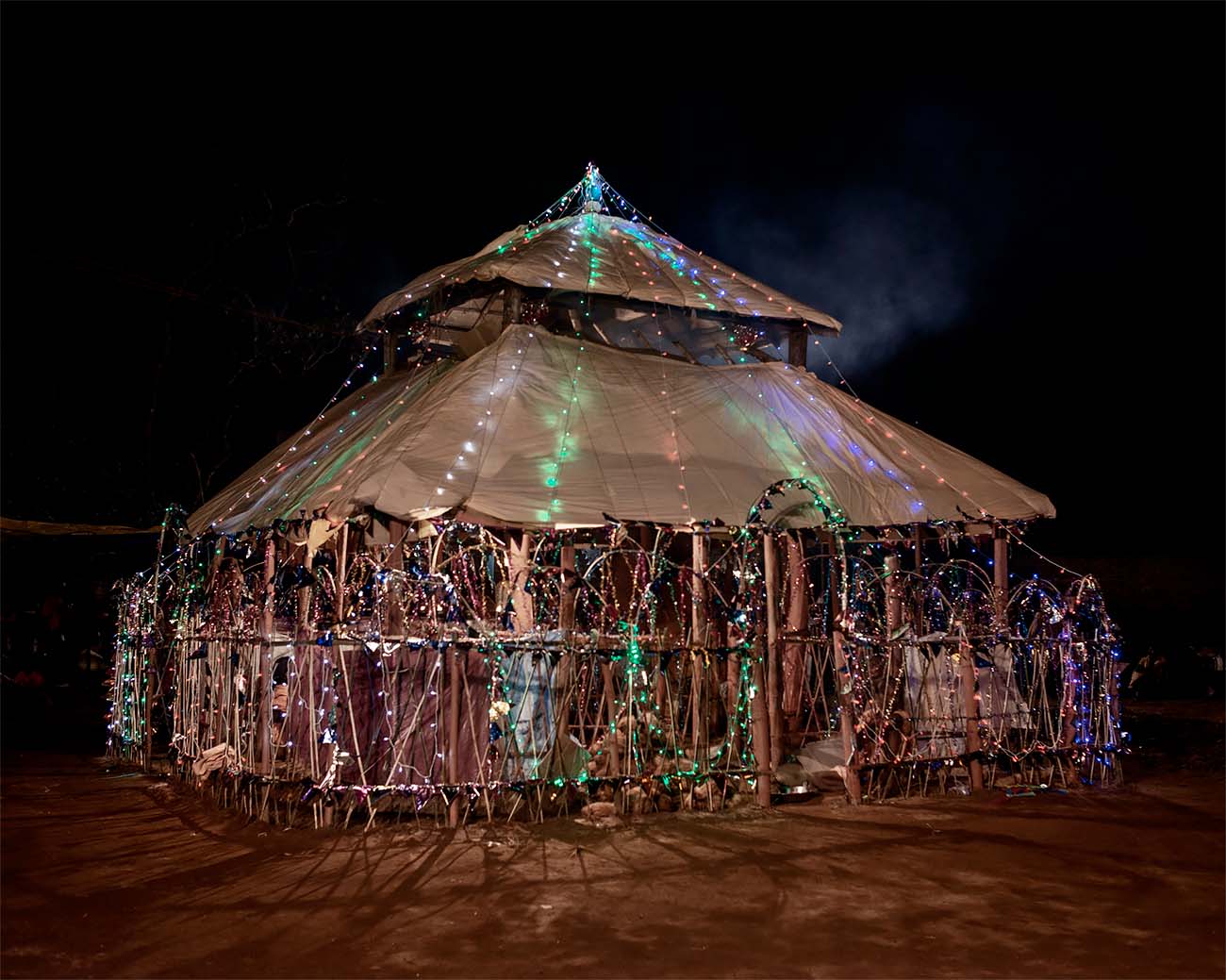 Untitled from the series Centralia, 2010-2020 © Poulomi Basu
About Poulomi Basu
Poulomi Basu
is an Indian transmedia artist, photographer, and activist whose work advocating for the rights of women has received wide attention. In her practice, she explores how the formation of identity intersects with geopolitics to reveal the deep, often hidden power structures in our societies. Born and raised in India, Basu spent her formative years in Kolkata, whose cinematic tradition provided early inspiration. Basu majored in Sociology, then completed her Masters in Photojournalism and Documentary Photography at the London College of Communication. Basu was awarded the prestigious Hood Medal by the Royal Photographic Society in 2020 for her transmedia work Blood Speaks which put menstrual rights on the international agenda and resulted in a major policy change. She has exhibited internationally and is a National Geographic Society Explorer, Sundance Fellow, and a Magnum Foundation Fellow. She directs Just Another Photo Festival, a traveling guerilla visual media festival that democratizes photography by offering it to ordinary people and building new audiences. Her first book, Centralia (Dewi Lewis Publishing, 2020), was the winner of the Discovery Award 2020 at Les Rencontres d'Arles and a nominee for the 2021 Deutsche Börse Photography Foundation Prize. Her work is publicly collected by the V&A, UK; Autograph, UK; Les Rencontres d'Arles, France; MoMA (Special Collections), USA; and the Martin Parr Foundation, UK.
About Side Gallery
Founded by the Amber Collective, Side Gallery was opened in 1977 with a mission to show the best in humanist documentary. It is one of the only documentary photography galleries in the UK. Side Gallery is the 'hidden gem' of Newcastle's visual arts scene. Amber Film and Photography Collective CIC, the organisation that runs Side Gallery, is one of the Arts Council's National Portfolio Organisations (NPO). In 2015, thanks to a grant from the Heritage Lottery Fund, Side Gallery was renovated, with improved physical access to the venue and a new programme of digitisation of the AmberSide Collection, allowing many more bodies of work to be seen by the public on their website. The Amber Collection came out of the work that Amber and Side support, and their continually growing collection of over 20,000 photographs, 10,000 slides and 100 films. The Collection captures intertwined stories and narratives from the North-East and beyond, showing the impact of de-industrialisation and shifting landscapes, as well as exploring issues facing traditionally working class and marginalised communities.