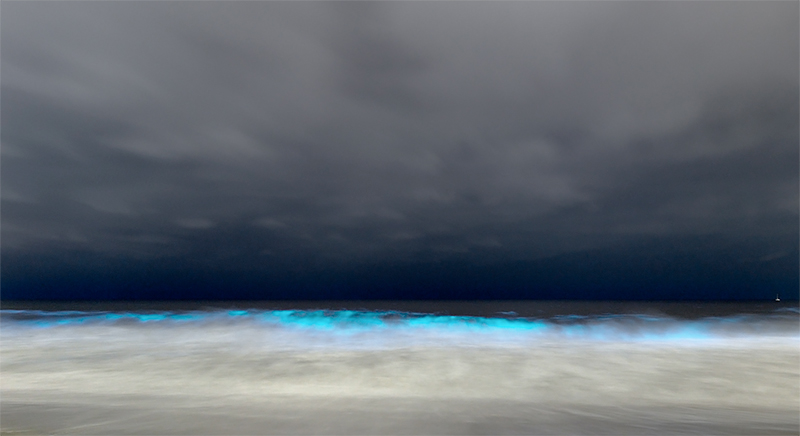 4835 W. Jefferson Blvd.
Los Angeles, CA 90016
Shoshana Wayne Gallery is pleased to announce an exhibition of over 30 photographs by the Los Angeles-based British-Mexican-American artist Sze Tsung Nicolás Leong, selected by the artist from his ongoing and iconic series Horizons, as well as a new image series Lookout Towers. Shown at a time when confinements and lockdowns have increasingly constricted us into looking near, these two series explore the opposite: the act of looking far. The exhibition opens online November 20 and runs through January. This will be the artist's second solo exhibition with the gallery.

Sze Tsung Nicolás Leong's artistic practice focuses, he has previously written, "on how we see, understand, and belong to the world." His Horizons, begun in 2001, are a series of photographs taken throughout the globe of the line of sight separating ground from sky, and at the same time, on a more cognitive level, they are "an exploration of the horizon as the limit of what we can see and know, that questions the boundaries separating the present from the past, near from far, familiar from foreign."

Mr Leong's Horizons presented in this exhibition again reiterate his exploration of the range of environments within which our lives and histories unfold, and highlight, in addition, connections between abstraction and landscape, the picture plane almost dissolving into vast fields of color. Among the works on display here are horizons taken this year at Playa del Rey in Los Angeles, capturing the turquoise light generated by bioluminescent algae found in the ocean-the algae absorbs light during the day and gives off a bright glow at night.

Lookout Towers is a new series of black and white photographs of a building type particular to the Hoiping and Toisan regions of Canton, which emerged in the 16th century and reached an apogee of construction volume during the early 20th century. While these lookout towers served a defensive purpose against bandits and often functioned to represent social standing (whether of a family or a village), as a genre they are built expressions of diaspora-enabling, both literally and metaphorically, the act of looking out to distant horizons, and embodying the changing nature of living in and belonging to the broader world. Funded by remittances from communities in cities as dispersed as Mexicali, Lima, Caracas, San Francisco, Liverpool, Johannesburg, Kolkata, and Singapore, the towers symbolize an emerging form of global identity and cross-cultural melding that challenges ingrained assumptions about fixed borders and identities.

Much like the contemporaneous Beaux Arts movement, these towers mined historical architectural styles to create new forms from an eclectic mixture of influences-from Greek and Roman columns, to medieval turrets, to Fung Seoi geomancy, to Spanish arches, to Han dynasty watchtowers, to classical Han script and iconography. Growing internationalism, aided by migration, cultural exchange and integration, education abroad, the rise of the World Fairs, along with the increased distribution of books, postcards and magazines, all influenced and encouraged this stylistic diversity. For Leong, Lookout Towers is also a personal exploration into ancestry, as his grandfather emigrated from Toisan to England during the First World War and sent money back to construct such buildings.

Sze Tsung Nicolás Leong was born in Mexico City, where he spent his childhood as well as in London and Los Angeles, and has lived and worked in those cities as well as in New York, Rome, Houston, and Beijing. His visual practice has, over the past two decades, focused on creating new pictures of the world, whether by assembling together a new landscape that uncovers unexpected relationships, as in his series Horizons; by revealing how a society can be reshaped through the erasure of its history, as in his series History Images; or by surveying the newly unfamiliar terrains of a political map discolored by isolationism and nationalism, as in his series Atlas. His work has been exhibited internationally; reviewed, published, and written about extensively; and is included in numerous museum collections, including the Metropolitan Museum of Art and Museum of Modern Art in New York, the Victoria and Albert Museum, the National Galleries of Scotland, the National Gallery of Canada, the Getty Museum, and the Yale University Art Gallery. He is a Guggenheim Fellow and a recipient of the Abigail Cohen Rome Prize in Visual Arts from the American Academy in Rome. His books include History Images (Steidl, 2005), Horizons (Hatje Cantz, 2014), and the forthcoming Paris, Novembre (Steidl).