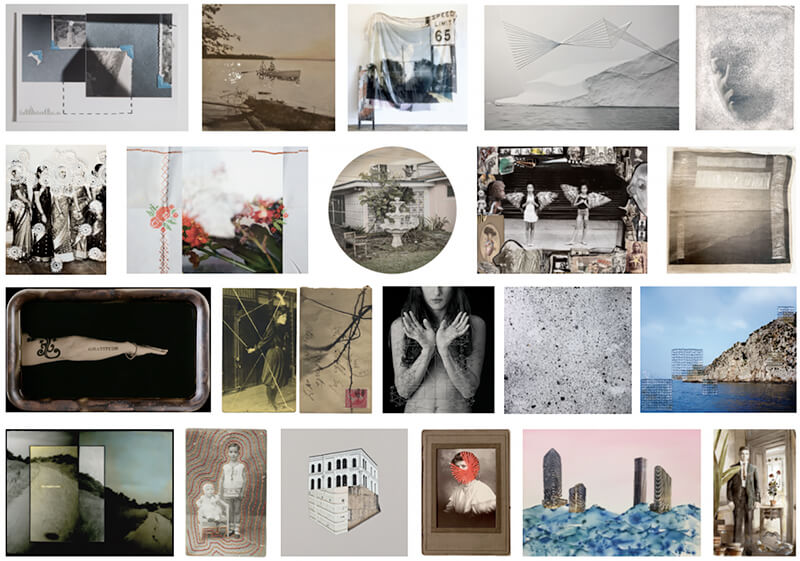 161 NE 40th Street
Miami, FL 33127
Dina Mitrani Gallery is delighted to present The Altered Image: Women Telling Stories by Combining Photography with Mixed Media, as part of the Miami Design District's Art in the District Cultural Program. This temporary exhibiton, featuring the work of more than 20 artists, is on view from October 1 to 30, 2020 and is open to the public Monday - Saturday, 11-7 and Sundays 12-5.

The Altered Image is an exhibition of women artists who use the photographic medium as a departure point to tell their stories. Each of the artists adds varying layers of meaning to the work by manipulating the image with paint, drawing, embroidery, collage, organic ingredients, and transfers to various found materials. The resulting works depict diverse symbolic alterations, which illustrate unique and textured visual narratives. The combination of image and other more tactile means of artistic expression truly allows for a layered narrative. In most cases the works are deeply personal representations of identity, memory, generational histories, traditions and our relationships to the natural or built environment. The works in this exhibition aesthetically and conceptually vary, but are threaded together by the essential use of the photographic process.

The artists included are: Maria Martinez-Cañas (Cuba/Miami), Delphine Dialo (Paris/Brooklyn), Marina Font (Argentina/Miami), Amy Friend (Canada), Marina Gonella (Argentina/Miami), Adriene Hughes (San Diego), Priya Kambli, (India/Minnesota), Heidi Kirkpatrick (Portland), Silvia Lizama (Cuba/Miami), Diane Meyer (Los Angeles), Tatiana Parcero (Mexico/Buenos Aires), Rachel Phillips (San Francisco), Olivia Racionzer (Italy/Wales), Astrid Reischwitz (Germany/Boston), Georgina Reskala (Mexico/San Francisco), Alexandra Rowley (New York), Sarah Michelle Rupert (Miami), Rebecca Sexton Larson (Tampa), Aline Smithson (Los Angeles), Krista Svalbonas (Latvia/Philadelphia), and Laura Villarreal (Mexico/Miami).

Special thanks to Craig Robins and Dacra, Claire Breukel, curator of Miami Design District Cultural Program, Fredric Snitzer Gallery, Art Media Gallery, Fountainhead Residency, Catherine Couturier Gallery (Houston), Arnika Dawkins Gallery (Atlanta), Gallery Kayafas (Boston), and Klompching Gallery (New York).