From September 09, 2022 to January 08, 2023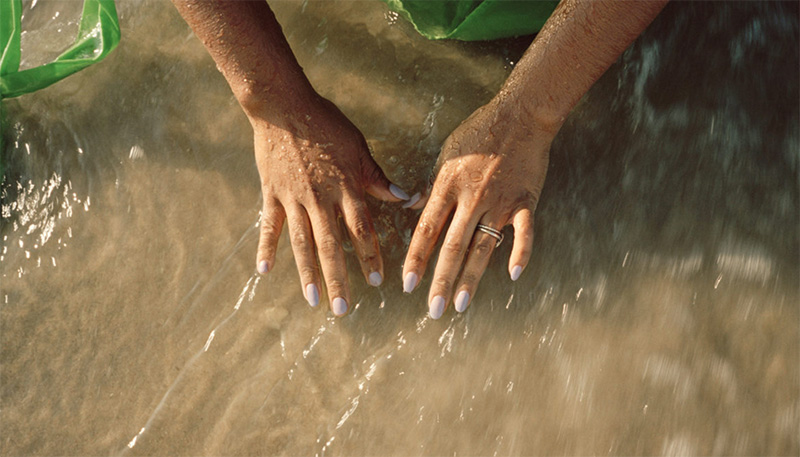 601 W Broad St
Richmond, VA 23220
"I miss my water
I keep missing my water
I keep missing my water
And I want my water
I need my water
I love my water
And I want my water"
– Otis Redding, "You Don't Miss Your Water"

I Keep Missing My Water is a newly commissioned exhibition by photographer Naima Green that continues the artist's ongoing investment in documenting intimacy within Black and queer communities. At the center of this exhibition are photographs taken on and around multiple bodies of water across the US, in Virginia, California, New York, Pennsylvania, and Massachusetts. The water functions as a metaphor for fluidity and vitality, as they relate to sexuality, the body, and our relationship to everyday life; but also as they relate to the energy pulsing throughout Green's multimedia installation.

Utilizing framed photographs, custom vinyl wallpaper, video, sound, and ephemera, Green generates an exhibition of boundless environments. Seductive interior scenes and exterior landscapes seep into each other. Scenes and sitters withdraw and reemerge, activating a sense of desire that is fulfilled elsewhere in this exhibition. These images evoke the recurring sensations of missing, needing, and loving, recalling the sense of longing evoked in Otis Redding's 1965 song "You Don't Miss Your Water." Redding's message is one of caution: take pleasure in the things you have while you have them. I Keep Missing My Water does just this, adoring the moments in which community is alive, ritual is abundant, and living is both large and tender.

This exhibition, and all of Green's work, functions as a living archive. For Green photography isn't just a means of capture but a gateway into life. In her ongoing online archive Skin Contact, which appears in this exhibition as an interactive installation, Green engages deeply with her sitters, collecting materials that contribute to their quality of life. Poems, playlists, questionnaires, love letters, audio recordings, and the residue of shared meals are made public and archived, enhancing the intimacy evident in Green's portraits.

I Keep Missing My Water is curated by ICA Curator Amber Esseiva.