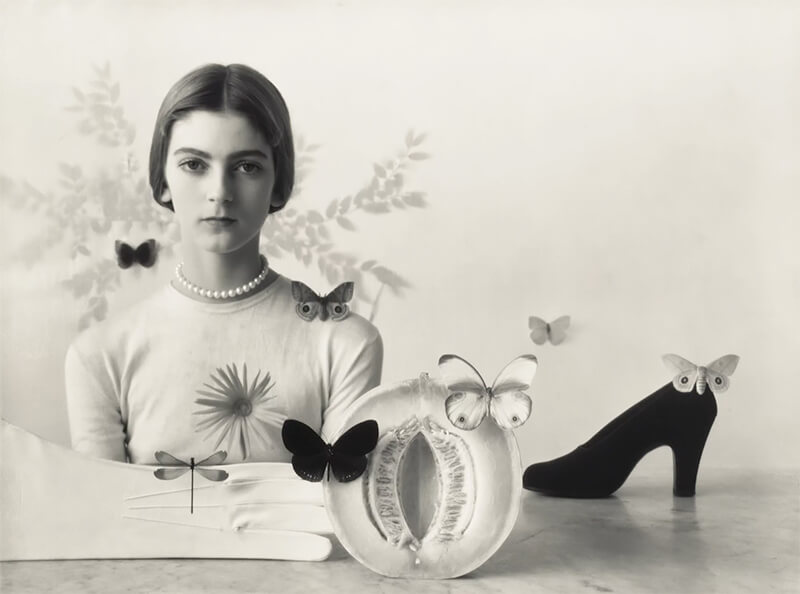 1201 S La Brea Ave
Los Angeles, CA 90019
Pace is pleased to present Irving Penn: Burning Off the Page, a solo exhibition bringing together 44 works created by the artist—whose work transcended the pages of magazines to the walls of museums and galleries—between the late 1930s and early 2000s. Photographing for Vogue for nearly 70 years, Penn left an indelible mark on the history of the medium. His inventive fashion photographs, which transformed American image-making in the postwar era, continued to appear in the magazine up until his death in 2009. The artist was also highly accomplished and experimental in the darkroom, having engineered, among other innovations, a complex technique for making platinum-palladium prints. Four works of this kind figure in Pace's upcoming exhibition, which is curated by art historian Michaëla de Lacaze Mohrmann.

Burning Off the Page centers on the formal strategies and experimentations that shaped Penn's distinctive style, which he termed "photographism." Penn, who was trained as a painter before becoming a photographer, found inspiration in the fine arts and often began his photographic process by drawing. As traced in Pace's 2021 exhibition Irving Penn: Photographism in New York, Penn's creative process entailed the translation of drawing, painting, and sculpture, among other art forms, into photography—a hybridization that blurred the line between high art, graphic design, fashion, and photography.

The gallery's latest exhibition of Penn's work continues this exploration of his photographism by focusing on how the printed page's mediation of photography impacted the artist's compositional choices, yielding an arresting simplicity that belies Penn's complex interpenetration of media. Pace's exhibition takes its title from a quote by the artist, who believed that a powerful image should "burn off the page," a notion revealing Penn's intention to create photographs that could exist as timeless and autonomous works of art well beyond the magazine pages shaping their immediate reception. Burning Off the Page also aims to highlight the often-overlooked physicality of Penn's oeuvre and his virtuosic handwork in the creation of photographic prints.

Burning Off the Page foregrounds Penn's fine-tuning and reinvention of certain visual devices over time. Works in the show are grouped into five categories—"Focus and Dissolve," "Balance," "(De)colorize," "Materialize," and "Estrange"—reflecting Penn's creative agency in his experimentations with composition and form throughout his seven-decade career.

In the "Focus and Dissolve" section, works such as Isamu Noguchi (1983), Georgia O'Keeffe (1949), and Girl Behind Glass (Jean Patchett) (1949) demonstrate how Penn skillfully directed the gaze through lighting, internal frames, and his iconic corner backdrop but also different blurring and fragmenting techniques. "Balance" focuses on the artist's ability to forge harmonious yet tense compositions, featuring works including After Dinner Games (1947), a dynamic still life of cards, dice, poker chips, a cordial, and a cup of coffee.

"(De)colorize" explores Penn's penchant for restricted color palettes, evident in photographs like Lisa Cant in Dior Haute Couture by John Galliano (2005) and Bedside Lamp (2006), which reveal the power of a single hue and the iridescence that can emanate from seemingly monochromatic objects. "Materialize" underscores Penn's interest in conveying a sense of materiality and tangibility in his images, with Three Steel Blocks (1980), a striking photograph of three robust blocks of varied sizes and hefts, among the pieces included. Finally, "Estrange" examines the ways that Penn defamiliarized the everyday through juxtapositions, unusual poses, and plays of scale. Girl with Fruit, Shoe and Butterflies (1946)—a surreal tableau featuring a figure, a bisected fruit, and a few articles of clothing, all adorned with winged creatures—is among the works in the "Estrange" section of the exhibition.

Burning Off the Page will also feature a selection of archival materials—including drawings, props, and contact sheets—that shed light on Penn's process in the studio. Additionally, several archival issues of Vogue will be on view, illustrating the transformation of Penn's images on the page and their simultaneous ability to function as standalone works of art.