From July 12, 2022 to September 10, 2022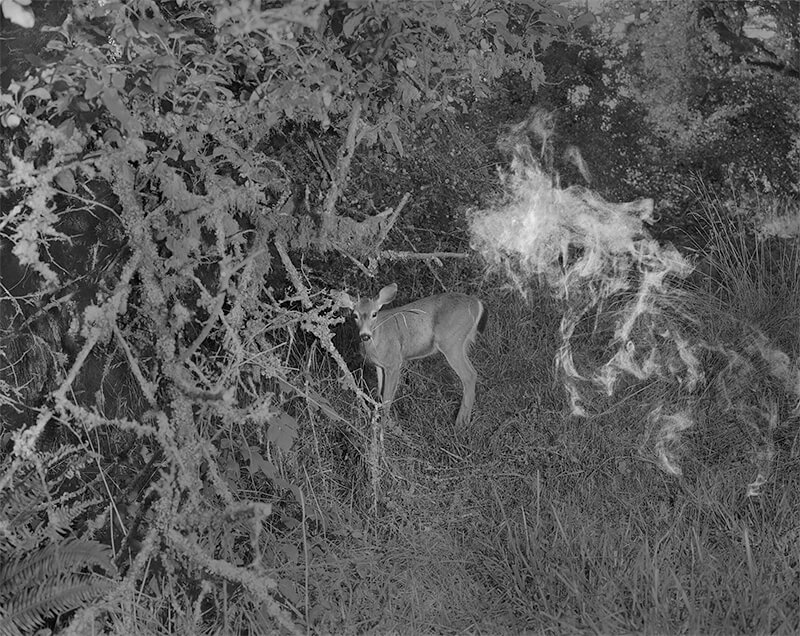 36 East 30th Street
New York, NY 10016
Penumbra Foundation is pleased to present the flowers aren't growing, the eggs are hatching, it's almost dawn, a solo exhibition by artist Dylan Hausthor.

'I was recently visiting my hometown and stopped to fill up my car with gas. I noticed a woman sitting outside the gas station drinking coffee and recognized her as my old ballet teacher. I sat down next to her and we caught up. She had been going blind for the decade since I last saw her. She had fallen out of love, started growing a garden, and found god. She had a small collection of freshly picked mushrooms next to her and handed me one, saying ''mushrooms have no gender, did you know that?'' '

Hausthor conjures potent images from the creeping abyss with a flash, illuminating the human and tragic, the uncanny and mystical. Darkness metabolizes the familiar. Apparitions proliferate, dressing the world in strangeness and revealing the precarious ground on which we stake our certitudes. Photography is a tool to probe, documenting these unseeable events that would otherwise play at the tails of our eyes and in our thoughts. Even now, brought into full view, they resist complete apprehension- the narrative power of Hausthor's images catches the viewer on the threshold of suspension between our beliefs and disbeliefs, and the dense, horizonless forest offers no reassurances.

the flowers aren't growing, the eggs are hatching, it's almost dawn is a collection of seven myths made in the last four seasons—myths that explore the complexities of storytelling, faith, folklore, and systems and characters that haunt us.