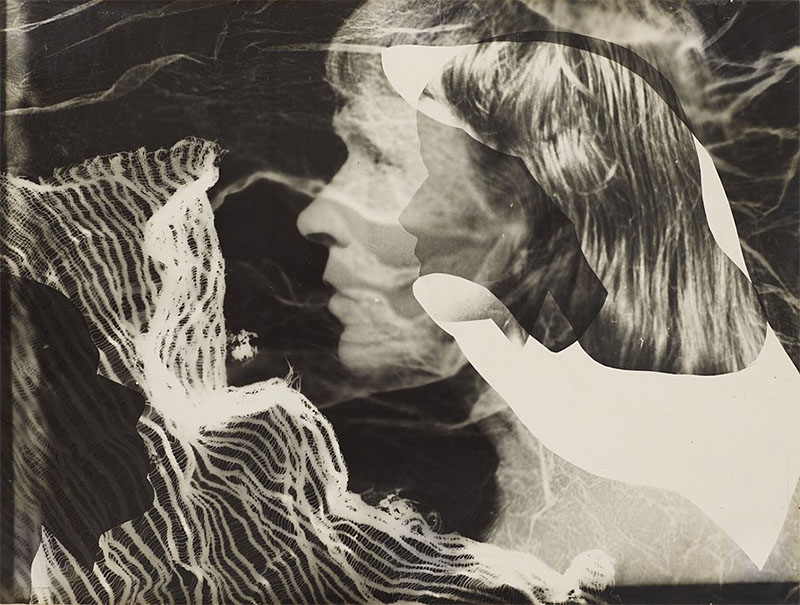 32 Quincy Street
Cambridge, MA 02138
Despite the cloud of Nazi censure hanging over mid-1930s Germany, Anneliese Hager made significant contributions to the medium of camera-less photography and to the wider surrealist movement in Europe. The camera-less photograph, or photogram, is an image made by placing objects directly on (or in close proximity to) a light-sensitive surface and then exposing the assembled material to light. In its final form, a photogram reverses light and dark: the longer the paper is covered, and hence unexposed, the brighter the covered parts will be, and vice versa. Referring to that effect as "white shadows," Hager developed her experimental darkroom practice through her knowledge of and fascination with the natural sciences. Also a talented surrealist poet, she often paired photograms she made using everyday domestic objects with the naturalistic vibrancy of her own words.

Undoubtedly one of the most fervent and accomplished 20th-century makers of photograms, Hager has remained virtually unknown, in part because her early artwork was destroyed in the 1945 bombing of Dresden. Hager was among only three women and the sole photographer to exhibit in the now legendary CoBrA exhibition in Amsterdam in 1949. Like the medium in which she worked, she was overshadowed by the rise of male painters on the international stage in the 1950s. The Harvard Art Museums' 2018 exhibition Inventur—Art in Germany, 1943–55 was the first to feature her work since Struktur und Geste, organized by the Suermondt-Ludwig-Museum, Aachen, in 1988.

Hager is believed to have made up to 150 photograms over the span of her career; White Shadows will showcase 29 recently acquired photograms made by the artist between the late 1940s and the 1960s, when she abandoned the medium. The exhibition, which will incorporate examples of cyanotypes, microphotography, copy prints, photograms, and photographs, will also feature works by Hager's 19th-century predecessors, such as Anna Atkins, Ella J.C. Hurd, and Philip Otto Runge, as well as her contemporaries, including Marta Hoepffner, László Moholy-Nagy, K. O. Götz, Christian Schad, Carl Strüwe, Elfriede Stegemeyer, Elsa Thiemann, and Otto Umbehr (Umbo). In addition, several key historical publications and selected materials from the artist's estate (now housed in the Harvard Art Museums Archives) will be on display.

Halfway through the exhibition's five-month run, cyanotypes by Anna Atkins and Ella J.C. Hurd will be exchanged for other examples by these artists, due to the light-sensitive nature of the works.

Organized by the Harvard Art Museums. Curated by Lynette Roth, the Daimler Curator of the Busch-Reisinger Museum at the Harvard Art Museums.

Support for this project was provided by the Daimler Curatorship of the Busch-Reisinger Museum Fund. Modern and contemporary art programs at the Harvard Art Museums are made possible in part by generous support from the Emily Rauh Pulitzer and Joseph Pulitzer, Jr., Fund for Modern and Contemporary Art.