From October 24, 2020 to March 06, 2021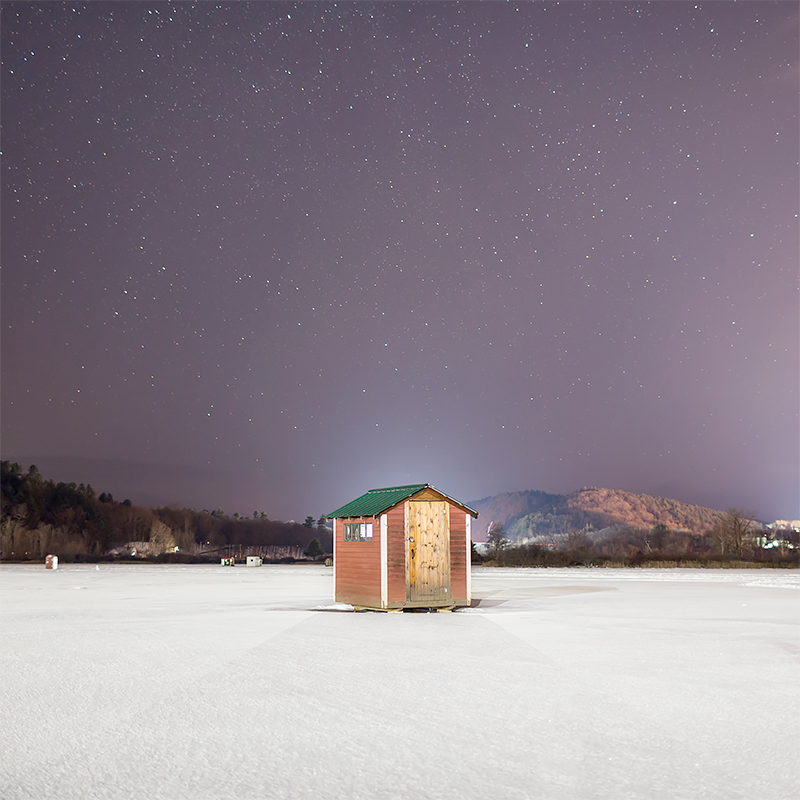 10 Vernon St
Brattleboro, VT 05301
As a biologist, a photographer, and a filmmaker, I have always been focused on humans' relationship with nature. At the beginning of my career, my photographs mostly took a documentary and taxonomical approach to describing species and ecosystems, as well as capturing the processes and intricacies of making science. Later on, while I was pursuing an MFA, my ideas expanded into the realm of "contemporary photography," broadening the way I produce and understand photography.

When thinking about the images from the Ice Shanties series, two main questions come to mind: what is nature without humans, and what are humans without nature? In asking questions, I don't seek to find correct answers but rather to open up conversations about human-nature interactions across different cultures and latitudes.

As a Colombian who moved to Vermont a couple years ago, I instantly became curious about and fascinated by the peculiar structures that adorn the frozen waters of Brattleboro's West River. What are they for? Who uses them? Why do they have such unique looks? Friends quickly answered these questions, but my obsession with the tiny houses, the frozen ecosystem, the fishing culture, and the ephemeral aspect of the landscape pushed me to take a deeper look.

When I came across the shanties, photographing them in broad daylight didn't seem fitting. The fully revealing light and bright atmosphere felt detached from the ideas of ethereality, solitude, and contemplation. At night, however, a whole new world is revealed: the absence or presence of moonlight, the color of the night, the city lights and traffic, the frozen tracks of life on the snow, and the connection between the shanties and the ecosystem. Night also allows us to delve into imaginary narratives about life on the ice, narratives that are complemented by the daylight portraits of "frozen" fish and "buried" fishing traps.