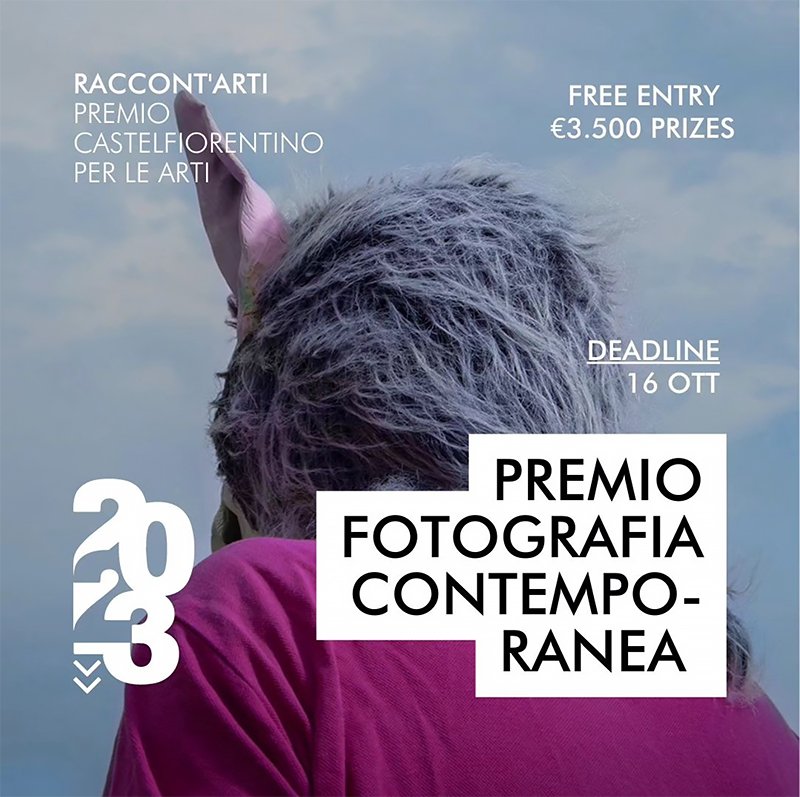 Do you have a completed or advanced photographic project? Are you an individual photographer or a collective? Here is a unique opportunity to stand out in the panorama of contemporary photography. A prestigious jury will select a shortlist of participants and among them two absolute winners (Open and Student Categories), for an award ceremony and exhibition in Castelfiorentino. The winning projects will be published in a printed magazine and the announcement will be widely publicised in both traditional and online media.

CATEGORIES: Student and Open.
PRIZES:
• Open 3,000 €
• Student 500 €
• Exhibition of winners and shortlisted entries at Oratorio di San Carlo and Teatro del Popolo in Castelfiorentino
• Publication of winning portfolios in 'Gente di Fotografia' magazine

PARTICIPATION CRITERIA:
• Over 18 years of age
• Both individual and collective
• The submitted project must not have been awarded at the time of submission
• Sending via PDF files under 15 megabytes

SHORTLIST ANNOUNCEMENT: 10 November 2002 on the Prize website
PRIZES AND EXHIBITIONS: 26 November 2022 at 5 p.m. at the Teatro del Popolo in Castelfiorentino, Exhibition of the winners and short-listed entries at the Teatro del Popolo and the Oratory of San Caro in Castelfiorentino JURY: Luca Andreoni, Vittore Buzzi, Niccolò Fano, Michele Palazzi, Fiorenza Pinna. A jury made up of artists, photographers and teachers committed to the practice and dissemination of contemporary photography.