English Photographer | Born: 1830 - Died: 1904
Eadweard James Muybridge was an English photographer important for his pioneering work in photographic studies of motion and in motion-picture projection. He adopted the name Eadweard Muybridge, believing it to be the original Anglo-Saxon form of his name. He immigrated to the United States as a young man but remained obscure until 1868, when his large photographs of Yosemite Valley, California, made him world famous. Muybridge is known for his pioneering work on animal locomotion in 1877 and 1878, which used multiple cameras to capture motion in stop-action photographs, and his zoopraxiscope, a device for projecting motion pictures that pre-dated the flexible perforated film strip used in cinematography. In his earlier years in San Francisco, Muybridge had become known for his landscape photography, particularly of the Yosemite Valley. He also photographed the Tlingit people in Alaska, and was commissioned by the United States Army to photograph the Modoc War in 1873. In 1874 he shot and killed Major Harry Larkyns, his wife's lover, and was acquitted in a jury trial on the grounds of justifiable homicide.[2] He travelled for more than a year in Central America on a photographic expedition in 1875. In the 1880s, Muybridge entered a very productive period at the University of Pennsylvania in Philadelphia, producing over 100,000 images of animals and humans in motion, capturing what the human eye could not distinguish as separate movements. He spent much of his later years giving public lectures and demonstrations of his photography and early motion picture sequences. He also edited and published compilations of his work, which greatly influenced visual artists and the developing fields of scientific and industrial photography.
Source Wikipedia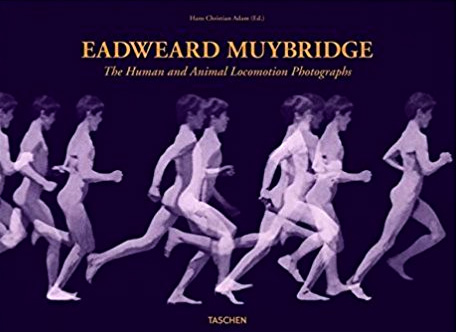 Author: Eadweard Muybridge, Dr. Hans Christian Adam
Publisher: Taschen
Year: 2010 - Pages: 872
This title discusses about the grandfather of the moving image. English photographer Eadweard Muybridge (1830-1904) was a pioneer in visual studies of human and animal locomotion. In 1872, he famously helped settle a bet for former California governor Leland Stanford by providing photographic proof that when galloping, a horse momentarily lifts all of its legs off of the ground. Muybridge accomplished this feat by inventing a complex system of shutter releases that allowed him to capture freeze frames of the horse's gallop - proving conclusively, for the first time, that the horse does indeed lift all of its hooves in the air for a fraction of a second. For the next three decades, Muybridge continued his quest to fully catalog many an aspect of human and animal movement, shooting hundreds of nude or draped subjects engaged in various activities such as running, walking, boxing, fencing, and descending a staircase (the latter study inspired Marcel Duchamp's famous 1912 painting). This resplendent book traces the life and work of Muybridge, from his early thinking about anatomy and movement to his latest photographic experiments, and is copiously illustrated with his complete locomotion plates as well as biographical pictures and texts. The work of this icon of 19th century photography, still very relevant today, is most deserving of this long overdue XL tome that will delight art and photography fans as well as horse lovers.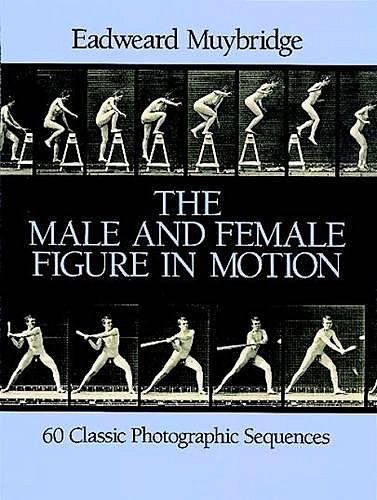 Author: Eadweard Muybridge
Publisher: Dover Publications
Year: 1984 - Pages: 128
Now artists, illustrators, photographers, and scientists can have Eadweard Muybridge's rare, unparalleled true action photographs in an inexpensive paperbound edition. Sixty classic photographic sequences of the male and female figure in motion, selected from the monumental original collection of 781, have been painstakingly reproduced on fine coated stock. Taken at speeds ranging up to 1/6000th of a second, these incredibly precise images show undraped subjects against ruled backgrounds in countless actions, most from three angles: front, rear, and three-quarter view. You'll find men boxing, hammering, heaving a rock, walking, running, leaping, climbing steps, carrying weights, and playing baseball, cricket, and football. Dozens of stopped-action photographs show women walking, turning, kneeling, jumping, bending, dancing, and dressing. And several sequences illustrate children in various activities. No more complete study of the human body in action has ever been done. Countless split-second motions involved in even the simplest movements — the curling of toes, the shift of gravity centers, the tightening and relaxing of muscles, the myriad of subtle details that make drawings, paintings, and animations come to life — are captured in these historic photographs. Eadweard Muybridge's nineteenth-century masterpiece remains one of the greatest achievements of art and photography. This edition brings a superb selection of classic action photographs within everyone's reach.