American Photographer | Born: 1895 - Died: 1965
Lange, Dorothea was an American documentary photographer, who studied photography at Columbia University and worked as an assistant to Arnold Genthe before beginning a photographic trip around the world in 1918. When she ran out of funds in San Francisco, she remained, opened a photographic studio, and during the early 1930s began photographing homeless rural people flooding into the city from the Dust Bowl exodus. Her photographs brought her to the attention of Paul Taylor, an economist at California University, who hired her to create a documentary record to accompany his report on agricultural conditions for the California State Relief Administration, and subsequently married her. When Roy Stryker saw these images, he hired her as a staff photographer for the Farm Security Administration (FSA), for which she worked sporadically as Stryker's budget allowed 1935-9. During this period, she made many of her best-known photographs, including the image known as Migrant Mother (1936). She later also photographed for the San Francisco branch of the Office of War Information, 1943-5, recording the internment of Japanese-Americans and the founding of the United Nations. In 1954-5 she was a photographer for Life magazine, afterwards travelling extensively and producing photographic essays on Ireland, Egypt, and Asia.
Source The Oxford Companion to the Photograph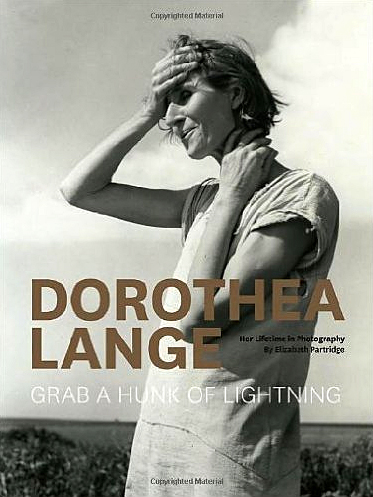 Author: Elizabeth Partridge
Publisher: Chronicle Books
Year: 2013 - Pages: 192
This beautiful volume celebrates one of the twentieth century's most important photographers, Dorothea Lange. Led off by an authoritative biographical essay by Elizabeth Partridge (Lange's goddaughter), the book goes on to showcase Lange's work in over a hundred glorious plates. Dorothea Lange is the only career-spanning monograph of this major photographer's oeuvre in print, and features images ranging from her iconic Depression-era photograph "Migrant Mother" to lesser-known images from her global travels later in life. Presented as the companion book to a PBS American Masters episode that will air in 2014, this deluxe hardcover offers an intimate and unparalleled view into the life and work of one of our most cherished documentary photographers.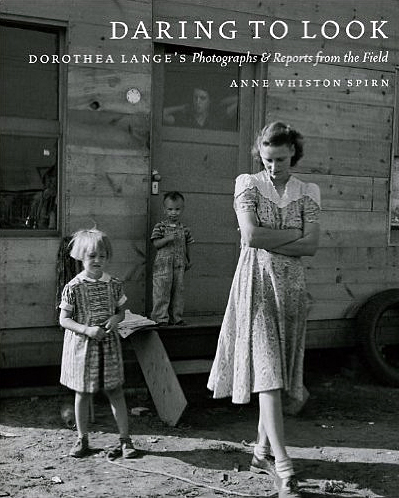 Author: Anne Whiston Spirn
Publisher: University Of Chicago Press
Year: 2009 - Pages: 376
Daring to Look presents never-before-published photos and captions from Dorothea Lange's fieldwork in California, the Pacific Northwest, and North Carolina during 1939. Lange's images of squatter camps, benighted farmers, and stark landscapes are stunning, and her captions—which range from simple explanations of settings to historical notes and biographical sketches—add unexpected depth, bringing her subjects and their struggles unforgettably to life, often in their own words.

When Lange was dismissed from the Farm Security Administration at the end of 1939, these photos and field notes were consigned to archives, where they languished, rarely seen. With Daring to Look, Anne Whiston Spirn not only returns them to the public eye, but sets them in the context of Lange's pioneering life, work, and struggle for critical recognition—firmly placing Lange in her rightful position at the forefront of American photography.

"A thoughtful and meticulously researched account of Lange's career. . . . Spirn, a photographer herself, traces Lange's path, visiting her locations and subjects in a fascinating series of 'then and now' shots."—Publishers Weekly

"Dorothea Lange has long been regarded as one of the most brilliant photographic witnesses we have ever had to the peoples and landscapes of America, but until now no one has fully appreciated the richness with which she wove images together with words to convey her insights about this nation. We are lucky indeed that Anne Whiston Spirn, herself a gifted photographer and writer, has now recovered Lange's field notes and woven them into a rich tapestry of texts and images to help us reflect anew on Lange's extraordinary body of work."—William Cronon, author of Nature's Metropolis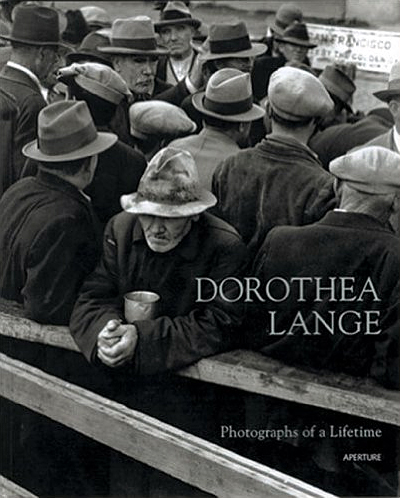 Author: Dorothea Lange, Robert Coles, Therese Heyman
Publisher: Aperture Foundation
Year: 1996 - Pages: 183
Reprinted for the first time, this is the most comprehensive collection of the photographer's work ever published. It includes portraits from her early years as a fashionable studio photographer as well as classic images that established her as the preeminent documentary artist of her time.