American Photographer | Born: 1898 - Died: 1991
Abbott was born and raised in Ohio where she endured an erratic family life. In 1918, after two semesters at Ohio State University, she left to join friends associated with the Provincetown Players, in Greenwich Village. There she met Djuna Barnes, Kenneth Burke, Elsa von Freytag-Loringhoven, Edna St. Vincent Millay, Little Review editors Margaret Anderson and Jane Heap, and other influential modernists. From 1919-1921, while studying sculpture, Abbott supported herself as an artist's model, posing for photographers Nikolas Muray and Man Ray. She also met Marcel Duchamp, and participated in Dadaist publications.

Abbott moved to Paris in 1921, where she continued to study sculpture (and in Berlin), and to support herself by modeling. During 1923-1926, she worked as Man Ray's darkroom assistant (he had also relocated to Paris) and tried portrait photography at his suggestion. Abbott's first solo exhibition, in 1926, launched her career. In 1928 she rescued and began to promote Eugène Atget's photographic work, calling his thirty years of Parisian streetscapes and related studies "realism unadorned. "

In 1929 Abbott took a new artistic direction to tackle the scope (if not the scale) of Atget's achievement in New York City. During 1929-38, she photographed urban material culture and the built environment of New York, documenting the old before it was torn down and recording new construction. From 1934-58, she also taught photography at the New School. During 1935-39, Abbott worked as a "supervisor" for the Federal Art Project to create Changing New York (her free-lance work and New School teaching commitment made her ineligible for unemployment relief) .

From 1939-60, Abbott photographed scientific subjects, concluding with her notable illustrations for the MIT-originated Physical Sciences Study Committee's revolutionary high school physics course. In 1954, she photographed along the length of US 1; the work never found a publisher. In 1968, Abbott sold the Atget archive to the Museum of Modern Art in New York, and moved permanently to her home in central Maine (bought in 1956 and restored over several decades) .

1970 saw Abbott's first major retrospective exhibition, at the Museum of Modern Art. Her first retrospective portfolio appeared in 1976, and she received the International Center of Photography's Lifetime Achievement Award in 1989. She died at home in Monson, Maine in December 1991 .

Source the New York Public Library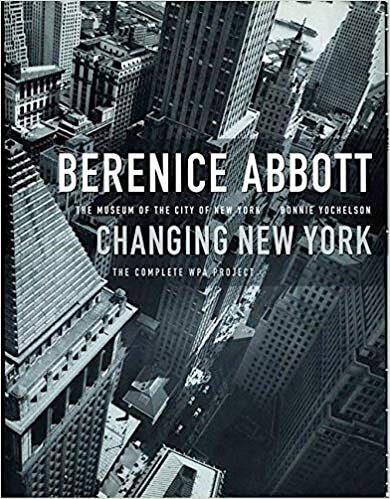 Author: Berenice Abbott
Publisher: The New Press
Year: 2008 - Pages: 399
The highly acclaimed, definitive collection of Abbott's popular New York photographs. Berenice Abbott (1898-1991) was one of this century's greatest photographers, and her New York City images have come to define 1930's New York. The response to The New Press's landmark hardcover publication of Berenice Abbott: Changing New York was extraordinary. In addition to receiving rave reviews, it was chosen a best book of the year by the Wall Street Journal, Business Week, and New York Newsday, and was featured in Vanity Fair, Newsweek, and the New York Daily News. A midwesterner who came to New York in 1918, Abbott moved to Paris in 1921 and worked as Man Ray's photographic assistant. Inspired by French photographer Atget, Abbott returned to America in 1929 to photograph New York City. With the financial support of the Works Progress Administration's Federal Art Project from 1935 to 1939, she was able to realize her ambition to document a "changing New York," a project that remains the centerpiece of her career.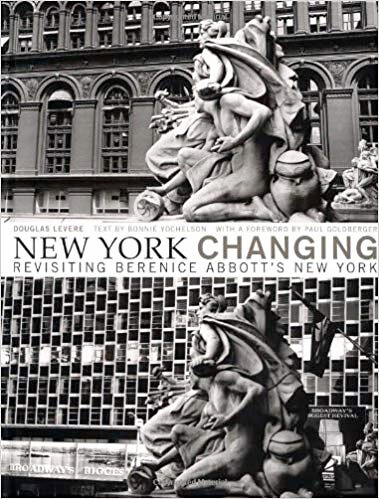 Author: Douglas Levere
Publisher: Princeton Architectural Press
Year: 2004 - Pages: 192
In 1935 the renowned photographer Berenice Abbott set out on a five-year, WPA-funded project to document New York's transformation from a nineteenth-century city into a modern metropolis of towering skyscrapers. The result was the landmark publication Changing New York, a milestone in the history of photography that stands as an indispensable record of the Depression-era city. More than sixty years later, New York is an even denser city of steel-and-glass and restless energy. Guided by Abbott's voice and vision, New York photographer Douglas Levere has revisited the sites of 100 of Abbott's photographs, meticulously duplicating her compositions with exacting detail; each shot is taken at the same time of day, at the same time of year, and with the same type of camera. New York Changing pairs Levere's and Abbott's images, resulting in a remarkable commentary on the evolution of a metropolis known for constantly reinventing itself.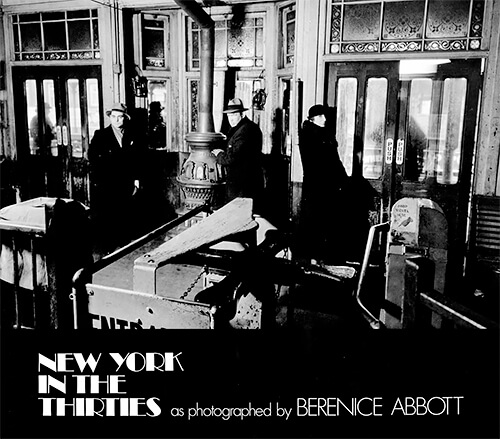 Author: Berenice Abbott
Publisher: Dover Publications
Year: 1973 - Pages: 102
Nearly 100 classic images by noted photographer: Rockefeller Center on the rise, Bowery restaurants, dramatic views of the City's bridges, Washington Square, old movie houses, rows of old tenements laced with laundry, Wall Street, Flatiron Building, waterfront, and many other landmarks.