From January 11, 2020 to February 29, 2020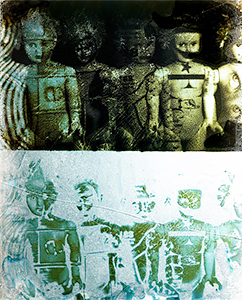 2525 Michigan Avenue, Suite J1
Los Angeles, CA 90404
dnj Gallery is pleased to announce its upcoming exhibition, 'The Path of DarrylCurran: from the 1960s - the present (and the Origins of Conceptual Photography).'

Darryl J. Curran is one of the major conceptualists of Southern California photography, and this exhibition recognizes his place at the forefront of the movement. He introduced the word conceptualism to our vocabulary, allowing an intellectual type of reasoning to be included in our art making. Borrowing from current trends and developments, he offers further, affectedassociations with cultural icons. Curran's artwork demonstrates seeing and vision, capturing the ideas in the process-- in the midst of their expression. Hecombines images andfound pictures, presents relationships and memories, and creates juxtapositions that encourage reflection and ask consequential questions. As a result, his pieces are not only visually pleasing, but thought provoking and timeless as well.

For the past fifty years DarrylCurran has sought to expand the definition of 'photography' to include experiments of the medium in its many forms, including camera and film, light as subject, camera-less image-making, obsolete photographic printing processes and scanner as camera.His work is about the act of discovery."Creating photographs in this manner encourages inaccuracy and serendipity," as Curran explains. His photographic tests explore both commercial and historical processes, as well as an unorthodox approach to image, size, color and content.

For instance, Curran's exploration withcolor separation is noteworthy. He began thesesearches in the late 1970's by focusing on shadows cast on white surfaces and photographing them sequentially through red, blue and green filters on black and white film. The resulting photograph revealed gray shadows produced from the main printing colors, cyan, magenta and yellow.In "Sun: Shadows," he describes the process, "I was interested in how they would be represented in the elapsed time of the three camera exposures. White surfaces are not always available. I used an old portable projection screen to pose as shadow catcher and metaphor for 'showing slides.' I wrapped white fabric around tree trunks as a visual foil to the projection screen while investigating the diagonal compositional device." The final resolution took a pause while the advancement of technology caught up: "negatives have been stored from 1982 until 2012. New technology rescued them." Recombined, scanned, and digitally printed, the old black and white negatives gained new life and potential through this process.