July 30, 2019 to September 28, 2019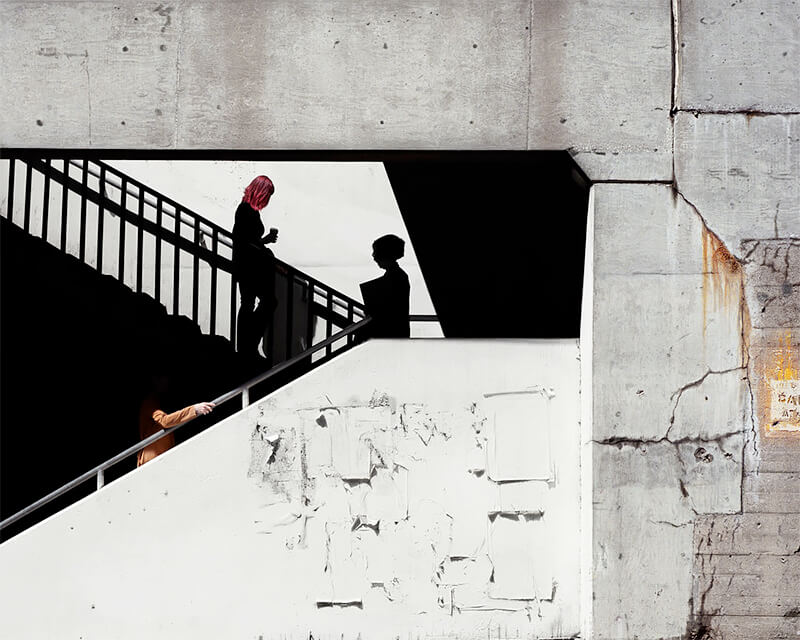 1200 W. International Speedway Blvd
Daytona Beach - 32114 FL


In the portfolio City Space, Clarissa Bonet recreates pedestrian scenes of urban life. Set among towering columns, concrete facades, stairwells, and street corners, in the shadows cast by skyscrapers and expansive plains of asphalt, Bonet's characters move and sit, and wait. These images illustrate a broader interaction between people and their environment undisguised by the seemingly mundane scenarios depicted. These are the moments of intersection between subject and setting that define urban living.

City Space expands on the genre and practice of street photography by capturing the psychological impact of her experience of the street not live, but via the thoughtfully and deliberately reconstructed image. These are fragments of memory, envisioned and then formalized into visual statements. This is an authentic vocabulary for the urban space, an environment where private lives take place in public spaces and where a defining moment for one life is just a beat in the city's rhythm for another.

Bonet has the advantage of composing each scene to emphasize the formal elements of light and shadow, and the successes of her images rest in the visual timbre created to match both the sense of place and the character of the inhabitants.

Bonet accomplishes this through a predominantly muted color palette and a carefully considered vantage point—and by preserving the anonymity of the characters.