August 16, 2019 to September 28, 2019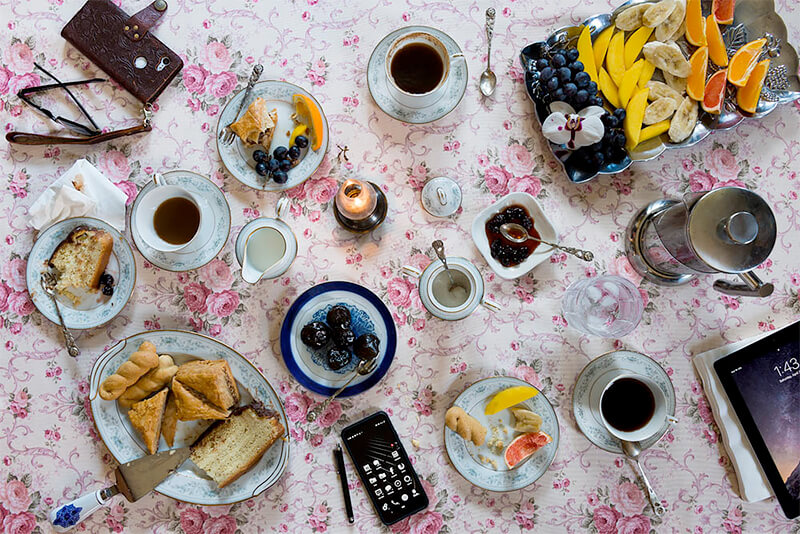 1070 Bannock Street
Denver - 80204 CO


Since the beginning of time, humans have been gathering over meals. From first dates to weddings, to celebrations of life and death, we meet at the table. In Coming Together, three photographers consider the ways that home, meals and associated rituals connect us and influence our lives.

Christos Palios is a first generation Greek-American that photographs the remnants of meals he has shared with family and friends in Europe and the United States. Each image is a top-down view of the table after the meal is over. The narratives imagined by viewing the aftermath of these meals are endless. The European custom of a long and lingering meal is visible here. Evidence of our digital culture creeping in appears with cell phones and tablets sitting on the table, raising questions about how this contemporary technological shift is influencing our long-held tradition of face-to-face gatherings.

JP Terlizzi comes from an Italian-American family and the strong European culture of the family meal is an integral part of his life. Generations develop their own code to refer to traditions or objects and, in this case, it's about "The Good Dishes." His project is named after the term used by his mother to refer to the family's finest china, which was reserved exclusively for special occasions. There is a time when the younger generation must inventory and disperse these heirlooms when the older generation passes. The physical objects are wrapped tightly with memories and family traditions. In his beautifully constructed photographs, he places delicate teacups, plates, and saucers on a background print that connects to the pattern on the dishes. These images were created with love and honor their family significance.

Meg Griffiths has been making photographs in Cuba since 2011 to explore a country in the middle of big cultural, political and economic changes. Cuba is emerging from a communist regime and learning to incorporate new ideals into their politics and economics. Some families are opening their homes to visitors as a way of making money but also to open themselves to the rest of the world. Meg spent time living with these families, photographing their homes and meals to gain a deeper understanding of the true fabric of Cuba. The resulting photographs are evidence of her immersion in their lives but also reflect the larger picture of the developing culture of Cuba.