March 07, 2019 to April 04, 2019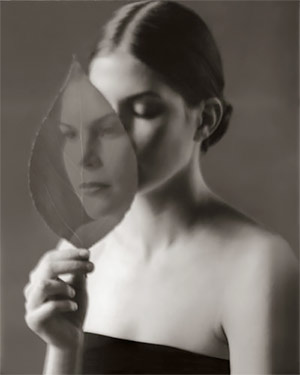 67 Shore Road
Winchester - 01890 MA


Photographing my daughter's first pregnancy and contemplating her beauty and the fullness of her potential, I had an epiphany. In this illuminating awareness, I imagine her standing on a matrilineal continuum with a long line of women from her past, standing as an icon of her unfolding future. It was like observing a timeline of human history. I suddenly had an intuitive understanding of women perpetuating humanity. My own part in this, albeit in a supporting role, of son, husband, father, and grandfather became clearer. This was the revelation that stimulated my exploration of the feminine and these women as classic ideals for the Myths series.

Contemplating the form of my daughter's body and her procreative potential encouraged research into the powerful archetypes of womanhood. Informative readings in anthropology, mythology, and religion helped me transform personal intuition into a more concrete understanding.

Joseph Campbell's brilliant and exhaustive study of archetypes gives credence to our innate knowledge that seems to well up from deep inside, like one's awe of nature and the mysterious truth embodied in dreams.

The title "Myths" speaks to the allegorical nature of the stories depicted. The series seeks an innate understanding of my original epiphany. The female figure and the natural world provide the subject matter and the resulting compositions illuminate these stories of memory, mystery, transformation, desire, and reverence.