February 21, 2019 to April 20, 2019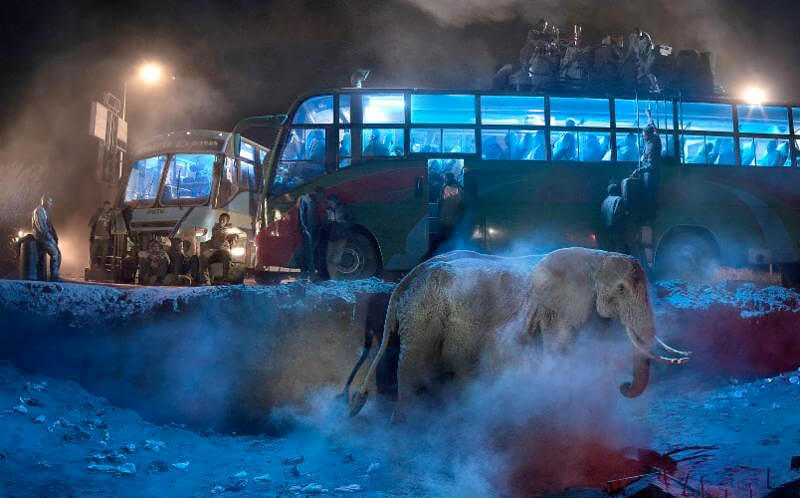 745 Fifth Avenue, 4th Floor
New York - 10151 NY


In This Empty World, photographer Nick Brandt addresses the escalating destruction of the natural world at the hands of humans, showing an earth where, overwhelmed by runaway development, there is no longer space for animals to survive. The people in the photos are also swept along by the relentless tide of "progress."

Every image in this powerful and haunting series is a combination of two moments in time, captured weeks apart, almost all from the exact same locked-off camera position. The starting point of each composition is always the animal. Initially, a partial set is built and lit. Weeks, even months follow, whilst the animals that inhabit the region become comfortable enough to enter the frame.

Once the animals are captured on camera, Brandt and his team build sets in the precise location of the original photograph now depicting the encroachment of humans - gas stations, highway and bridge construction sites, and bus stations - that are invading the East African landscape. A second sequence is then photographed with the completed set, populated by a large cast of people drawn from local communities and beyond. The final images in This Empty World are disturbingly beautiful panoramic composites of the two source photographs, which present the wild animals and the people as equal victims in the impending annihilation of the natural world. In his introductory essay, Brandt writes: "The damnation of animal life, the debasement of human life, the destructive conjugality between the two: it is not just the animals who are the victims of environmental devastation, but also the humans now inhabiting these landscapes."

The images were photographed on Maasai community land in Kenya. After the sets were removed and all their elements recycled with almost zero waste, no evidence of the shoot now remains in the landscape.

The book This Empty World (Thames & Hudson, February 2019) includes a descriptive behind-the-scenes text by Brandt that details the challenges encountered to create these epic images in frequently difficult conditions.

Nick Brandt has photographed exclusively in Africa since 2001. Brandt's work has been widely exhibited at major museums and galleries in the United States and internationally. Born and raised in England, he lives in the mountains of southern California. For more information, visit: www.nickbrandt.com.

In 2010, Brandt co-founded Big Life Foundation, a non-profit organization protecting 1.6 million acres of ecosystem in East Africa. With over 200 rangers, poaching has been dramatically reduced in the region. For more information: www.biglife.org.