November 09, 2017 to January 30, 2018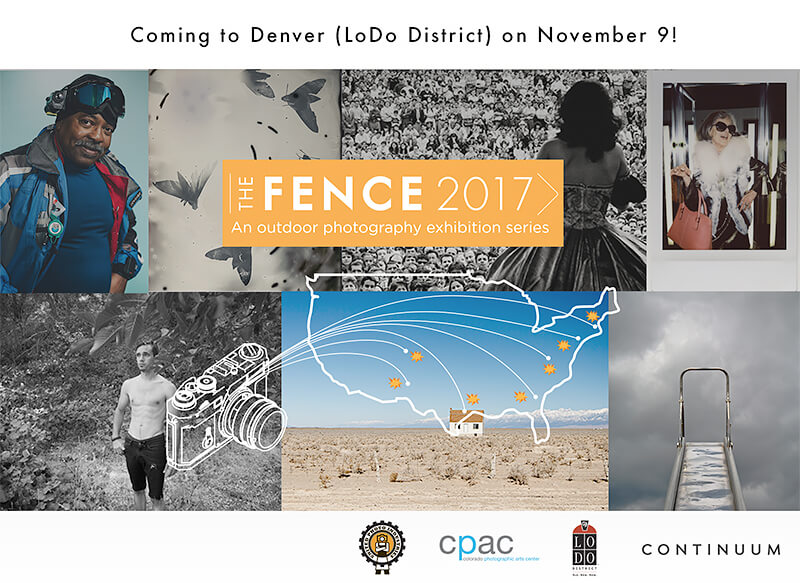 1600 Market Street
Denver - 80202 CO


United Photo Industries, a New York-based organization dedicated to increasing access to the art of photography, is pleased to bring THE FENCE to Denver November 9 – January 2018 in partnership with the Colorado Photographic Arts Center (CPAC), LoDo District, Inc. and Continuum Partners, LLC.

A jury of 70 leading photography and art professionals has selected work by 41 photographers from around the world, which UPI has installed along an 850-foot vinyl mesh banner that will start at 1600 Market Street, formerly Market Street Station and site of Continuum Partners' Market Station project, and wrap around the full city block.

Events will include two public Walking Tours and a Launch Party on November 9 at Lucky Pie Pizza and Taphouse, 1610 16th St, Denver 80202. Tours are available at 4:15 pm and 5 pm and will last up to 30 minutes. UPI Creative Producer Dave Shelley and CPAC Executive Director Samantha Johnston will lead the tours. The Launch Party will take place at Lucky Pie from 4 – 6 pm and includes one free drink (21+) per person and free pizza (limited supply available). All events are free and open to the public. No advance registration required.

Now in its sixth year, THE FENCE draws four million visitors annually through open-air exhibitions in seven cities across the United States including Brooklyn, N.Y.; Boston, Mass.; Atlanta, Ga.; Houston, Texas; Santa Fe, N.M.; Durham, N.C.; and now Denver, Colo.

THE FENCE provides exposure and career opportunities to participating photographers, while providing unprecedented access to powerful photographic narratives for a wide and diverse audience. A full list of participating artists—whose work spans the categories of Creatures, Home, People, Streets, Nature, Food and Play—can be found here.

In addition to the 41 national winners, THE FENCE's Denver edition features work by seven regional winners from Colorado including Brenda Biondo, Carl Bower, Teri Fullerton, Chip Kalback, Katie Kalkstein, Morgan Levy and Paul Sisson.

From Leslie Sale, Executive Director of LoDo District: "When we learned that The FENCE project was looking for a new home in Denver, I immediately thought of LoDo as a perfect neighborhood fit. Because of our many art galleries, LoDo has been known historically as a destination for art lovers. Plus, with all of the new development, there would be plenty of prime fencing real estate to put together an incredible exhibition."

The 2017 Juror's Choice grand prize goes to Joshua Rashaad McFadden for his series Come to Selfhood, which explores African American male identity, masculinity, notions of the father figure and the photographic archive.

McFadden is an internationally recognized, award-winning artist and author originally from Rochester, NY. His work has been published in Slate and The New York Times, and he was recognized by TIME as one of "12 African American Photographers You Should Follow Right Now."

The Juror's Choice grand prize winner receives a $5,000 project support grant, a solo exhibition at Photoville 2017, and a feature in Photo District News magazine.