February 01, 2018 to February 26, 2018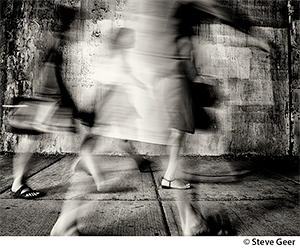 1310 B Chicago Avenue
Chicago - 60201 IL


Photographer and filmmaker Elliott Erwitt once said of photography: "I've found it has little to do with the things you see and everything to do with the way you see them."
Motion blurring is not something we experience in our everyday vision. It's created by the camera's technology. When we look at motion blur in a photograph we are presented with a different way of seeing. Motion blurring removes some of the detail we seek. It's as if we have permission to stare but only at what we might have perceived in a quick glance.
According to Geer, "Street photography can be fascinating. I think it's because we are naturally nosy. We want to stare, to absorb the details and imagine the facts. But on the street, we only get a glimpse. We don't have permission to stare. The great thing about a street photograph is that we have permission to stare." Half of the images in Geer's series are single exposures. In the other half he has created a time-collage by combining two or more images from a single tripod-mounted sequence.
In 2017, Steve Geer's photographs have been: published in the April issue of Silvershotz Magazine; featured in the "Silvershotz 2017 Folio Annual" book; published in the Photographers Forum "Best of Photography 2017" book ; and, featured in the December issue of the Journal of the Royal Photographic Society. In recognition of his work, in October the RPS awarded Geer an Associate membership (ARPS).