October 14, 2017 to February 18, 2018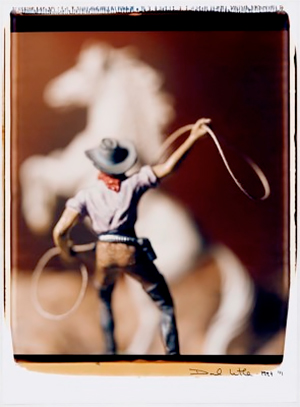 1001 Bissonnet
Houston - 77005 TX


New York–based photographer David Levinthal uses staged photographs of toys and other everyday objects to bring viewers face-to-face with themes central to American history, identity, and consciousness. David Levinthal: Photographs 1972–2016 provides a rich overview of the artist's work.

Through the iconography of mass-produced toys, dolls, and figurines, Levinthal's photographs have probed the myth of the American West; World War II and the Holocaust; romantic and sexual desire; racial stereotyping; the heroism of sport; and the futuristic fantasy of space exploration. The images range from intimately scaled prints, to large 20-by-24-inch Polaroids, to monumental inkjet prints.

Evoking the visual language of photojournalism, pornography, television, film, and religious art, the photographs elicit a response not to the actual moment or event or object, but to the place it holds in a collective American consciousness. For example, Levinthal (born 1949) said that the images in his "Wild West" series depict "the West that never was but will always be."

David Levinthal: Photographs 1972–2016 celebrates a gift to the MFAH of 44 Levinthal works. Donated by Donald Rosenfeld, John A. MacMahon, and an anonymous donor, the photographs are presented alongside a selection of Levinthal images already held by the Museum. In addition to "Wild West," the featured series include "Bad Barbie," "Baseball," "Blackface," "Hitler Moves East," "Hockey," "Mein Kampf," "Modern Romance," "Netsuke," and "Space."