January 16, 2018 to March 02, 2018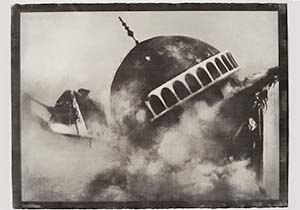 316 Waverly Avenue
Syracuse - 13244 NY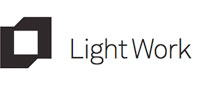 Light Work is pleased to announce the opening of Land of Epic Battles a solo exhibition of new hand-made dichromate prints by Philadelphia-based artist Justyna Badach. The exhibition will be on view in the Kathleen O. Ellis Gallery from Jan. 16 – Mar. 2, 2018. There will be an opening reception on Thursday, Feb.1, from 5-7 p.m. with an artist talk at 6-p.m. This event is free and open to the public. Refreshments will be served.

Land of Epic Battles will feature Justyna Badach's new series of large, hand-made dichromate prints, made using film stills from ISIS training videos. For a year she experimented with darkroom techniques before discovering a 19th-century process that would allow her to use gun powder as a toner. The resulting incendiary prints initially look like antiquated documentation of Middle Eastern sites and landscapes. The texture of the heavy-weight watercolor paper needed for this process adds a layer of abstraction more akin to the language of drawing and painting than photography. Rather than using images of carnage and gore, for which ISIS videos are infamous, Badach's edit reveals a vast, enduring, and majestic landscape that dwarfs the players in the conflict and exposes the futility of war.

Besides armored vehicles, the black ISIS flag, artillery, and explosives, each ISIS cell includes a media-savvy creative, equipped with video camera, microphones, laptop, and Final Cut Pro, who carefully documents the destruction wrought by this cell and disseminates this material on encrypted websites and YouTube. ISIS videographers carefully edit the action with rousing music and linger in slow motion over point-blank gunshots, beheadings, and crucifixions. Voice-overs promise a life of respect, power, comradery, and victory for young men who have been brutally marginalized and stripped of culture.

This seminal exhibition continues Badach's ongoing interest in toxic male culture and the machismo of Hollywood films and media. As a child, Badach emigrated from Russia and learned to speak English by watching American TV. Fascinated by the deeply coded American cinema, she later created Epic Film Stills, a project that explored how classic Westerns such as Wyatt Earp and Young Guns glorify the violence of American colonialism. In this series, too she focuses on the landscape, which echoes the romanticized version of Manifest Destiny and its violent ideology that she first recognized in American Westerns and which may, in turn, be the lens through which most Americans make sense of Middle Eastern terrorism.

Justyna Badach's family arrived as refugees in the United States in 1980. She currently resides in Philadelphia, where she is an artist, educator, and museum professional. Her work has been exhibited extensively in the United States and abroad and is in the permanent collections of Cranbrook Art Museum, Portland Art Museum, Museet for Fotokunst Brandts, Odense, Denmark. Her artist book is in the Special Collection at the Rice University Library, Houston, TX, Temple University, Philadelphia, PA and Haverford College. Her work has been exhibited internationally, including; Queensland College of Art Griffith University in Brisbane, Art Wonderland Space in Copenhagen and the Temple of Hadrian in Rome to most notably in the US at the Corcoran Gallery, D.C., Portland Art Museum, James A. Michener Art Museum, Doylestown, PA, and Catherine Edelman Gallery, Chicago among others. Badach participated in the residency program at Light Work in 2012.