November 01, 2017 to January 31, 2018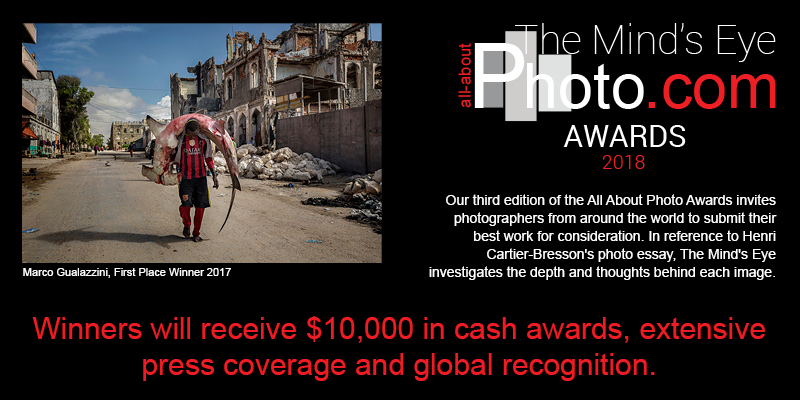 « To take photographs means to recognize - simultaneously and within a fraction of a second - both the fact itself and the rigorous organization of visually perceived forms that give it meaning. It is putting one's head, one's eye and one's heart on the same axis. »
Henri Cartier-Bresson

Our third edition of the All About Photo Awards invites photographers from around the world to submit their best work for consideration. In reference to Henri Cartier-Bresson's photo essay, The Mind's Eye investigates the depth and thoughts behind each image.

Prizes:
Winners will receive $10,000 in cash awards, extensive press coverage and global recognition.
The grand prize is $5,000, the 2nd prize is $2,000, the 3rd prize is $1,500, the 4th prize is $1,000 and the 5th prize is $500!

All winners will have their work published/showcased on Lenscratch, Be-Art Magazine, Daylighted and All About Photo in 2018. (details below) A selection of entrants of particular merit will also be invited to display their work in the Winners Gallery of www.all-about-photo.com and on Daylighted

Who are the judges?
Liu Bolin: Photographer
Eli Klein: Gallery Director Klein Gallery NYC
Christa Dix: Founder and Director Wall Space Creative Santa Barbara
Michael Itkoff: Cofounder Daylight Books
Elisabeth Mouchy: Cofounder & CCO Daylighted
Marco Gualazzini: Photographer Winner All About Photo Awards 2017
Ann Jastrab: Editor-in-Chief All About Photo, Curator, Writer & Educator
Sandrine Hermand-Grisel: Photographer, Founder & Editor All About Photo

Schedule:
Competition opens: November 1st, 2017
Competitions closes: January 31st, 2018
Judging process starts: February 8, 2018
Judging process ends: March 31, 2018
Winners will be notified by email around April 1, 2018
Winning images will be available online at www.all-about-photo.com after April 1, 2018.